Happy Tuesday lovelies! Well, you know I love a good video tutorial! First, my f a n c y curls tutorial video and now here is the top knot! Today's tutorial has been requested SOOOO much and I finally got it all taped, edited and uploaded for you! As I state in my video, my top knots are pretty poofy and epic mainly because of all the body that I have in my hair from sleeping on my hair or going to bed with it semi wet. I don't have good second day hair. Ever. That is a main reason why you see my hair up so much. I also wear my hair to the gym in a top knot (It keeps it out of my face and doesn't flop around when I run or jump, like a ponytail does) and I run around in gym clothes and top knot on a pretty regular basis as well. My hair is up a lot! Life of a mom!!! It has been my experience that clean, smooth hair does not top knot well. Texture is KEY.  Also, keep in mind that each top knot will and should be different. That's the beauty of top knotting-each day and each knot is different!!
So, without further ado, here is my f a n c y top knot video tutorial! Neither of the little presidents came running in this time, so there are no hilarious interruptions. I know you are bummed! Ha! I'm still pretty shocked that I was able to film this in one take with no interruptions! It may be the one and only time that happens! Haha!
[wpvideo LAL1ZPFh]
I hope this tut helps you achieve a f a n c y top knot!!! As always, please comment with any questions! I am always happy to answer them! Can't wait to see a bunch of f a n c y top knots out there!!!!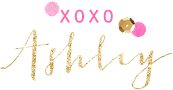 *PS don't forget to go enter my FABULOUS giveaway!!!!! You DO NOT want to miss out on this one!