I'm super excited about this FANCY DIY that I am going to share with you today!
I always do a couple small Christmas trees in addition to our large tree and I decided that I needed to have a FANCY Pom-Pom themed Christmas tree this year for sure! As I thought about what to decorate my tree with, this DIY popped into my head and I was so excited to get started on making these adorable ornaments!
Fancy Pom-Pom Ornament DIY~2 ways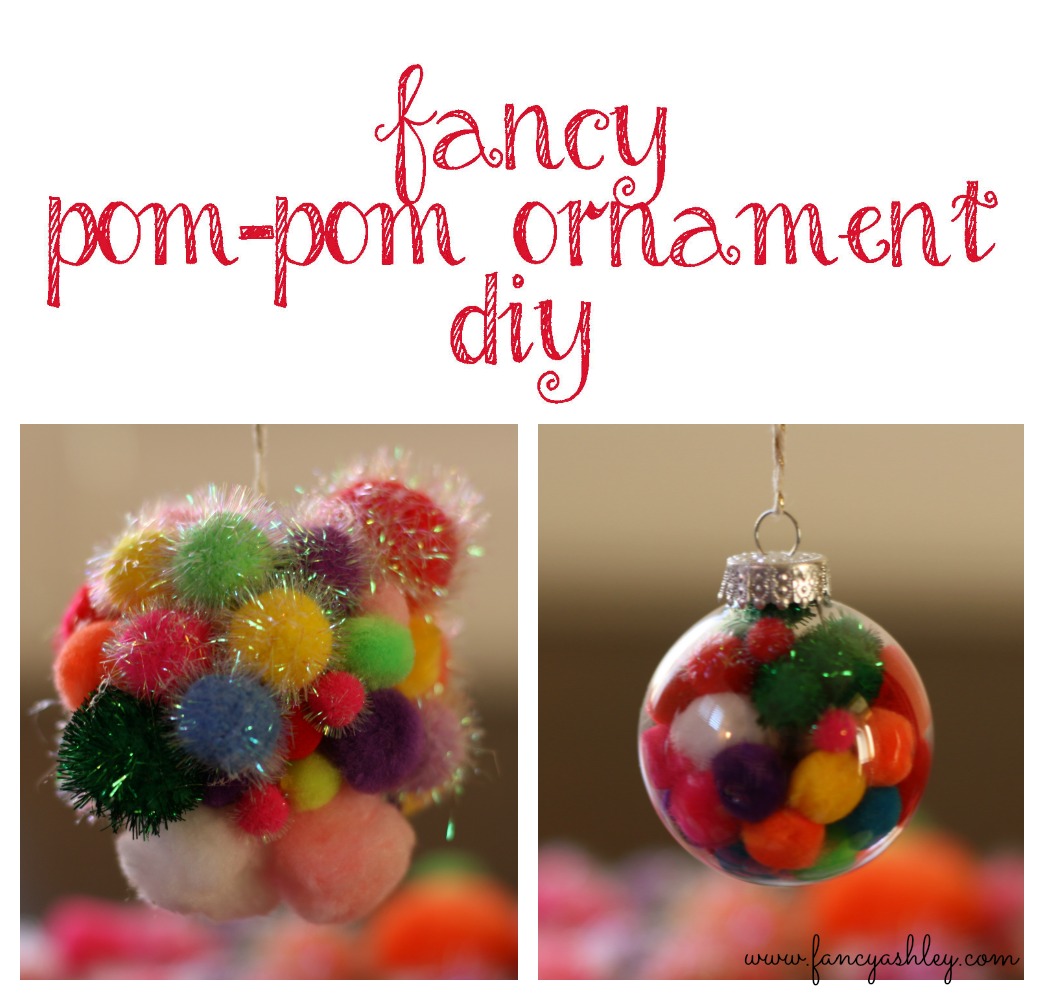 The necessities: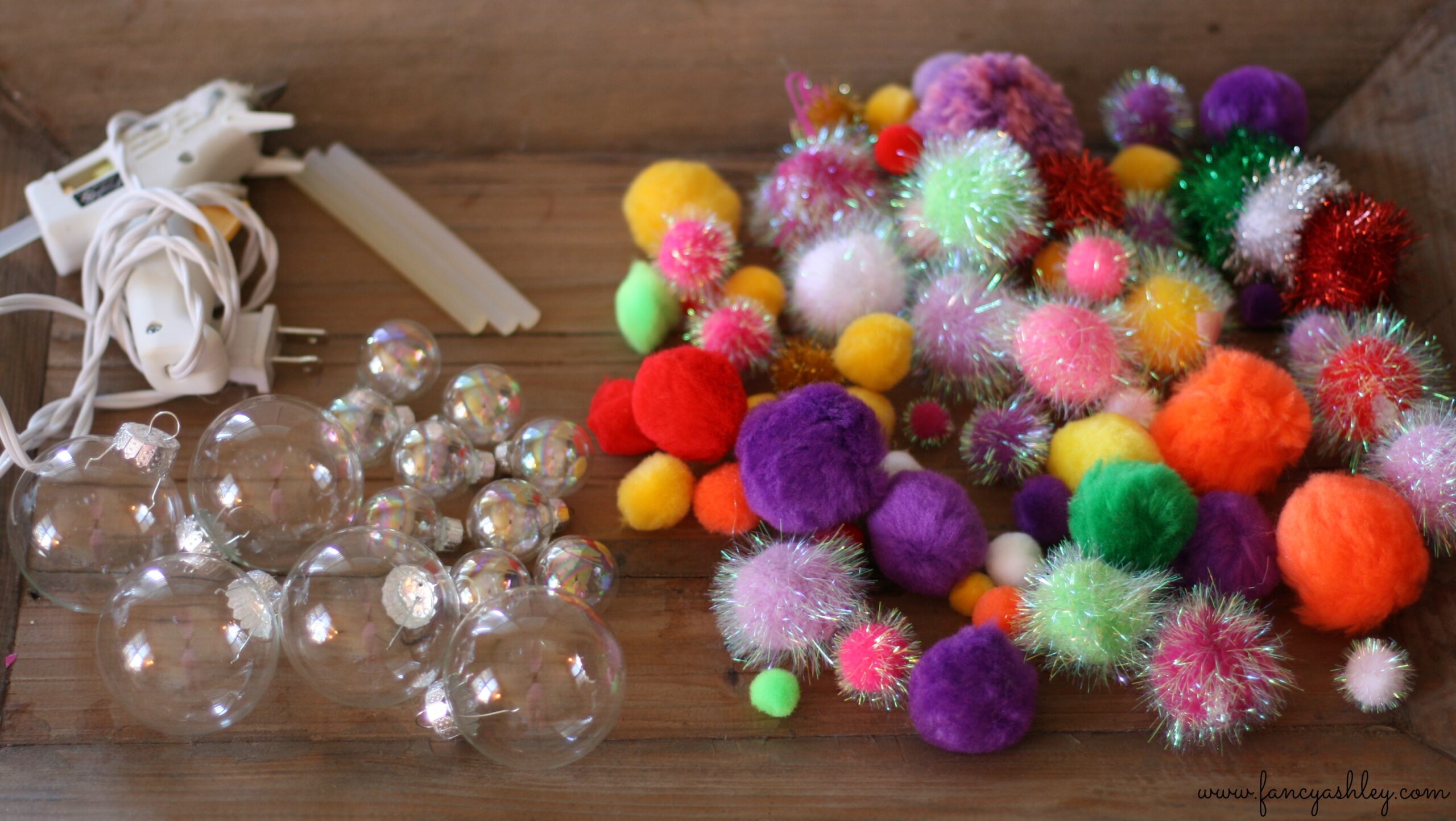 Glue gun // Glue Sticks // Mini Clear Plastic Ornaments //
Medium Clear Ornaments // Pom-Poms
We are going to start with this ornament. This is the kid-friendly portion of the DIY…no hot glue involved, so it's perfect for tiny helping hands!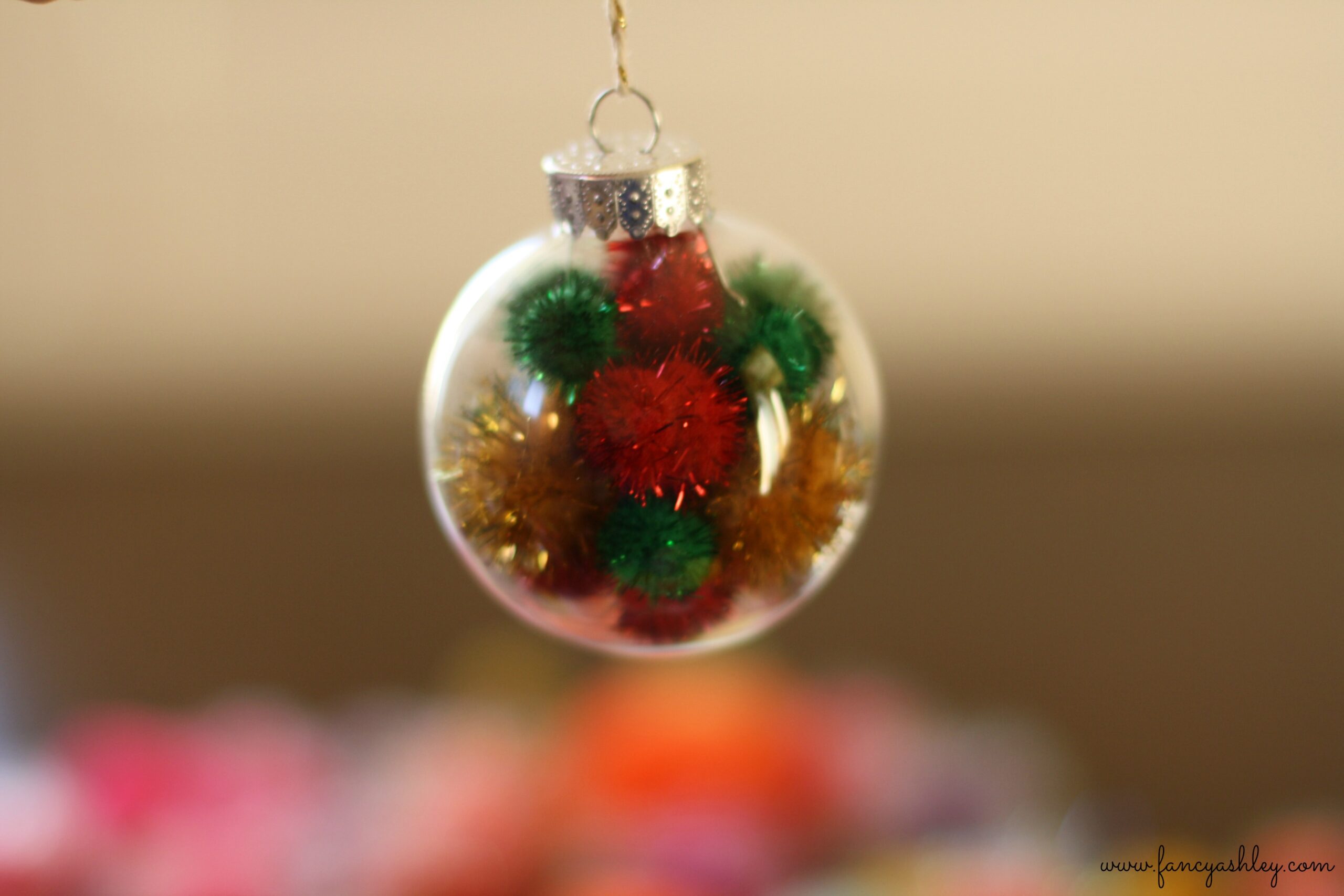 This is a little presidents approved activity. They both LOVED making these ornaments and had so much fun! Reagan woke up the morning after we made them, asking to make more. She is pretty obsessed with Pom-Poms too. 🙂

To begin, take the lid off the ornament and begin packing in those Pom-Poms! Really fill these babies up! The more full, the better. Random side note: be sure to check the opening of the ornaments for jagged areas…I cut my finger because the plastic was not smooth. I checked the rest of them after that happened so we didn't have any more injuries! Just keep filling the ornaments until they are filled to the brim! The largest you can fit through the opening is a medium Pom-Pom and even then, you may need a pipe cleaner to help push it in! The little presidents mainly used Pom-Poms that they could get in themselves. 🙂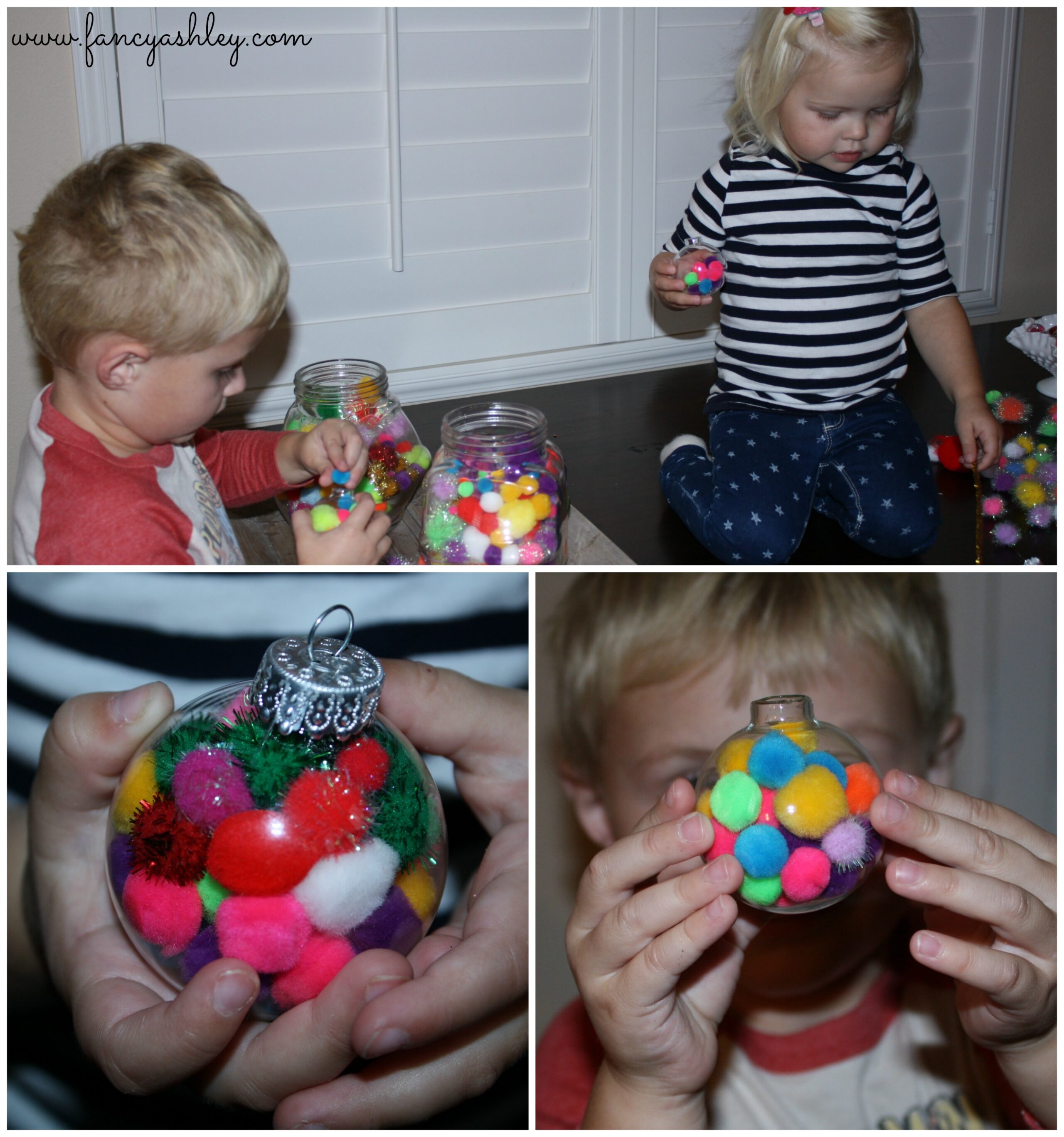 See! They loved this project!!! They were both so serious about their ornaments and were so proud of the finished products! They turned out so cute!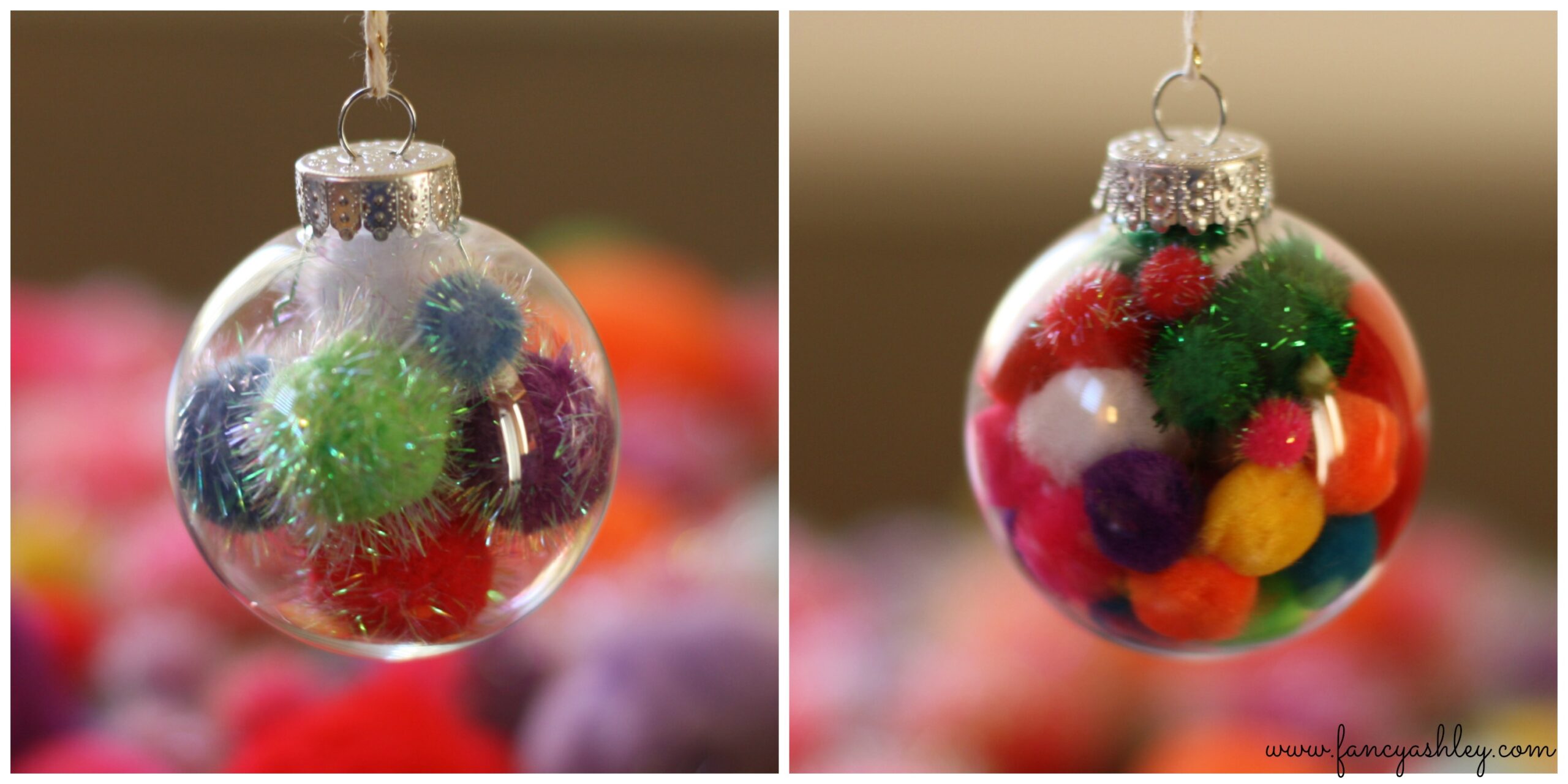 Now onto the portion of this DIY that is not kid-friendly…only because it involves hot glue. I burn myself all the time, so I am positive that my kiddos would have a burn or two if I let them help with the portion and it's just not worth it! Ouch!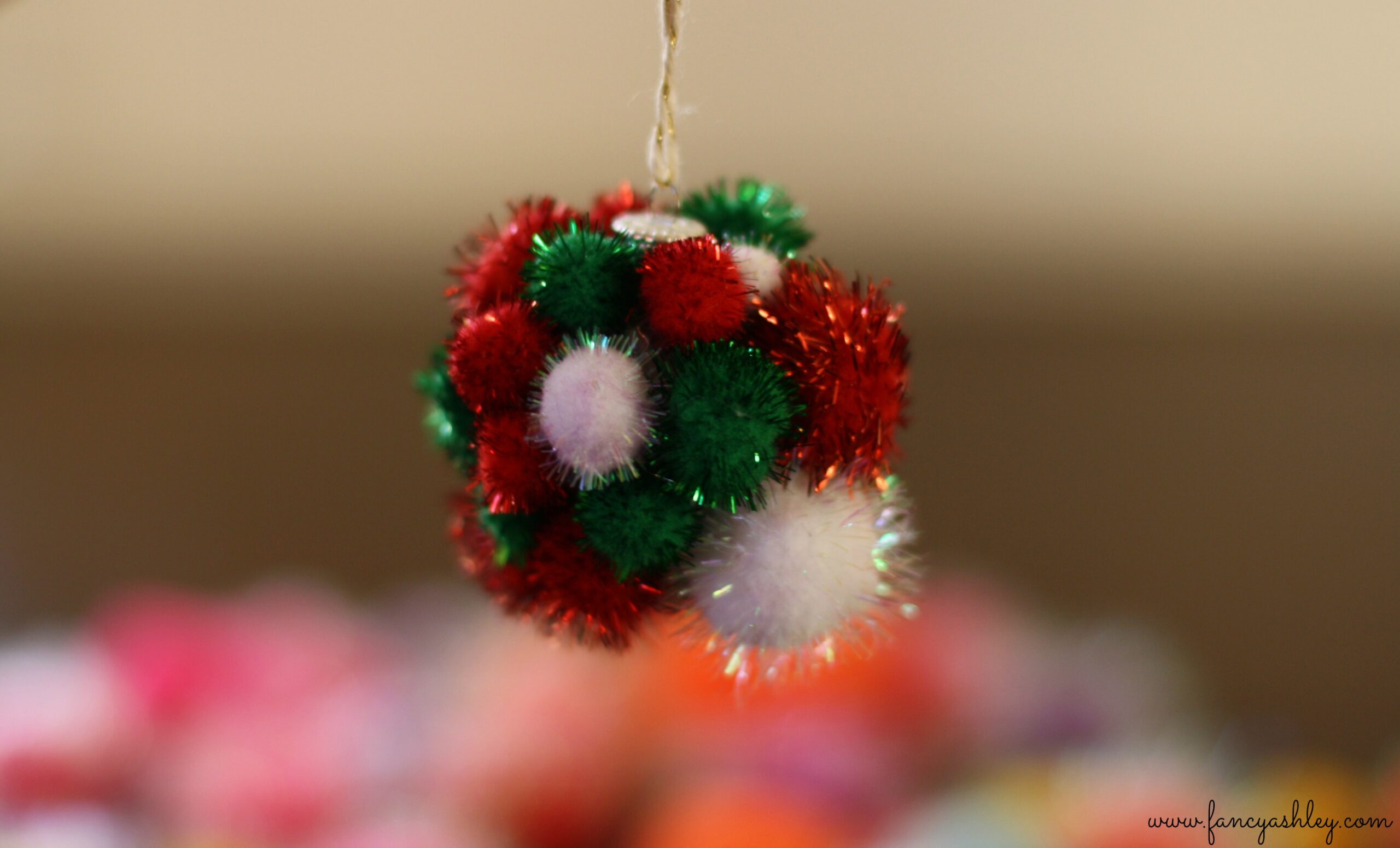 This version is super fun and fabulous too! You just take glue and dab it on the ornament and then you fill the outside of the ornament up with Pom-Poms of all sizes! There's no specific way that this needs to be done…just have fun and place the Pom-Poms wherever! The more random, the better! I love the huge Pom-Poms mixed with the teeny ones…it's so fun! You just keep adding Pom-Poms until your ornament is large and in charge and totally Pom-Pom-ified! I think I might need to trademark that word!

I LOVE how they turned out!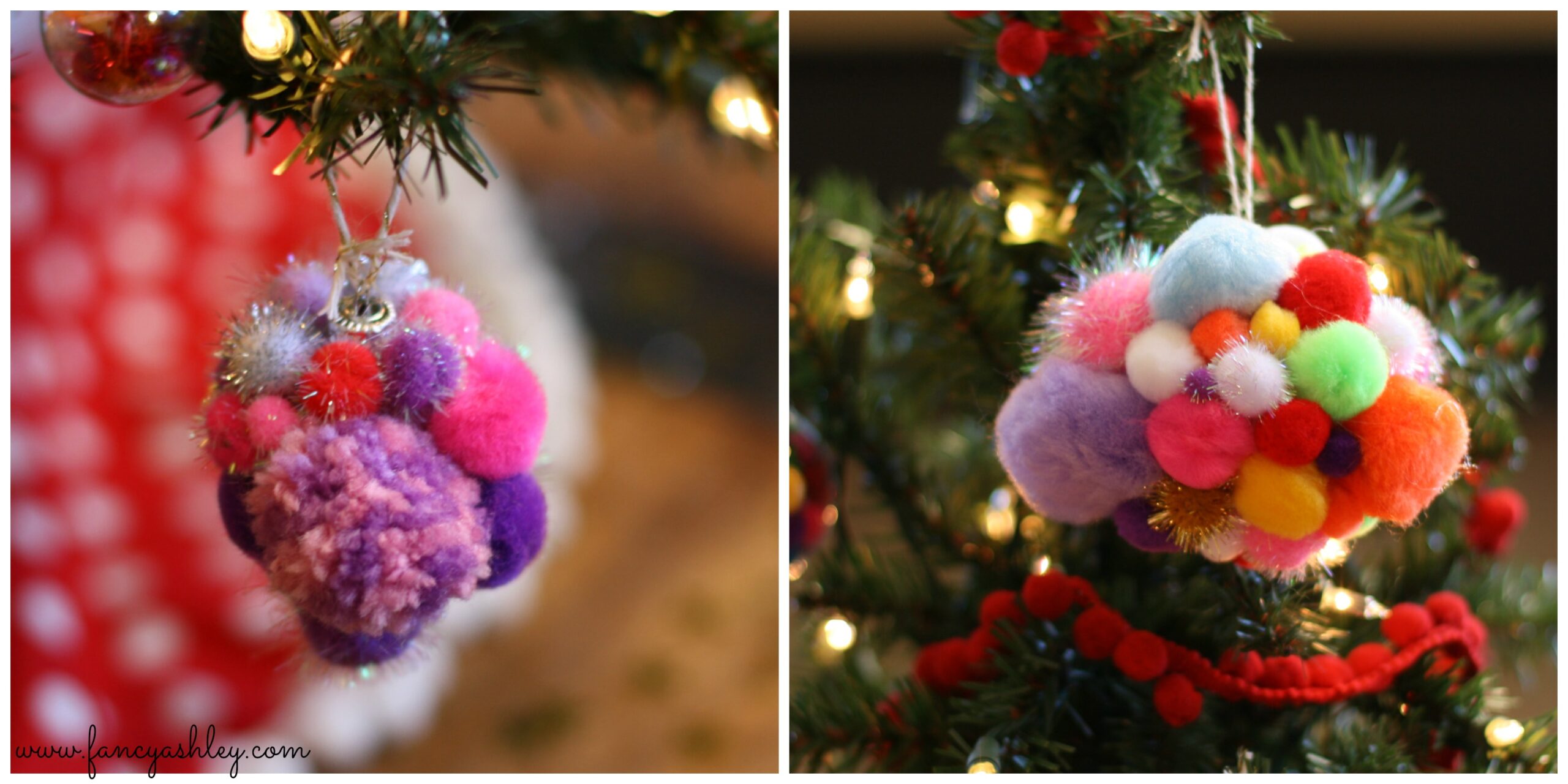 I made a Pom-Pom tree skirt and a Pom-Pom star topper to add to my tree, too!
Totally Pom-Pom-ified!!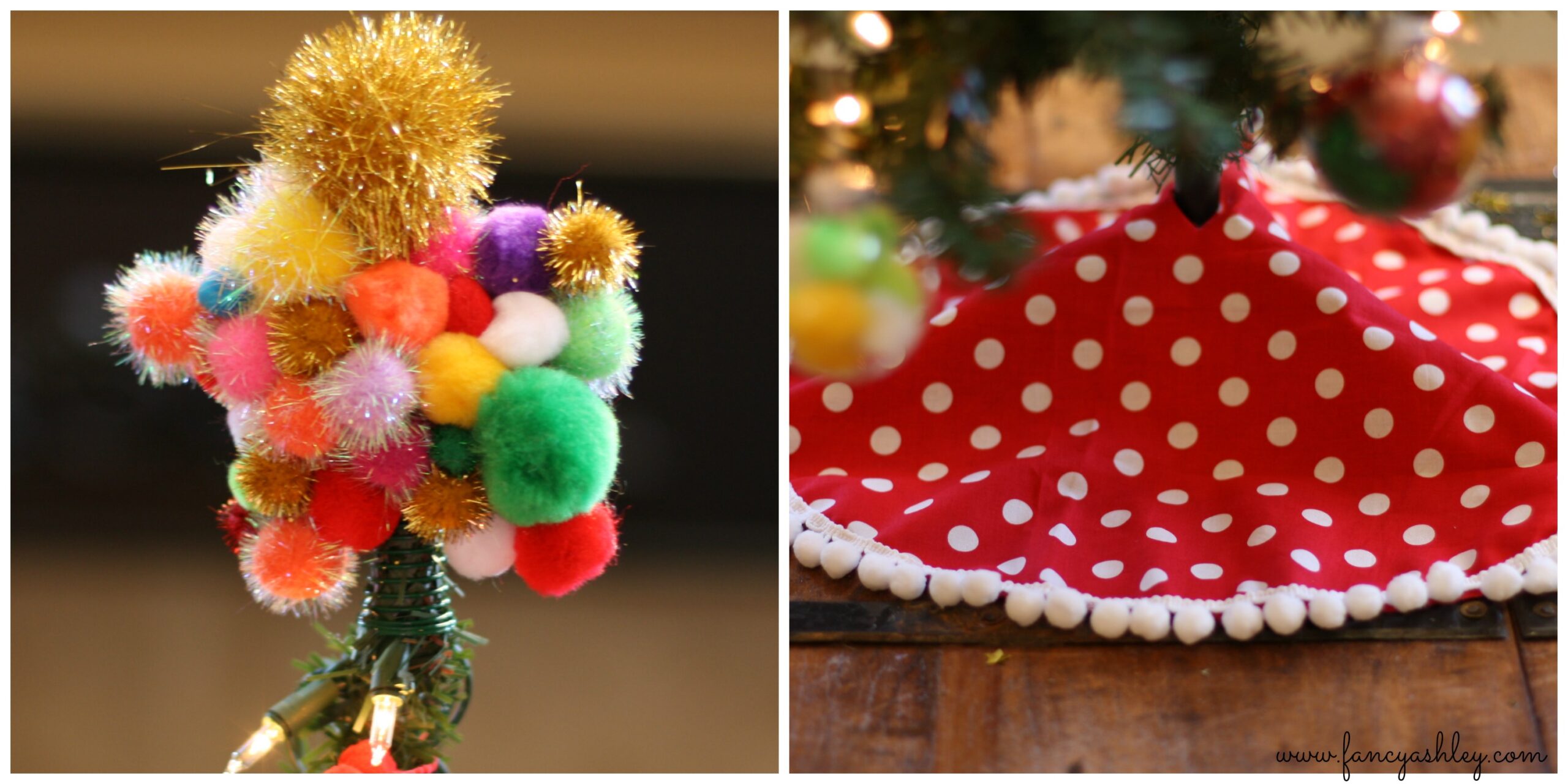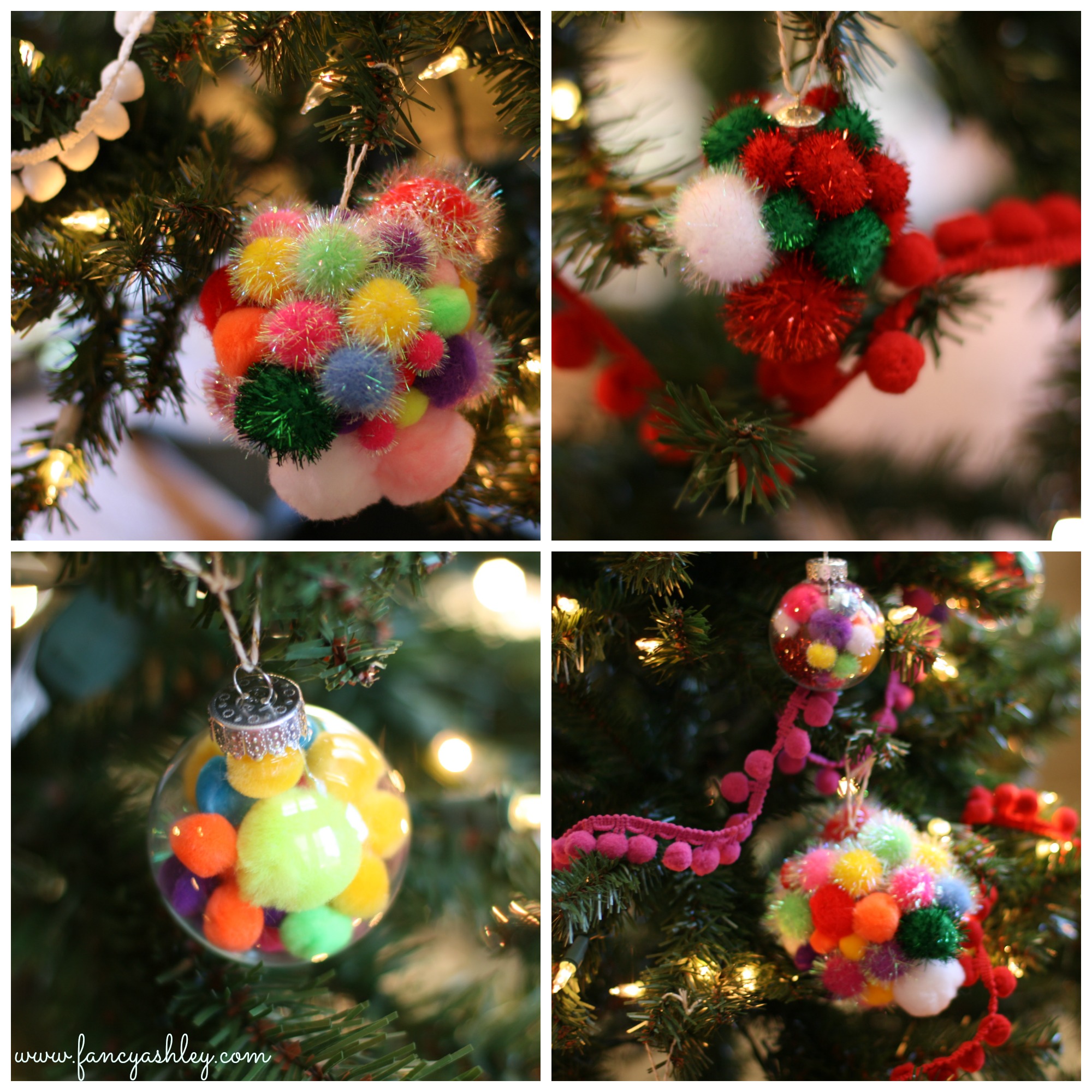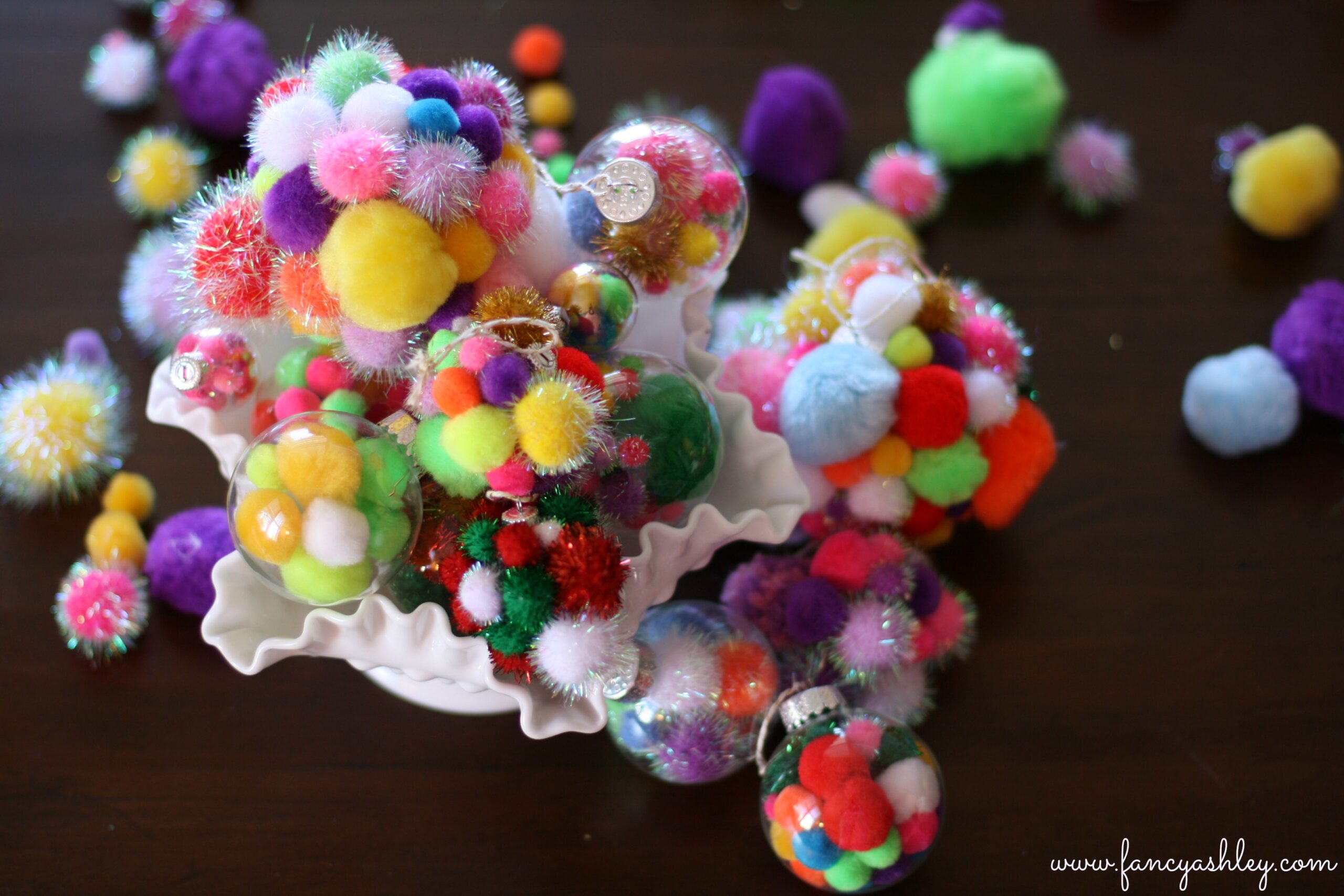 My Fancy Pom-Pom themed Christmas tree!
I couldn't love it more if I tried! It is everything I envisioned and more!! LOVE LOVE LOVE it!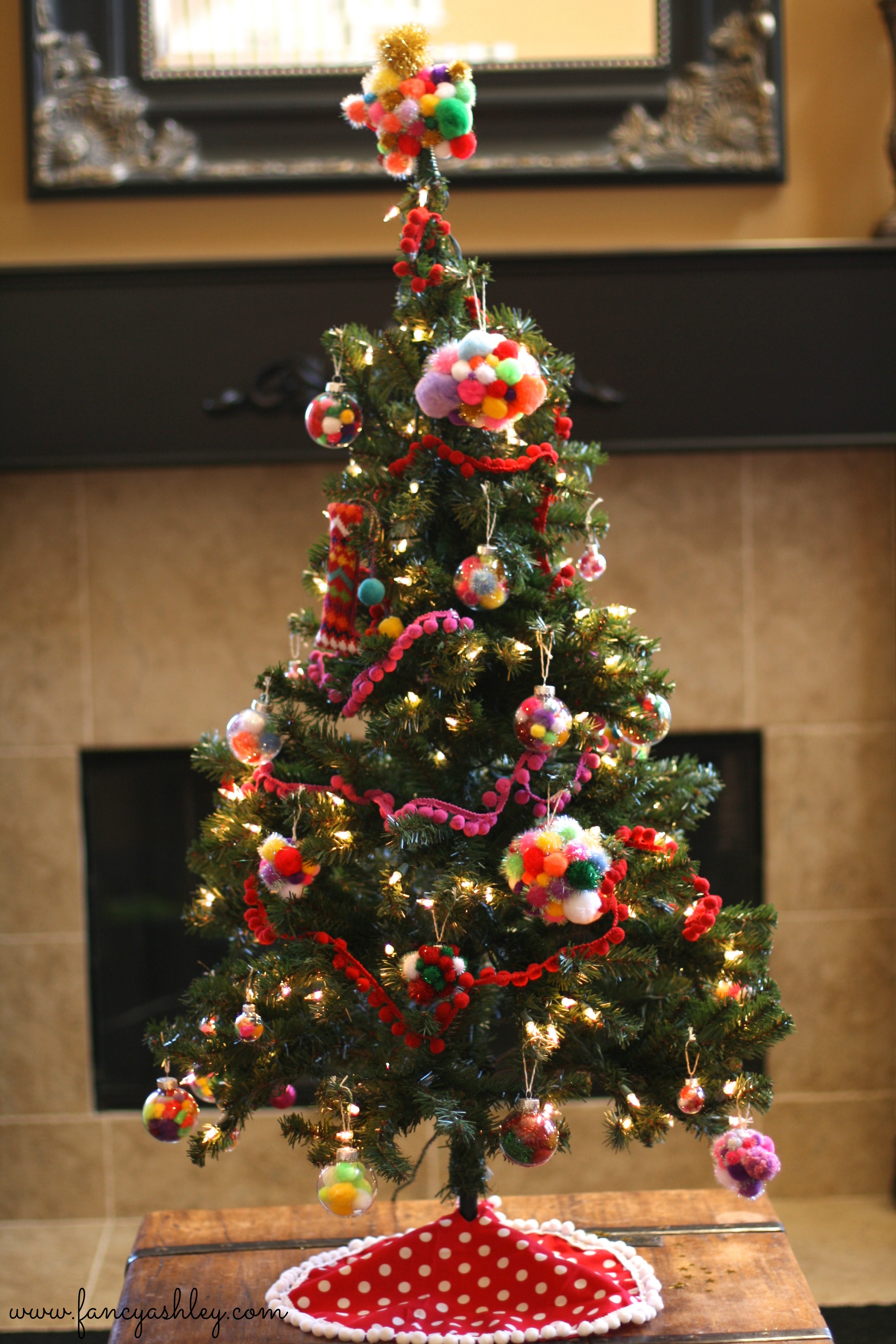 One piece of advice…buy way more Pom-Poms than you think you'll need! I have a LARGE collection of Pom-Poms that I keep in the craft suite for all my random projects and we used a ton of them! You definitely need more than you think you do! 🙂 It's such a fun DIY though, you'll have a blast and the kiddos will love it too!!
So, are you ready to Pom-Pom-ify your Christmas tree?!
Happy crafting!!!