Happy Wednesday, lovelies!
Valentine's Day is just two days away!
Are you ready?!!
Teddy's school didn't allow any Valentines with trinkets, etc, and I found this out after I had already made his Valentine's Day treats!  I thought we were going to have to go to a park and start randomly handing them out to kids to use them up! Ha! Needless to say, I was thrilled when our fab classroom mom set up a playdate where we could all hand out our valentines before the actual class party! For the class party, the kiddos were required to sign their name on all the cards. Mr. Fancy and I quickly learned that the size of a regular store-bought Valentine's Day card was WAY too small for Teddy to write his name on. I took 4×6 card stock postcards and made lines on them for him to write on or under…I have also realized that the lines help guide him. He wrote his name on 16 of the cards and then went through and stamped them all and added stickers to each one! We are really trying to work on his fine motor skills whenever possible and this activity was exhausting and was no easy feat on Teddy's or my part, but I think it was helpful and they turned out so cute! Plus, after he finished all the class cards and took a break, he asked me to write out his cousins', best friend's name and daddy and mommy, so that he could copy it and make cards for everyone and he did and did it on his own! Woohoo!
Just in case, you need a last minute idea for your kiddos, here are a few of my favorite FREE printables for Valentine's Day!
First up is MY "out of all the fish in the sea, I choose you!" treats that I created for our group blog, Every Day Cheer. I know I am biased but I love them! You can go here to get the FREE printable!
Second is my sweet pal, Jenny's printables that she created for our group blog as well. She gives SO many adorable options! I love them all!!! Go here to get these free and editable printables!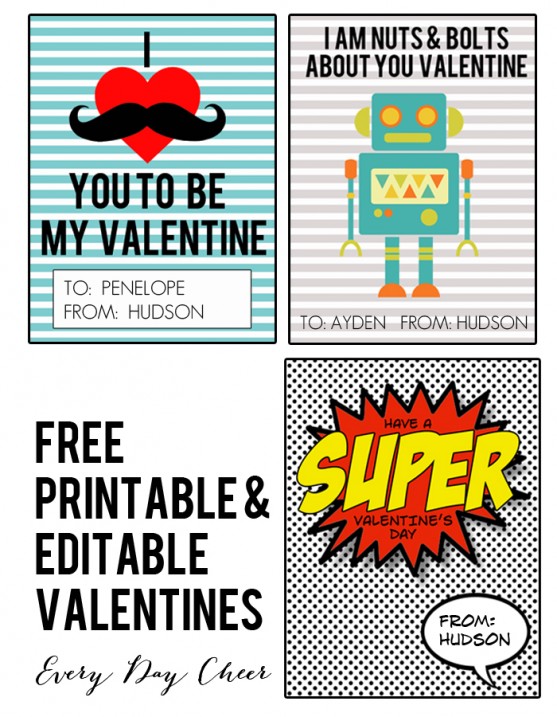 Third is from another sweet pal of mine, Emily! She created such a CUTE printable! I am in love with it and think I might have to use it next year!!! Go here for this free printable!
My friend Jennifer, created these adorable printables for her daughter's dance classmates and I absolutely love this idea! Since I make these hair ties, I think these valentines are a must for Reagan's ballet friends!
Last, my friend Lauren, created these printables for our group blog too and they are super cute!!!! I love anything with a leopard print!
On all of these, you could leave your child's name off and have them write it themselves to practice their writing! This was an awesome idea from one of my Insta friends.
So, are you ready for Valentine's Day now?! I hope these FREE printables help you out!
And!!!! Just in case you need a fun LOVE-filled lunch idea for your kiddos too, I have you covered on that as well! Check it out here!
Also!!! Just in case you missed it, my men's gift guide can be found here! These gifts are not only perfect for Valentine's Day, but they are great for pretty much any man and any occasion! Plus, most of them can be purchased with Amazon Prime and if you order ASAP, you'll probably have them by Friday!!! Hooray!!!
Have a FAB-U-LOUS day!