Hooray for a good weekend!
I'm enjoying giving you a little glimpse in our lives and what we do over our weekends. I'm a serial picture taker, so I always have LOTS of pictures from most of our days.
As always, this weekend seemed to fly by and ours was jam-packed and full of fun!
I started the weekend off with a massage…my neck is a mess and the massage didn't help it much! Boo! #stressball
Then I headed out for a date night with my love. This shirt. These jeans. These sandals. I might wear this outfit every day.
tote (same tote, different color) // sunnies // top // jeans // sandals (similar)
We had a birthday party for a dear friend on Saturday afternoon and due to rain, it was a 2 hour excursion to get there! Luckily the sun was shining at the party destination. They had snow cones which is a fave of mine. I want a snow cone machine at casa de fancy! My birthday is coming up, so Mr. Fancy, you should take note!
shirt (on sale!) // shorts // sunnies
The little presidents ate snow cones.
They hit pinatas.
They ate more snow cones.
Then we headed home. I was craving mexican food (and a marg), so we stopped for dinner.
Love my guys.
To keep the peace, this one decided to stamp her whole body while we ate. I said on Instagram that the me before kids would have thought "I would never let my kid do that!" Never say never! Ha! She was content and we enjoyed our dinner. It was a win win situation.
She's pretty darn proud of her stamp work.
Sunday we woke up and I decided to go pick up a water slide for the yard. I had been wanting one and researching them. It's hard to say who I bought it for. Them or me. Well, all of us. I think this will bring hours of entertainment and will pay for itself over the next few months and hopefully, the next few years. You can purchase it here. My summer sanity will thank me. I'm sure of it. Plus, as my BFF said "you'll use that till it falls apart!" That is true. This will be out as much as possible until it falls apart. I'm sure of it!
Here are a few other blow up slide options that we considered: this, this, this and this. Most are only sold online. We lucked out because our Target had one in stock!

We ate popsicles and played in the water and on the slide, the rest of the day!
We introduced both the little presidents to the fudgesicle and we all agree that it is the best popsicle ever. Teddy's response upon first lick: "Wow!! This tastes like chocolate milk! Wow!"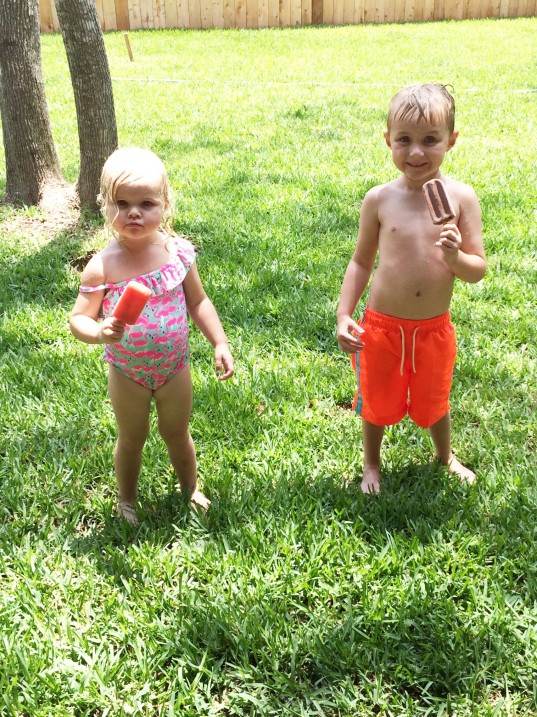 It was a blessed and fun weekend. I didn't want it to end!
How was your weekend?