If you follow me on Instagram, then you have had a glimpse into what I have dubbed the #floorfiasco2014.
Lots of you have asked questions about what exactly happened, so, here is the a short version of the crazy story…
A few weeks into living in our new home, I noticed the floors didn't lay completely flat. There were some hollow areas as well. I walk barefoot and in socks a lot, so I began to notice it more and more each day. I told Mr. Fancy about it and since he wears flip flops constantly, he had only noticed a few of the super hollow pieces and a few of the really peaked pieces. He spent a whole weekend not wearing his flip flops and realized that I was not crazy. We both realized we had a pretty big issue. Looking back, I couldn't even process what this meant. If someone would have told me that I would wait for a house to be built, move in and then have to move back out two months later, I would've thought they were crazy…but that's the exact timeline.
Our floors were peaking, buckling and hollow in some spots throughout the whole downstairs. It's hard to see in photos, but if you look closely, you can see the peaking…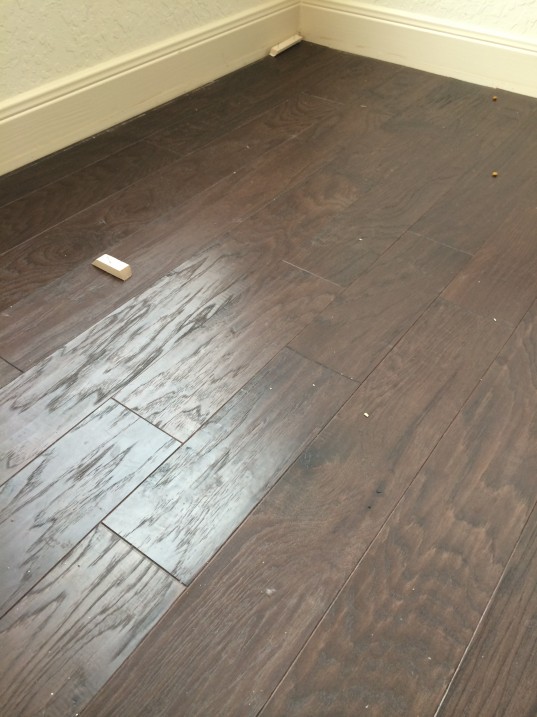 It's a pretty long and drawn out ordeal. The flooring company who did our floors, sent out an inspector to rule out bad wood, bad glue or bad instillation. The report came back saying that the issue was moisture on the slab. Meaning, the slab was too wet for them to lay the wood when they did and the wood just couldn't handle that amount of moisture and it turn, it peaked, buckled and raised up off the ground. Commence panic mode for us. The whole downstairs was wood, except the master bathroom and closet and the laundry room. They decided to perform one more moisture test before tearing out all the flooring. It came back 4 points higher than the worst number could be. It was bad, which we had realized…I mean, we had all tripped on certain spots at some point. It was peaking that badly in some areas.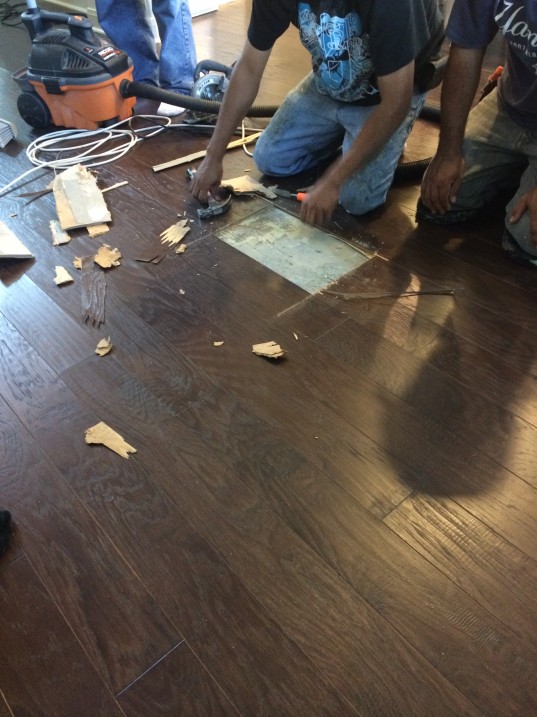 The ripping out of the floors was crazy. There was dust everywhere. They anticipated it would take much longer to rip out all the wood and were amazed by how easily it came up…this was due to how much moisture the wood had already absorbed.
All the wood from our house…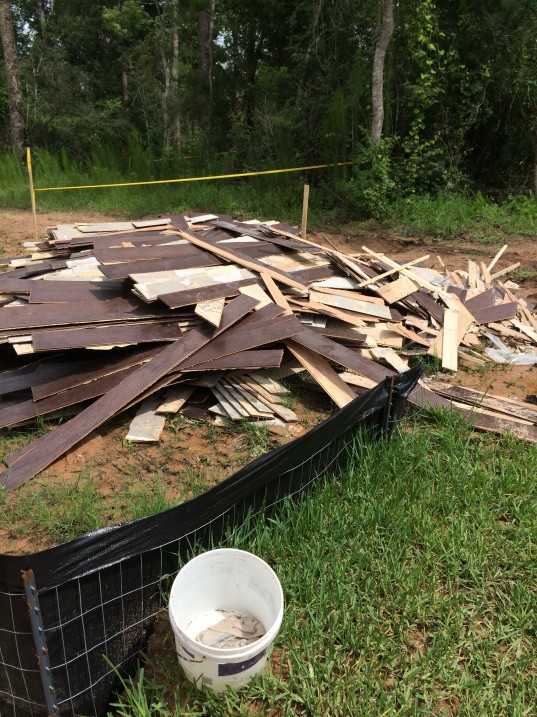 During this whole fiasco, which was over a month, start to finish, we had researched and decided the safest avenue to go was to lay tile instead of wood again. Our biggest concern was that no one could guarantee that it wouldn't happen again if we used wood. We decided to look into ceramic wood tile. I have seen it before and honestly, I didn't love it and neither did Mr. Fancy. I asked our tile guy to bring us some super distressed tile samples and figured we could go from there. If we loved it, great. If we didn't, I wasn't sure what we we would do. I was brought some amazing samples. I was blown away by how much the tiles looked like real wood and still am, each time I look at our floors. It's mind-blowing. Because we found a wood tile that we loved, it made the decision to proceed with it, much easier. We have always done wood throughout a lot of the downstairs of our homes, but after learning of our slab issue, we would have been nuts to do it again. I have read stories of people having to lay wood a few times and having the same issue…we just could not take that risk again. Having to move out of our new house, once, was more than enough! Because we decided to do wood tile, we also decided to use brick pavers in a few rooms as well. I love how it all turned out!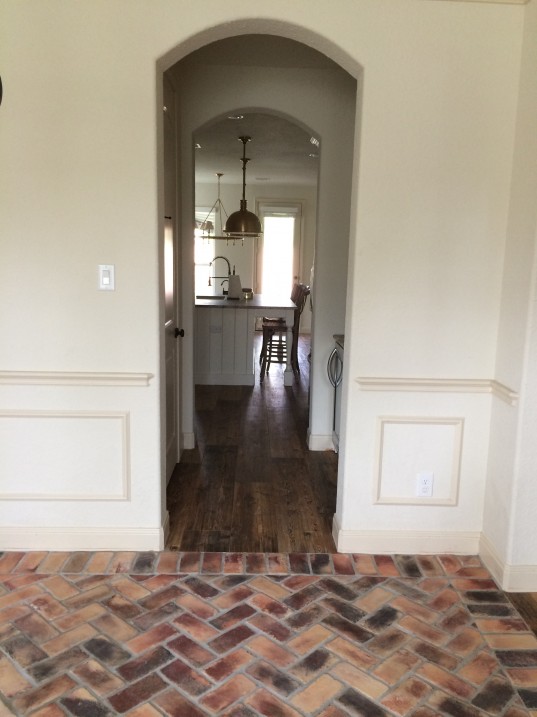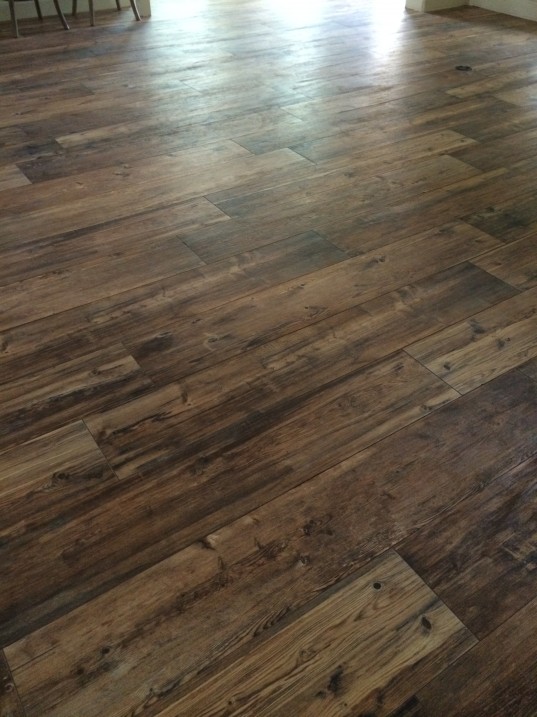 My brick grout is still wet in these photos. It has dried to a light grey.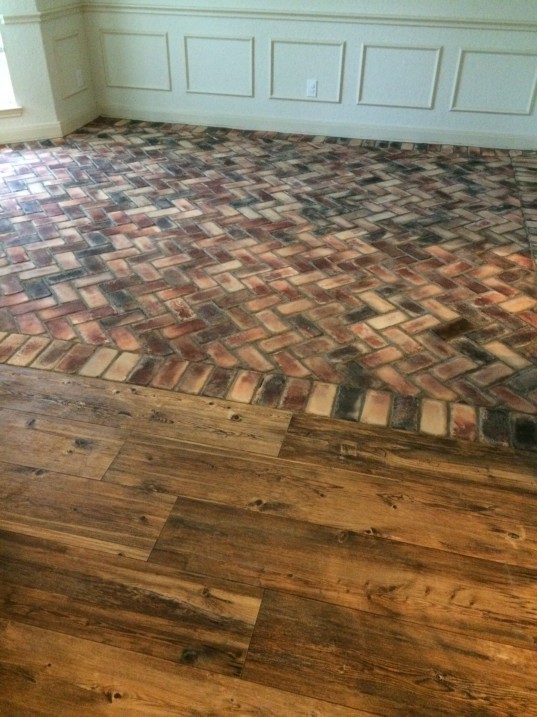 It could have been worse. I think we'll look back and laugh about it one day. I'm not laughing yet. We do love our new floors. We have not hardly lived with them though, so, I can't say whether I like them better than real wood, yet. They have assured us that we will prefer these floors over wood with ease of cleaning, care, etc. All in all the process was lengthy and not ideal for anyone…especially after just moving into a new house. But, it's finally over and we can move on with settling into our new home and for that, I am thankful.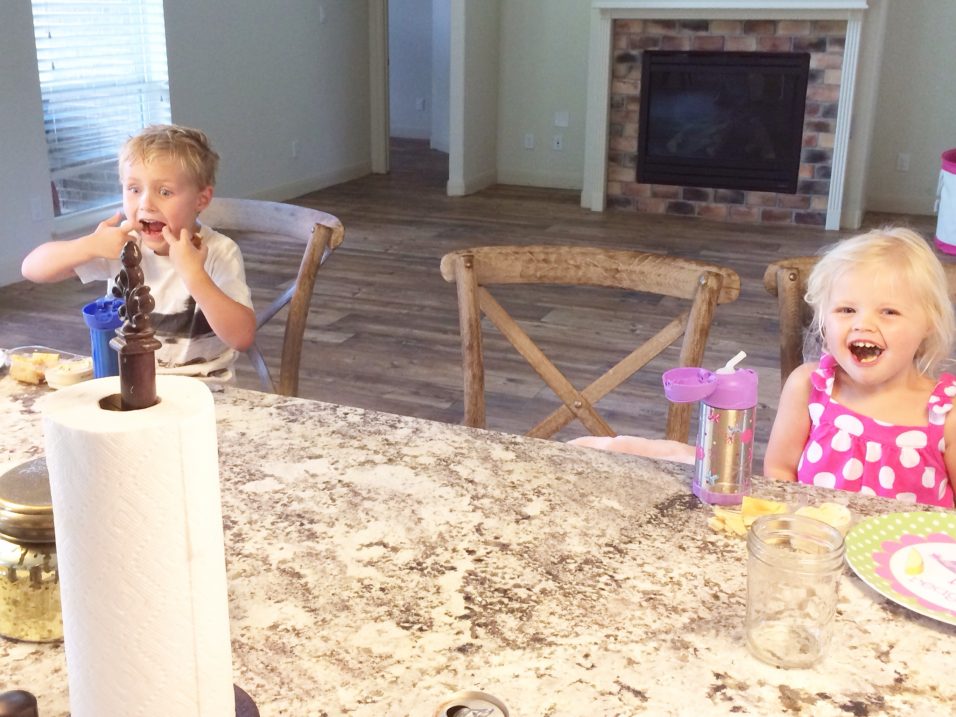 Thank you for your thoughts and comments about the new floors. Thank you also for your thoughts and prayers for us over the past couple weeks, as we moved out and dealt with the situation. It was tough a times, but we made it through and have a tale to tell!
A few things to note:
-I've had a few people tell me that they worry this is happening to their floors/slab without them knowing. You would know! It's super noticeable and gets to the point where it's not livable. It was not just a few pieces, it was the whole downstairs.
-The ceramic wood tile we used for our floors, is called "Larex" and the color is "Sun."
-The grout line is 1/16 of an inch, which was huge to us. We wanted it barely noticeable.
-Re-flooring a downstairs is something I would only ever do again if it was necessary. The hassle and chaos of moving your furniture and family out of a house is a lot. Not having access to the kitchen, washer/dryer and in our case, our master bedroom and bathroom, was a huge pain. I could never handle a whole house renovation and live there while it was being done.
-I will post more photos of the house as we finish the rooms inside of it. I have received lots of comments asking when that will be and I honestly can't say. Moving into a house is a work in progress and then a lot of our plans were put on hold because we needed to have the whole downstairs redone. There are still boxes to be unpacked a few months after we moved in. I am hoping to finish most of it, sooner rather than later. 🙂
So, that is the whole floor fiasco tale!! If you have any questions, feel free to leave me a comment or email me!
Ps…Biggest sale of the year is happening!!!!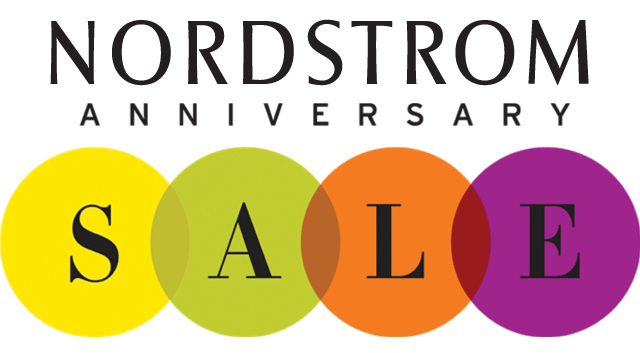 Are you a Nordstrom credit/debit card holder? If so, you have EARLY access to the anniversary sale!!! How exciting is that?!!! I will be back with more of my favorite items, but for now, here are a few! Eeeeekkkk…this is one of my favorite sales of the year!!

Happy Friday!!! Hope you've had a fabulous week!!!!!