This week is flying by, which makes me happy because it's only a couple days until the weekend!
Here are a few things that I am just loving this week!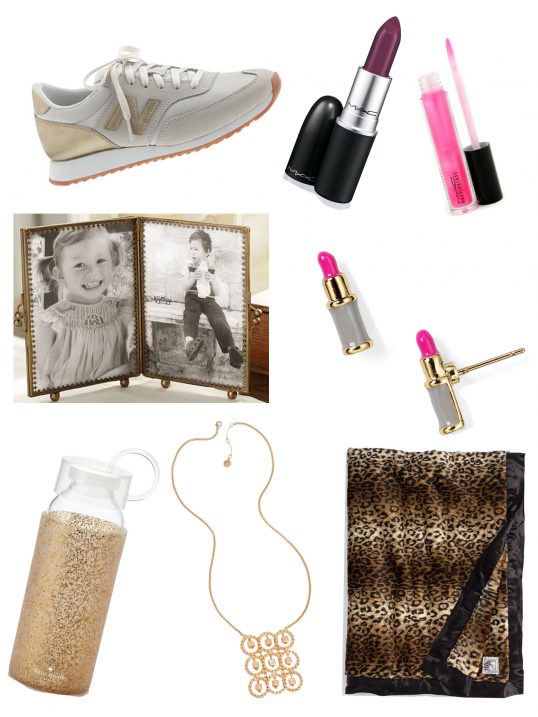 GOLD TENNIES– Anytime I see a gold pair of tennies, I feel like they were made for me and I must have them! These were no exception and the second I saw them on J.Crew's site a few weeks ago, into my shopping cart they went! They are cute and so comfy! Perfect paired with jeans or workout clothes! I also love this color combo as well! You can't ever go wrong with gold or neon green ever!
MAC LIPSTICK in REBEL– I love a fun pink lipstick! This one looks super dark, but it's so versatile. You can wear it dark or blot it for a lighter color. I love it!! I'm loving this DAZZLEGLASS gloss in EXTRA AMPS on top of it!
BRASS RIMMED PICTURE FRAMES– My bestie gifted me with one of these for Valentine's Day and I immediately had to go buy more. You know how much I love all things brass! These are perfect for my family room!!!
KISS AND MAKEUP STUDS– These are seriously too cute!!! Such a fun pair of earrings!!!
GLASS & GLITTER SILICONE WATER BOTTLE– This water bottle is destined to make any workout just a tad fancier!
VINTAGE RING LONG PENDANT– I love how versatile this piece is! It would be the perfect addition to any outfit and such a fun layering piece as well!!
GIRAFFE AT HOME LEOPARD PRINT THROW– This is hands down my fave blanket ever. It's been cold the past couple days and I just love snuggling up on the couch with this blanket and watching tv!
So, what are you loving this week?