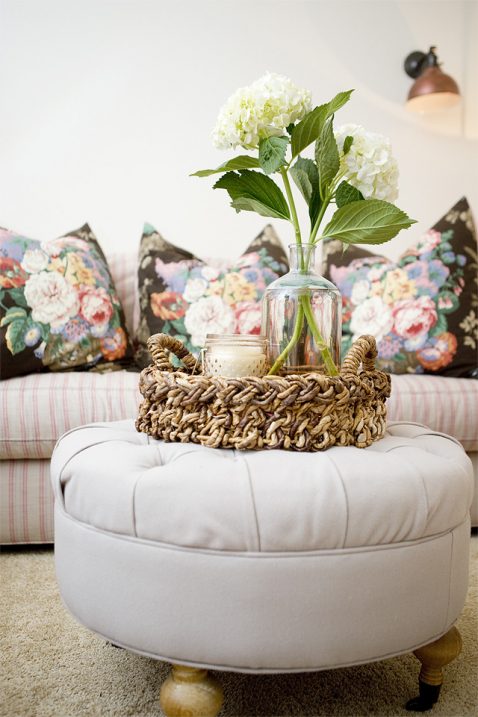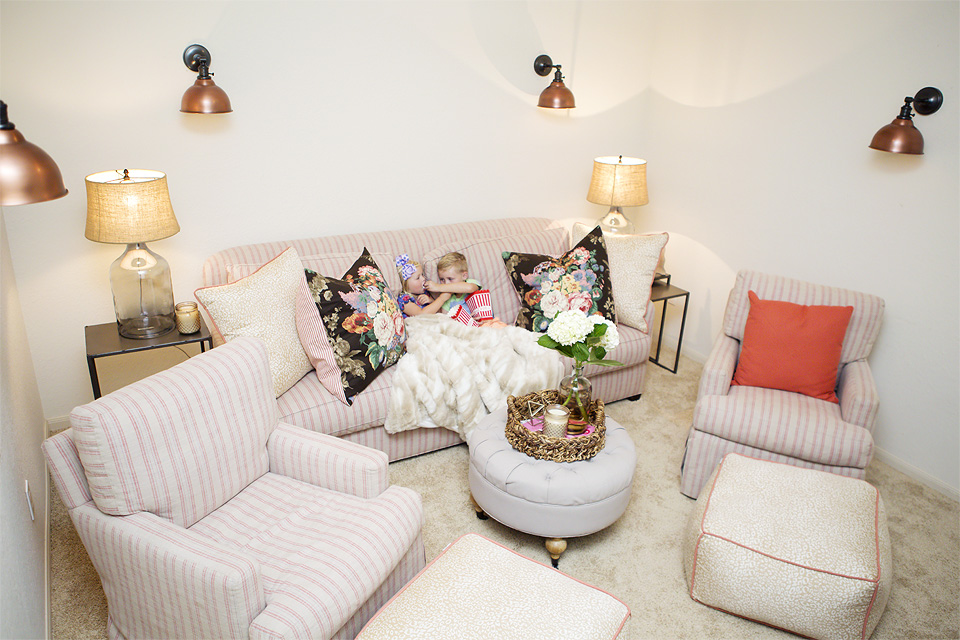 When we first started looking at houses and floor plans for homes in Texas, almost immediately, I realized that all of the homes have "media rooms." Different than a family room or living room. Almost every home we looked at, had these rooms set up as mini theaters, with movie theater type seating, which was pretty neat, but I knew I wanted a different look. You can see my inspiration for this room, here. I wanted more of a cozy, den type feeling, as opposed to a movie theater look. We spend most our time watching TV and movies in this room, as opposed to our family room downstairs. It's just such a cozy space and we all love it! This room has been in the works since we moved in. It's one of those rooms that has come together slowly, but surely and I couldn't be more thrilled that it's finally completed.  I love how it turned out and the rest of the fam bam loves it a lot too! This room is all about comfort and coziness and function. The couch and swivel chairs were one of the first purchases for this room. I knew I wanted swivel chairs because we also have them in our family room and they are probably the most loved chairs in our house. I knew I wanted a striped fabric of some sort for the couch and chairs and when I saw the couch and chairs at a local shop, I knew they were perfect for the room. The stripes matched perfectly with this floral fabric that I had been hoarding to make pillows too, so it was a win win! Not only do I love them because of how they look, but they are also SO comfortable.  I love how the TV stand has lots of drawers and space for DVDs and Wii accessories and even a drawer for remotes. This has helped us with the constantly disappearing remote controls (ahem…Teddy). They are now always in their spot! The nesting tables are another favorite of mine. While, you could potentially put one set on each side of couch, I went for a less matchy-matchy look and separated one set of them. I like the fact that one side has the large table and the other side has both smaller tables, perfect for holding cute boxes of popcorn and fun sodas! These little touches make a basic movie night, a bit more fun! I absolutely love the bull bust that we added above the door. It's such a fun look and they have lots of different options to chose from. There are so many favorite touches that I added to the room and I just love it all. This room will be loved and used for years to come and I can't wait to have lots more fam bam movie nights together in this cozy space.
Product Details
℅ World Market: Emmett Media Stand, Ashton Nesting Tables, Woven Abaca Tray, Orange Chevron Weave Throw Blanket, Ivory Faux Fur Throw Blanket, Brown Faux Fur Throw, Natural Ava Tote Basket, Retro Ombre Bottle Vase, Glass Hobnail Jar Candle, Gray Wire Bull Bust, Metal Sphere, Storage Basket, Candle, Clock, Popcorn Boxes

Other Details: 
Cheetah Print Pillows (℅), Floor Poufs (℅), Wall Sconces (I also love these Sconces), Lamps, Lampshades, Couch/Chairs (purchased at a local store) Same couch, but in different fabrics, Similar chairs (more similar couches), Ottoman, Floral Pillows (Made by me)
I hope your week is off to a fabulous start! Happy Tuesday!!! XO!
For more home tour posts:
Photos by Aubrey Torrey Photography
*This post was brought to you in partnership with World Market. As always, opinions and selections are always my own. I love partnering with my favorite companies.
**This post may contain affiliate links