When we built this home, I was super excited to have a little sitting area in our master bedroom. I never really anticipated how much we would use this space. We watch movies, read books and just hang in this area on a daily basis. After redoing our bedroom, back in December, I kept feeling like this little area needed more pizazz. I was excited when Nordstrom asked me to highlight some of their home decor items. I knew immediately, that they were the perfect store to help me add some fun decor to this very loved space in our bedroom. I knew I needed an awesome vase to house beautiful flowers each week. Nordstrom has such a huge selection, but I decided to go with a classic Waterford vase. You can't go wrong with anything Waterford! One thing you probably know about me is that I always have fresh flowers in our home. I replenish the house weekly and I swear it's such a happy maker. Even Reagan loves a little vase of flowers in her room.
I wanted to add a pretty picture frame to this little table as well. I have loved these picture frames for awhile and I knew the gold version would be the perfect addition. I also added a fun candle. Another thing you should know about me, I always have a Capri Blue candle in Volcano scent, burning. I love this scent! Nordstrom has such an awesome version of this candle. It's so pretty! They have lots of candle options, but I'm just so partial to the Volcano scent, so that is my usual. #creatureofhabit This Pom-Pom blanket and Pom-Pom pillow are such fabulous additions as well. This blanket and pillow are the softest ever. Seriously! Even, our pup, Abbey agrees. She is always sitting in our chairs, against this pillow or blanket. Of course, she's not supposed to, but she does it anyway! Ha!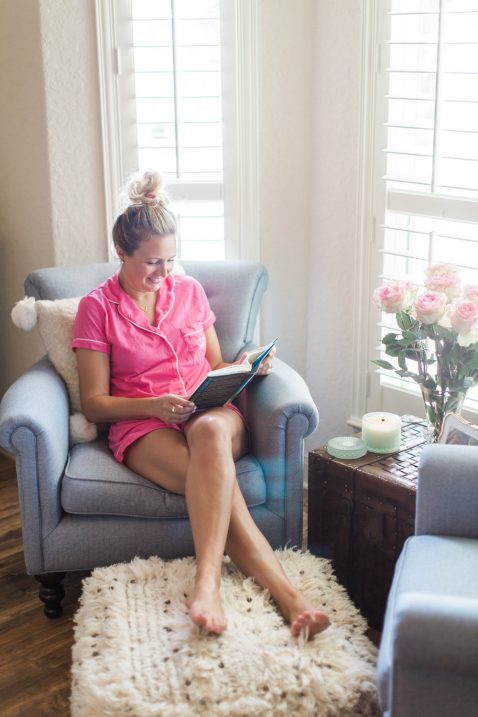 Pillow // Vase // Frame // Blanket // Candle // Pajamas 

You know we love a good cheeseboard around these parts. I am in LOVE with all of these cheeseboard options at Nordstrom:

Here are some more home items that I just love:

For more home posts, You can see how we added some fun in the sun to our summer in this post! I hope you have a happy Monday! Can you believe we are over halfway through June? Summer is already flying by! XO!
*This post was brought to you in partnership with Nordstrom. All options, ideas and cute puppy dog are my own. 🙂
Photography by Abbi Hearne