This post was brought to you in partnership with Karastan. I love partnering with brands that I love and trust. Opinions and post ideas are my own. 
Happy Wednesday, my peeps! Today, I am going to give you a peek into my closet! Really, my closet is a regular old space, where I store my clothes, shoes and handbags. I'll be honest, I considered color coding everything for the shoot, but in true authenticity this is how it looks. Though, I could definitely use more organization, which I am working on. I had my carpenter build me new drawer fronts to update the space a bit and I had shelving built around the tripod mirror. This was here upon moving in, but there was a lot of wasted space around it. Adding these drawers and shelves helped me to have more space that I could reach to put every day items in/on.
My closet does have a special feature that I wanted to share: The CARPET! This cheetah print carpet from Karastan is so gorgeous and plush. It's called Savanna Scenes Cheetah. It's truly one of the softest carpets and it is so perfect for my closet! We absolutely love it! So much so, that I am also hoping to carpet my new office in it as well. It's truly carpet perfection in my book, soft, plush and fabulous! The print is beautiful and so are the colors. And again, it's SO SOFT. It's even Abbey's favorite place to sit when I'm not home because it's that soft! She loves it in there. I really feel like this carpet adds so much personality to an otherwise drab space! It needed a little pizazz and I think we achieved that thanks to this CARPET! Here is a peek into my space!
CARPET // SHOES // JEANS // TOP // POUF
CARPET // SHOES // JEANS // TOP // POUF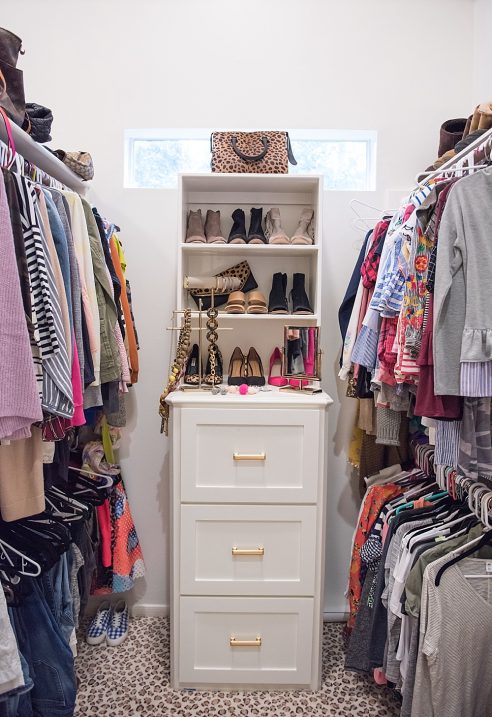 POUF // SHOES // SIMILAR SHOES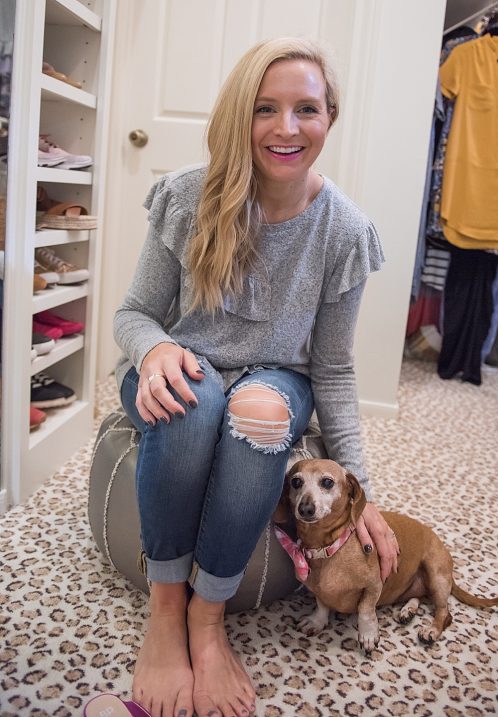 CARPET // SHOES // JEANS // TOP // POUF



I hope you enjoyed a little peek into where the selfies and try on sessions come from! I love this space and this cheetah print carpet has made it so much more "ME!" If you're considering adding any cheetah or animal print carpet to your house definitely check out all that
Karastan
has to offer! I love their carpeting! Have a great Wednesday! XO!
Photography by Melissa Parsons
SaveSave