Happy Monday, my peeps! If you follow me on INSTAGRAM STORIES, then you've been watching a little of our newest home project, over the past few days! We have a few fun projects up our sleeve this year and we are excited! Be sure to follow my STORIES to see daily updates of this space! The KITCHEN was the biggest project of 2017 and quite possibly the biggest project in this house altogether! Yay! The first home project of 2018 is officially underway and in true Ashley fashion, I already can't wait for them to complete this one! We are adding on an office for me and today I am sharing my office design plans with you! Let me give you a little background first.
We have an office in this house, but Mr. Fancy and I both work from home. We've always had two offices in all our houses. We usually just converted an extra bedroom into an office. We originally planned to share an office, but quickly realized that was not going to work. Sharing an office was really not feasible based on what we both do. I needed a place to store all sorts of stuff. I also had lots of stuff that was cluttering the entryway and bedroom and dining room, so we needed a solution. The clutter was stressing us both out. We went back and forth about a few different areas that we could use to add an office space for me. I actually originally planned to take over the kids' playroom because they don't use it much anymore, but settled on me taking over part of our 3rd garage. It made the most sense because we can open it off right off the dining room and it seems like the door was always meant to be there and still keep a portion of the garage space for bikes, extra fridge, etc. It was an easy space to takeover because it was really not used for anything important, besides bikes and fridge. The rest was junk, which has now been purged, so I'm glad we did this for that aspect alone! I already feel lighter! It also makes perfect sense because from the front of the house, you see the original office windows on one side and my new office windows on the other side of the house and both rooms are going to have a pretty similar setup. Adding on more livable square footage is always a bonus, but should we ever decide to sell this house, a new owner could easily turn this space back into a regular size garage if they didn't need this office. Walls, floors, builtins, lighting and furniture were all decided upon pretty quickly in true Ashley fashion! I have a passion for design and truly love designing and decorating spaces. This little space has evolved over a really short period of time, but I am truly SO excited for all the finishing touches and I can't wait to see it come together. I wanted to share with you the direction that I am going in for the space! It's going to be so cute! Take a peek!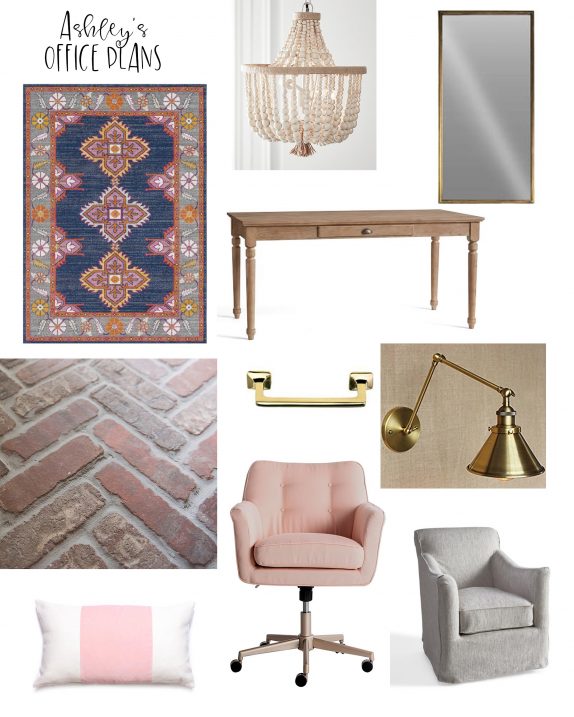 Walls- The walls will be covered with shiplap. Shiplap is such a great statement for any space. I love it and it will tie in nicely with the rest of the house. We have lots of wood paneling throughout the house, shiplap, beadboard, etc, so more shiplap be the perfect addition.
Paint- The wall color for walls, shiplap and builtins will be Benjamin Moore "White Dove." This is my favorite white paint color. The rest of the house is also "White Dove." It may seem boring to some, but a crisp white paint is my fave!
Floors– I decided to go with brick in this space. It's one of my favorite floor types and I wish I could have it EVERYWHERE in this house! I have brick in my laundry room and also plan to do our entryway in it soon, so this again, ties in perfectly! *the photo of the brick is actual brick from my laundry room. This is the EXACT BRICK that we used.
Rug- I think this is the direction I am going in to add a huge pop of color! I've wanted one of these rugs for years, but just didn't have the right space for it! I do now and I am so excited to add this one into the mix! The pinks and navy are two of my favorite color combos! I think this rug will be the perfect pop of fun and fancy! It's such a great price point as well! I ordered the 5×7. I'll report back once it's here and let you know the quality!
Chair- I needed a cute office chair that is also comfortable! Plus, you can't go wrong with a pop of pink!
Desk- I originally ordered this Desk but being on backorder till April was not going to work for me! I ordered this new one and might just have a piece of marble placed on top, or might just leave it as is!
Swivel Glider- I have a love affair with swivel gliders and this one is so cute. I figured it would be perfect to sit on my MacBook or sit and read a book. It's also a great perch for Mr. Fancy or the little presidents if they want to come in and hang with me while I work at my desk!
Floor Mirror– I wanted a very basic mirror and this one totally fits the bill. Love it!
Sconces- I've always wanted long arm sconces and they haven't worked in any of our other offices, since I designed the builtins for this space, I made sure they worked with my design!
Chandelier- I love beaded lighting. It's such a great way to add pizazz to any space! I've looked at this little chandy for awhile now. I'm thrilled to finally have a space for it!
Cabinet Pulls– I'm going with my favorite mission style drawer pulls. We also used them in the KITCHEN. They are perfect and seriously my favorite type of pull! Plus, they are timeless and come in lots of finish options. I always do unlaquered brass, because it's my favorite.



So, what do you think? Do you like the direction I am headed in? I am so thrilled about this little space! I can't wait to show you the finished product! Be sure to follow me on my STORIES for more fun and daily updates! XO!
SaveSave
SaveSaveSaveSave
SaveSave
SaveSaveSaveSaveSaveSaveSaveSaveSaveSave
SaveSave
SaveSave
SaveSave
SaveSave
SaveSave
SaveSave
SaveSave
SaveSave
SaveSave