Happy Tuesday, my peeps! This post has been a long time coming! We renovated our laundry room at the same time that we did the KITCHEN, but it has just taken me this long to get it photographed for the blog! I'm super excited to share this space with you! When we bought this house, the laundry room was a fraction of the size that it is now. We opened it up to a hallway that came into the kitchen from the garage, closed the opening to the kitchen and made a new opening on the other side of the kitchen by our side door. The laundry room is larger now to accommodate mudroom lockers and the new opening space makes the kitchen much more symmetrical.
Here is what the room looked like before. The original laundry room was teeny. there was a hallway from the garage to to the kitchen. We took down the laundry room walls and closed up the opening to the KITCHEN. The door from laundry room, to the kitchen was then moved down as far as it could go. Opening up a whole wall for our mudroom lockers.
The door to the KITCHEN is now right where that far left cabinet it. I used the same french door to keep it flowing nicely with the rest of the house.
This opening is where the opening to the KITCHEN used to be.
Here is what it looked like on the other side…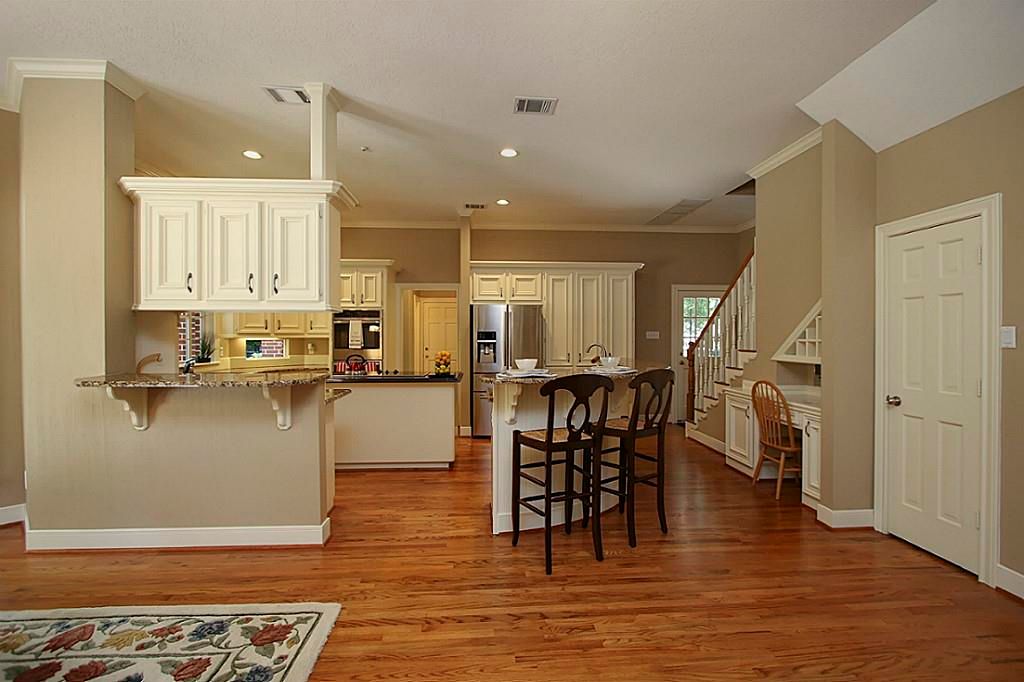 The Details:
I had cabinets built to fit my washer and dryer and while everything is high for a short person, I have lots of added space for items that we don't use everyday! I keep a stool handy in there for those types of occasions. We chose to do brick pavers again (we had in them in our old house, you can see them HERE). We love this look. I actually plan to do my entryway flooring in this same brick later this year and as you know, my OFFICE also has this same brick flooring. To me, brick is a timeless look and it's so easy to clean, etc. The laundry room has our pool bathroom (I'll share this next week) connected to it and brick is the perfect flooring for coming in wet from the pool. The laundry room also flooded a couple weeks ago during our cold front and it totally withstood all the water and dried out so nicely! So, even more love for my precious brick! We chose to do a stainless steel tub sink and unlaquered brass pulls and knobs like in the KITCHEN. I love the juxtaposition of the stainless steel sink and the brass. Such a fun mix! There is a hilarious story about the lighting in here. My best friend had found these lights and I loved them. I knew they would be perfect for this space and we searched high and low for more. They come in sets of two, so we combined a few orders together and each have 3 of the lights. They are so great and I love them. I think she plans to hang them in her laundry room as well. I have them on a timer, so anytime we walk into the laundry room, the light turns on. It stays on 5 minutes, then shuts off if it doesn't sense movement. This is ideal when walking in with a basket of clothes or walking inside from the garage with groceries! Seriously love light timers in rooms like this!
The mudroom lockers are basically a bigger version of what we had in our old HOUSE. I designed them back then and loved them, so it only made sense to recreate them, but larger, since we have more space. Each person has a locker and a drawer. The drawers are mainly for shoes…out of sight, out of mind. We hang coats, backpacks, purses, dog leashes, etc on the hooks. I have lower hooks as well, so that there is more hanging space and with young kids, I think it's necessary to have low hooks, so they can hang their own items.
We are truly thrilled with how this space turned out! Here is a peek into our mudroom/laundry room! I apologize in advance for the picture overload! Ha! **All items are linked at the bottom of the post!
You enter the laundry room from our KITCHEN or our garage…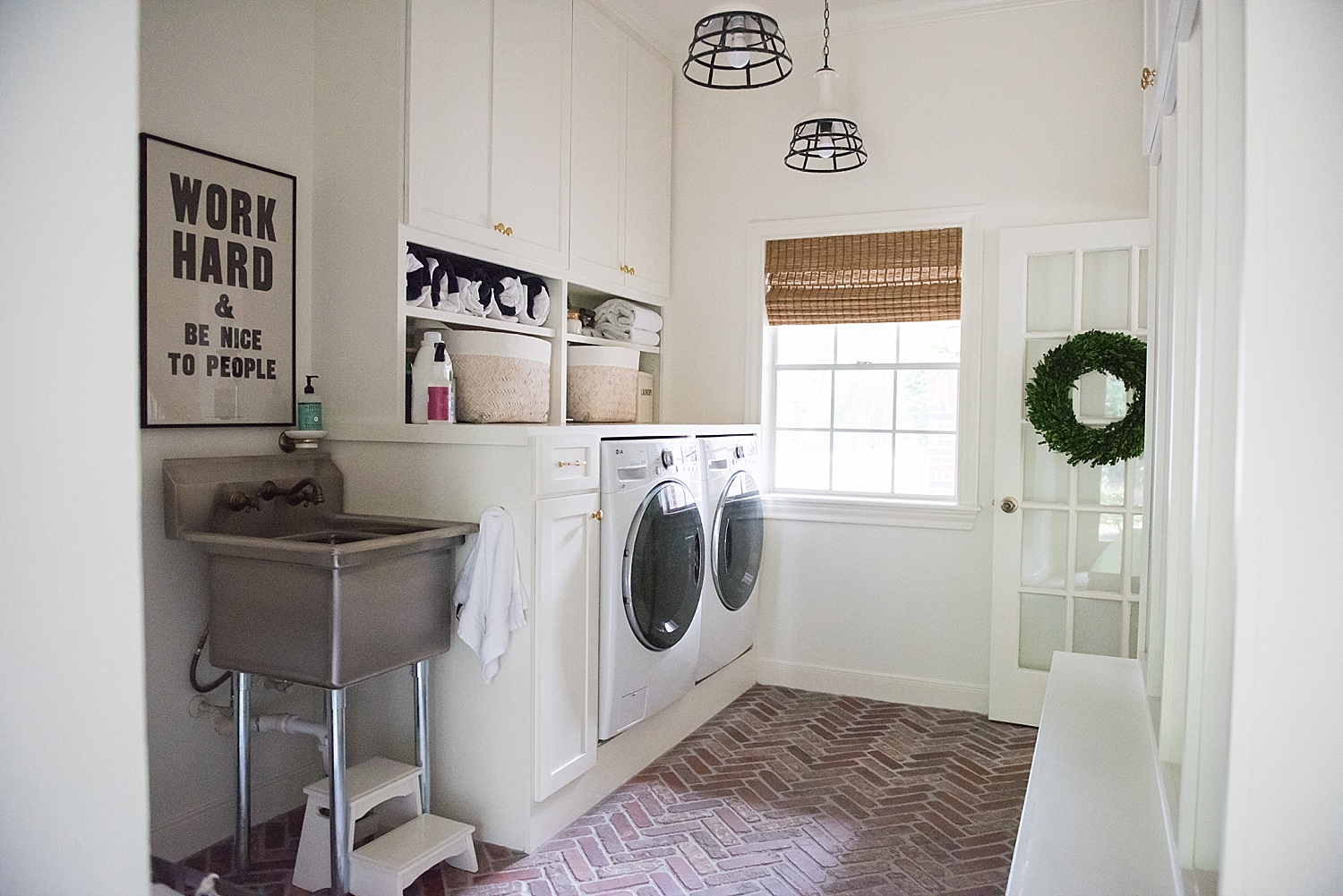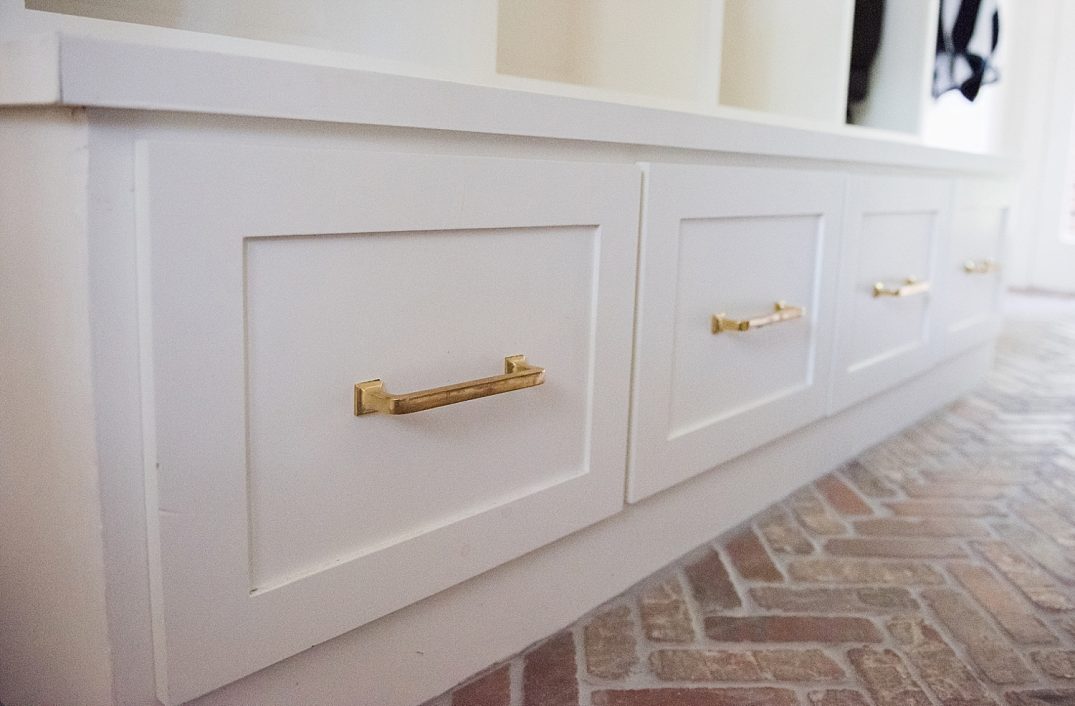 PRODUCT LINKS:
LIGHTS // DRAWER PULLS (6 inch) // CABINET KNOBS // LAUNDRY TIN (I keep my dryer sheets in here) // ROLLING HAMPER // SINK // SINK FAUCET // BOXWOOD WREATH // WORK HARD PRINT // STRIPED TOWELS // ZINC STORAGE CADDY // CANDLE // GROW VASE // SET OF HOOKS // HOOKS // MUG // BOOK // TOTE BAG // BRICK FLOORS (I use a grey grout)
OUTFIT LINKS:
Ashley: SIMILAR TOP // SIMILAR SWEATER // JEANS // LIPSTICK (color: 49) // NECKLACE
I hope enjoyed a peek into this well loved space! As always, I try to make our home super functional, especially rooms like this, that we use numerous times a day! What is your favorite aspect of this space? Have a great Tuesday! XO!

SaveSave
SaveSave
SaveSaveSaveSave
SaveSave
SaveSave
SaveSave
SaveSave
SaveSave
SaveSave
SaveSave