Hi friends and happy Monday to you! I hope you had a wonderful weekend! I started off the week a tad behind, so I am scrambling to catch up!! We have been in the process of a family room redo for a few months and I have had so many requests for me to share the plans with you! No one seems like like surprises when it comes to home decor and I am so with you! I always make a mood board for whatever project I am working on because it helps me to visualize the pieces together in the space! I am so excited to share our family room plans with you today!
So, to start off, our family room was actually fine as it was and it was also super cozy. We had a custom two chaise couch from Restoration Hardware that I had made when we first moved to Texas. It's a great couch and super comfy. I love the fact that it has fit perfectly into two different houses as well. We waited 8 weeks for this couch to be made and I said I'd never do that again! Ha! It took forever! That being said, the current state of the family room was great for our family, but with two chairs and a two chaise couch, it was tough for guests. Most people aren't going to sit on the chaise part of the couch unless they are staying awhile and it always just seemed awkward with seating. So, we knew we needed a game plan, but It took us awhile to decide on the configuration. We really wanted to live with the space a bit before deciding on how we wanted it set up. Once we finally decided, here is what we came up with! Take a peek at the family room design plans!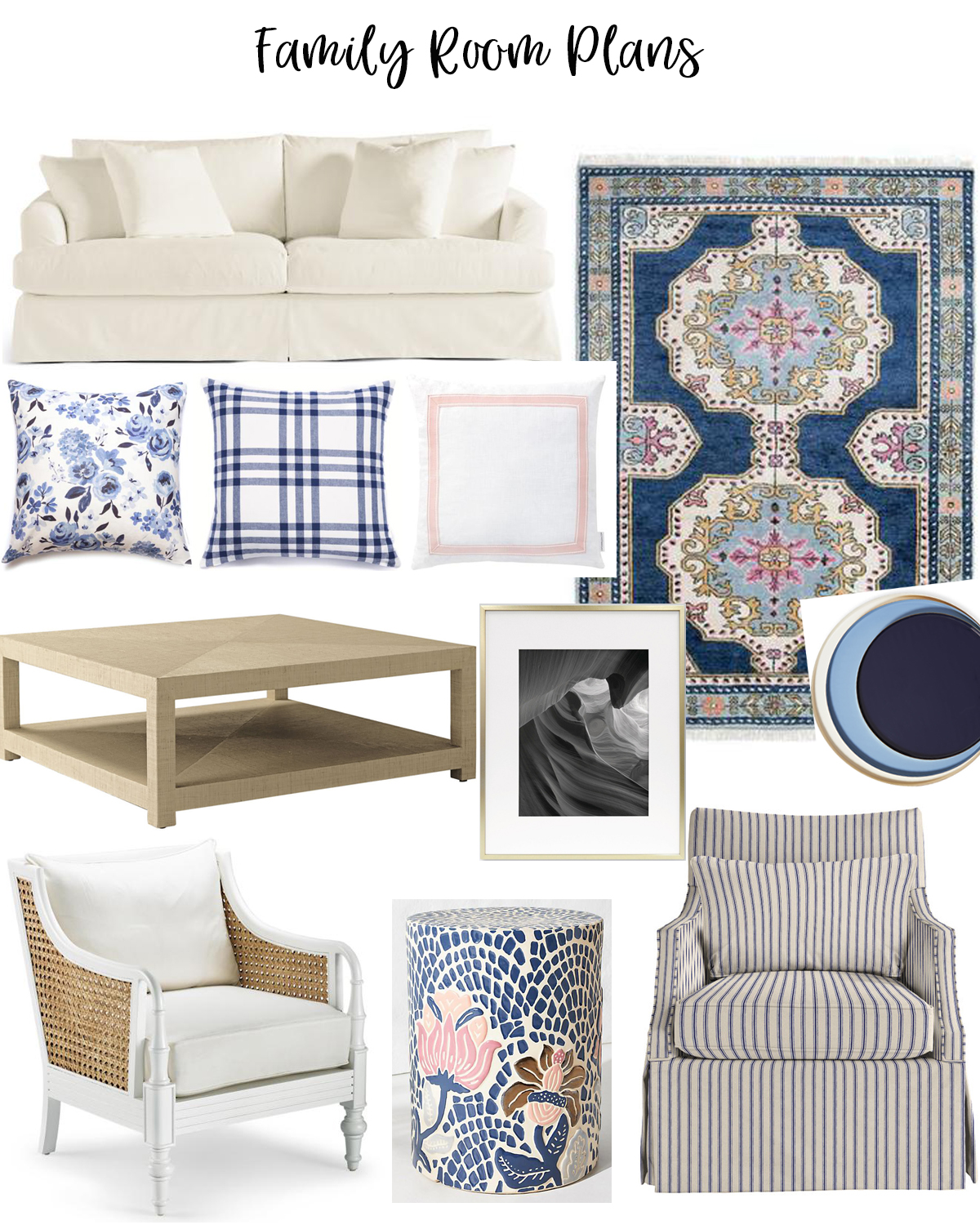 FLORAL PILLOW // PLAID PILLOW // BLUSH TRIM PILLOW
COFFEE TABLE // GALLERY WALL FRAMES // TRAYS
Family Room Plans
Seating
Ultimately, we decided 4 separate chairs and two couches would give us ample seating space. We have our two swivel gliders that I will probably never get rid of because I love them that much! Then we added the palisade chairs from Fronthgate. These are such fun chairs and when I saw them, I knew they were a must! We also decided to go with two Ava couches from Grandin Road. I actually have one of these couches in my living room and it truly is the most comfortable couch ever, so I decided this would be the perfect addition to the family room. Plus, they are slipcovered, so we can wash the covers if necessary and with dogs and kids, this is a great bonus!
Tables
We needed a specific size coffee table for this large space and I truly only found a few that fit the bill. This raffia table was perfection size wise and it should be here next week, so I'm excited to see how it brings the room together. These little mosaic side tables were just another way to add some color to the space. I can't wait to see it all come together!
We have a jute rug in the space now and while I love a good jute rug, my dogs seem to think it's like grass and they chew it. Ugh! All that to say, we also decided that we needed more color in the room, so we decided to bring in a Caitlin Wilson rug. I have always wanted one of her rugs because they are so gorgeous and handmade! We went through her site a bunch of times, narrowed it down to 3 options and chose this rug as the one! We have a lot of blue in our home and kitchen, so ultimately it made the most sense colorwise. Plus, it was my first instinct when I went through the rugs. It's also Mr. Fancy's favorite option, so it just seemed like the one! The only bummer is that it will not arrive until July, so this room will not be completed until then. I am so anxious for it to arrive because it will finish off the space!
Pillows
Ultimately, I chose to add to two of our favorite pillows that we already have and I am excited to see how it all ties together with the rug. I recently ordered two more of each pillow so that I have enough for both couches. Plus, we are adding in some pink to bring out the colors in the rug!! I think it's going to be such a fun and relaxing space!!
So, there is the game plan and I can't wait to complete this room! It's been a LONGGGGG time coming! I'm hoping to be able to share the finished product with you in late July!!
Have a great day, friends! I hope your week is off to a great start!! XO!
If you love this post, you'll love Why I love My Weighted Blanket and April Amazon Haul!