This post is sponsored by Nordstrom and ShopStyle. I love partnering with brands that I love and trust. Post ideas and opinions are my own.
Hi friends and happy Thursday! I hope your week is going amazing! I just returned home yesterday afternoon from a quick and whirlwind trip to New York City and it was so fun! It was great to see friends and meet new ones, as well. I am so excited to be partnering with Nordstrom today to share my picks from Arielle Charnas' Something Navy collection. I am always thrilled to support fellow influencers and just think Arielle is fabulous and she has really knocked it out of the park with her most recent collection at Nordstrom! I seriously can't get over the cuteness and chicness that is this collection and I love the fact that there are so many coordinating pieces for Mommy and Daughters. I had such a tough time narrowing down my favorites because I loved so many of the pieces from the Something Navy collection. That being said, I really wanted to pick pieces that I felt would transition really well into fall. I know we are only in the middle of July, but fall will be here before we know it! These pieces that I am sharing today are really great staples that I know you'll love wearing now and wearing later, as the weather gets cooler! Take a peek at my favorites from the Something Navy collection at Nordstrom. I can't wait to hear which pieces are your favorite, too!
Something Navy at Nordstrom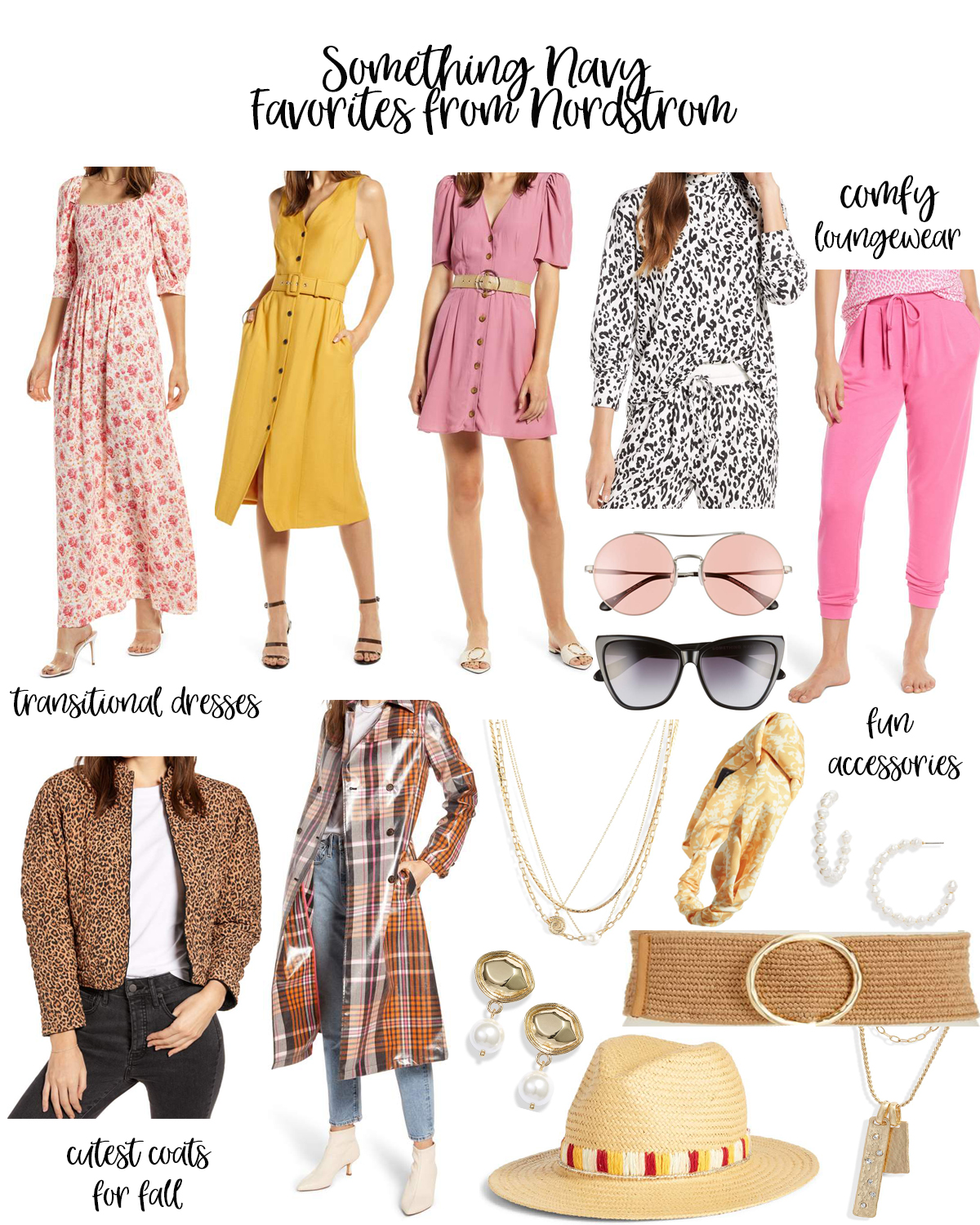 DRESS // DRESS // DRESS // SWEATSHIRT // JOGGER PANTS
LEOPARD COAT // PLAID RAINCOAT // NECKLACE // HEADBAND // EARRINGS
EARRINGS // HAT // BELT // NECKLACE

Something Navy at Nordstrom
DRESS– Loving this floral dress as a great summer into fall piece. Would be so cute with a jacket on top as the weather gets cooler. It comes in two floral prints and both are so dainty and pretty!
DRESS– This mustard colored dress (also comes in white!) is perfection for summer into fall. I just love this color for fall and love the idea of adding a leather jacket on top of this one!
DRESS– This pink dress is really such a sweet cut and I love how they paired this belt with it! It also comes in a leopard print and you can't go wrong with either one!
SWEATSHIRT– Give me all the loungewear! I love the pink and leopard options in this one! I couldn't decide which I loved more, so my thought is to mix the leopard print with the pink pants below!
JOGGER PANTS– Loving these fun jogger pants! Wear them around the house or out to run errands! You'll be cute and comfy!
SUNGLASSES– These are so fun and I love the idea of having a fun rose colored pair of glasses to my sunnies collection!
SUNGLASSES– Loving these for summer into fall!
LEOPARD COAT– I love this leopard coat for fall! It's cute and the perfect weight! It also comes in a fun floral print!
PLAID RAINCOAT– Give me all the plaid for fall! I can't get over this cuteness!! It's the perfect raincoat!
NECKLACE– I love this layered necklace! It's really such a great staple that you'd wear over and over!
HEADBAND– You know I can't quit my headband obsession! I love this one! Also comes in a black floral.
EARRINGS– I am loving these pearl hoops. Again, I think they are a great staple that you'd wear again and again!
EARRINGS– Love these cute gold and pearl drop earrings! They are really precious.
HAT– Cant get over how much I love this hat and the colored trim on it! It's such perfect fall colors!
BELT– I love a good woven belt and I just had to grab this one! They are just great to have on hand for all sorts of outfits-dresses, skirts, shorts, etc! This is a piece you'll wear year after year, again and again!
NECKLACE– I love this great gold (or silver) necklace! It's such a great staple piece and the perfect longer length!
I had to add a few more of my favorites from Something Navy, below! This DRESS is a total must! Isn't it the cutest? Click the pictures to shop each item, below!

Which of these pieces are must haves for your summer and fall wardrobe? Aren't you loving this line so much!?! See the full collection HERE!
Have a great day!! XO!
If you liked this post, you'll love Four Outfits to Wear to Brunch and The Drape Front Jacket You Need!