This post is sponsored by Gap and ShopStyle. I love partnering with brands that I love and trust. Post ideas and opinions are my own.
Hi friends and happy Monday! I hope you had a great weekend! Can you believe it's already the 9th of December!? I truly wish time would slow down at this time of the year, but it just seems to go even faster than normal! I am SO excited to be back today with a sponsored post from Gap! A back story on me and Gap…we go way back. When I was in high school, I begged my parents to let me get a part time job at Gap. I have always been entrepreneurial and always enjoyed working and loved Gap and was often shopping there, so I thought to myself, why not get a job here?…all that to say, they said no originally because of school (I was a junior in high school). After more pressing, they finally said YES and I got a seasonal job at Gap Body! I LOVED it and it was such a fun gig! I truly love being around people, so it was so fun to work the registers, help with displays and work with customers! They actually asked me to stay on, but we moved that January, so sadly, off to a new state I went, leaving that fun gig behind. All this to say, Gap and I go way back, so you better believe I jumped at the chance to work with them for today's post because I've been a loyal customer (and once employee) for years!
My whole fam bam wears Gap, so truly this partnership is a great one! I am excited to share a few ways to wear plaid with you, today and some gift ideas towards the end of the post! Gap offers free shipping on orders of $50 and over, free returns, and extended store hours during the bustling holiday months. They are making your holiday shopping so much easier! Gap also has their very own credit card, which I've heard from a lot of you, has amazing benefits! You save 20% on your purchase when you open and use your card the same day! You can read more about the Gap card benefits HERE! Who doesn't love a discount when they shop?
Two Ways to Wear Plaid this Holiday Season
Plaid Top and Metallic Skirt
Everyone needs a great plaid top for the holidays and this one from Gap is so perfect! The plaid, the ruffles, you just can't beat this one! I absolutely love it paired with this metallic skirt! It's the perfect festive look for any holiday shindig!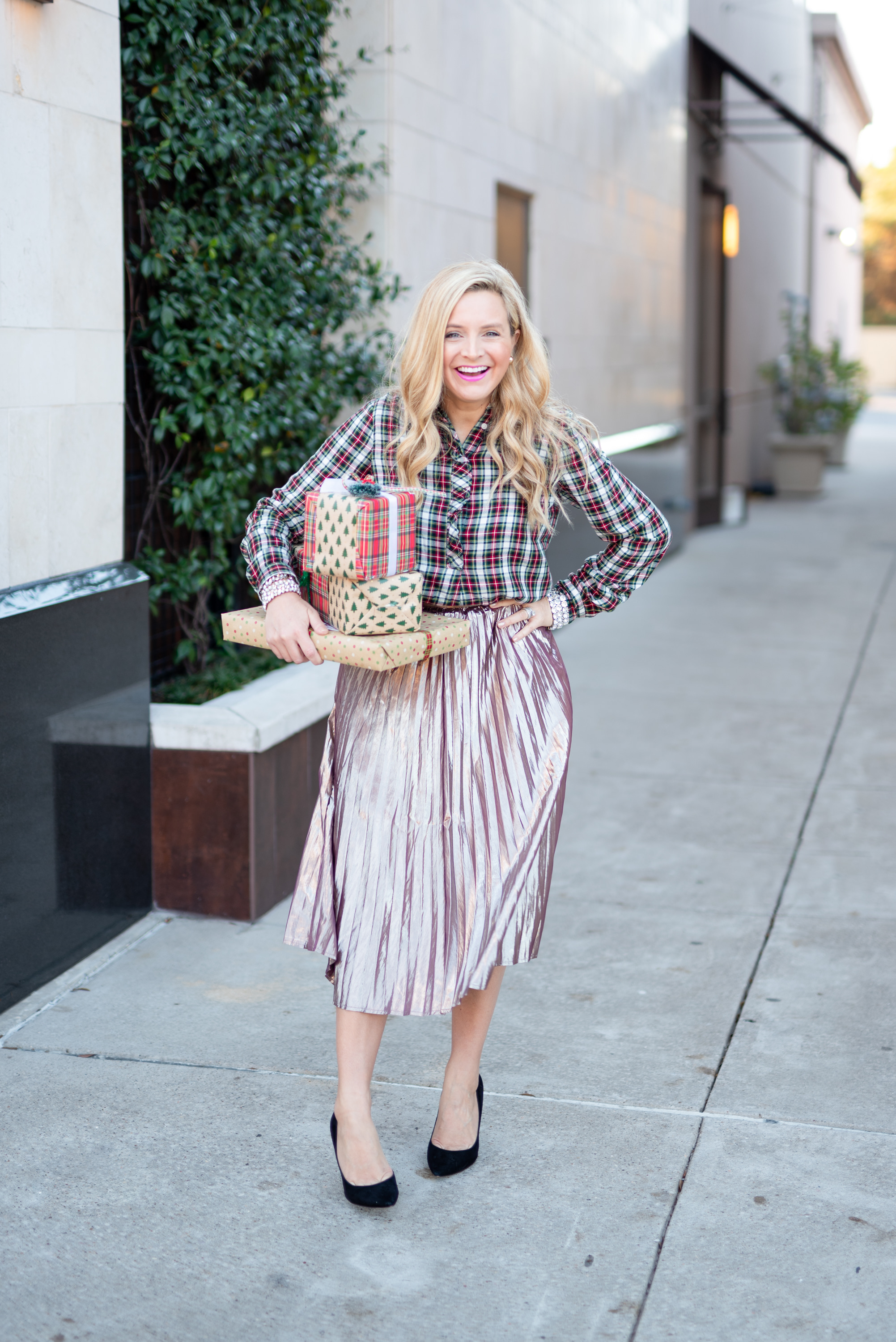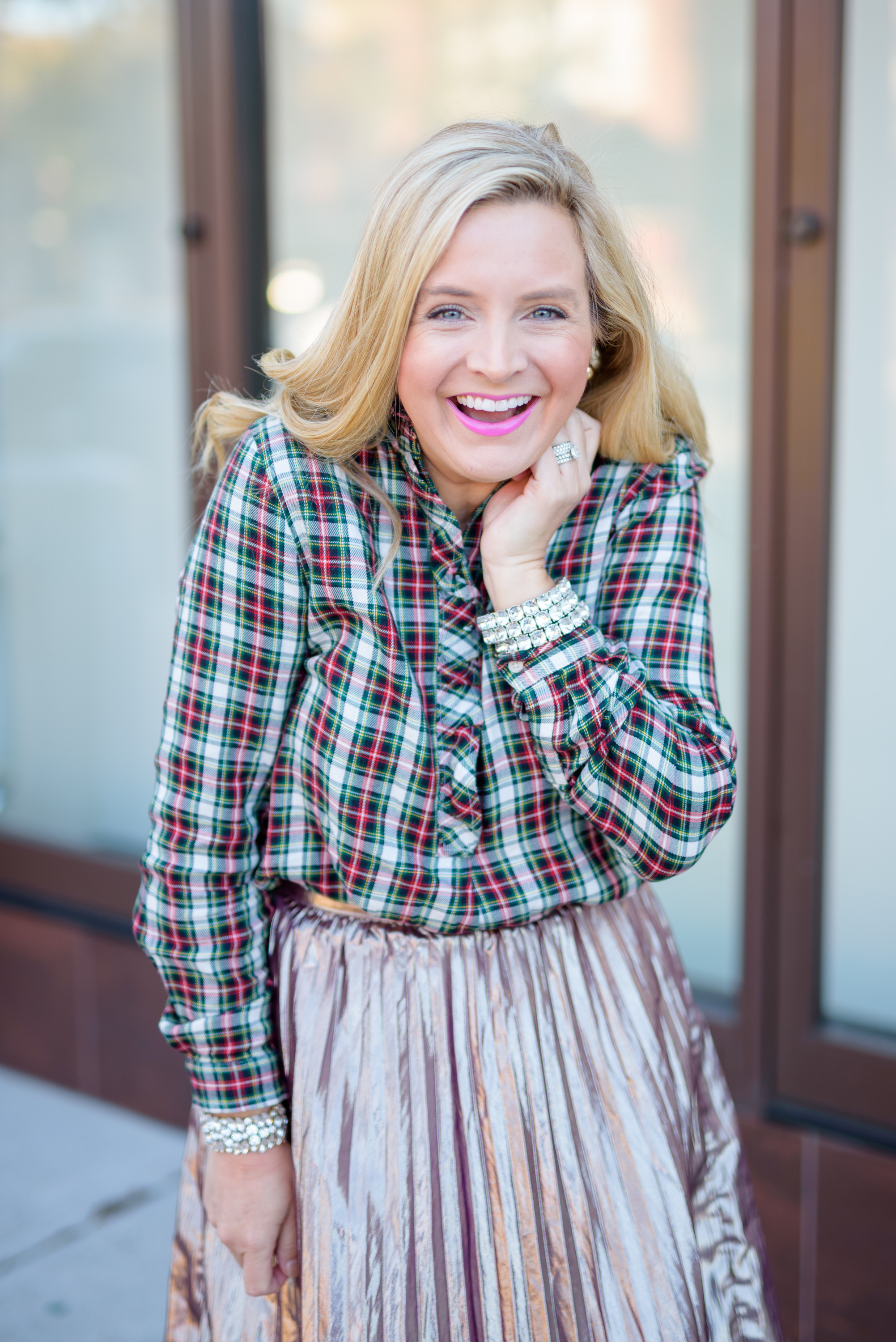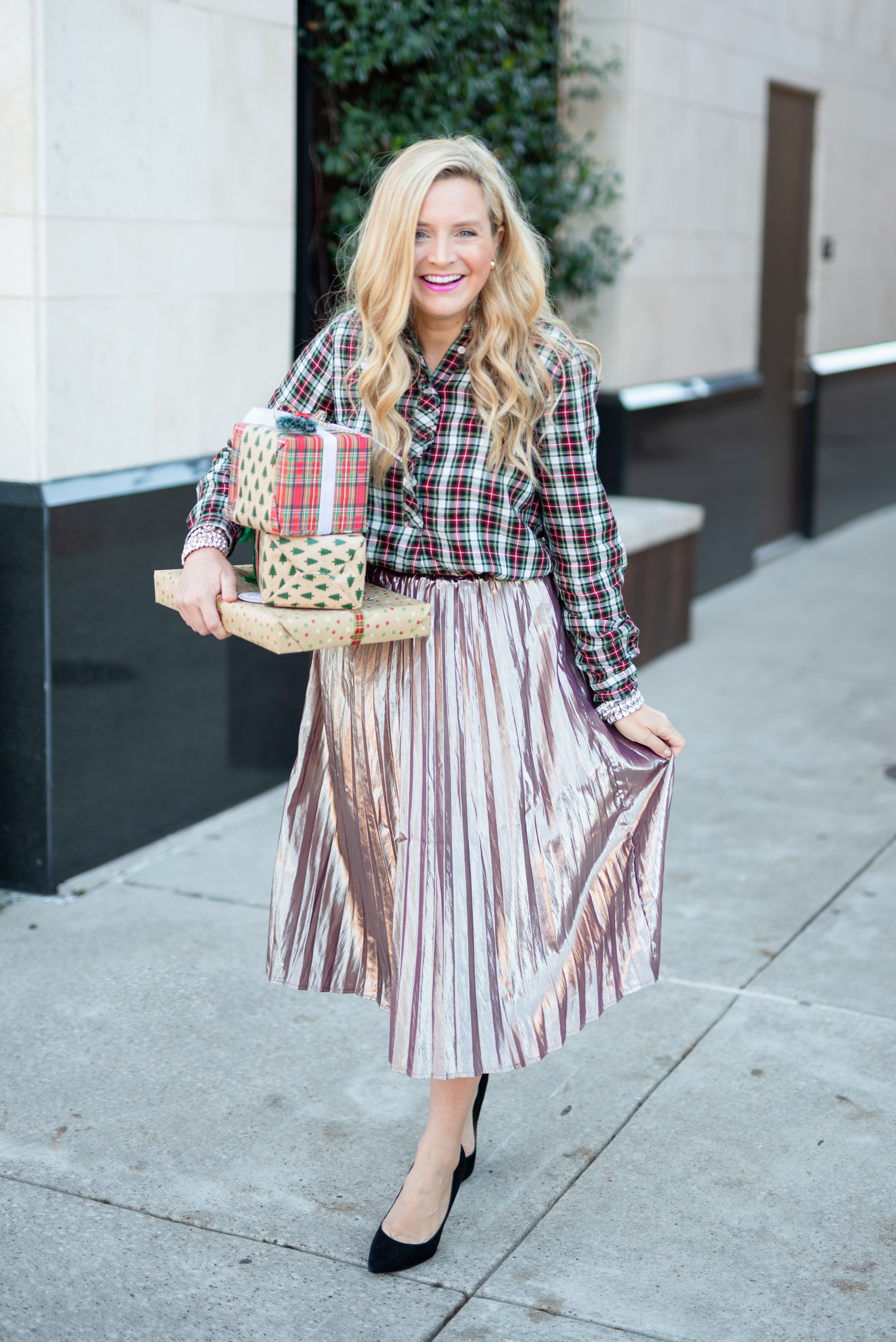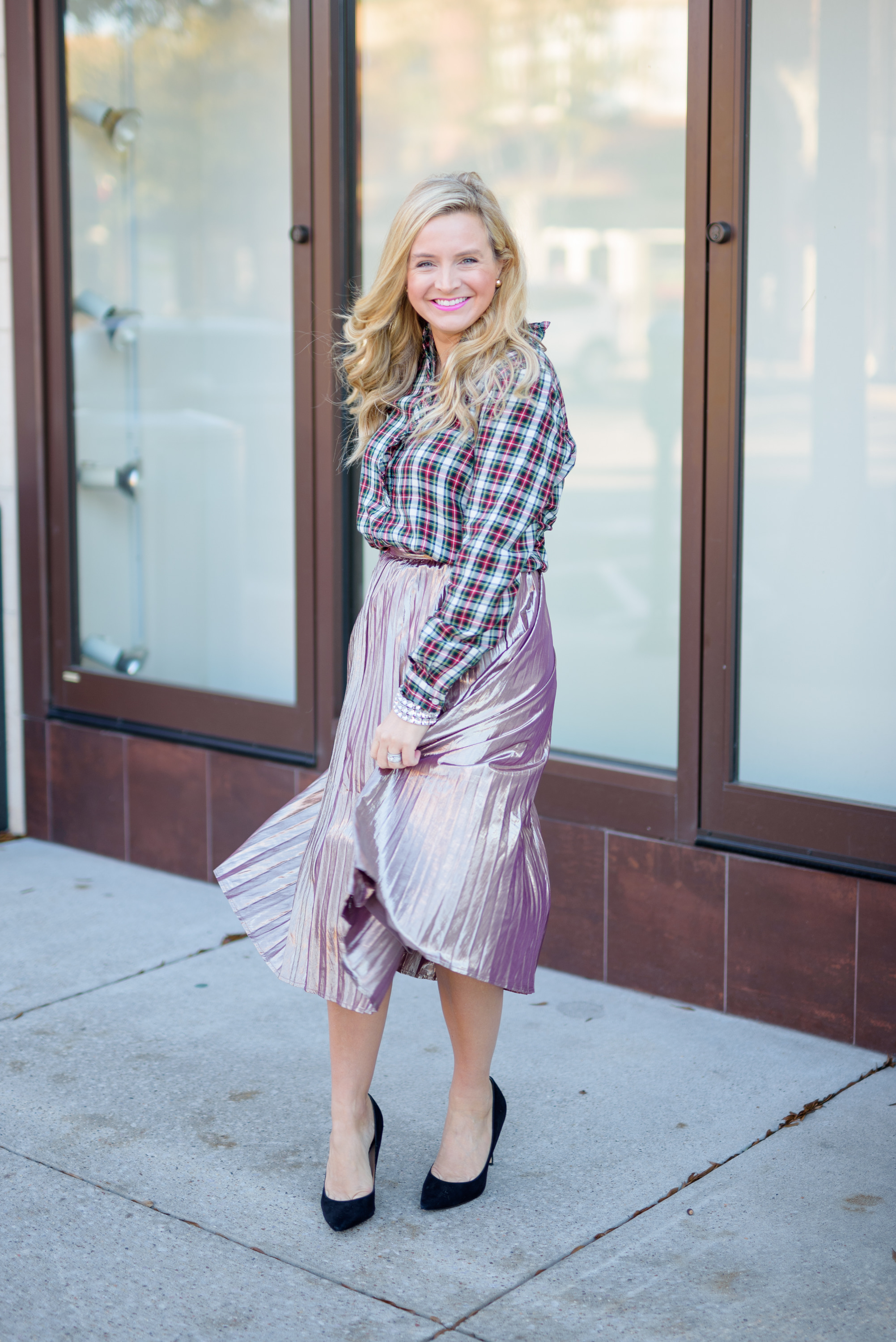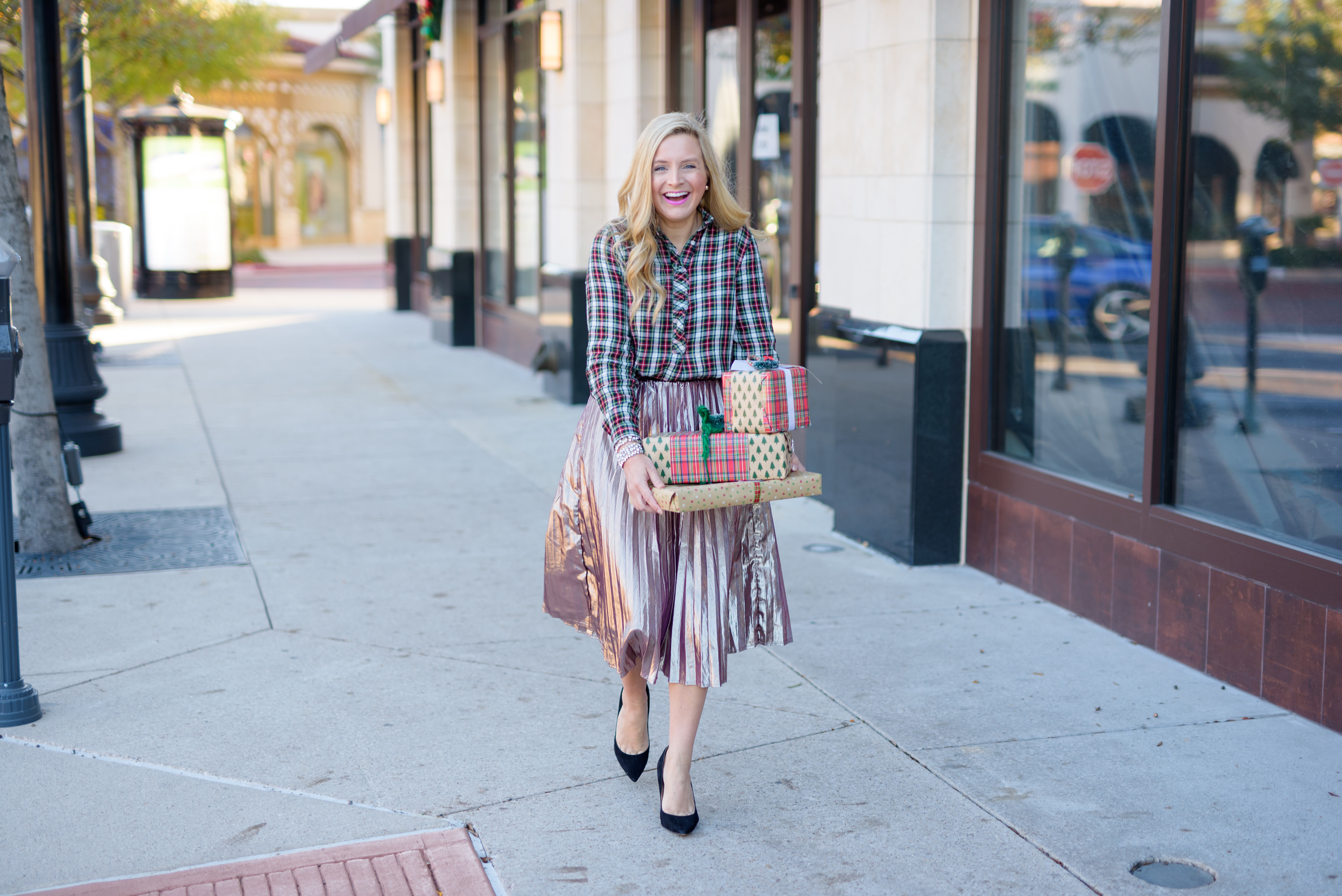 Plaid Top and Plaid Pants
These pants were screaming my name! You know I can't resist a great pair of plaid pants, so I was thrilled to add these to my fancy pants collection. I really love the plaid on plaid look, which I know can be a lot for some people, but for me, there is no such thing as too much plaid! I love this combo and I'm actually wearing it to a brunch tomorrow!!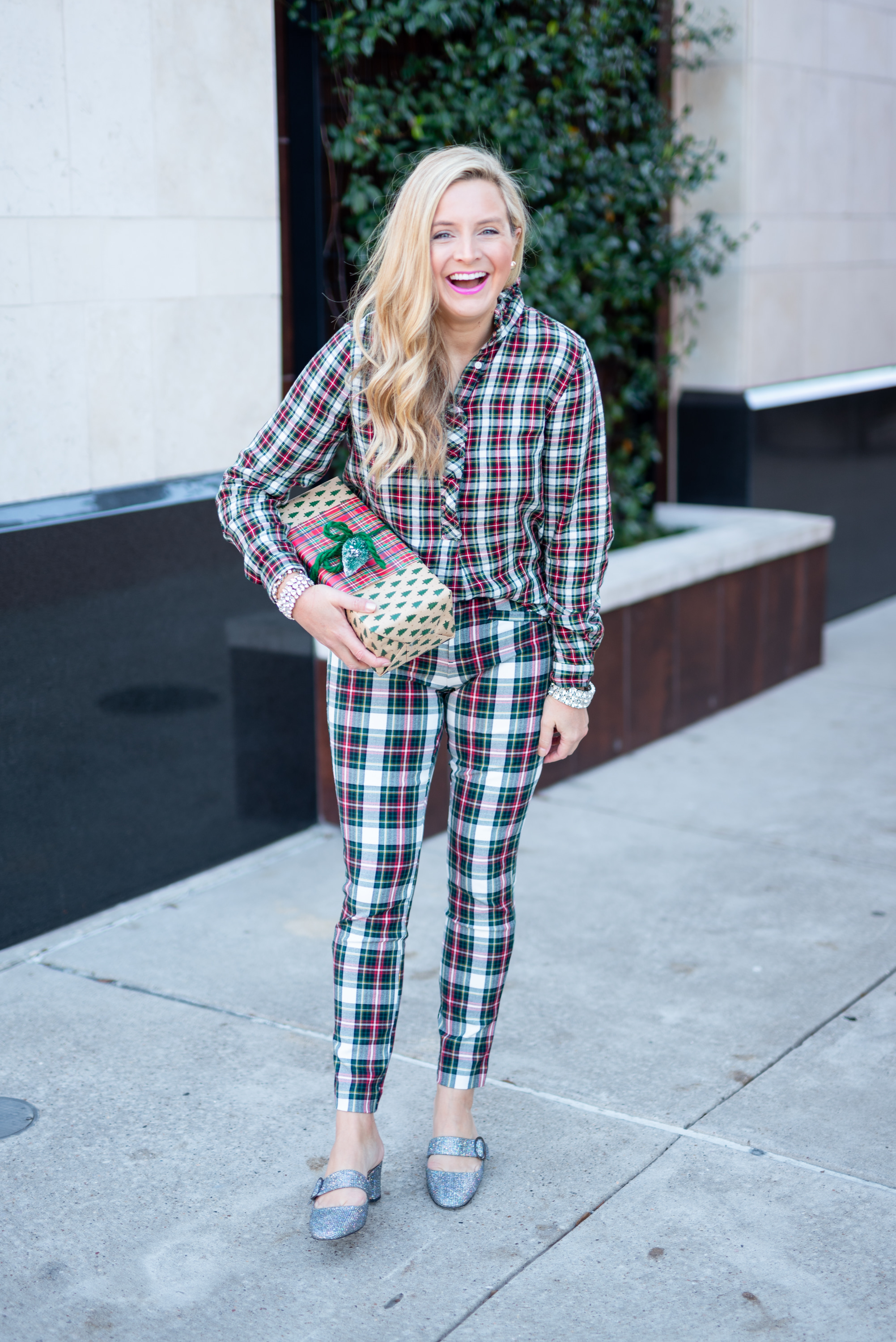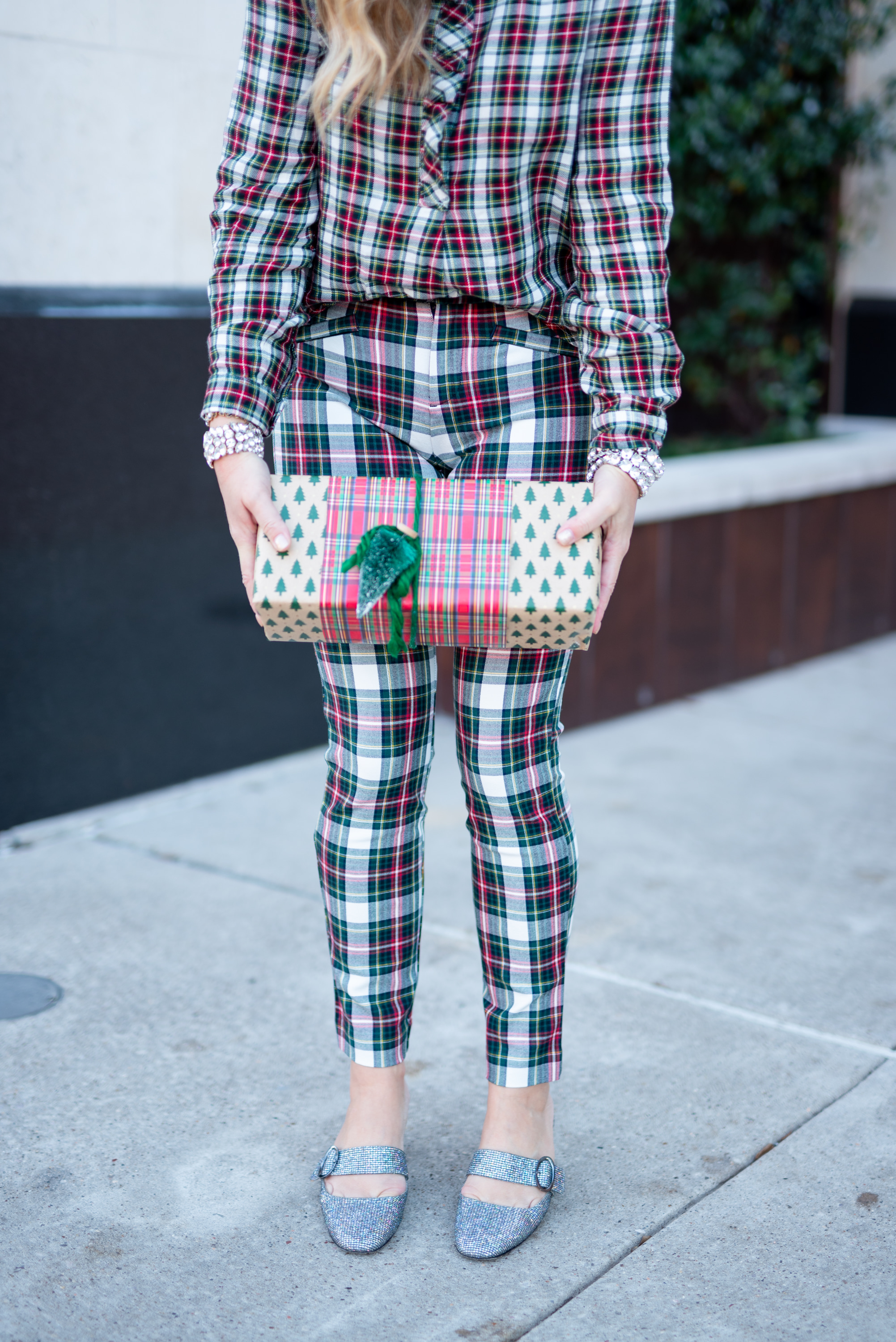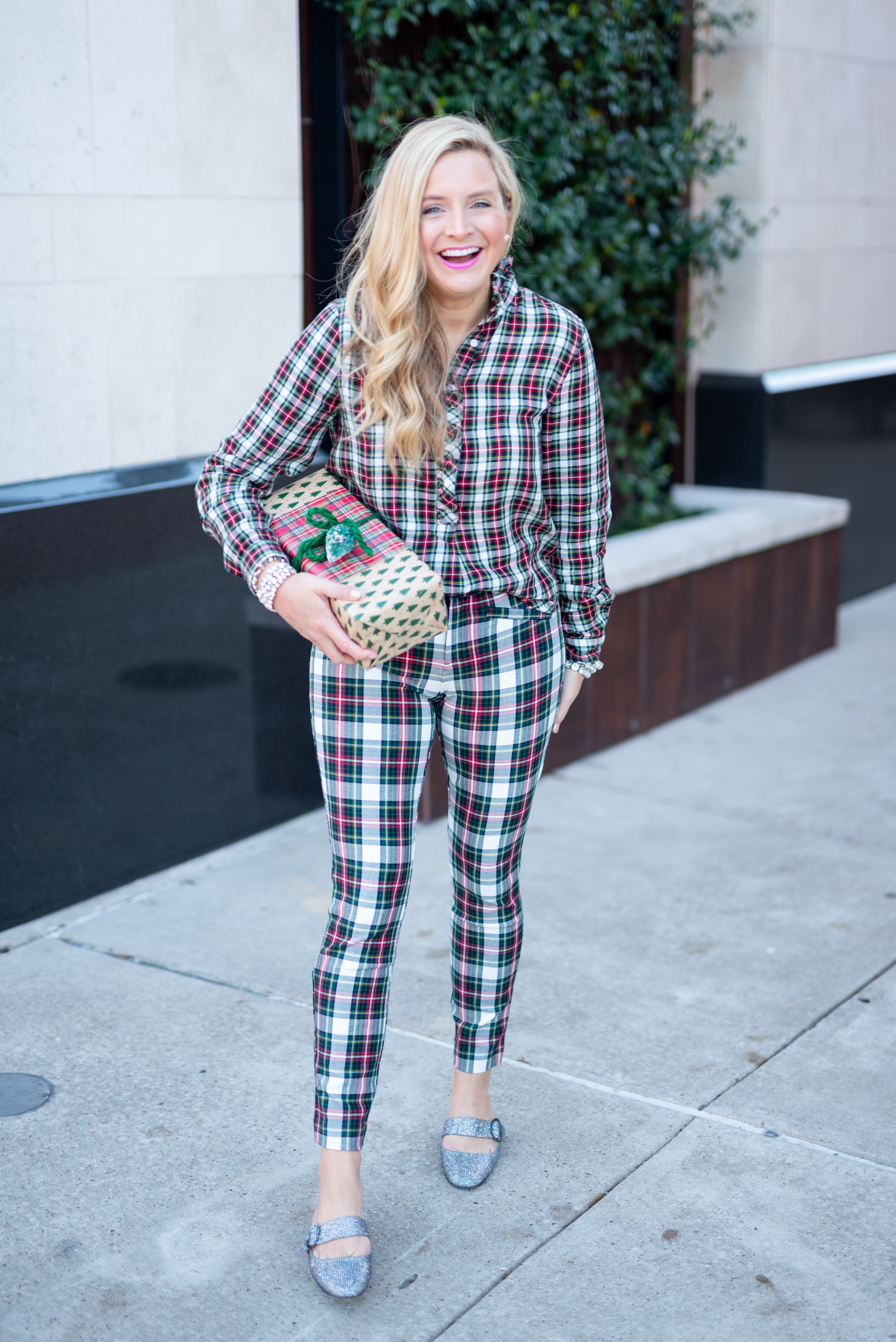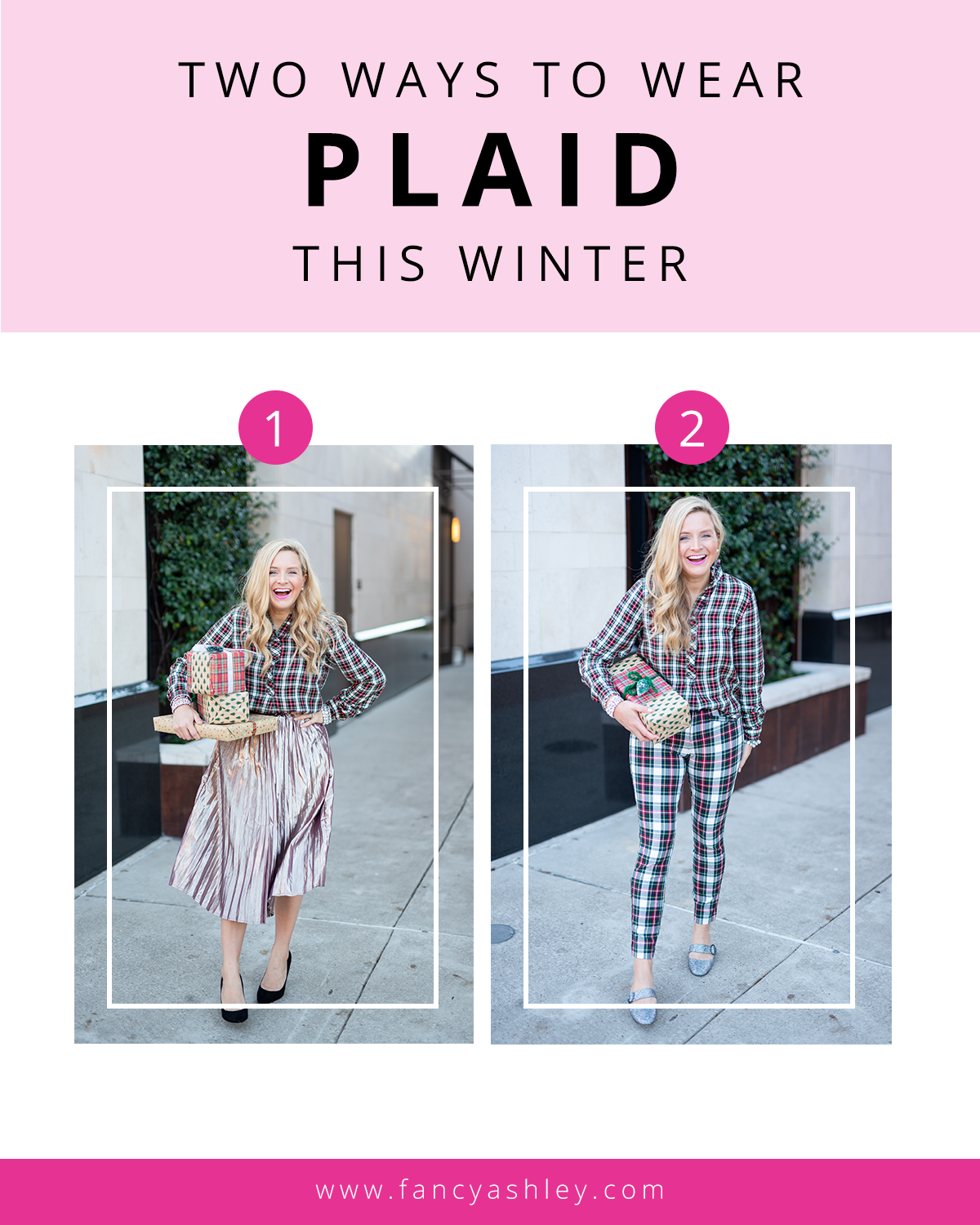 Take a peek at some great gift ideas for the rest of the family!
I always love giving (and receiving) the gift of cozy! Gap has so many cozy options! Here are a few gift ideas that any of the gals on your list would love to see under the tree this year!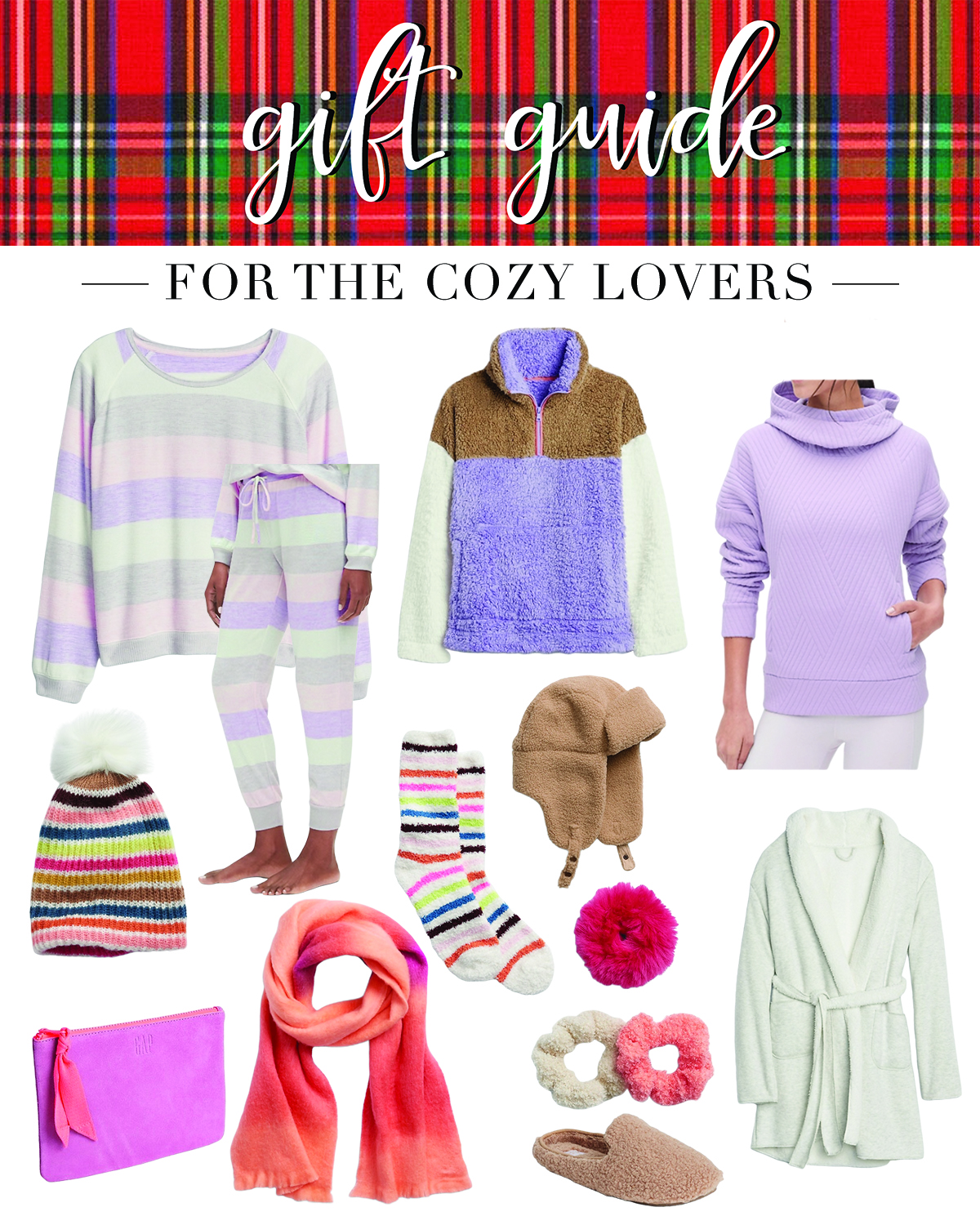 PJ TOP // PJ PANTS // FLEECE // TURTLENECK
CLUTCH // SCARF // SCRUNCHIES // SLIPPERS // ROBE
I love these gift ideas for girls and boys! Gap has so many awesome options! Here are a few things that Teddy and Reagan would love to open up this year!
Girls: SWEATER // LEGGINGS // HAT // SNEAKERS // BOW HEADBAND // CAT EARS HEADBAND
Boys: SLIPPERS // SNEAKERS // TEE // HAT // HAT // SOCKS // BOOTS // BACKPACK // PJS
So, are you more into the plaid top and skirt or the plaid top and pants? Truly, you can wear both all through the holidays!!
Have a great day! XO!