Hi friends and happy June! I hope your week is off to a good start! I'm back today with the most shopped items from May!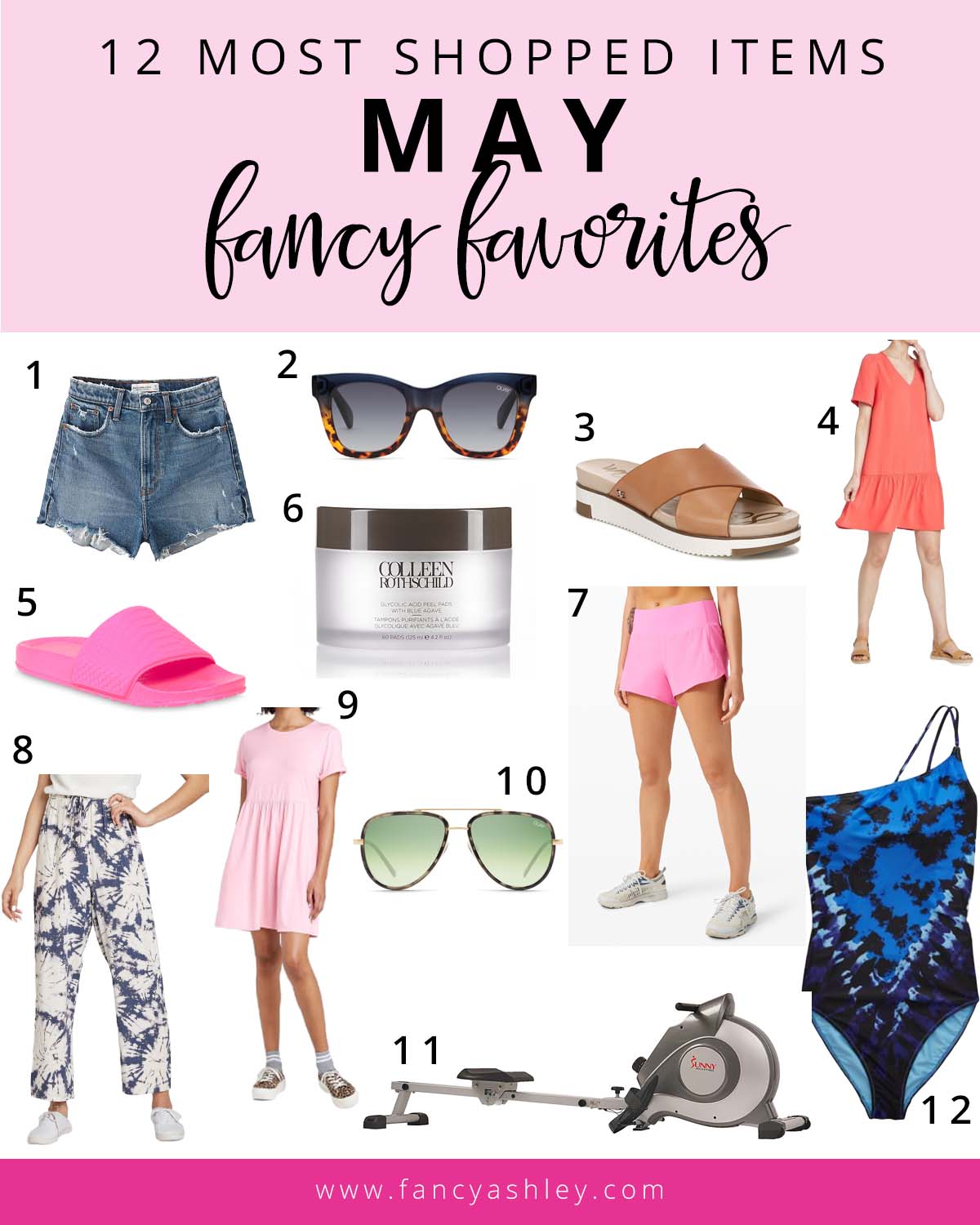 EIGHT // NINE // TEN // ELEVEN // TWELVE
ONE – My favorite denim shorts! These are called curve love for a reason! They are awesome and high waisted and so flattering!
TWO – I've worn and loved these sunglasses for years! They are awesome and under $60!! I have them in black and this gradient version!
THREE – Most comfy and most worn sandals! These will be my sandals of the summer for sure!
FOUR – This dress! A best seller for months! It's a great dress that comes in lots of colors and prints and you can't beat the price!
FIVE – Neon pink slides! Need I say more? These are so fun!! They also come in a neon green/yellow!
SIX – My glycoloic pads that I have raved about! These are incredible!!
SEVEN – Loving these running shorts! They are perfection and come in lots of colors!
EIGHT – These tie dye pants are a summer favorite! Elastic waist and tie dye? I will wear these all summer long!
NINE – This dress was a favorite of 2019 and it's back in new colors and a striped print! $20 and perfect for everyday! Also makes a great swimsuit coverup!!
TEN – Another pair of sunglasses that I've worn a ton! I have these in a few colors and they are a favorite!!
ELEVEN – My new rowing machine. In a quest to add more upper body strength and get a full body workout, I found this affordable rowing machine! You all have loved it, too! It's having a hard time staying in stock, but this ONE is not much more and from the same brand!
TWELVE – This tie dye swimsuit is a favorite and you're all loving it, too! I typically size up to a medium in swimsuits and this fit of this one is super true to size! Plus, it's been on sale a lot over the past month!
Are any of these favorites on your favorite purchase list?
Have a wonderful day! XO!
If you liked this post, you'll love Most Shopped in April and Most Shopped in March!