This post is sponsored by Zulily and ShopStyle. I love partnering with brands that I love and trust. Post ideas and opinions are my own. 
Hi friends and happy Monday! I hope you had a wonderful weekend! I don't know about you, but after being stuck at home since March, I am craving some beach, pool and good old fashioned summer fun!! We have a fun trip coming up later this month and I am really looking forward to having the sand between my toes again and grateful that we can still make it happen! I always say the beach is my happy place and I wish I could go there daily! I'm so excited to partner with Zulily today to share some awesome summer fun toys with you! They have such an awesome selection of EVERYTHING, but I am focussing on the beach, pool and outdoor toys! I know most of us are getting outside as much as possible these days! I'm loving all that Zulily has to offer! If you're newer to Zulily, here's the scoop! Zulily was born to delight savvy shoppers with special finds at amazing prices. Every day, Zulily launches new sales featuring all the latest fashions, kids' apparel, shoes, home decor, toys, and so much more. I used to frequent this site A TON when my kids were babies and toddlers because they always had some of my favorite brands at great prices!! Given the current state, Zulily has an awesome selection of essential Stay at Home products, including cleaning supplies, kids toys/educational toys, and lots of great products to help you master the work from home life. They also give back!! Zulily will also be matching donations made through this link on Zulily's website to Meals on Wheels and No Kid Hungry, with a cap at $2M! You know I always say "it's never wrong to open your hand" and I love that they are giving back so much right now. I hope these summer fun favorites inspire you and your families to get outdoors this summer! Take a peek!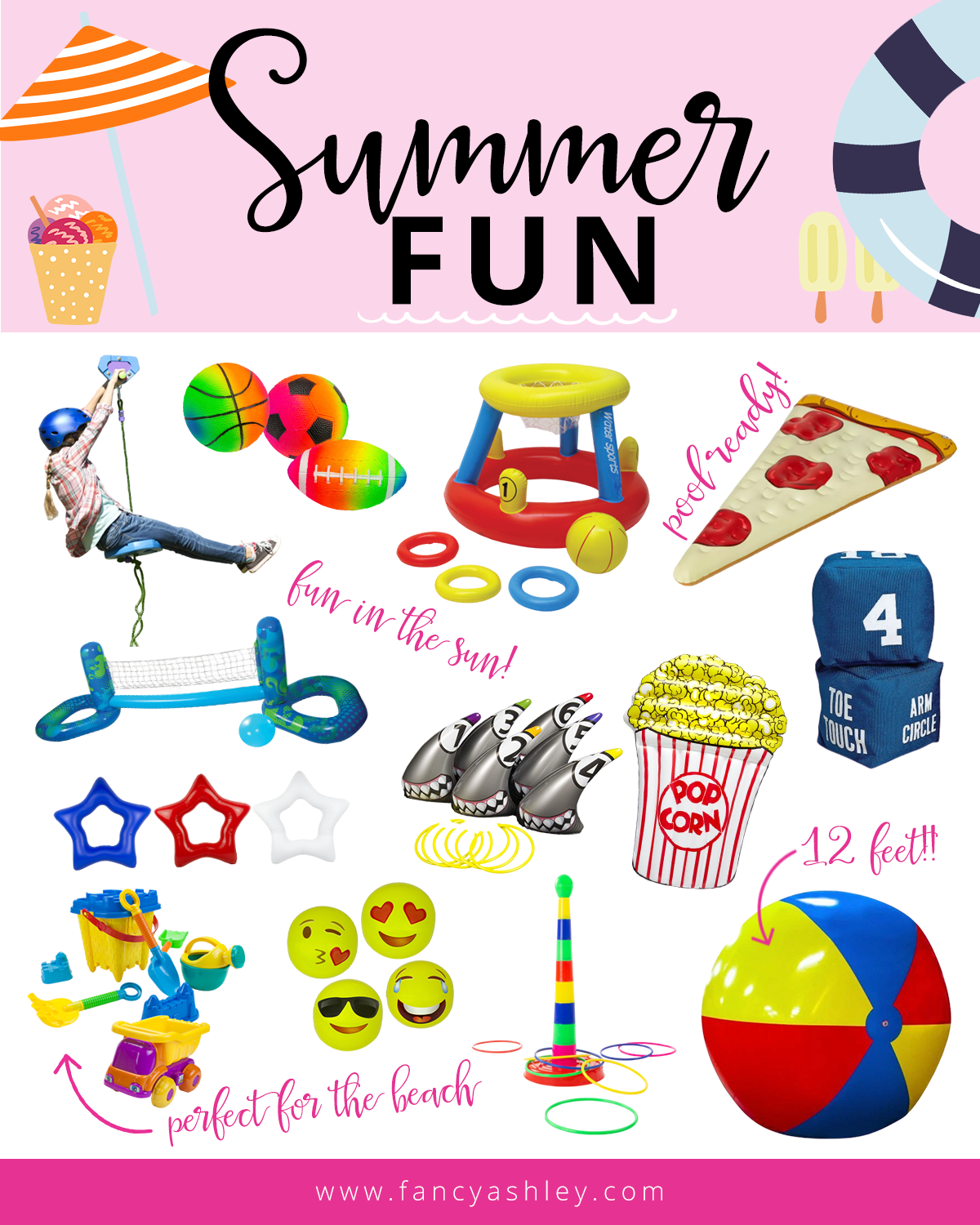 ZIPLINE // BALL SET // BASKETBALL HOOP // PIZZA FLOAT
POOL VOLLEYBALL // FLOATING RING TOSS // POPCORN FLOAT // FITNESS DICE
STAR POOL FLOATS // SAND TOYS // EMOJI BALLS // RING TOSS // HUGE BEACH BALL
ZIPLINE – This looks like SO MUCH fun! My kids would love having this in our yard!
BALL SET – My kids are always looking for balls to toss around in the pool. I loved this colorful set!
BASKETBALL HOOP – We have a version of this here and my kids love it! It's so fun to play in the pool!
PIZZA FLOAT – We have and love this float! Walter also loves sitting on it when it's out of the water! Ha!
POOL VOLLEYBALL – I think this look so fun! I can totally imagine the kids playing lots of volleyball games with this!
FLOATING RING TOSS – Loving the idea of a floating ring toss! I hadn't seen an inflatable one before! This looks like so much fun!
POPCORN FLOAT – Another super fun pool float! You can go wrong with any of these!
FITNESS DICE – Loving this fitness dice! You throw it and whatever exercise it lands on, is what you do! I thought it was perfect for the kids and truthfully wish I had seen this earlier because it would have been perfect for homeschool PE!
STAR POOL FLOATS – This set of floats is so fun and would be great for the 4th of July! They are basically little star shaped inter-tubes!
SAND TOYS – Sand toys are always a must at the beach! You're never too old to build a sand castle!
EMOJI BALLS – These are so fun! Who doesn't love an emoji! My kids love all thing emoji!
RING TOSS – This is another fun ring toss game! A great way to keep the kiddos busy!
HUGE BEACH BALL – This ball is 12 FT! Its huge and looks like SO MUCH fun!!!

Are you going to add any of these fun toys into your summer? Zulily has SO many awesome products to get you summer FUN ready!
Have a great day! XO!