Hi friends! Happy Thursday! Back with more bathroom inspo for you!! Like I mentioned in this post, we decided to tackle all three upstairs bathrooms at once. There was a few days where I thought WHAT DID I GET US INTO? We had no toilets, no showers, no sinks upstairs- but things could've been way worse! Ha! It all turned out fine and the bathrooms are finished besides a few minor cosmetic things! When we decided to redo Reagan's bathroom, it made sense to just tackle the guest bathroom, too. The bathrooms are connected, so the wall between them had to come down regardless. Honestly, I've put off this bathroom for years because we rarely have guests visit, so I honestly didn't want to spend the money just to have it sit there. But, again, in trying to update the house to potentially sell it at some point, it just made sense to do it, plus, like I said, we were going to do Reagan's bathroom. I wanted to do a really clean and crisp look in this space with a pop of blue and grey from the floor. In my showers, I always do a basic subway tile and a pretty basic floor shower floor. I went with a white penny tile on the shower floor and in the soap box and made all of the white POP with a dark grey grout! I'm planning to finish the space with polished chrome accents and a fun navy mirror. I have a lot of blue accents in our guest bedroom, so I was excited to add blue into the bathroom to tie it all together. Take a peek at the guest bathroom mood board!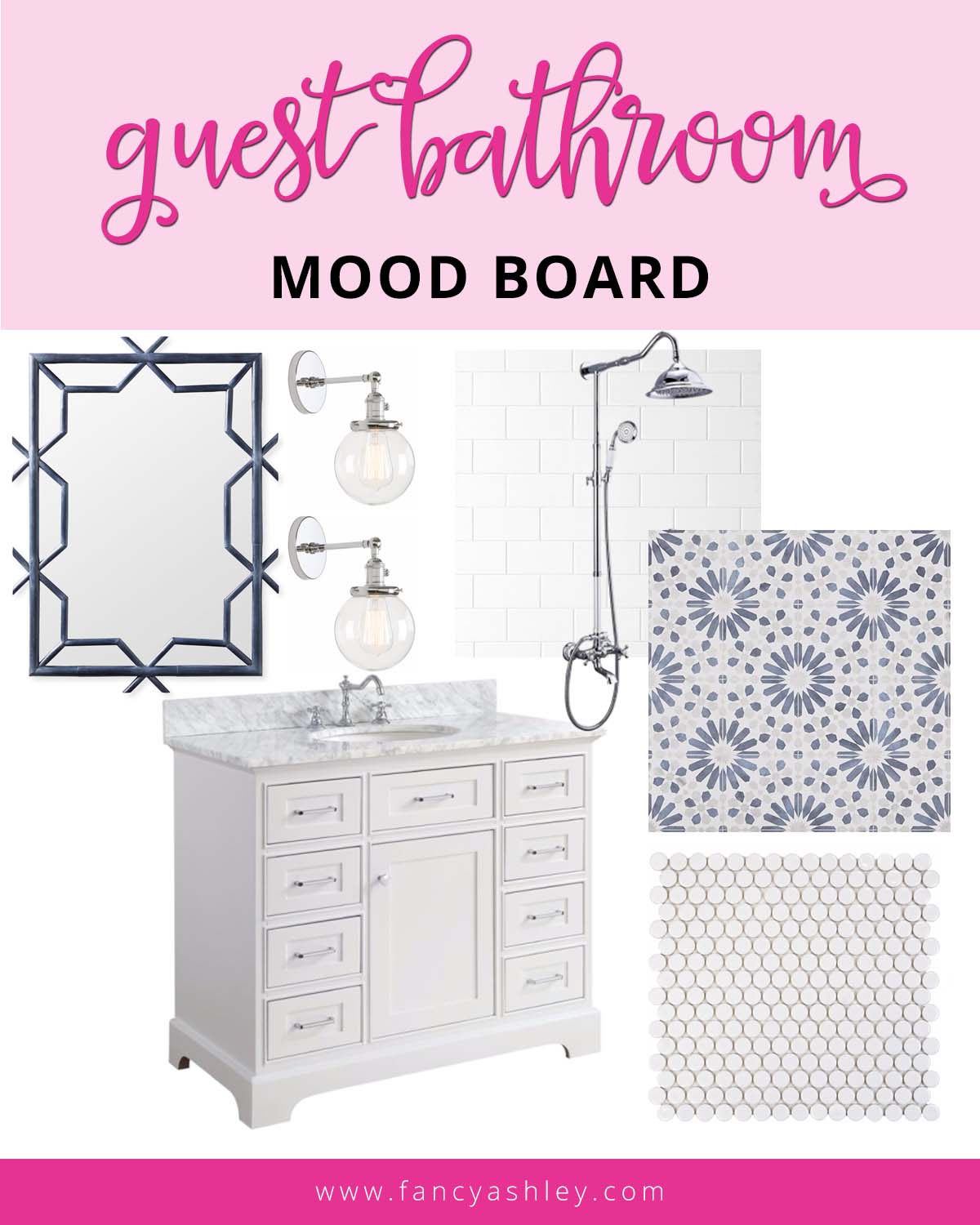 MIRROR // VANITY // SCONCE LIGHTS // SUBWAY TILE
SHOWER SYSTEM // FLOOR TILE // PENNY TILE
I really liked the below floor tile, too! I knew I wanted a pretty blue/grey theme in this space!
Click these links to see Teddy's Bathroom Mood Board and Reagan's Bathroom Mood Board!
Which bathroom design is your favorite? Hard to pick for me! I love them all!
Are you doing any home renovations at your house this year?
Have a great day! XOXO