Hi guys! Happy Wednesday! Ironically this post is scheduled to go live when most of our pipes are frozen and we are certainly not enjoying our renovated bathrooms. Haha. But, regardless, I am thrilled to share Reagan's girls bathroom renovation with you. Lets start off with a little before shot, so you can see what we had to work with!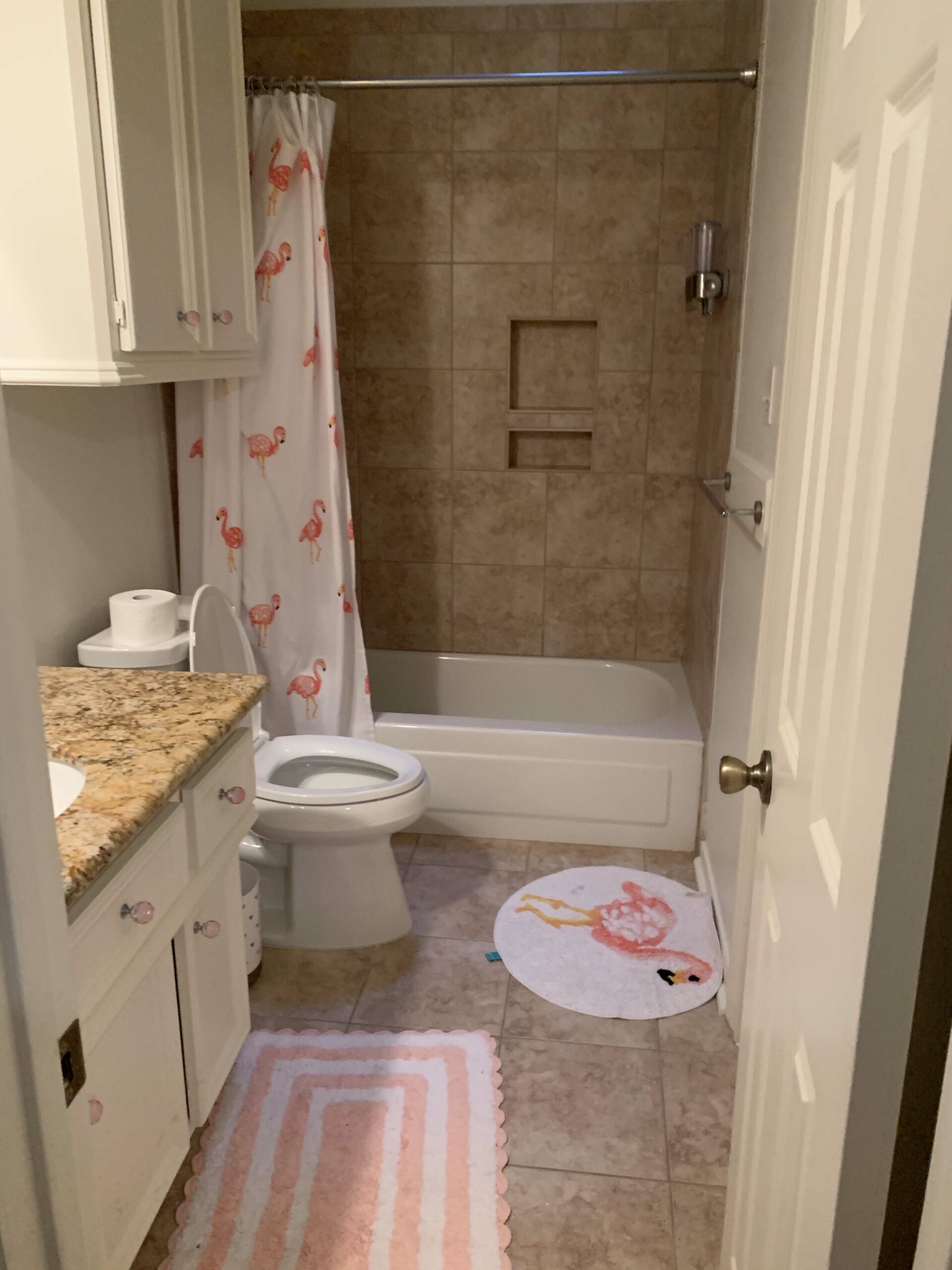 So, as you see, the bathroom was fine, it just wasn't updated like the rest of the house. We really wanted to brighten up the space and make it feel larger than it is.
A few goals we had in mind:
-Turn bathtub shower in a shower- we had three bathtub showers upstairs and converted two into stand alone showers. For resale value and the fact that Teddy loves baths, his bathroom stayed a tub shower. I always think it's good to have at least one tub upstairs.
-Remove cabinets that take up wall space and make the room seem smaller. Once we removed this cabinet box, the bathroom felt so much more spacious.
The main goal was to update the spaces to go with our current house style, all while adding a fun spin to these small spaces. For all the bathrooms, we decided to go with prefab vanities. We saved money here because you take out the cabinet maker, the marble fabricator and the painter. This is obviously personal preference, but in this scenario, for upstairs bathrooms, I would 100% choose this route again. Plus, they are all the exact vanities, just different sizes and colors!
We did a basic subway tile- you just cant go wrong with it. A fun floral cement tile and a fun grey penny tile. I tied all the tiles together with a grey grout. We decided to do a mix of gold/brass and stainless because I love to mix metals and Reagan loves gold. We are thrilled with how it turned out! Take a peek!
Reagan's Girls Bathroom
Ironically, I ordered the large size mirror thinking it was risky, but once we tried it, I realized the larger size was actually perfect for the space.
VANITY // FAUCET // MIRROR (LARGE SIZE) // DRAWER PULLS // TOWEL HOOK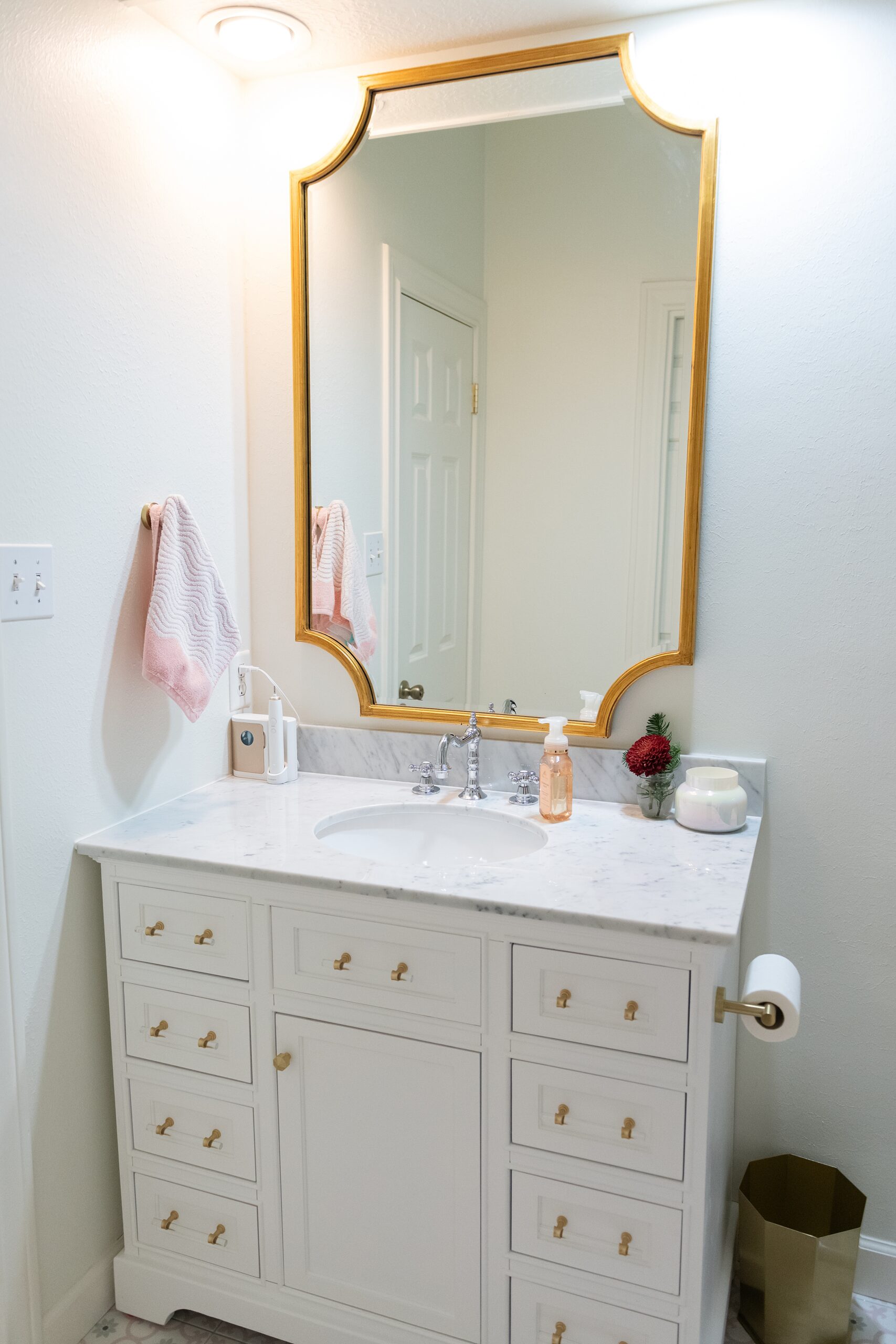 DRAWER PULLS // KNOB // TRASHCAN // TP HOLDER // CANDLE // TOOTHBRUSH // VANITY
DRAWER PULLS // KNOB
BENCH/FLOOR TILE // PENNY TILE
BENCH/FLOOR TILE // PENNY TILE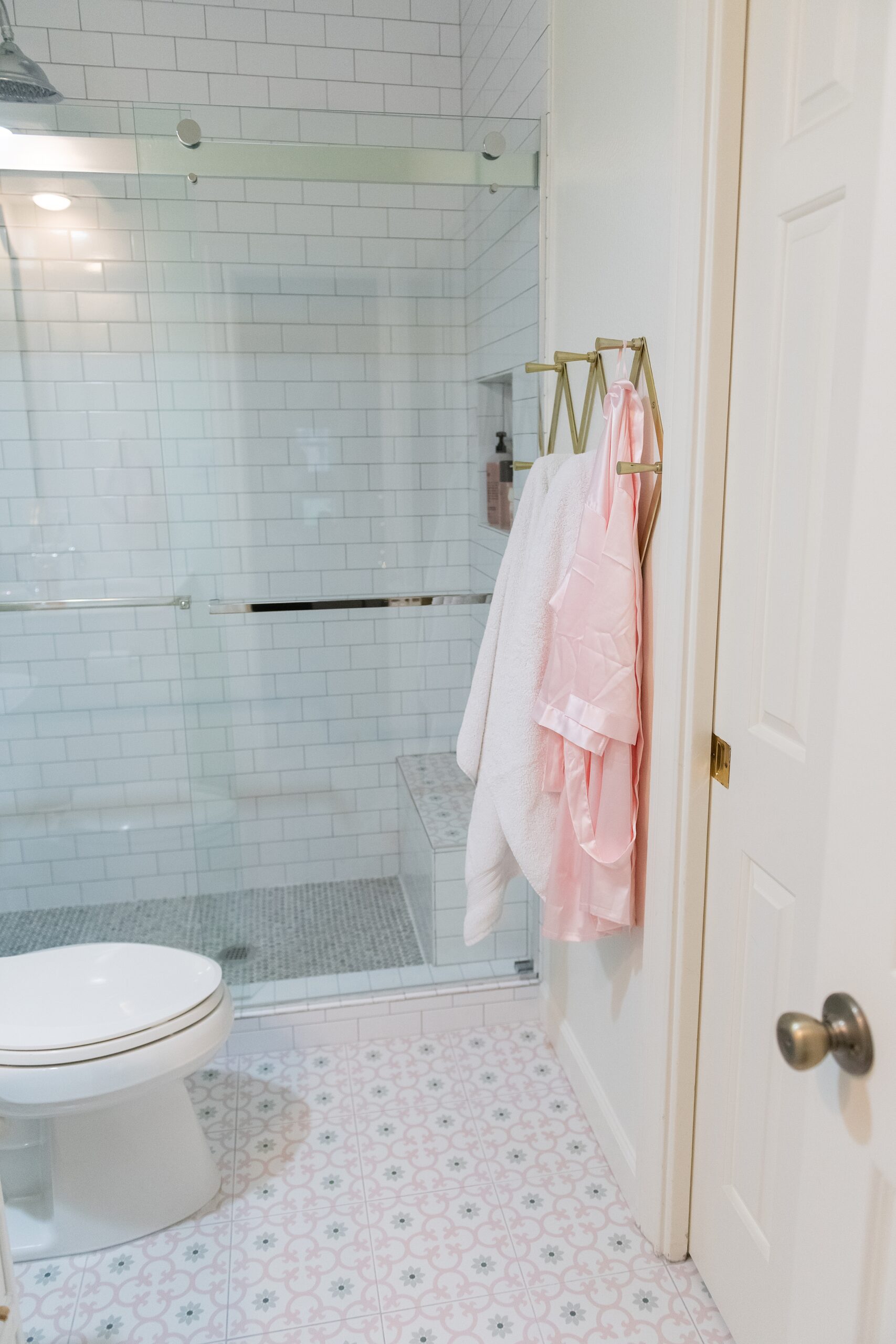 BENCH/FLOOR TILE // PENNY TILE // ACCORDION WALL HOOKS
VANITY // FAUCET // MIRROR (LARGE SIZE) // DRAWER PULLS // TOWEL HOOK // BENCH/FLOOR TILE // PENNY TILE


So, what you do you think? Do you like the changes? What's your favorite design aspect? Want to see more design projects? We've got a lot more up our sleeve here at Casa de Fancy!
Have a great day! XOXO
Do you have a girls bathroom in your house?  Let me know in a comment below!