Hi friends and happy Monday! Let me start off by saying that it's been awhile since I've done a deeper post and I wanted you to know that we do intend to bring them back some in this space. When I think about how social media has evolved and how Instagram stories have become so big, I realize I have let this space go in the sense of sharing more raw, deep and personal topics. Today, I'm telling you that I am back in that sense and want to share more about life ups and downs, like I used to. Today, I wanted to give you a little health update on my thyroid and autoimmune disease diagnosis. This post will be a long one because there is a lot to cover, but my hope in sharing this is that it may help at least one of you. So, grab a cup of coffee or a glass of chardy and let's get this healthy party started!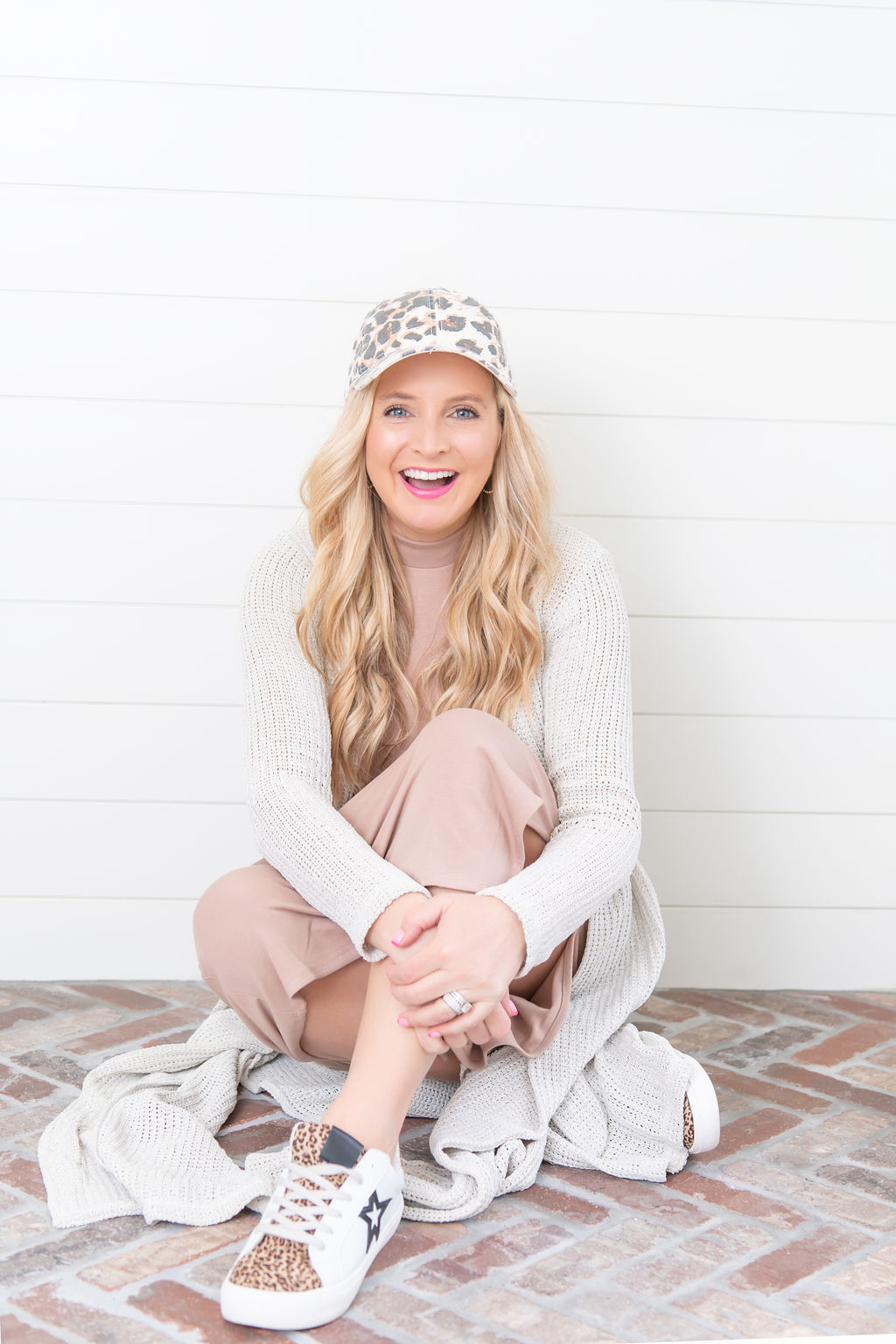 HAT // SWEATER // DRESS // SNEAKERS
My Thyroid and Autoimmune Disease Diagnosis
To give you a little background, I'm going to go back to my childhood and high school days, a little college and then present. I have struggled with my weight for as long as I can remember. I used to look at my peers and wonder why I couldn't be thin like they were. Looking back on this, I hate how early I felt this way. I started developing boobs in 3rd grade and by 6th grade, I had a full fledge TERRIBLE monthly period. My bleeding was aggressive and they finally started me on birth control at a young age to control it. Knowing what I know now, I would've requested blood work to look at thyroid and hormones, but no one even thought of that back then. When I was 18, I had a breast reduction that I begged my mom for. My DD boobs were awful on my barely 5'2 frame and my back and neck were in terrible pain daily. The plastic surgeon even noted that the size was most likely caused from hormones because they were not full of fat, which again, now makes sense. So, when I was in college, I had more days thatn not where I felt like I was walking around with a weighted blanket on me. I was so tired and finally one day, I could hardly walk up the stairs to my apartment and then later that day, my heart was racing so badly that I went to the ER because I assumed I was having a heart attack. Turns out, it was my thyroid and most likely, all those years, it had been my thyroid. I was diagnosed with hypothyroidism and took medicine for years and was able to maintain my levels, lose weight, have energy and just be all around happier because my thyroid had the help it needed to function properly.
Bear with me because there's a lot of backstory to cover to get to where I am today. So, about 5 years ago, I was going through a really anxious time and after a panic attack that mirrored a heart attack (it's annoying that they do that) I was sent to a cardio doctor. The cardiologist that I saw, took me off the thyroid medication because they thought it was contributing to the anxiety, when in reality, my levels were likely off. This turned out to be a huge mistake. I also quit eating gluten around the same time (and didn't eat it at all for 3 years) because my body would ache so badly and it was the only other thing I could think of to reduce inflammation, besides acupuncture, which I did regularly, too. They tested me for autoimmune diseases and lots of other stuff and most of my symptoms couldn't be explained. So, they took me off the meds and I spent the next 5 years losing weight then gaining weight, walking around in an exhausted fog, feeling like I was wearing my weighted blanket through my daily life. It's the only way I can explain how tired and heavy my body felt. I was really down about how I felt because I'm young and it was really hindering my life. The aching body is really a struggle day in and day out! My biggest mistake was listening to this doctor and not getting a second opinion, so if you take anything from today, its that YOU are your own advocate and it might take a few doctors to get the correct (if any) diagnosis. Fight for yourself!
Fast forward to last spring, Covid was running rampant, we were stuck in our houses, attempting to homeschool kids, run businesses, work from home, etc. The anxiety that so many us felt was pretty apparent. Even with riding my Peloton daily, by May, I was the heaviest I had been since being pregnant. I felt terrible and it was similar to the weighted blanket feeling. I went to my OBGYN thinking maybe my hormones were off or maybe that I was even pregnant, which technically I can't be, but stranger things have happened, so I wanted to get it checked out. I don't have a period anymore and haven't for 9 years, so I never know when I am ovulating, etc and It can be tough to track my hormones, etc. They came back and said all numbers were within normal range and that "I was eating too much and that I was probably depressed." So, again, I was defeated with no answers and I listened to them and tried to figure it out myself. I'm not really a snacker and always eat like a bird, Mr. Fancy says, so I never really knew what I was doing wrong. I did let my eating go a bit while being stuck at home, but not enough to gain 20+ pounds. It was an aggressive amount and I weighed less both days I gave birth to my kids! I kind of went through the summer and tried to just live life and not worry about the weight or my exhaustion. But during swimsuit season, it was always at the forefront of my mind. Finally in August, I got to a breaking point with feeling bad and finally called numerous endocrinologists, all of whom weren't seeing new patients until 2021! After sobbing on the phone to the final office, the receptionist got me in for September and I will forever be grateful to her taking pity on my situation. I will not share the office because I don't want to give false hope about getting in! But, I will say, just be persistent. I called 4 offices before I found one to take me.
After lots more blood work, it was determined, I still have hypothyroidism and should've never been take off the medicine in the first place. They also diagnosed me with Hashimoto's Disease, which for years, I was convinced I had because I would have days where I had all the symptoms of an attack. Looking back, this is most likely why I bled so badly with my periods, etc. I also have Insulin Resistance, which means I am better eating small meals throughout the day and most likely why intermittent fasting didn't work for me. Plus, my vitamin D levels were extremely low. I'll be honest, hearing these diagnosis', while a bummer, it was also a relief because it explained WHY I have felt so bad off and on for all of these years. I could never figure it out and always felt like no one understood it. Which in turn was actually super depressing at times. It was nice to know that this was not in my head and that it was an actual thing in my body causing this!
Almost immediately after starting the medicine for my thyroid, I felt better. I started to have more good days than bad and my bad are few and far between. I do still have the random Hashimoto attacks and for me, they are aching body, like everything hurts, but I'm not sick. It's really bizarre. I also am cold a lot and it's a struggle to get warm and it explains why I have always sleepy under so many covers all these years and been fine with it and some nights, still COLD! When I go through the list, I have had so many of the symptoms over the years…
Signs and symptoms of hypothyroidism include:
Fatigue and sluggishness (yep)
Increased sensitivity to cold (yep)
Constipation
Pale, dry skin
A puffy face (yep)
Brittle nails (yep)
Hair loss
Enlargement of the tongue
Unexplained weight gain (yep! 20+ pounds)
Muscle aches, tenderness and stiffness (yep)
Joint pain and stiffness (yep)
Muscle weakness (yep)
Excessive or prolonged menstrual bleeding (yep)
Depression (at times)
Memory lapses (yep)
Medical explanation of Hashimoto's disease: It is a condition in which your immune system attacks your thyroid, a small gland at the base of your neck below your Adam's apple. The thyroid gland is part of your endocrine system, which produces hormones that coordinate many of your body's functions.
Inflammation from Hashimoto's disease, also known as chronic lymphocytic thyroiditis, often leads to an underactive thyroid gland (hypothyroidism). Hashimoto's disease is the most common cause of hypothyroidism. It primarily affects middle-aged women but can also occur in men and women of any age and in children.
So, I tell you this story today to hopefully help one of you. If you are struggling with any of these symptoms and feel something might be off, get it checked out! If your first opinion says you're fine and you still feel off, I always recommend getting a second opinion. I am grateful to be on the upswing and if I could do anything over, it would be never letting the doctor take me off the thyroid meds a few yeas ago, without consulting an endocrinologist. Ultimately, I have that they are the most knowledgable when it comes to the endocrine system and the thyroid, while tiny, is a pretty might force within your body. If it's off, it can mess with a bunch of things. Keep it mind, this is an issue that has spanned for a lot of years of my life and I am most likely leaving out more details, but this post also gives you lots of details as well. I will also tell you, as a mom, if I ever see either of my children exhibit any of these symptoms, I will be requesting these panels immediately. These are an easy way to check to be sure all is within the correct range. But in the same breath, I'll be the first to tell you that even within normal range may not be normal range for your body. Be your own advocate and if you feel off, definitely try to find someone to help you get to the bottom of it.
Update on me now: I have been taking my meds since September and they are toying with upping my dose. I have lost weight, but I credit that to my diet and my walk/running of 3 miles a day. I have been working really hard to try and get these pounds off. I plan to share more on what I'm doing later this month or in April. In my opinion, my medicine has not helped with that recently and being insulin resistant also makes it harder to lose weight, especially in the belly area. I just want to share this so you know the medicine is not just a miracle worker. I mean, I wish, but it never has been for me! Again, I am glad to have answers and know that I am doing all I can to get my body back on track. I want to reiterate that I am not a doctor and I am not giving medical advice. I am simply sharing my experience and giving you an update only personal health. The main thing to understand about the thyroid or any endocrine disorder, is the fixes are not a one size fits all and what works for me, may not work for you and visa versa. So, while I share this info, I urge you to find a doctor to help you get the correct course of treatment for you, if you feel similar to how I felt.
I hope you found this post helpful and relatable. A lot of these things are tough to share, but I also want you to know that I know what it feels like to struggle with something like this.
Have a wonderful Monday! XOXO