Hi friends and Happy Wednesday! I've been getting a lot of requests lately to share what Reagan and Teddy are grabbing for spring and summer. Reagan still wears a uniform to school, but typically changes almost immediately upon arriving at home! These are a few of her spring clothing picks! We've officially gotten to the point where I don't buy anything without running it by her first. We definitely have different opinions and styles and this helps to ensure that anything we buy, will actually be worn and not collect dust in the closet or a drawer! Haha! Some of her favorite retailers are Abercrombie Kids, Tilly's, J.Crew, Old Navy, Walmart and Target! I love to see her style come through in her daily looks and think she has a great sense of who she is and how she wants to dress! I was similar as a kid and definitely wore what I felt confident and comfortable in! My goal is to be sure she loves what she has to wear and that she always feels confident about it and I truly believe that letting her be a part of the decision helps in this aspect!! Have you tried this with your kids? Let me know how it works for you! Take a peek at what Reagan got for spring and summer!
Spring Clothing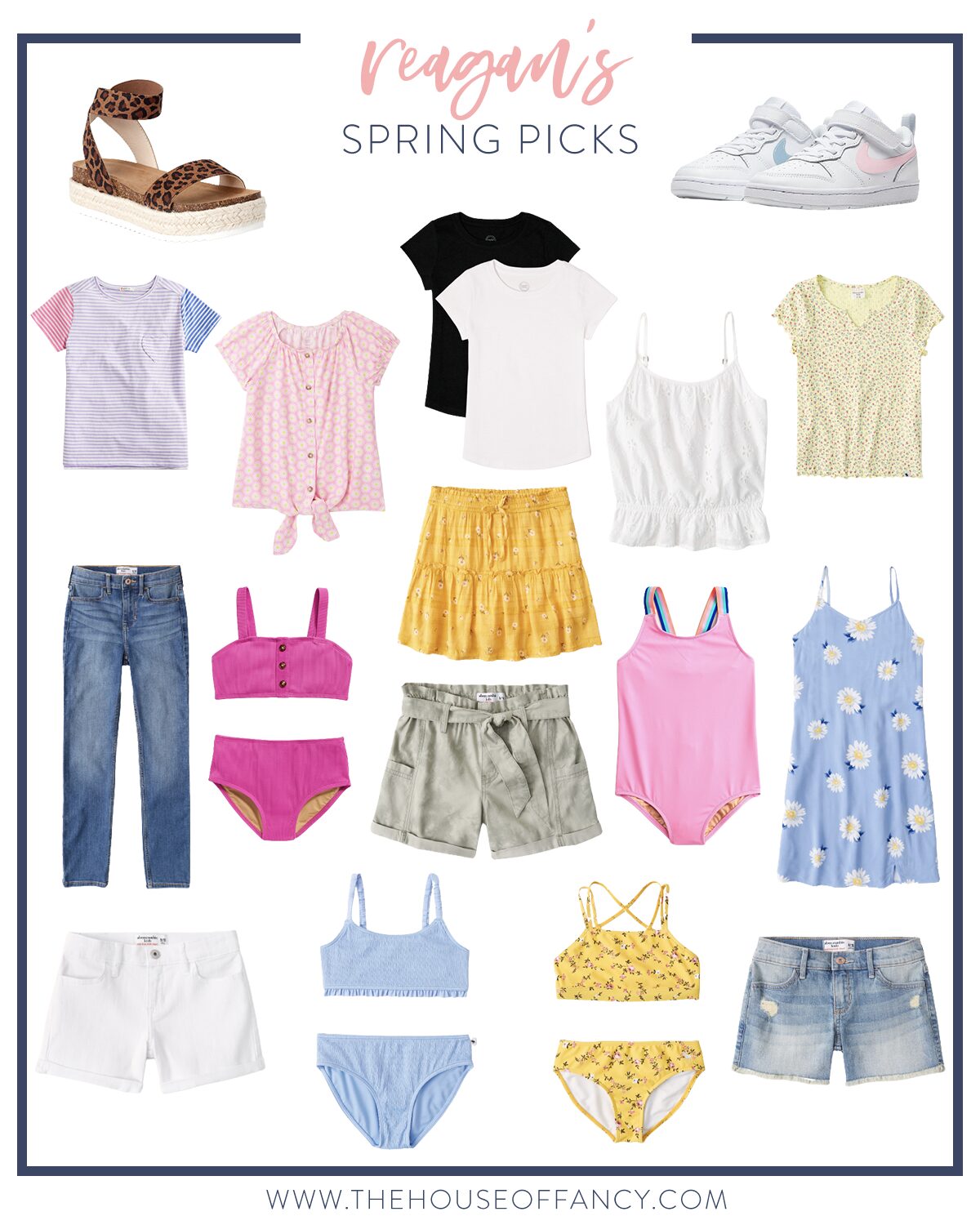 STRIPE T-SHIRT // FRONT TIE TOP // T-SHIRT 2PK // WHITE CAMI // FLORAL T-SHIRT
JEANS // PINK TWO PICE SWIMSUIT // YELLOW SKIRT // MIDI SHORTS // PINK ONE-PIECE SWIMSUIT // FLORAL DRESS
WHITE SHORTS // BLUE TWO-PIECE SWIMSUIT // YELLOW TWO-PIECE SWIMSUIT // SHORTS
One of her recent favorite look is this adorable dress, which totally reminds me of my childhood!!
DRESS (11/12) // TEE (10/12) // SHOES



Would you like to see more kids' spring clothing? Let me know in the comments and we will keep it coming!
Have a great day! XOXO!