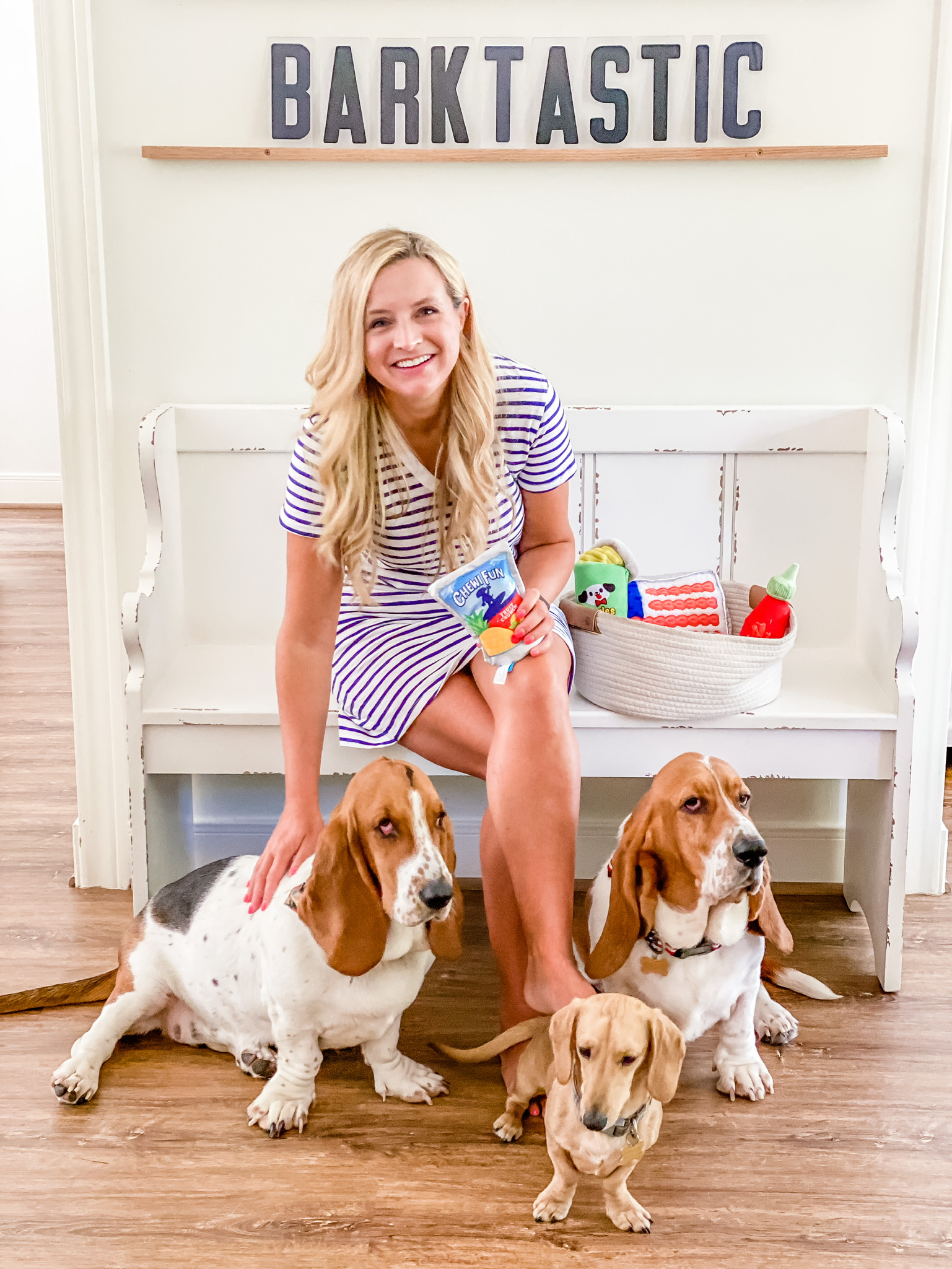 I am so excited to be partnering with Target to share the barktastic dog toys we're loving. As you know, I have three pups, Phoebe, Walter and George. They are wild and fun and sweet all at the same time. While our home may be a little chaotic at times, it wouldn't be the same with out them. We love to spoil our sweet pups, as I'm sure you've seen on instagram stories. Naturally, I can't pass up an opportunity to show them a little love with some fun new Target dog toys for summer.
SHOP THE FANCY ASHLEY LOOK
DRESS | CHEWI FUN TOY | BASKET | FLINGLES TOY | FLAG TOY | HOT SAUCE TOY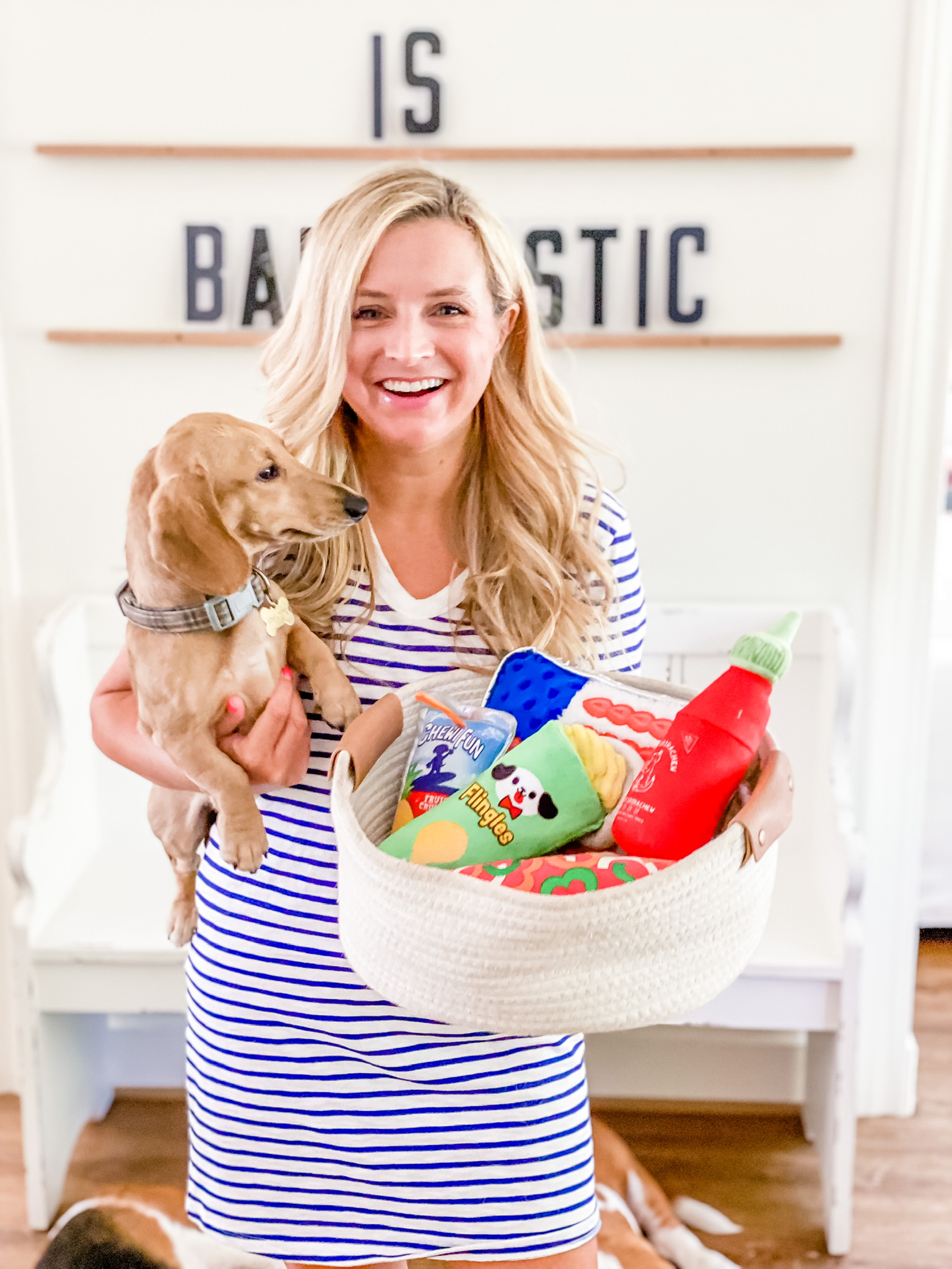 Anytime I'm in Target I always swing by the dog section to see what fun new seasonal toys they have. I love the Bark line. However, Target's summer line, SUN SQUAD, just released a ton of fun new arrivals for summer that I couldn't pass up! They have everything from fun colored waste bags to collapsible dog bowls so that you can take them wherever your family my be venturing this summer. This is even great if you're having a backyard BBQ with the family. This way your pup can have fun with their new toy and stay hydrated in the summer heat too!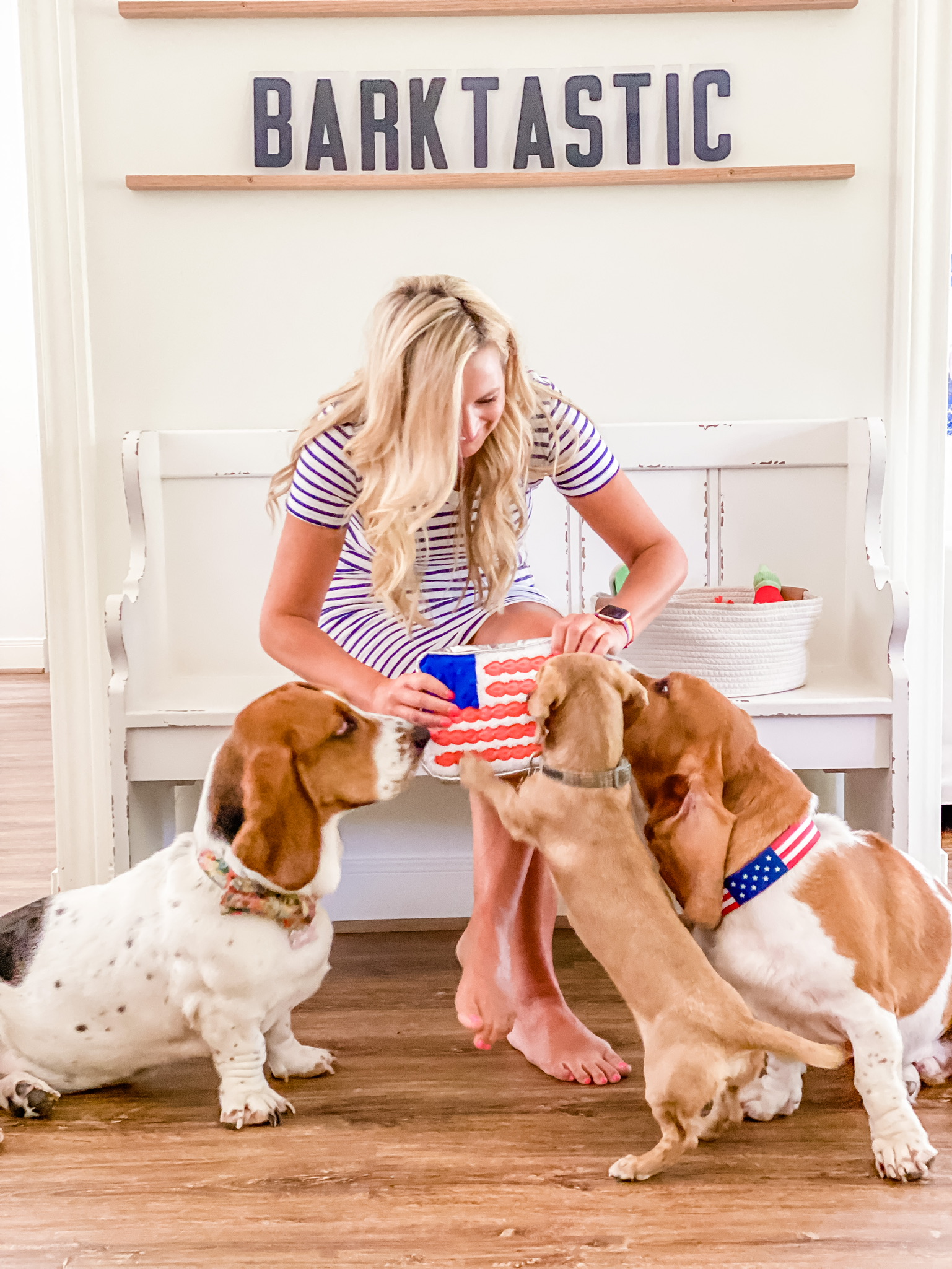 An easy way to keep the dog toys from ending up all over the house to to grab a little basket like this one from Target. We keep this under the bench and are able to throw all the pups' seasonal toys in there. It's also perfect if you are looking to build a gift for a fellow puppy owner! We love to do this for our friends for birthdays or holidays. It's a sweet and easy way to show just how much you care.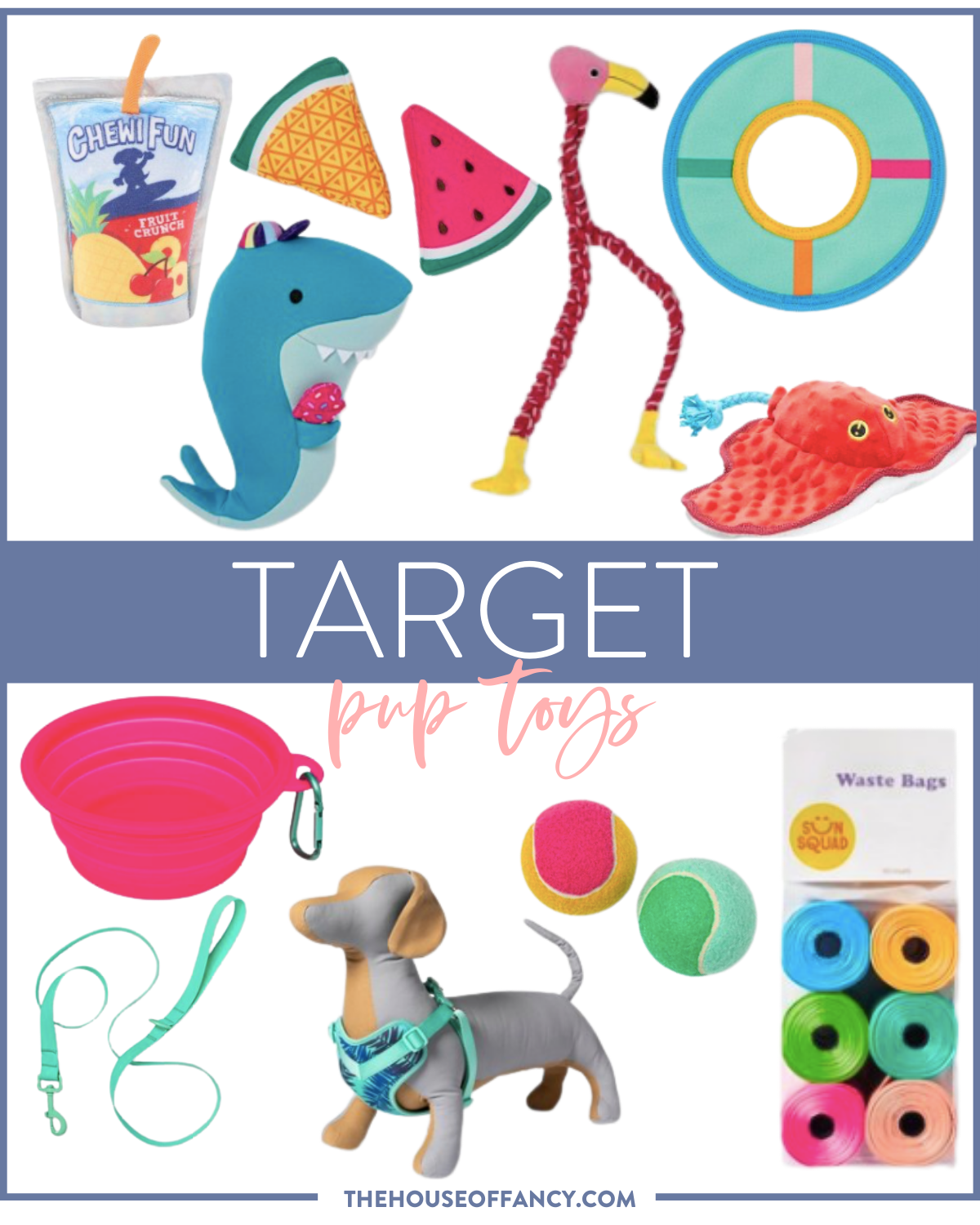 SHOP SUMMER PUP TOYS

This collection of summer toys is from Sun Squad by Target! They have so many great options to ensure you and your sweet pup have everything they need for a summer of fun and adventure outdoors. I especially love this cute harness for smaller dogs. This one is also available in a few other prints as well. After all, our pets deserve to be a little fancy too!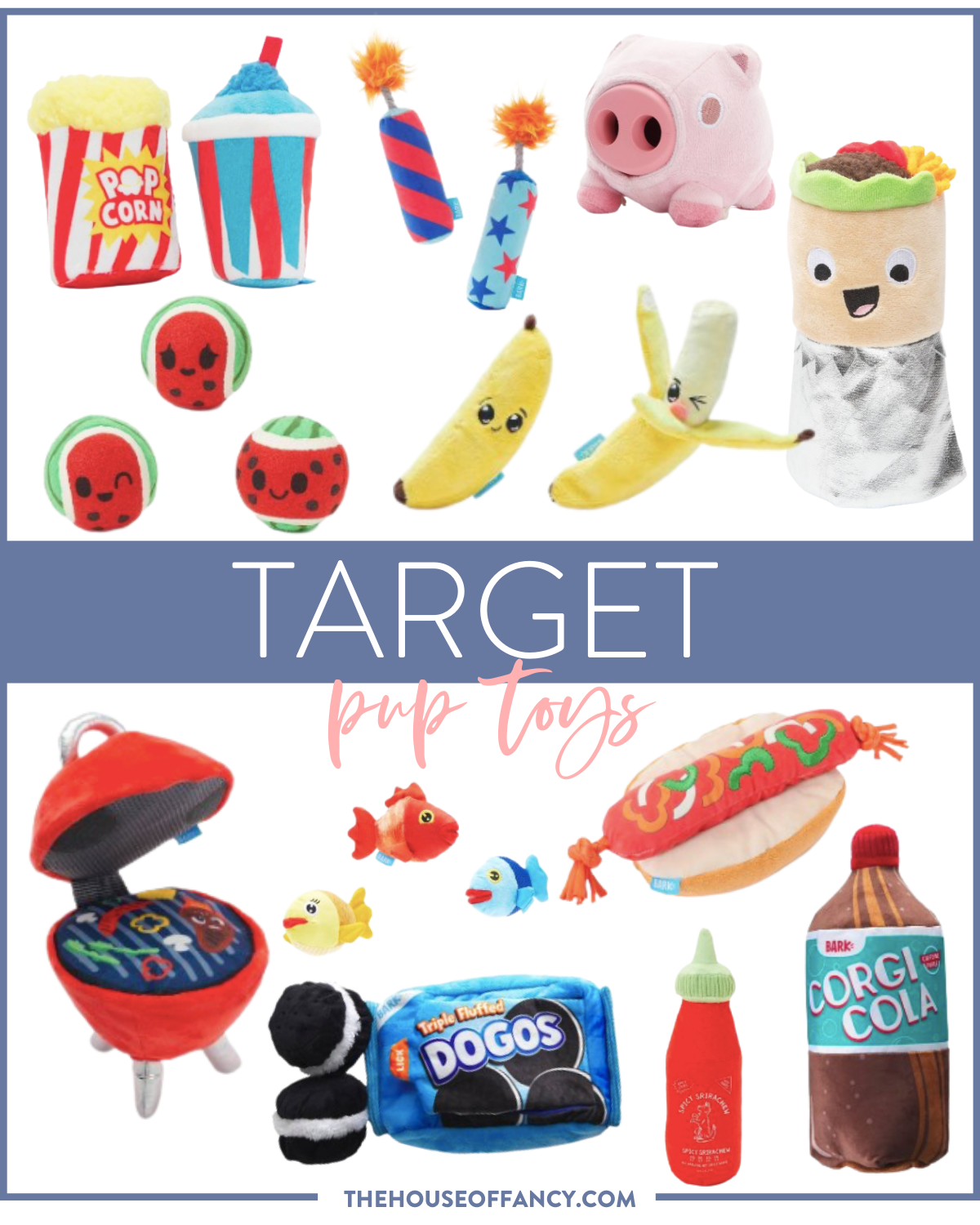 SHOP SUMMER PUP TOYS

These fun toys are from Target's Bark line. You can also sign up from a subscription of bark toys delivered straight to your door monthly if your pups are anything like mine and go through toys quickly. This is also a great gift idea for something that has a dog!
Thank you to Target for sponsoring today's post. I love partnering with brands that I love and trust to share products I whole heartedly believe in.
Which of these Target dog toys do you like the most? Let me know in a comment below!