Hi friends and happy weekend! Although you might start seeing fall clothes hitting stores, it's very much still summer here in Texas. Which means I'm living in pretty summer dresses, light-weight clothing and fun pops of color. I'm so excited to be partnering up with a favorite brand of mine to share my summer fashion favorites from my go-to retailer, Walmart! I recently came across the cutest collection of summer handbags, that I've been dying to show you all.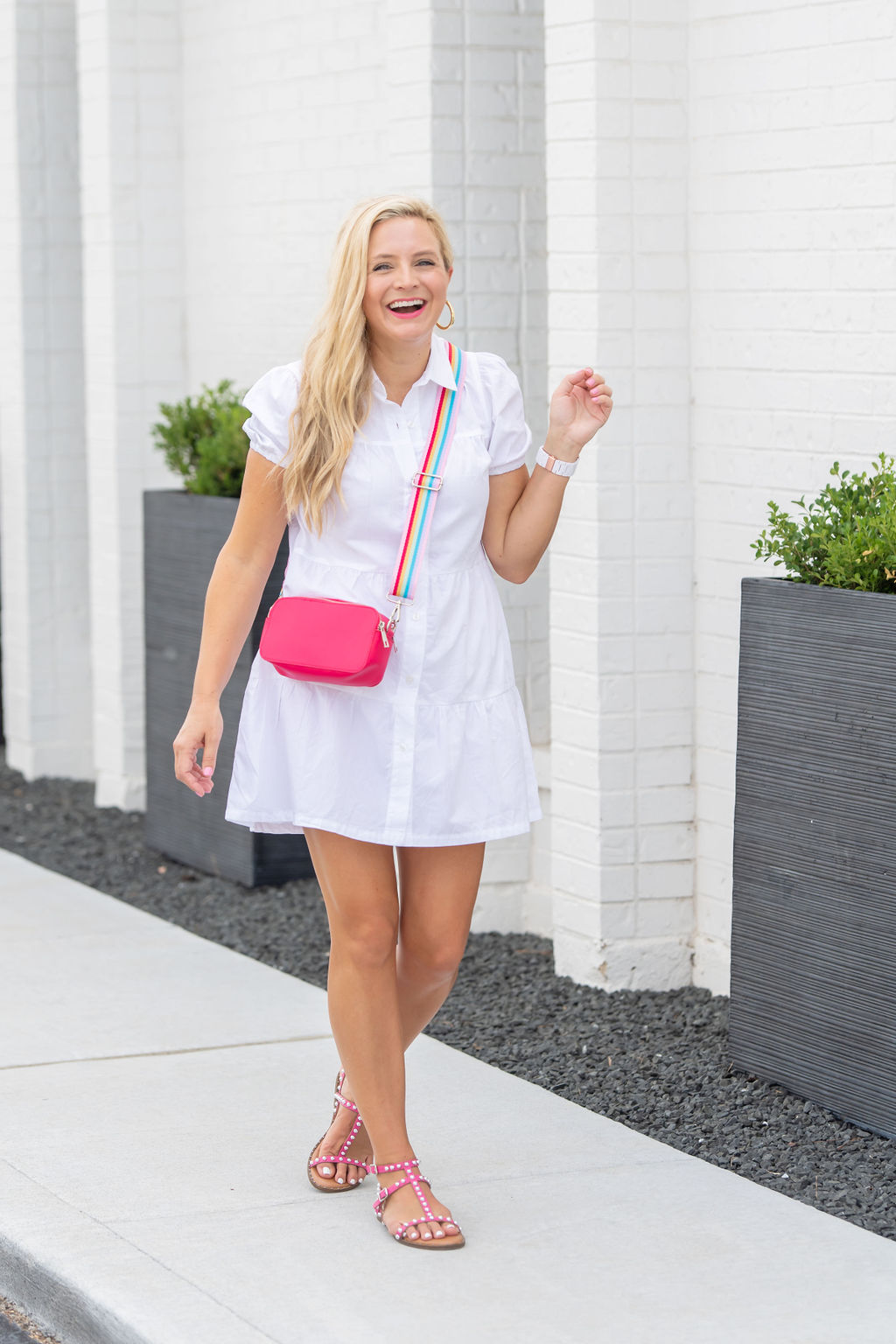 This crossbody bag is seriously so fun. As soon as I got this one in the mail I went back and order the larger style, shown below, because I loved it that much. The strap is wide, making it very comfortable on the shoulder. I could see this being great if you're out and going to be doing a lot of walking or need a good travel bag. I also love that the strap is interchangeable! This is a super fun feature because you can mix and match with other bags to create a new look! The best part, it's only $15. Which is why I went bag to grab it in another color! See my video below for more on the bag!!
SHOP THE FANCY ASHLEY LOOK
I love pairing a fun pop of color with a crisp white dress. It's almost like having a blank canvas that you can style any way that you want. This one fits true to size. It's a nice light weight structured cotton that doesn't wrinkle. I love that the collar gives it a slightly dressier look. If you haven't picked up a little white dress for summer yet, it's not too late. I personally think this is a wardrobe staple. Summer after summer, I find that it's one of my most-worn items. I rounded up a few more affordable options from Walmart for you below! I also rounded up a ton in THIS POST!
SHOP WHITE DRESSES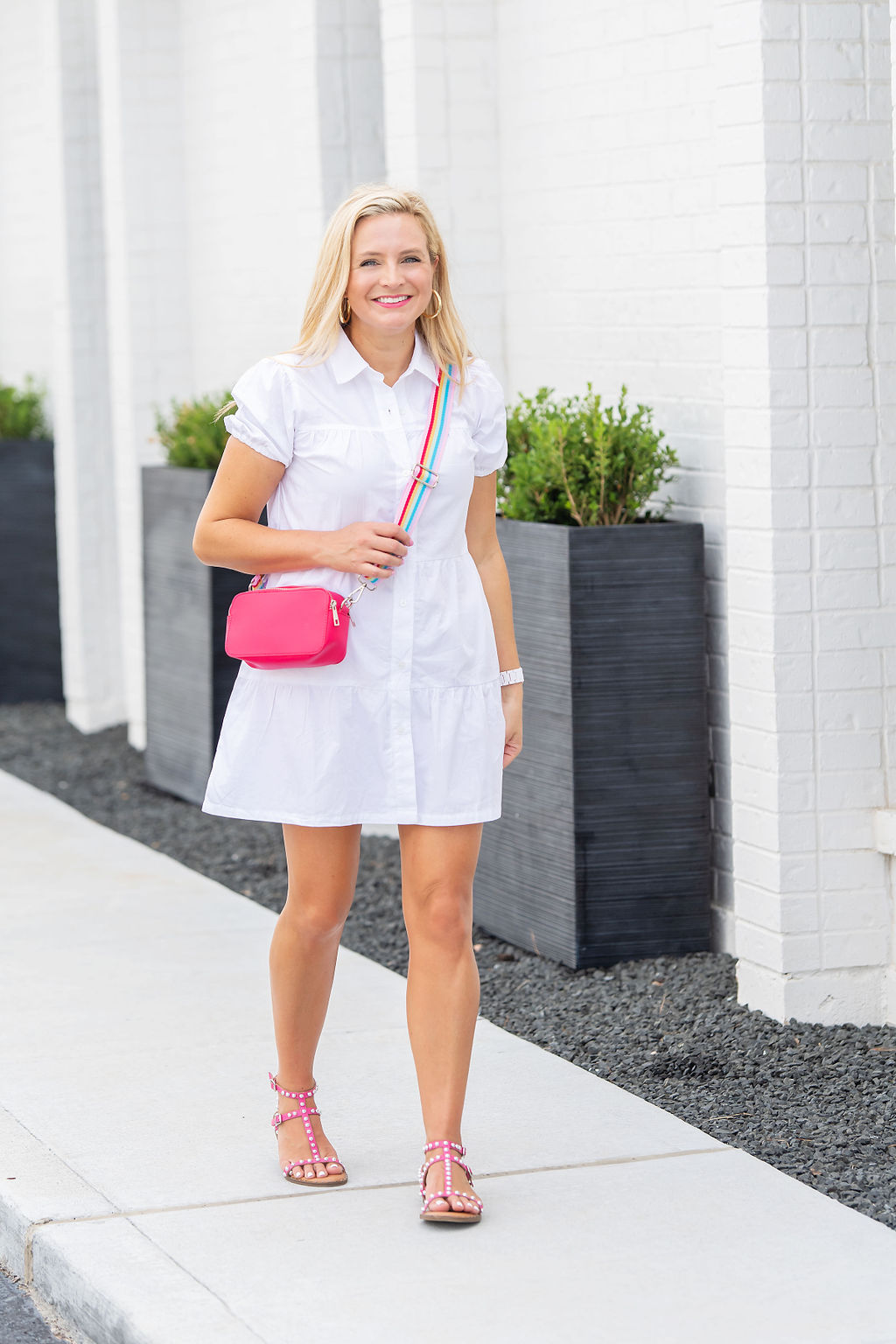 Below I've rounded up all the color and size options of these fun bags! This allows you to see just how easily it would be to mix and match the straps with the bags in case you decided to grab a few to have on hand! Looking at all of them, I may just have to add one or two more into my collection. I love them so much and cannot get over the under $15 price point!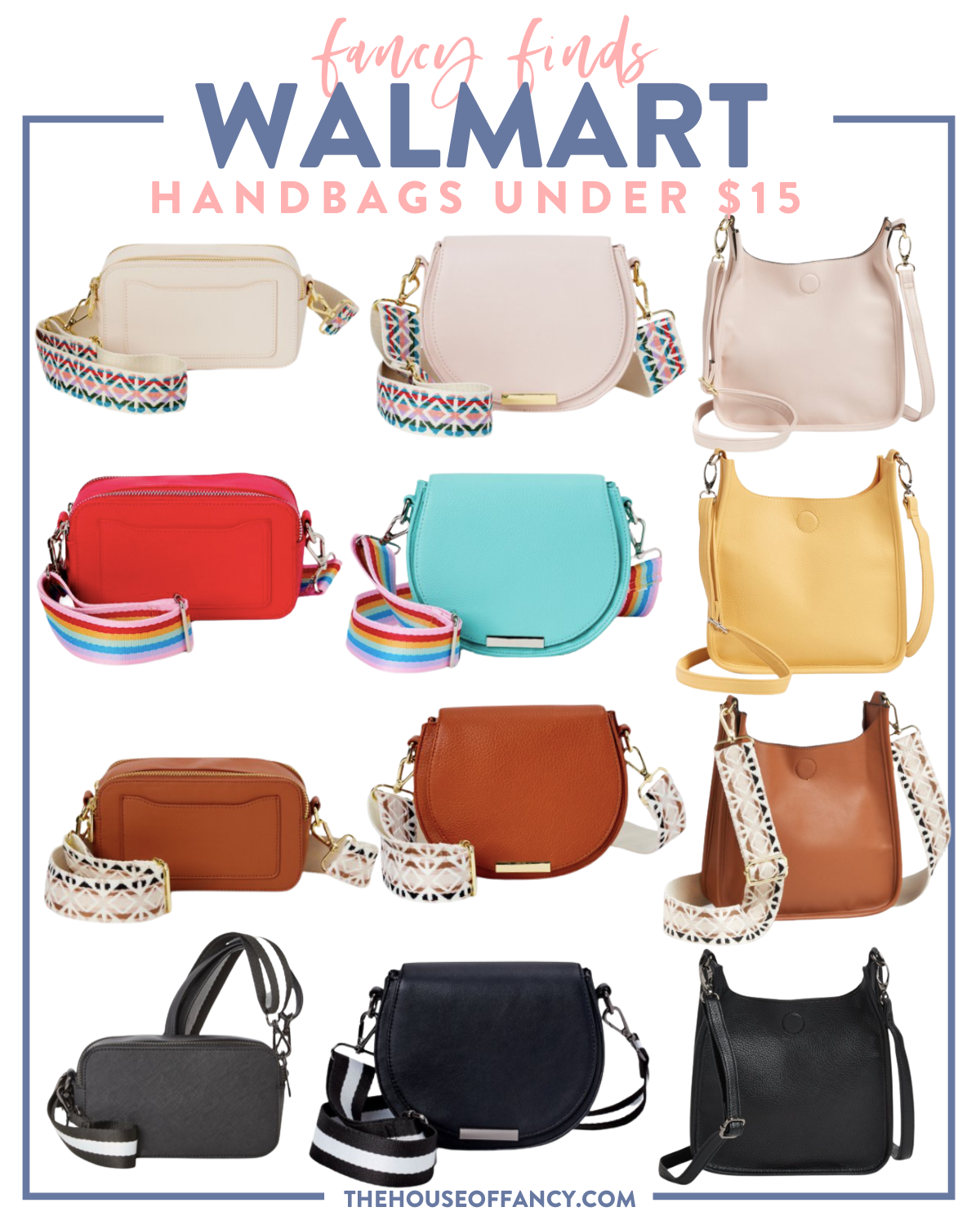 SHOP THE HANDBAGS
LEFT BAG | MIDDLE BAG | RIGHT BAG
See my video below for more on these bags!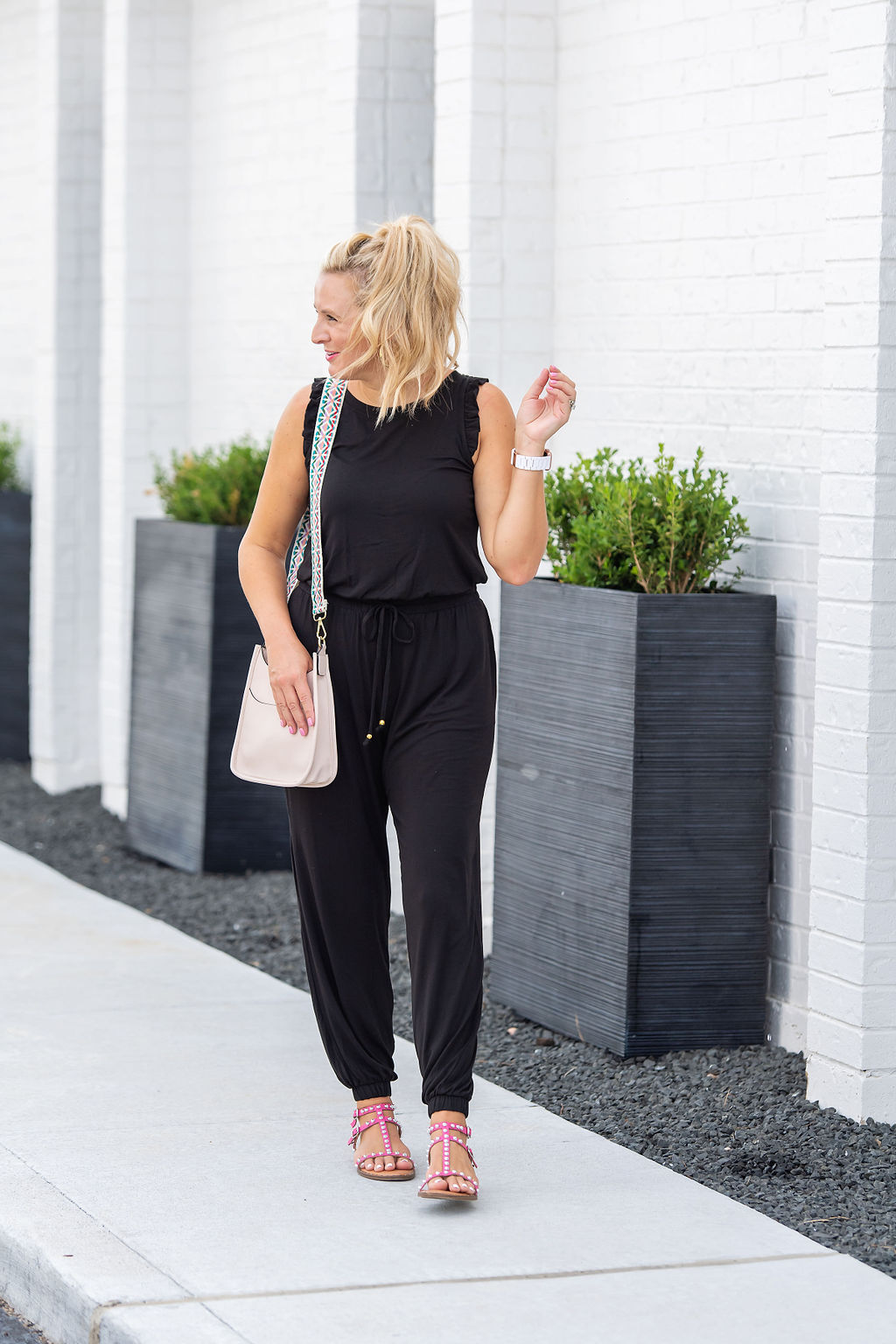 If you're on the hunt for the perfect travel day outfit, or just wanting something that feel like pajamas, but looks put-together, this jumpsuit is for you! The material is a jersey material so it's super soft and stretchy. But my favorite part is that you can literally ball is up in your suitcase and it shouldn't wrinkle. I styled it more casually with my favorite pink studded sandals and added the messenger style handbag. It comes with two straps which gives you an awesome way to give your handbag a fun pop of color or wear it plain! I'm wearing a small in the jumpsuit. I would recommend getting your normal size. It fits true to size.
SHOP FANCY ASHLEY'S LOOK
JUMPSUIT (small) | SANDALS | BAG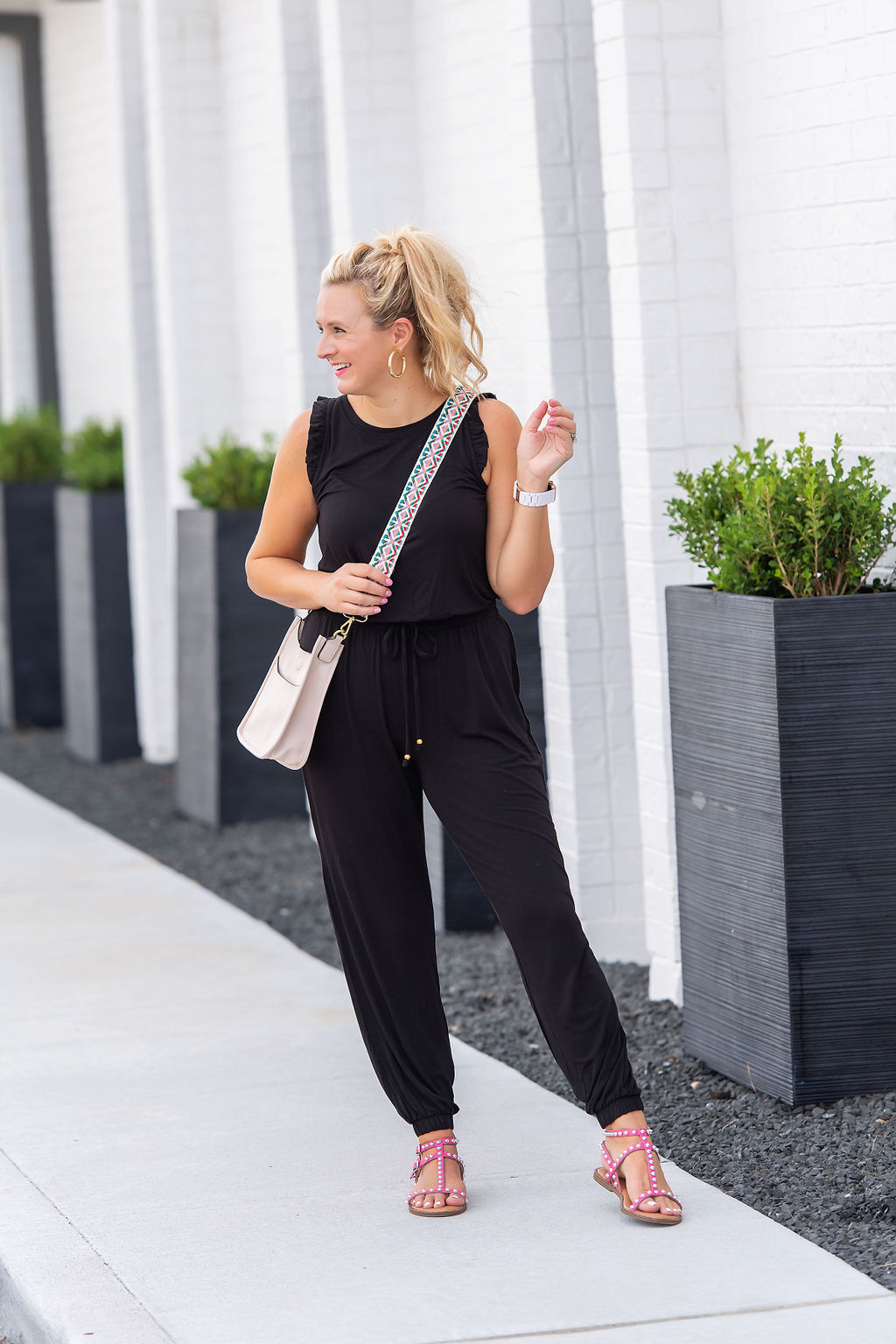 JUMPSUIT (small) | SANDALS | BAG
In case you are like me, and when you find something good you like, you stick to it, I've rounded up a few more jumpsuits from this same brand! I love the overall quality and fit of this one, but having a variety of styles in your wardrobe can be nice. All of these are ones that you can wear now and then easily transition into winter by adding a cardigan or denim jacket over the top!
SHOP JUMPSUITS

If you loved this post, be sure to check out the Walmart Wednesday section on the blog where I feature the very best fashion finds, all from Walmart! Have a fab day, friends! XOXO
Here is a little video giving you more of an in depth look at the $15 purses!
DRESS // BROWN PURSE // RED PURSE // BONE PURSE
Thank you so much to Walmart for sponsoring today's blog post! I love being able to partner with brands I trust, to share products I truly love!