Hello Friends! Happy Thursday! Can you believe it's almost time to head back to school? Down in Houston it's still pretty hot in August, but I know once September rolls around we'll see those temperatures drop. I'm sharing 5 Teacher Outfits That Will Transition To Fall all from Target. Whether you are headed back in to classroom in just a few weeks, or you have another couple week, these looks will work for you. And don't let that title fool you, even though it says teacher, let's be real, these make great work wear looks for any office setting.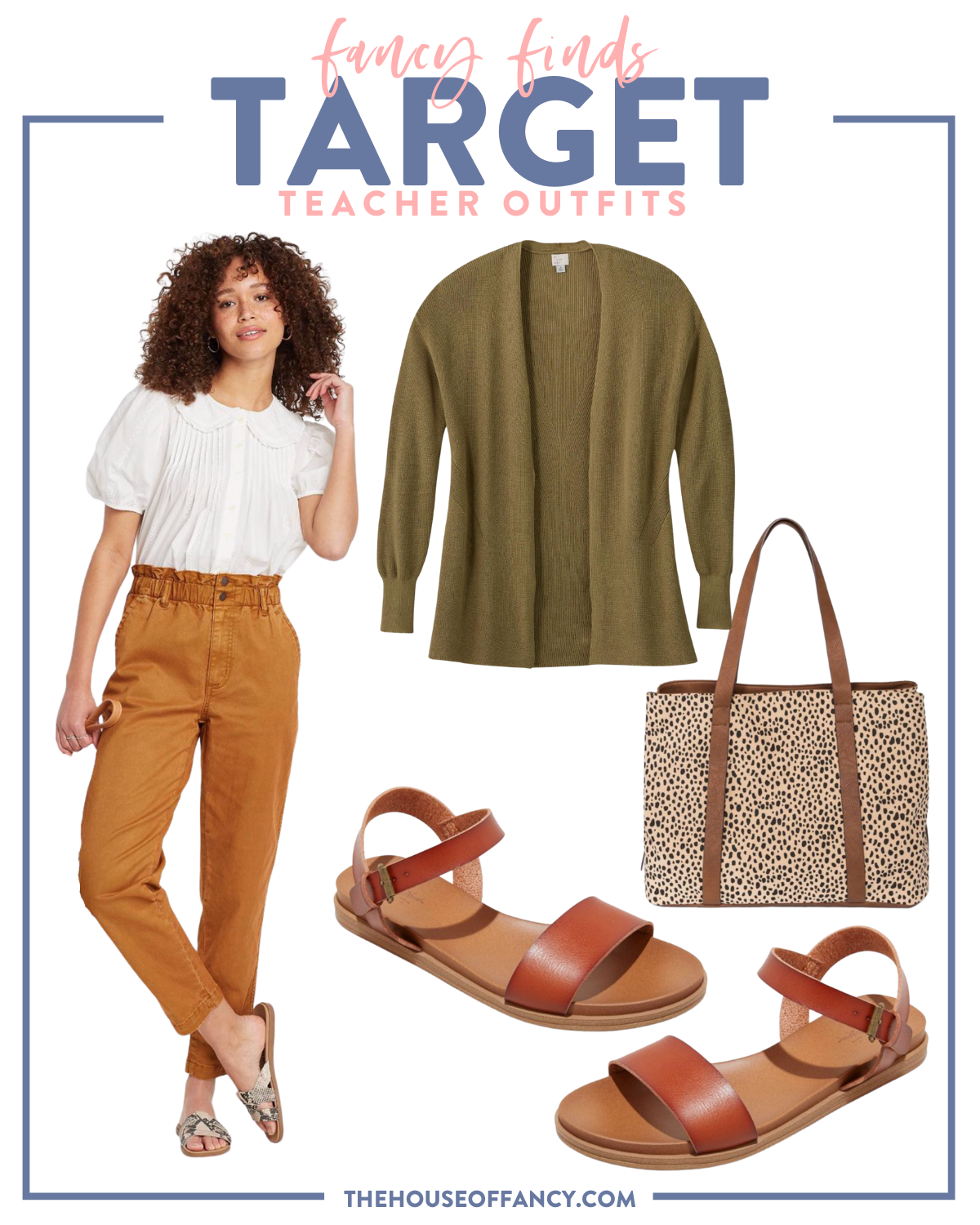 SHIRT | PANTS | CARDIGAN | TOTE | SHOES

High waisted pants are always a teacher favorite. No matter the season, these are a staple that can always be worn. These pants come in a few different color options and have the most perfect waist detail. You can throw on a cardigan for cooler mornings or grab a heavy coat for the coldest of days. Ankle booties would also be super cute here or even these with a cutout ankle.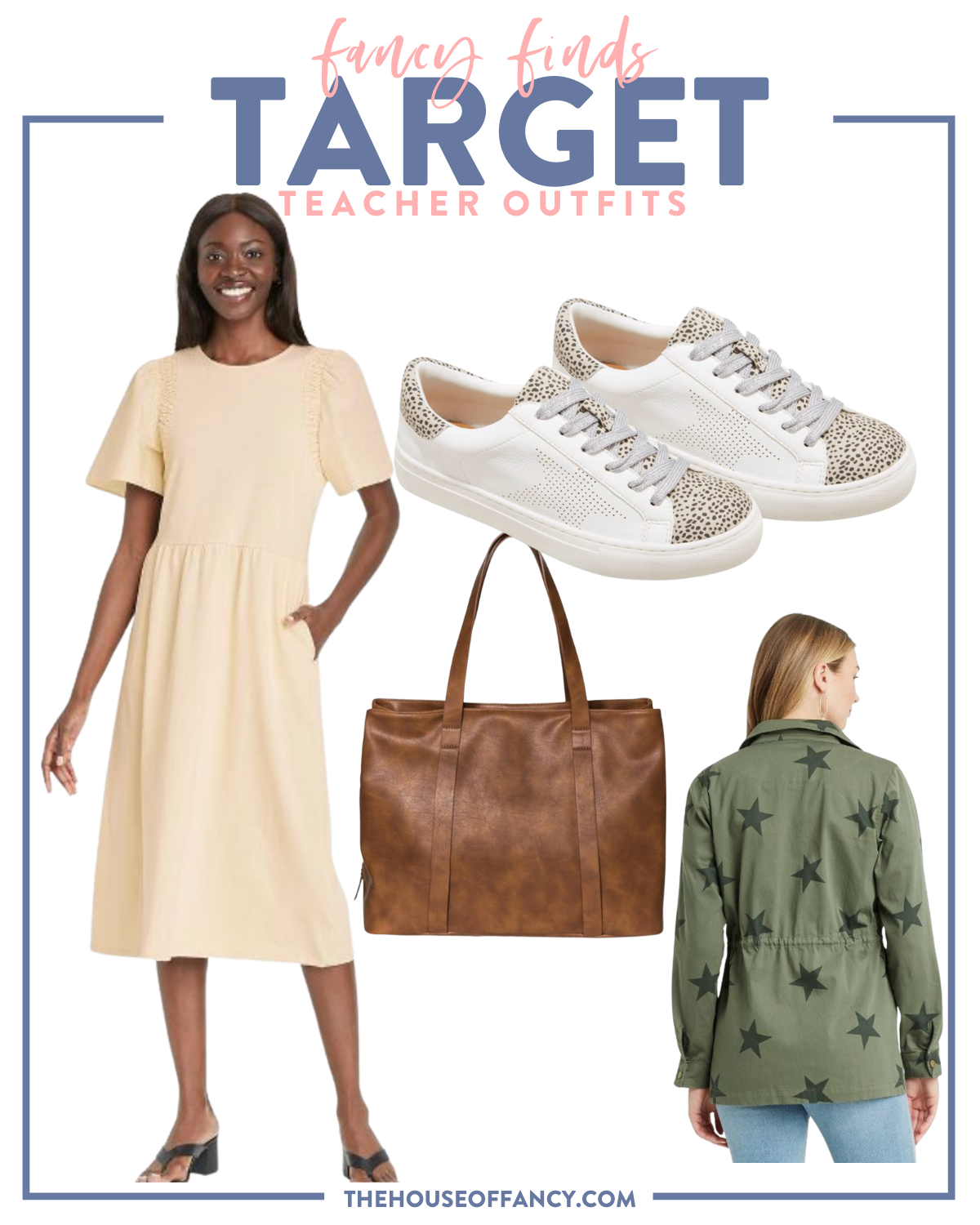 This cream dress has SO MANY possibilities. Pair with the star jacket and tennis shoes like in the photo or pair with booties and a leather jacket . You could even pair with combat boots like these and add this star jacket for an edgy look. I feel like a classic, yet simple dress is a closet staple.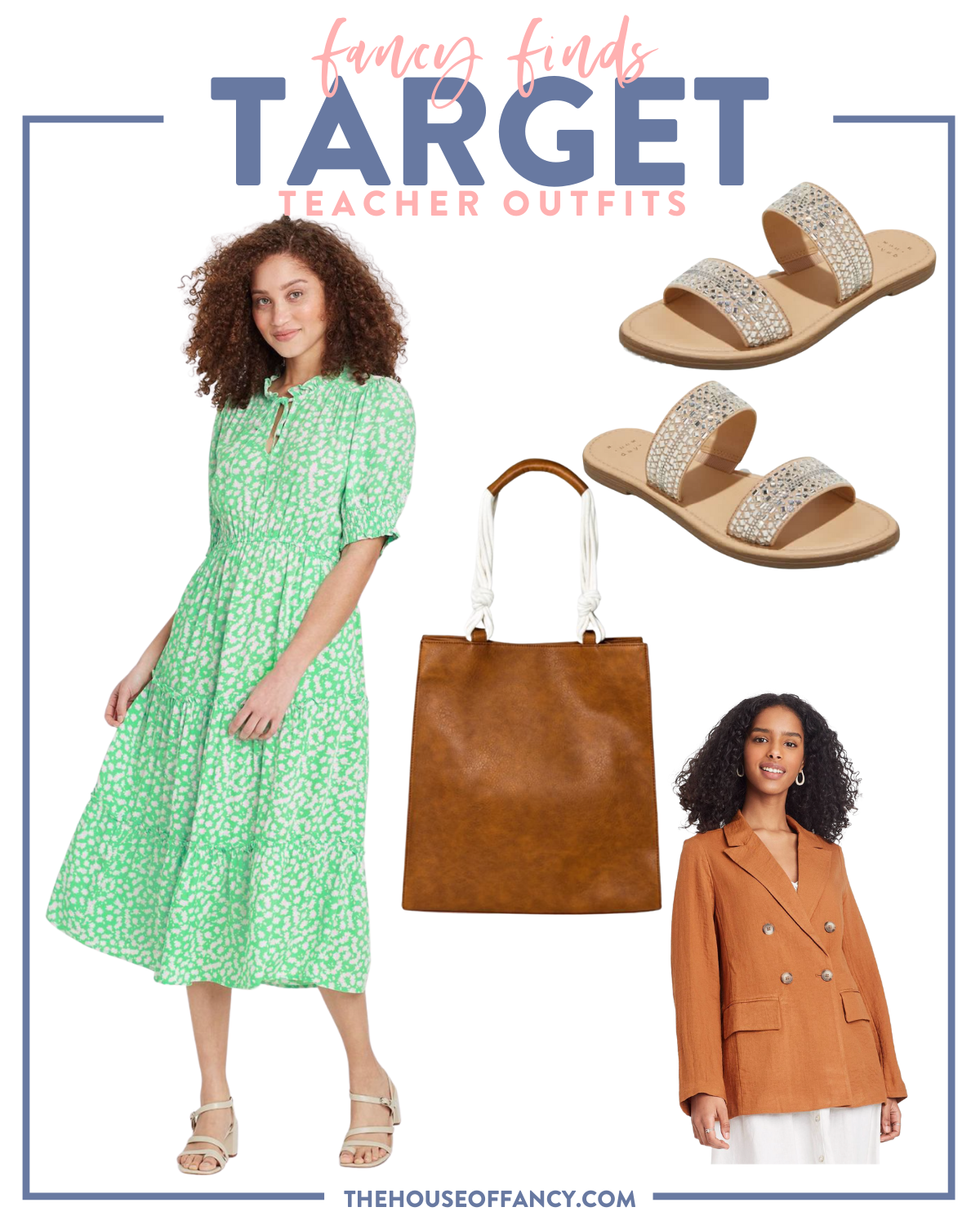 I also love a good bright color in fall. It's the time of year that the leaves are turning, it is raining most of the time, and starts getting cold in the evenings and early mornings. A fun, bright color just lightens the darkness of fall. If it's too cold to wear open toe shoes, then throw on some booties. You can easily throw on a leather jacket or a cardigan for an added layer. I love this blazer paired with this dress because it will help the inner orange color of the flowers pop.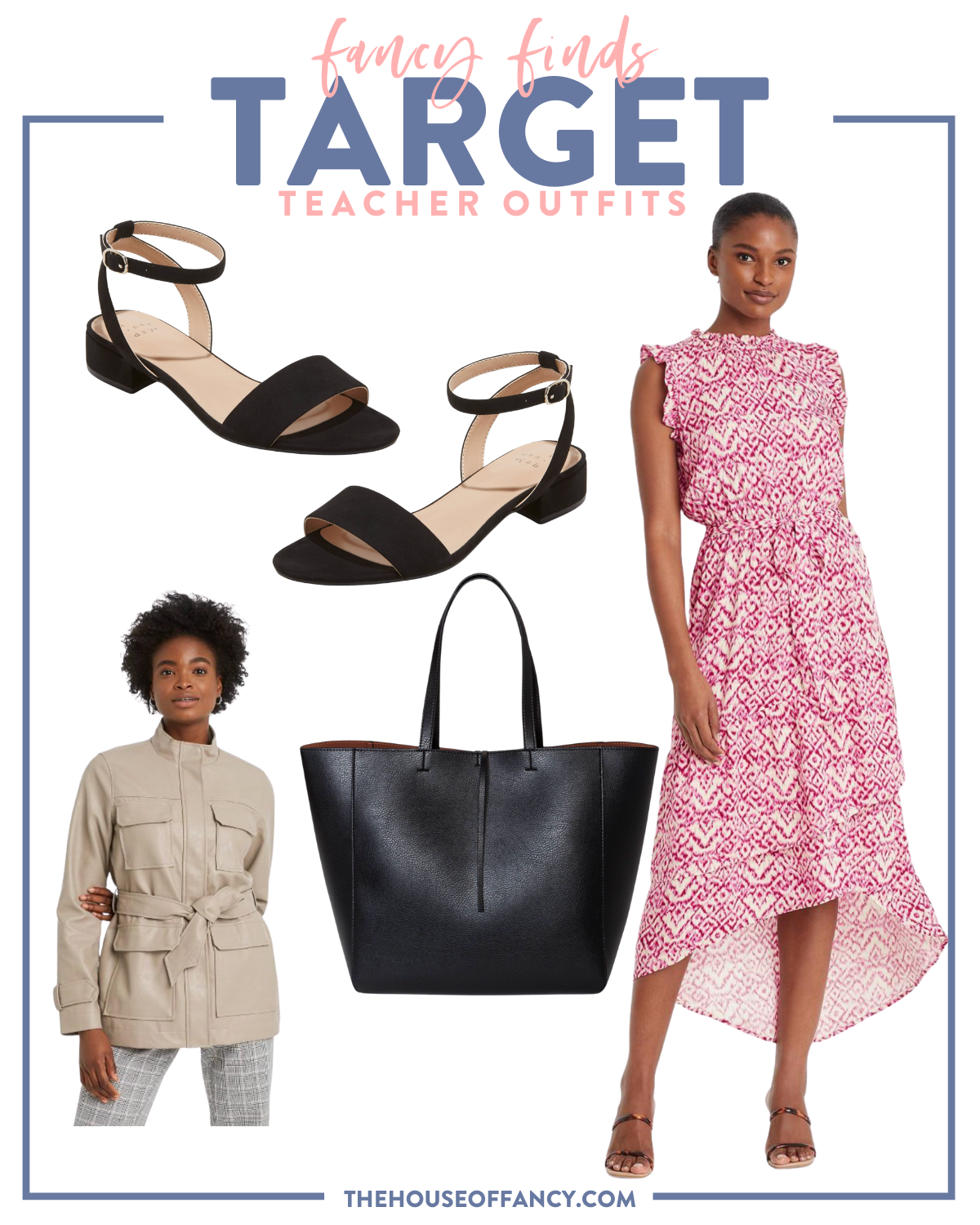 A high low dress is always a win. You can pair it with sandals in the spring and summer and booties in the fall and winter. If your school building is always cold, then you can add this cardigan for an added layer.You could also throw a denim jacket over the top for a more casual vibe.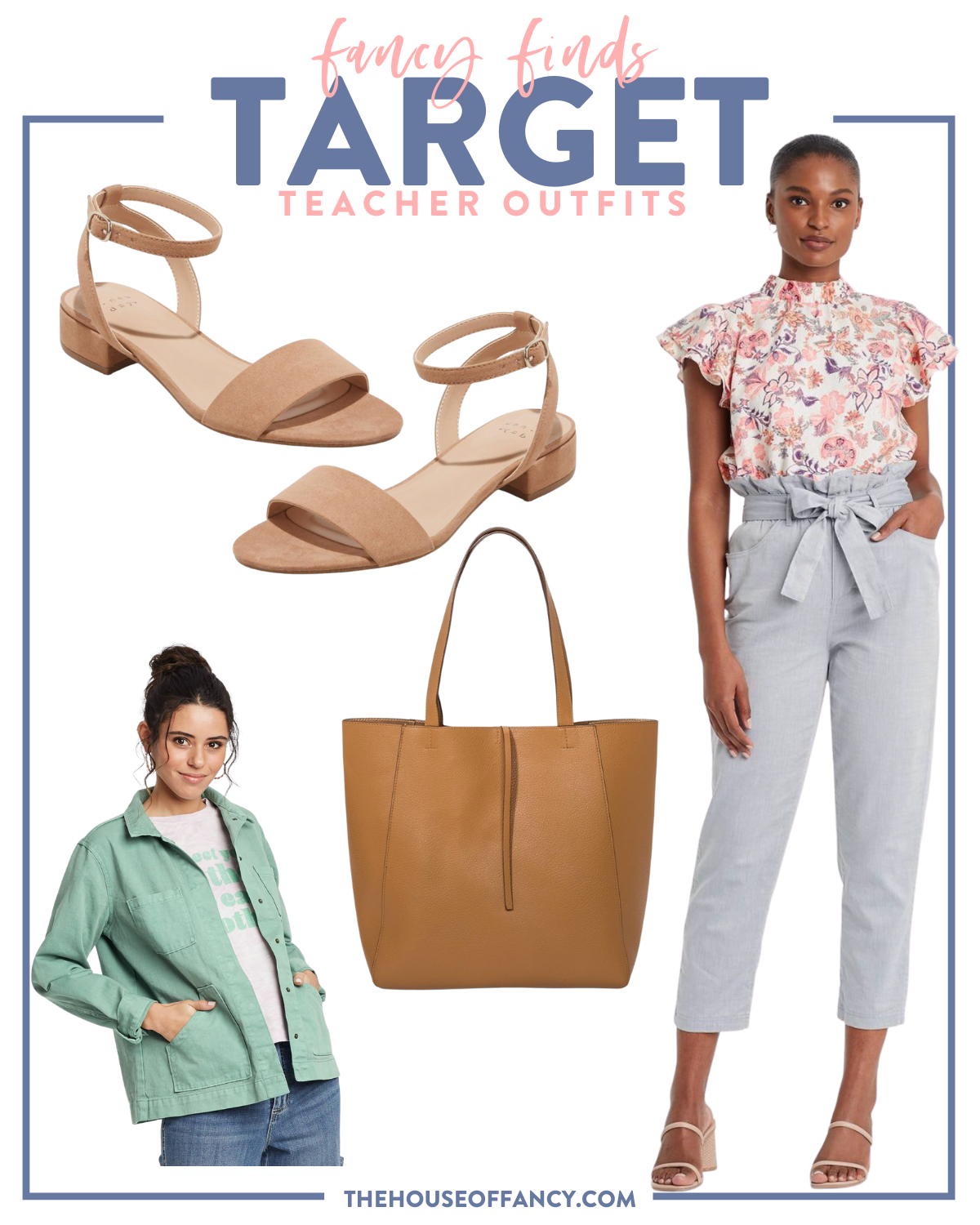 SHIRT | PANTS | CARDIGAN | TOTE | SHOES

I'm loving these trousers! The belted high waisted cute flatters the body. They look so cute paired with the floral top, which also comes in a black floral as well. You can easily pair with booties and add a coat or the light jacket in the photo.
Target has so many great finds from home decor to pet toys! If you enjoyed this post about 5 Teacher Outfits That Will Transition To Fall then you will like these New Arrivals with home decor + dresses or this one all about the toys the doggies are loving, both filled with Target Favorites.
Which look was your favorite? Let me know in a comment!
SHOP ALL STYLED TEACHER LOOKS