Hi friends and happy Wednesday! We are currently on spring break on 30A and enjoying life! I honestly don't want to go home. We explored Seaside a bit the other day- Reagan's favorite 30A hangout. We love the grilled cheese truck and the smoothie truck! Yum! I'm excited to partner with our friends at Walmart today to share five spring staples that every closet needs! Not only are these pieces you will wear again and again together, but they are great staples you will wear now through summer! The look I am sharing today is a favorite of mine because it's so easy to throw on, yet you look so put together!! It's the cutest, simple, but fab outfit!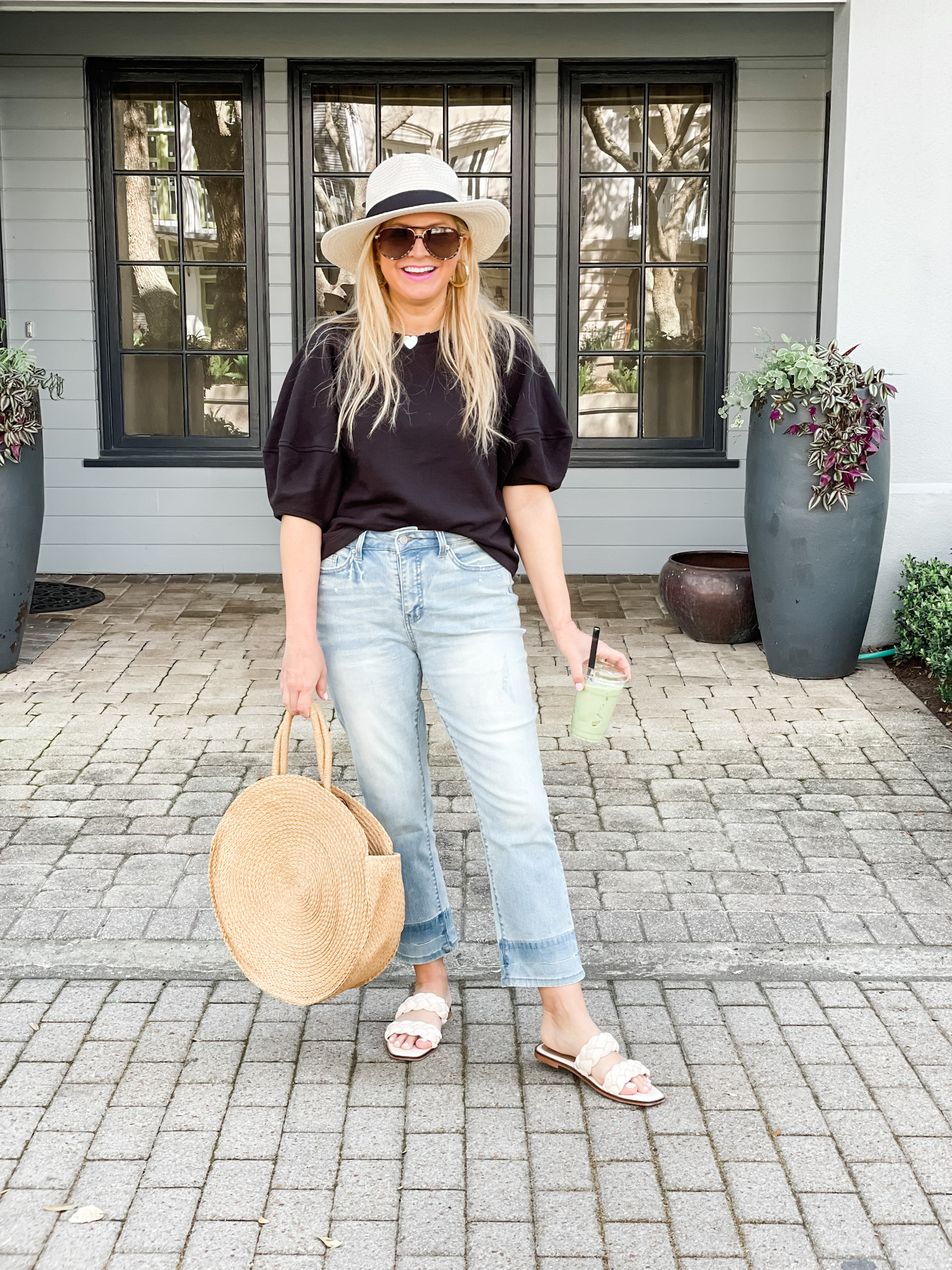 TOP (XS) // JEANS (size 4) // TOTE BAG // HAT // SANDALS

Straight Leg Crop Jeans
Everyone needs a pair of cropped jeans in their spring and summer wardrobe! This $20 pair of jeans is awesome and comes in lots of different washes. I personally prefer this light wash for spring and summer! I feel like they light and bright and a great wash to sport in the spring and summer months! They do run bigger and I am wearing the size 4 and could probably even size down to the 2, so keep that in mind when ordering.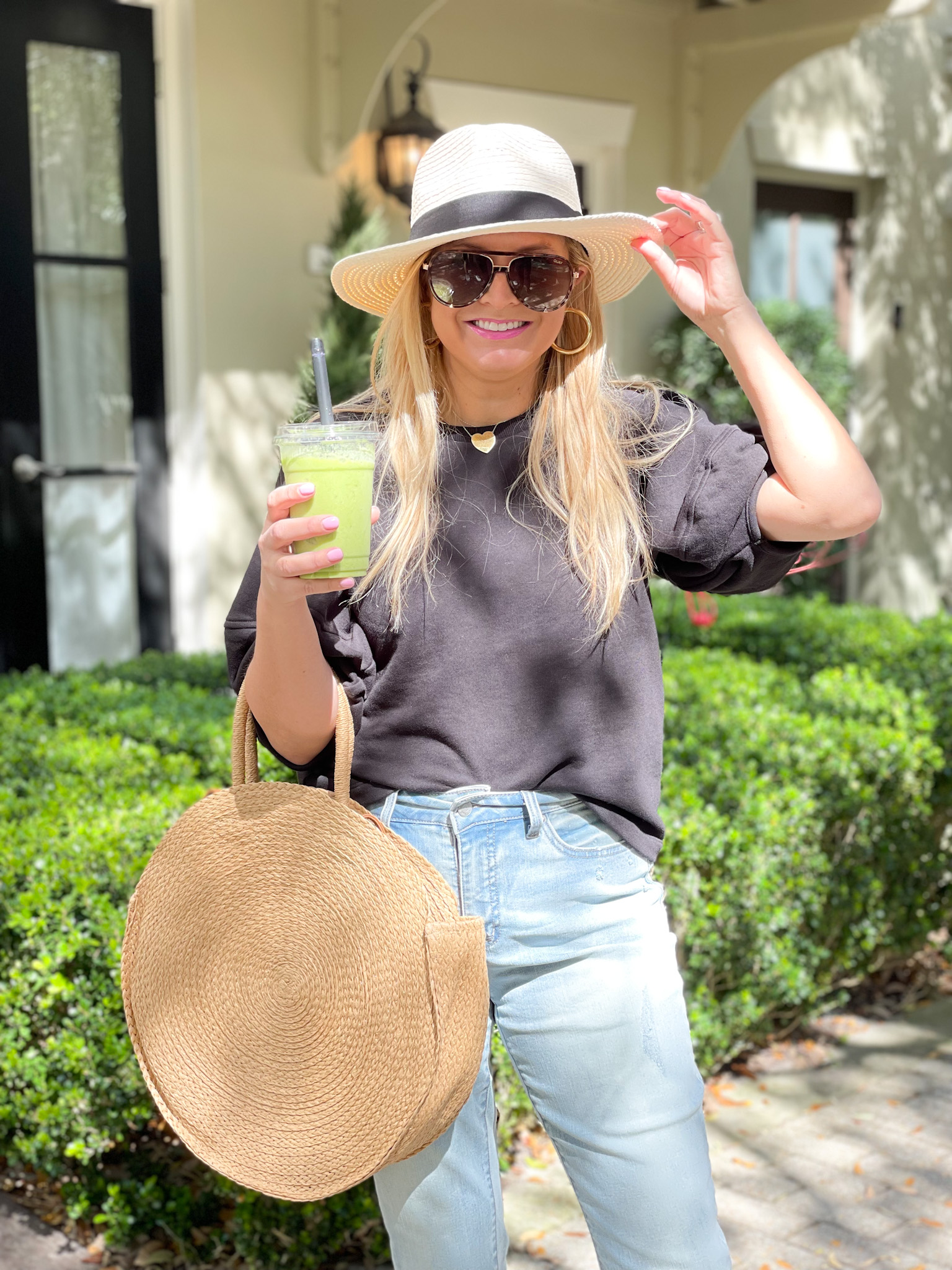 TOP (XS) // JEANS (size 4) // TOTE BAG // HAT // SANDALS
Balloon Sleeve Top
This adorable balloon sleeve top comes in a red color, too, but I am partial to the black. I feel like i's an awesome staple for spring and summer. It's darling with jeans and so cute with shorts, too! I paired it with these sweat shorts earlier this week and it made a darling combo! I will say, it might be a perfect time to grab the red version of this top for Memorial Day and Fourth of July, because I know these will sell out quickly!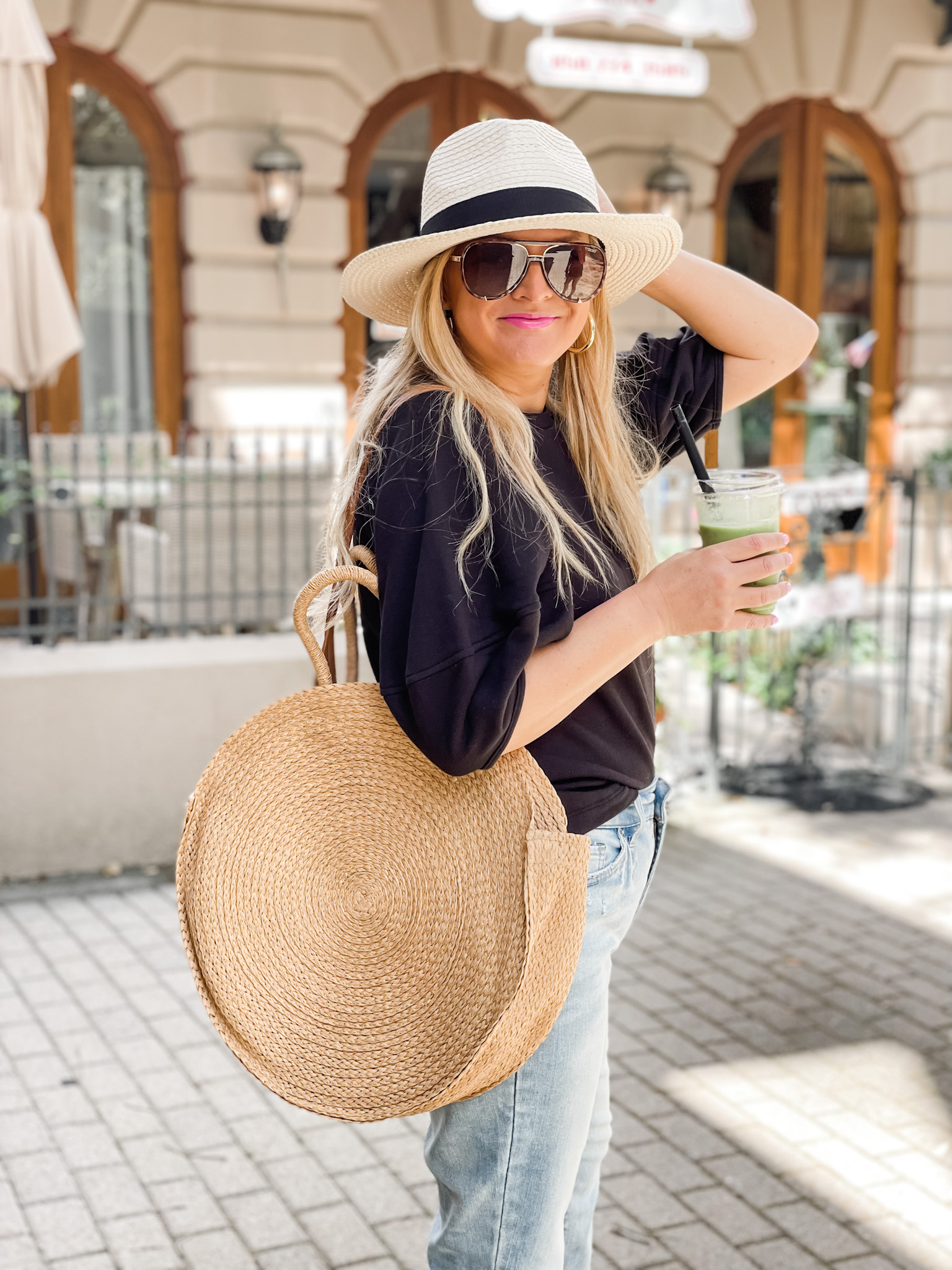 TOP (XS) // JEANS (size 4) // TOTE BAG // HAT // SANDALS

Straw Tote Bag and Panama Hat
This $13 straw tote bag is perfection. Not only can it be used as a purse, but you can also use it as a shoulder bag, which has come in handy for the beach the past two days! I love that you can wear it as a purse to dinner, but throw it over your shoulder for the beach and pool, too! This $16 panama hat is pretty much my new favorite hat! It's the perfect color and comes in lots of color options, too! I'm big hat person these days after I have realized how much the sun has damaged my skin over the years and I have worn this hat to the beach all week! It has an ideal brim and covers a great amount of the neck and face. It's sure to be a favorite of yours and one you'll grab all spring and summer long! Plus, you can't beat the price on either the tote bag or the hat! On a side note, the hat does come with a free clip to clip your hat to your beach or travel bag and it's so nice to be able to just pop the hat into the clip and clip it to your bag! No more squished bags from travel!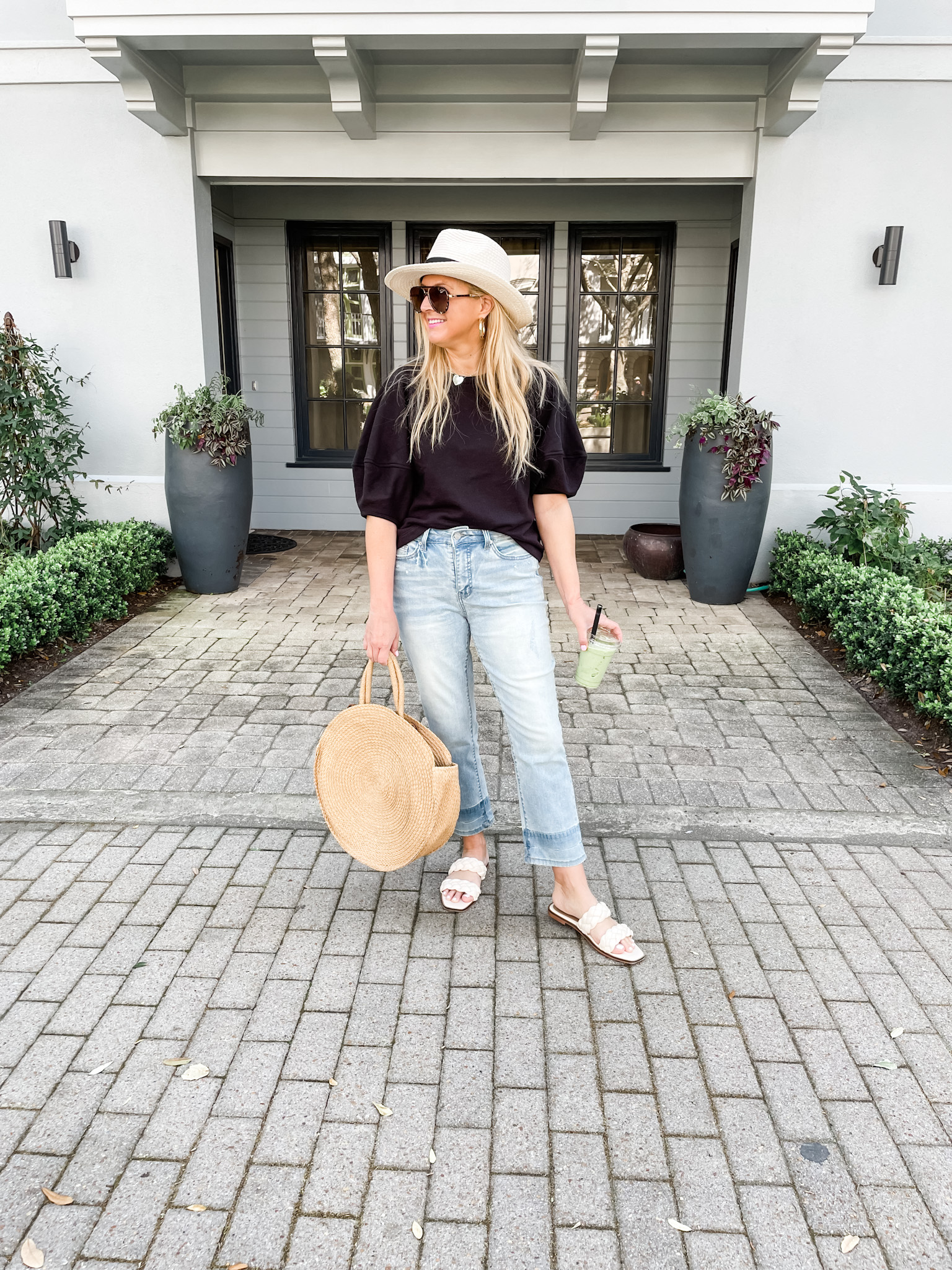 TOP (XS) // JEANS (size 4) // TOTE BAG // HAT // SANDALS
Braided Sandals
These under $15 braided sandals are a dupe of an almost $100 pair and with the color options and memory foam sole, I will tell you, they are just as good, if not better than the others! Walmart gets me every time with their memory foam soles in their shoes. It's like a foam mattress for your feet!! These sandals are awesome and something I know you'll wear a ton. I've been wearing them around town and to the beach!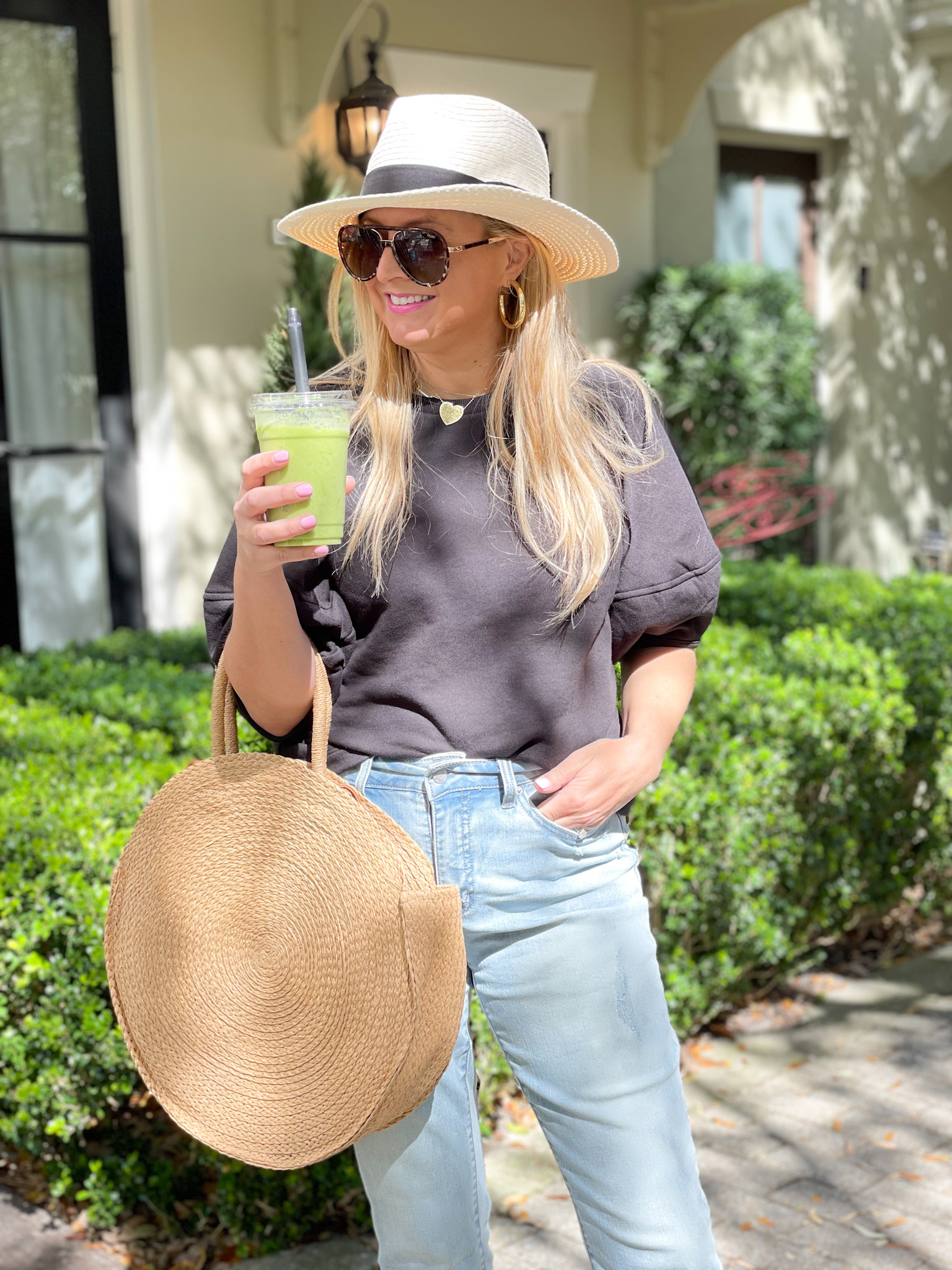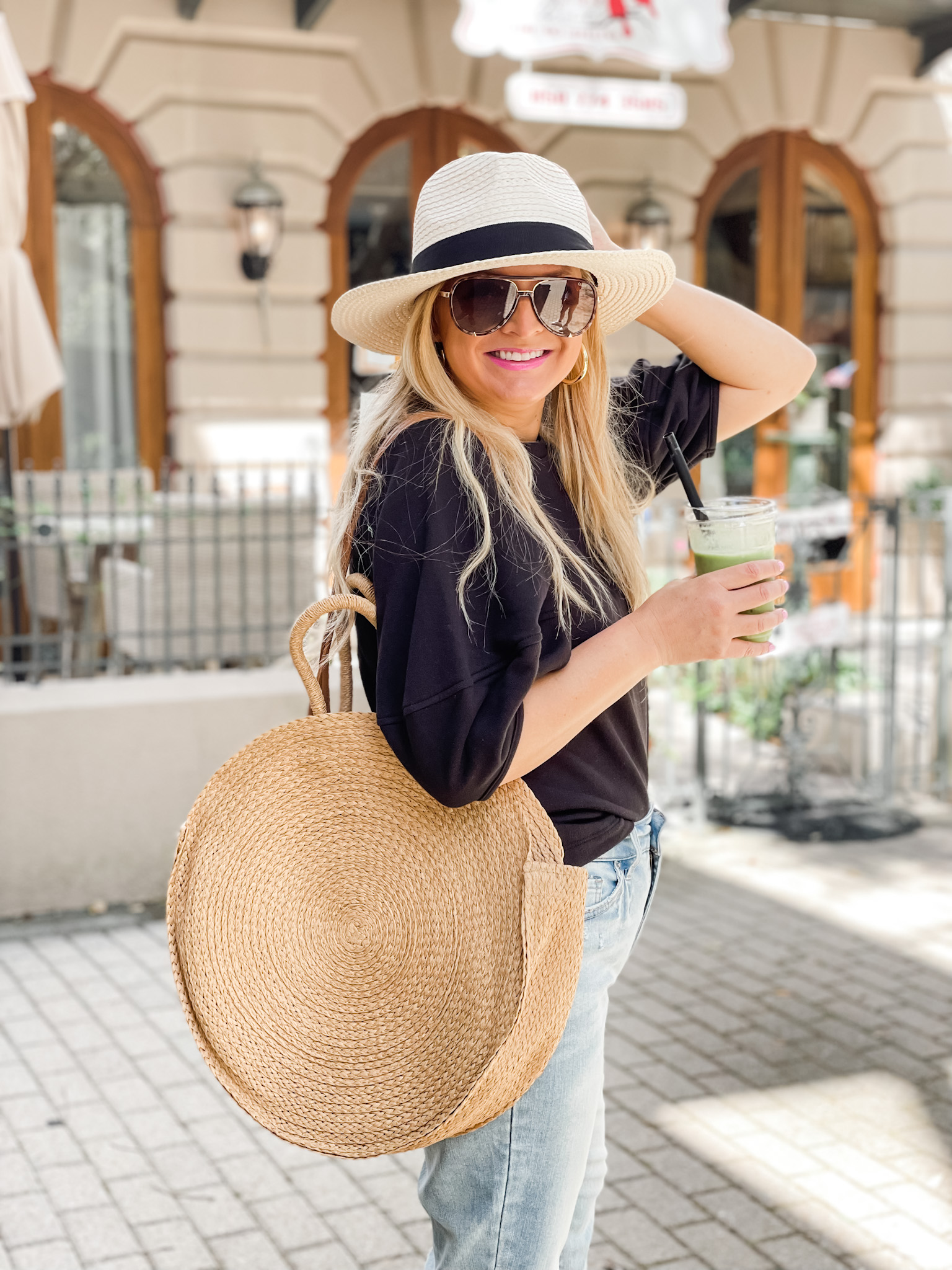 TOP (XS) // JEANS (size 4) // TOTE BAG // HAT // SANDALS
SHOP THE LOOK

I will be wearing these spring and summer staples from Walmart a ton over the next few months. I seriously love all of these staples worn together or paired with other clothing staples! Which of these pieces are you grabbing to add to your spring and summer wardrobe?
Have a wonderful day! XO!
Thank you to Walmart for sponsoring this post. We love partnering with brands that we love and trust. Post ideas and opinions are my own.