Happy Monday friends! I hope your day starts out on the right foot! Recently, I've shared a bit on my stories and talked about my quest to fitness and some reasons why I am really focussing on eating right and exercising! I've got a couple months to look and feel my best and I wanted to dive a bit more into that today and also share what I am doing for my fitness routine, as well as answer some questions that you all have asked about it! So, this post is going to get a tad personal, but I always want to be real with you, so here we go.
So, for as long as I can remember I have struggled with my weight/worried about my weight. I bet some of you can relate to this in a big way. But, as a kid, as a teen, as a young adult, (and even now) I struggled with my weight. You probably don't believe me, unless you knew me when I was younger, but it's true! When I was 18, we realized I had a thyroid issue and that was likely why it was such a struggle for me to lose or keep off weight since I was young. Don't ask me how it was missed. I literally started getting boobs in 3rd grade and by middle school, they were double d's on my 5'2 frame. I hated them. I walked super hunched a lot of the time and they killed my back! Boys at school always mentioned them and I just hated that being a topic of conversation. Not to mention how uncomfortable I was on a daily basis because they hurt my neck and back! I ended up begging my mom for a breast reduction early on and we decided to wait until I was 18. I had one, they didn't make them as small as I had requested (the Dr. said I would regret requesting that size and left them larger #eyeroll), so I went back in a year and a half later for another breast reduction. So, yep, I've had two breast reductions and I'm glad I did it! I've never told you guys that before and actually I'm not sure why. I'm not embarrassed by it and it is definitely something I'd do again in a heartbeat. I have awful scaring which is my only regret about it. Doing it twice made my scarring so much worse. It's an actor scar and they literally remove the nipple and then reattach it is, so yes, lots of scars going on over here. Because of that, you won't see me wear super low cut tops or anything like that. It's so ironic because after my surgeries, I definitely felt better, we were able to get my thyroid under control with medicine and I lost weight. Finally! I met the future Mr. Fancy a few years later and I always say that I was in the best shape of my life because I was happy. Then I had kids and the quest for health and balance were constant. Here I am 9 years into being a mom and I still struggle with my fitness here and there.
After I had Reagan, I was drowning in the sense of trying to balance it all, a newborn, a toddler, a husband who was gone every week. It was a lot. Again, I knew had to get back into shape and had to get back to working out, to find a little me time. We used to walk on the weekends and I started working out with a trainer in a small group class setting, a few days a week. I really watched what I ate and I saw amazing results. I remember this being one time in my life where I felt good in a bikini. Then we moved to Texas and I never really found a gym that I went to on a regular basis, stuff happens. I didn't really gain weight, but I maintained my weight and just got "softer" as I call it. My sister took a picture of me last year during spring break and my first instinct was that I needed to Photoshop my stomach, which I do NOT believe in and again something I had never done! It was at that moment that I decided to partner with my local Pure Barre for my 90 day challenge. Like, I legit text the owner, my friend, as I was sitting by the pool. And no, I never posted the picture. During my 90 days of going to Pure Barre, I felt great in all aspects, but it was tough to make it work through the summer and then through the fall with work, kid's activities, sickness, etc. And I just fell off the exercise wagon and stopped going. Fast forward to now, I have been very stressed and anxious lately. I knew for a fact that a huge part of it was my not working out. I also didn't feel good in my skin. It's a me thing. I always say, I don't care what the scale says, I don't care what other people think, as long as I feel good. And truthfully, I just haven't felt good. I knew I had to get myself in gear so to speak, in all aspects! My jeans were tight, my anxiety was not ideal and I just needed a change.
My Journey with the BBG 12 Week Program
I want to be a positive role model, especially for my daughter (and son truthfully) and honestly, I know that means I need to look and feel my best. Being someone who struggles with anxiety, I know how much I need to get out for daily exercise! I love Pure Barre, but it's not ideal for me during the summer because I don't have childcare. Sure, my kids have camps a few weeks, but it's not constant, so I needed something I could do at home. I've heard tons of great things about BBG and actually have almost taken the plunge and tried it, numerous times. So, I finally decided to do it and I am doing the BBG 12 week program. I'm on week 3, so I'm still fairly new at it, but I am enjoying it and it is doable for me! It's fast and seems effective! I mix it with speed walking and my 30 pushups and I really hope to accomplish my fitness goals over the next few months! I'm excited to keep moving and grooving with this and truly feel like it's doable for most people, because you can do it at home, with minimal equipment! I am loving it so far and can't wait to see how I look and feel after 6 weeks and then after 12 weeks! I don't believe that weight really matters unless you feel good, so my goal is to be stronger, leaner and not to weigh less necessarily! A good tip that my friend Heather gave me was to try on a super tight pair of jeans that you are NOT comfortable in, before I started the BBG 12 week program. And then she said to try them on again in 3 weeks and see how they feel. It usually takes 3-4 weeks to start seeing changes! I'm exciting to try those jeans back on next week and see how I feel in them!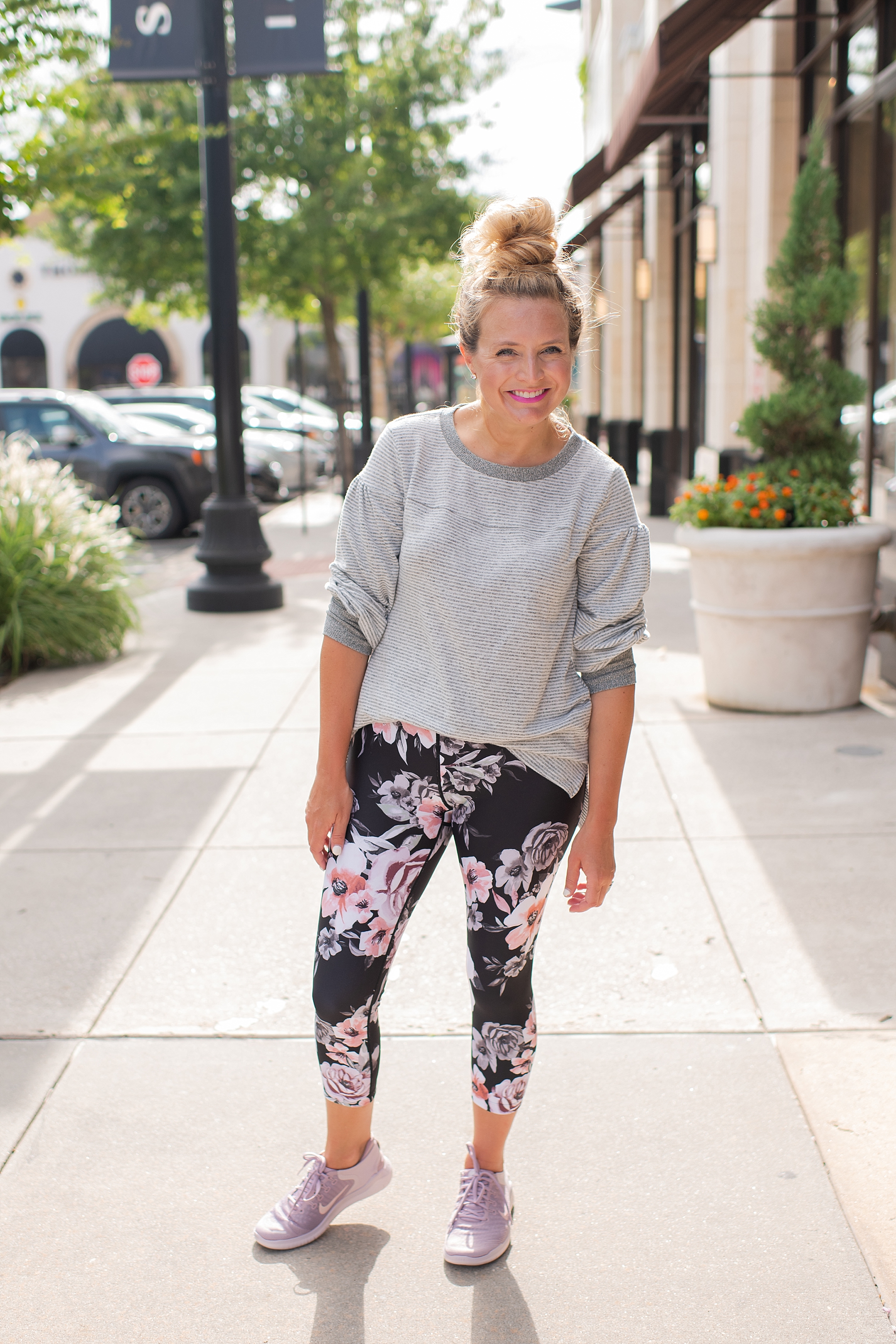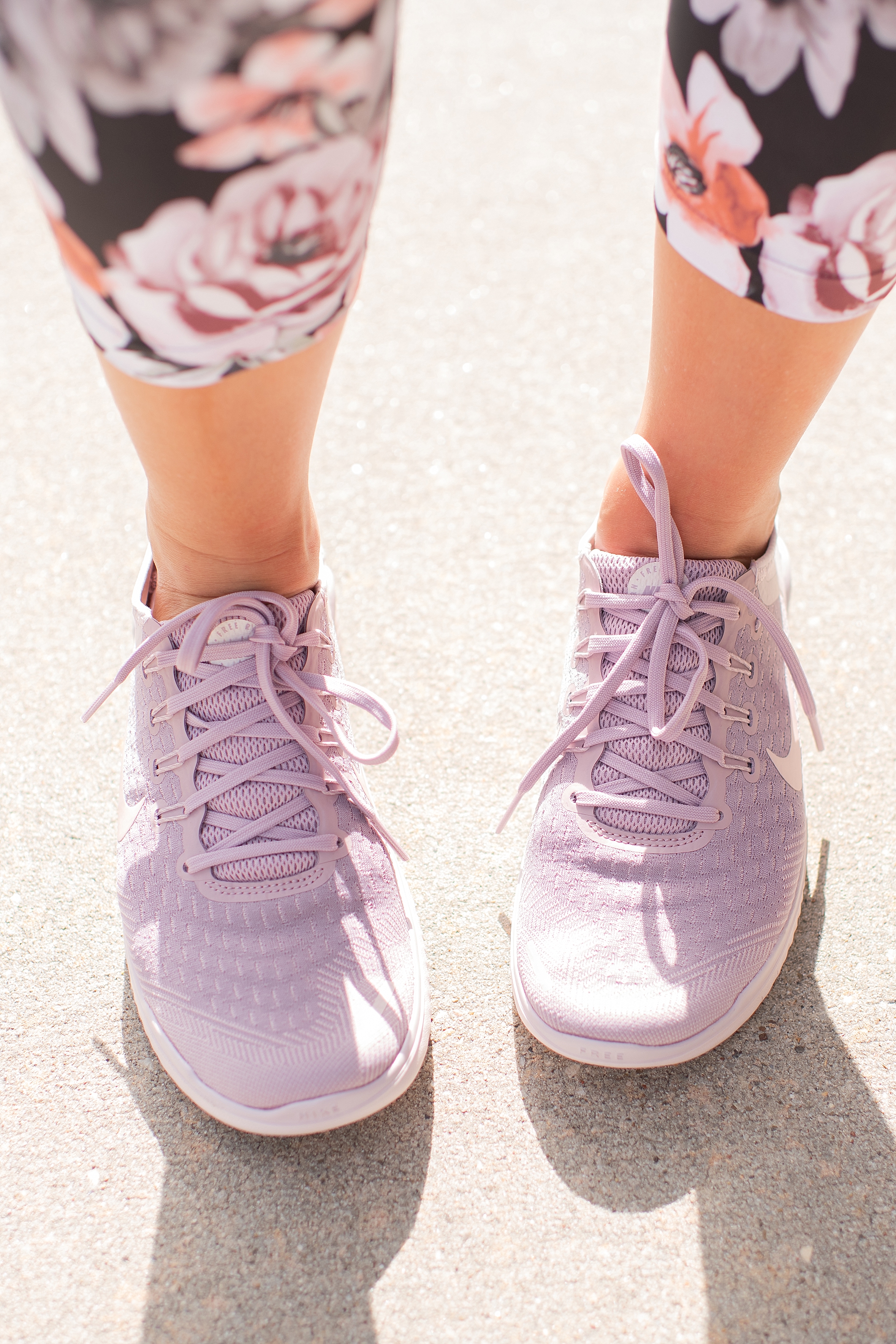 PANTS // SIMILAR PANTS // TOP // SHOES // LIP (Color: #49) // EARRINGS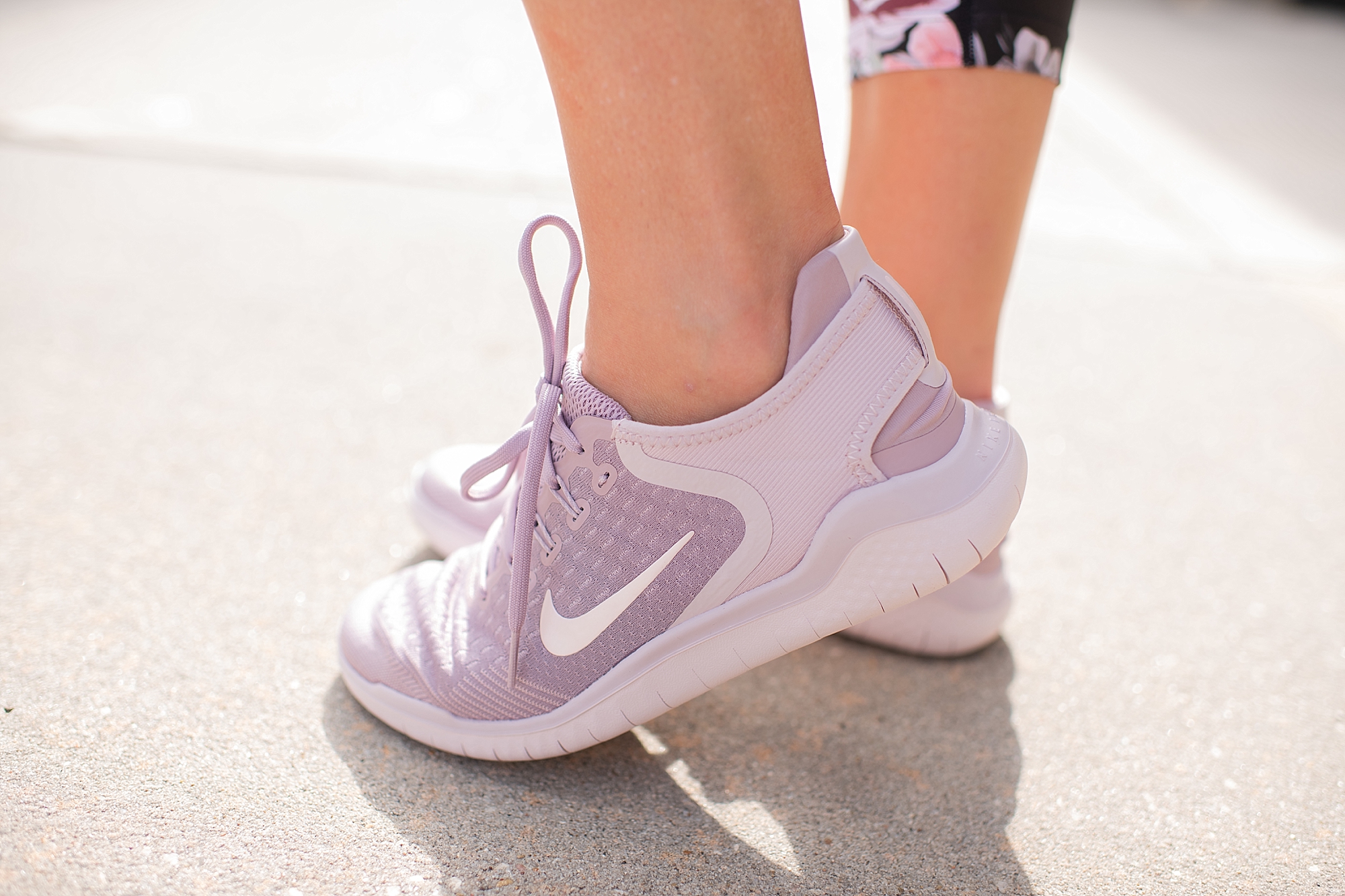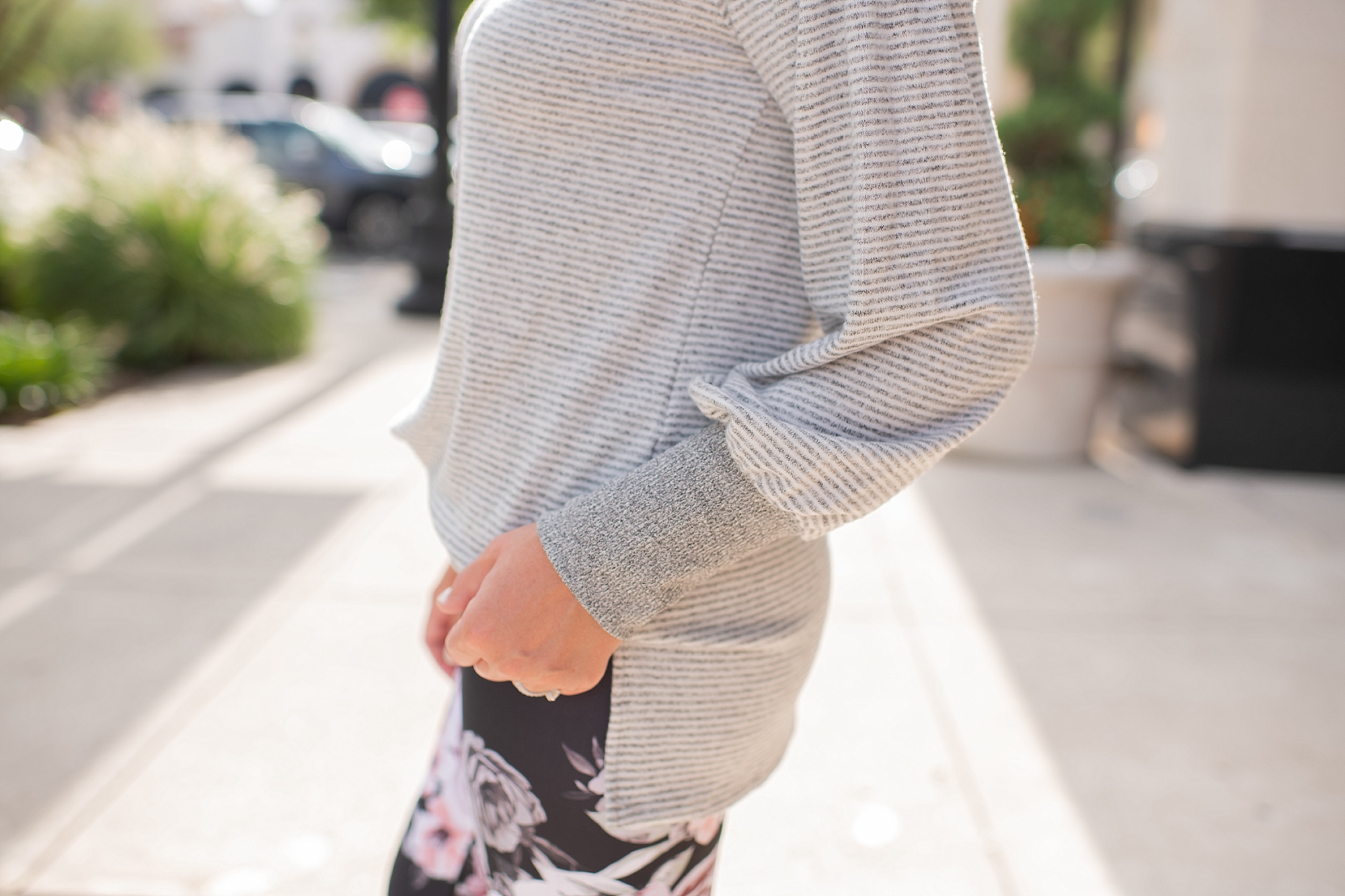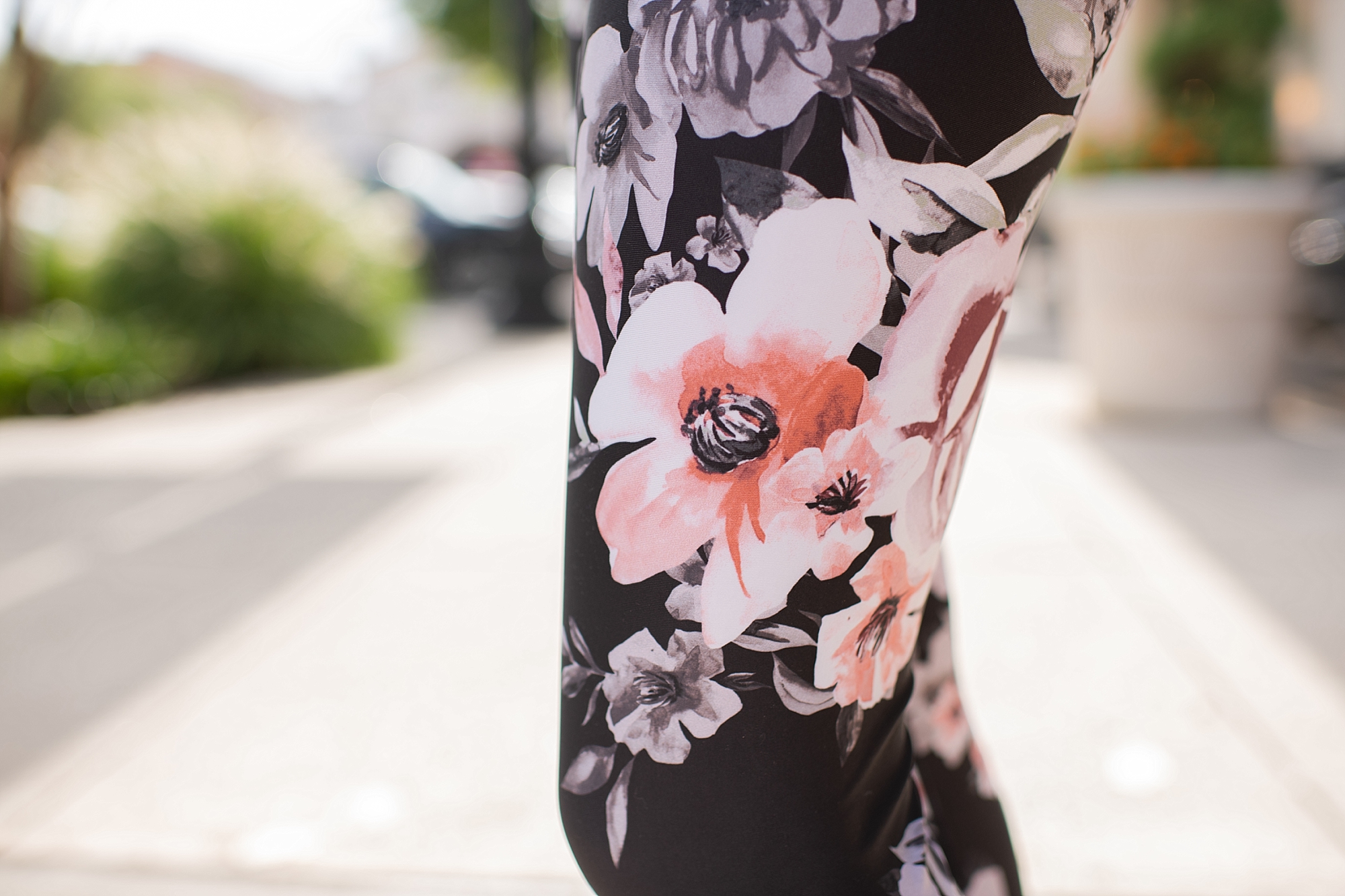 PANTS // SIMILAR PANTS // TOP // SHOES // LIP (Color: #49) // EARRINGS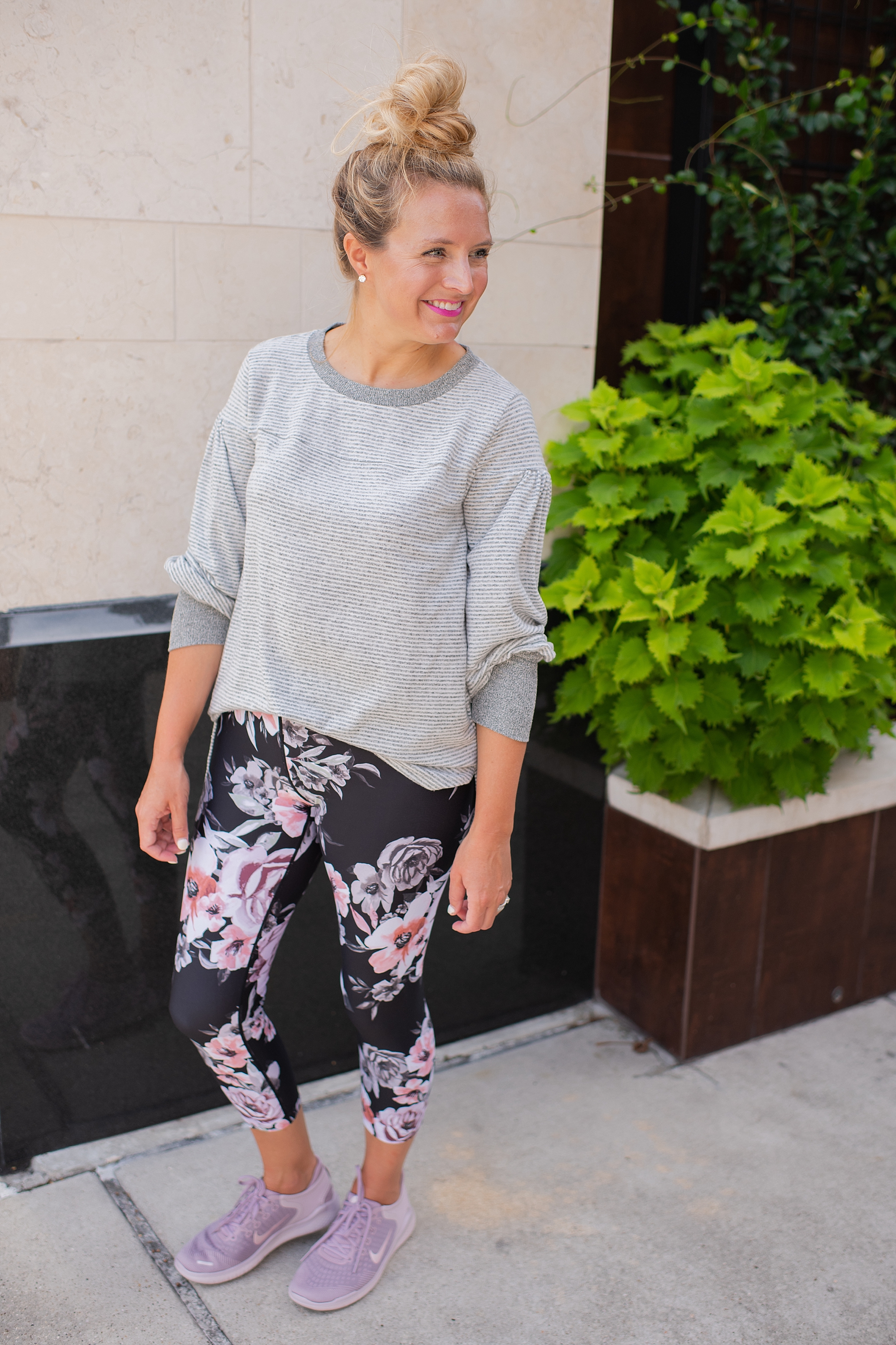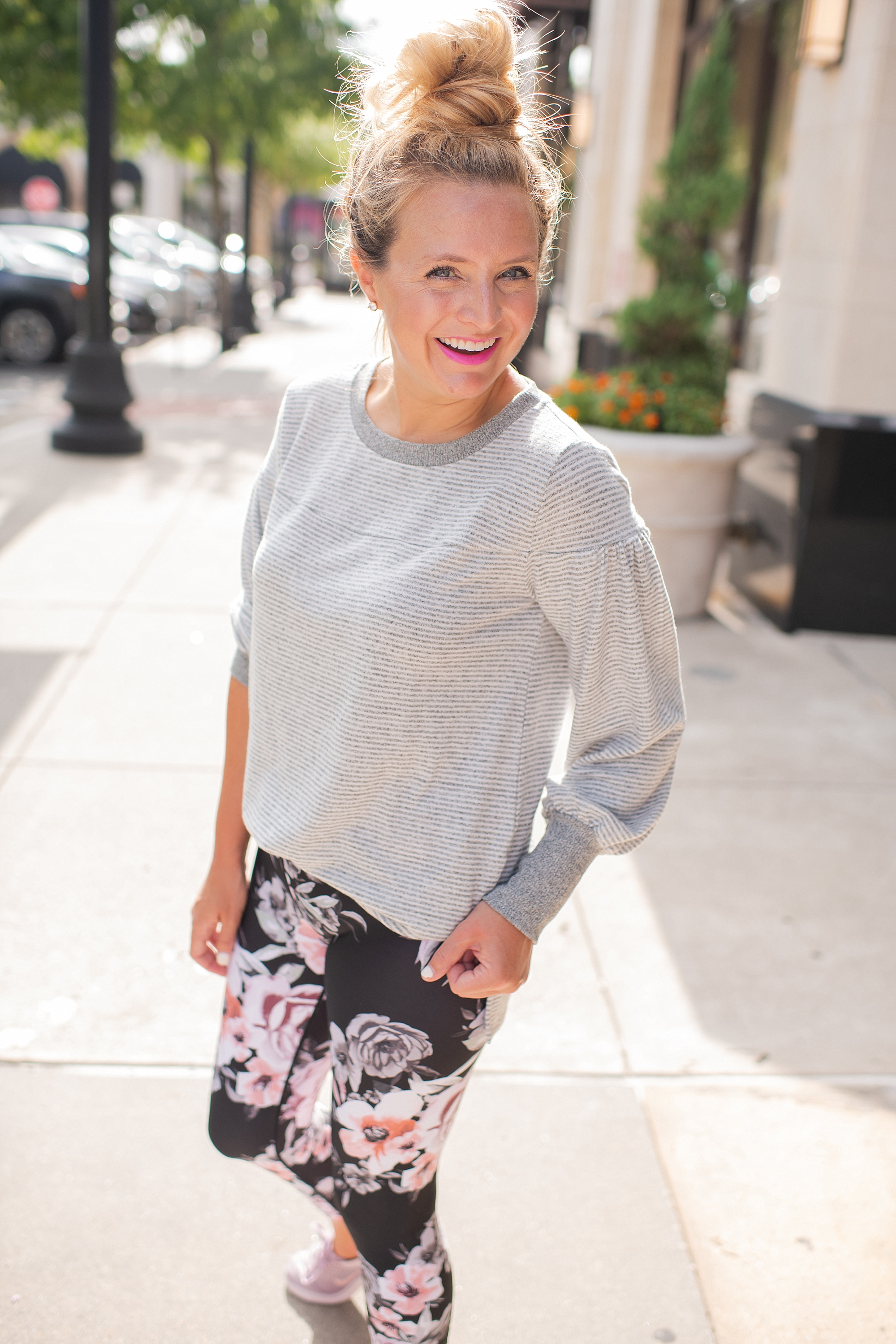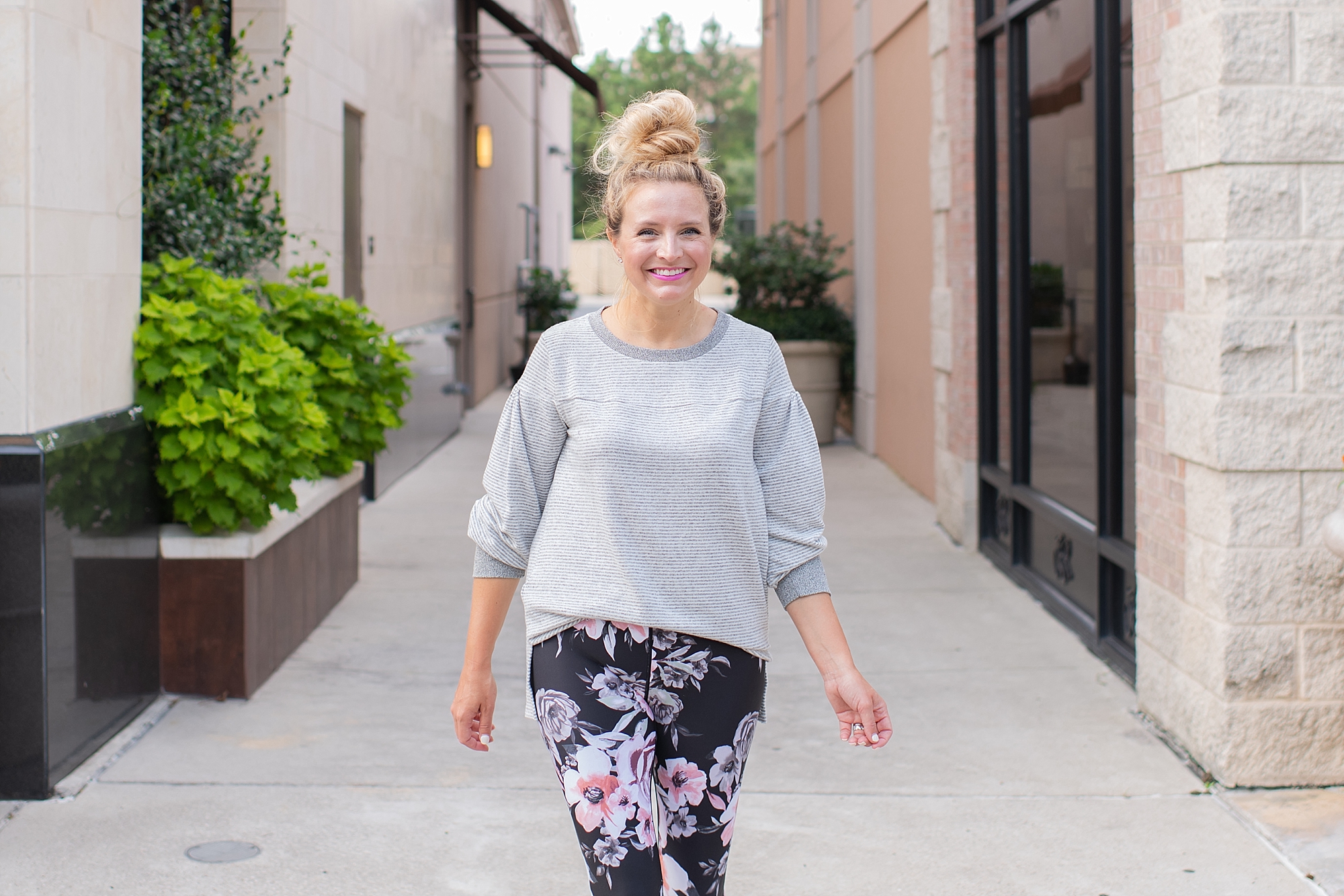 PANTS // SIMILAR PANTS // TOP // SHOES // LIP (Color: #49) // EARRINGS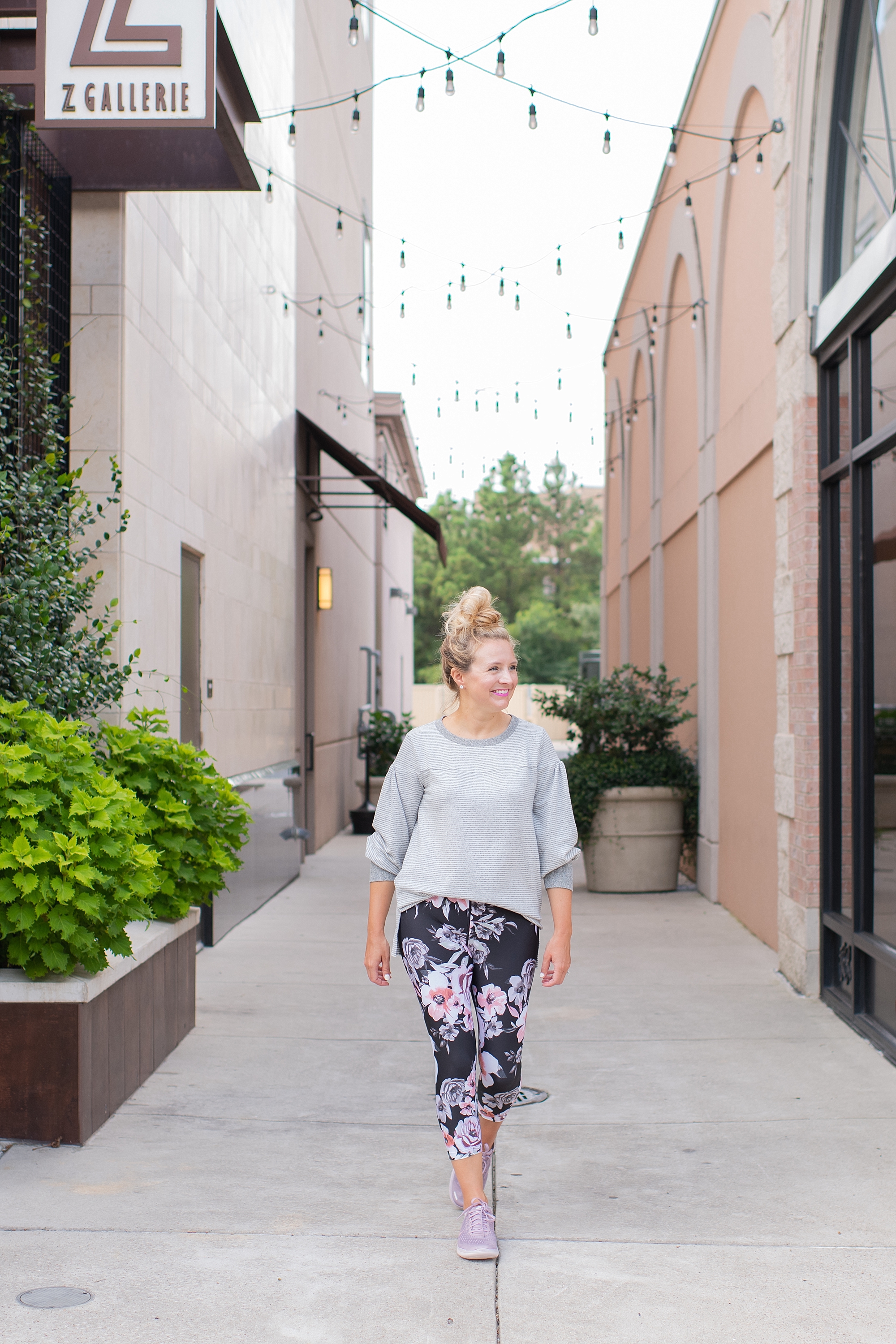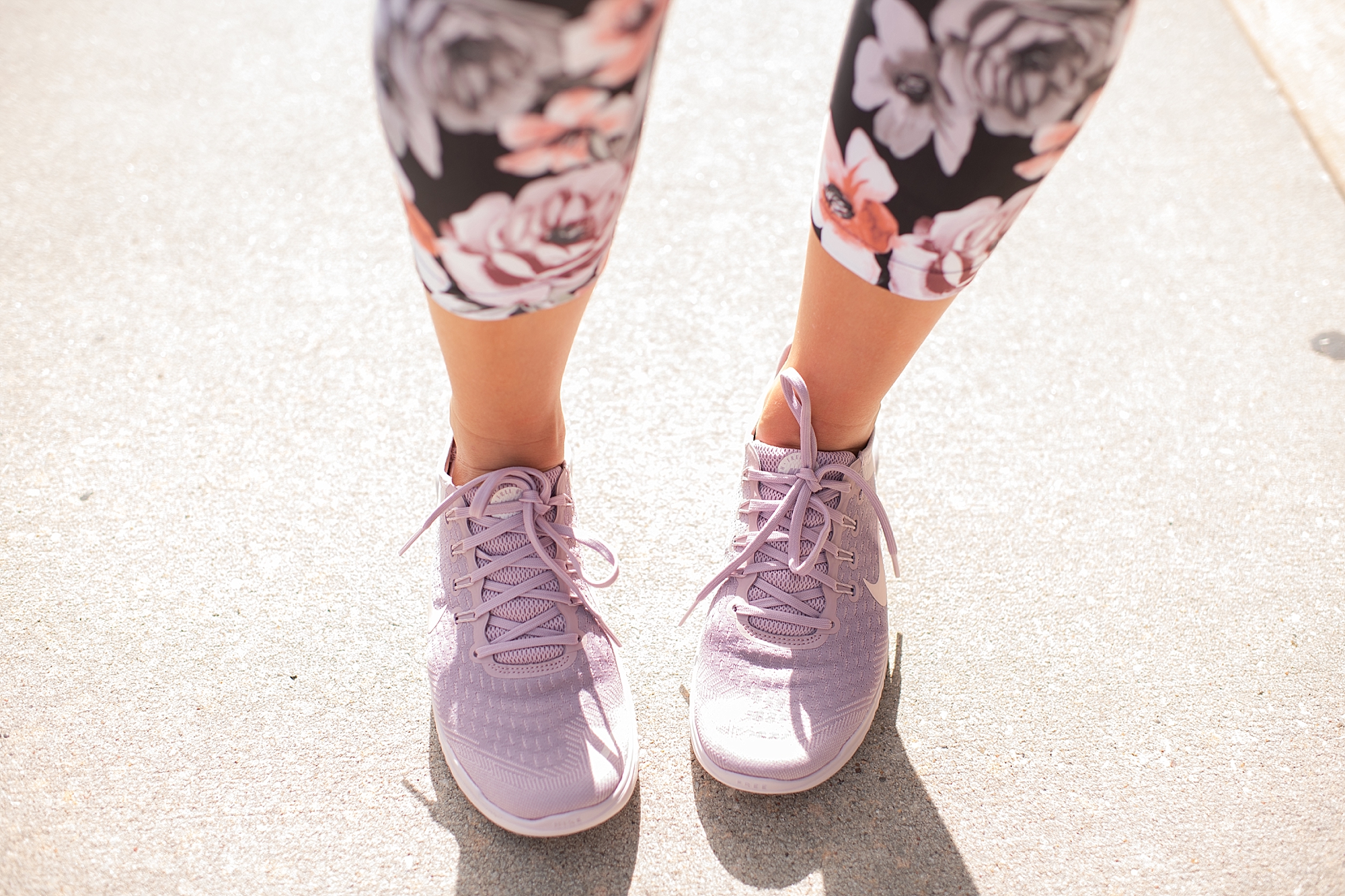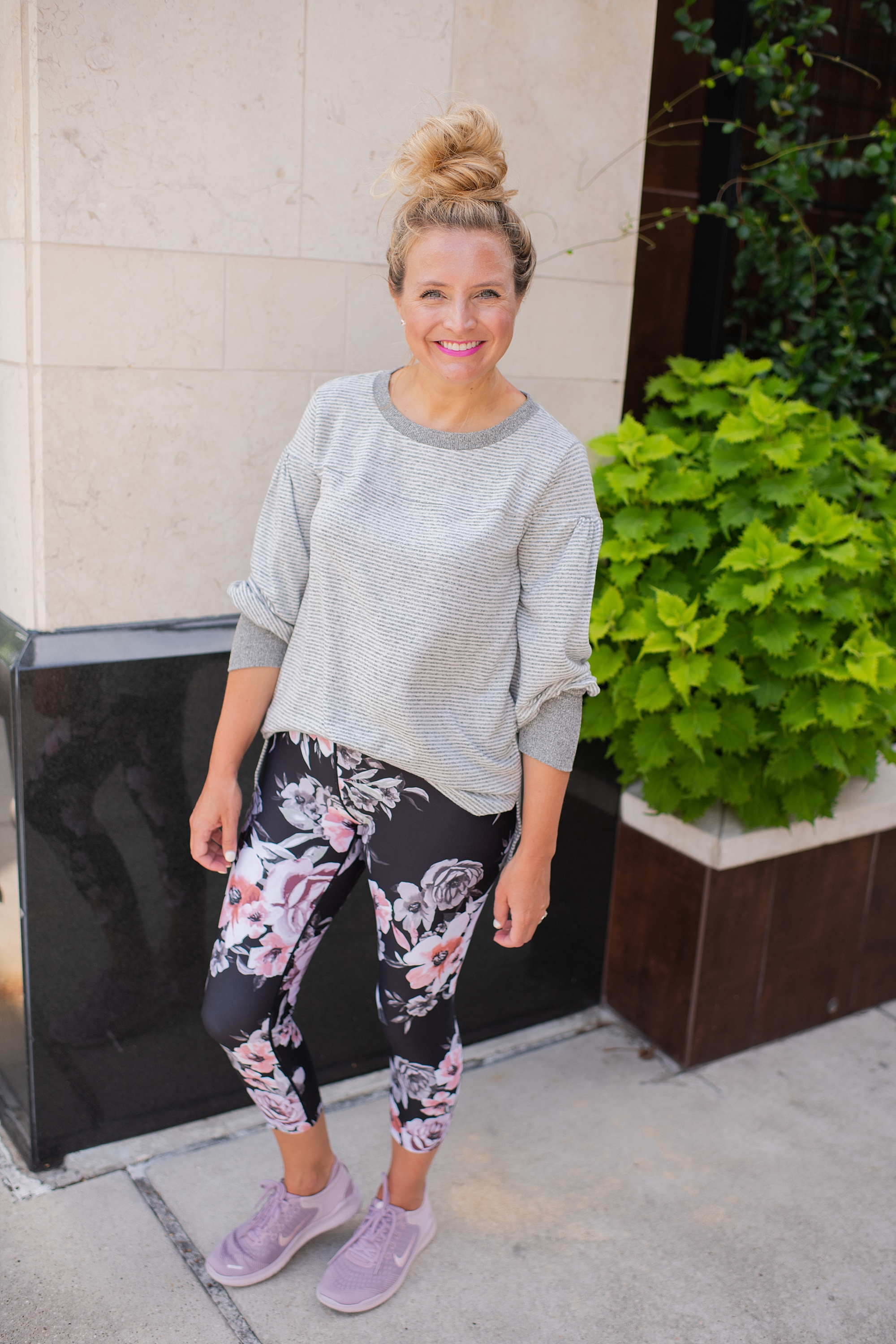 PANTS // SIMILAR PANTS // TOP // SHOES // LIP (Color: #49) // EARRINGS
My new workout routine is the BBG 12 week program, walking and doing 30 push-ups each day! I am also trying to eat pretty darn clean and limiting sugars, dairy and carbs. I've been chatting about this a lot of my STORIES and you all had lots of questions! I figured I would cover a few of your questions in this post!
Readers' Questions: 
What is the BBG 12 Week Program?
BBG stands for The Bikini Body Guides. Here is an excerpt from her website "This guide is an eBook containing 12 weeks worth of 28 minute resistance workouts plus educational content. Since November 2015, the BBG has been transformed and is now available in the Sweat app  – growing with you and your fitness journey for an unlimited number of weeks. You can read more about this fitness revolution and the creator HERE.
How do you keep yourself motivated to keep going? It's so hard for me not in a group!
Girl! I feel you! Same here! That being said, I have about 8-12 weeks to look and feel my best and that is a huge motivator for me! I also talked my sister into doing it with me, so we can hold each other accountable. And truthfully, telling y'all, my readers that I am doing this, it also helps to hold me accountable. Plus, I just feel better when I'm active. I'm on week 3 and I already feel better! That's another motivator. It's really good for my mind and helps keep my anxiety at bay.
Where are you doing BBG? 
I'm just doing it in my kitchen! I lay out a yoga mat and do it there. If I need to do squats, I'll do those in my driveway or down the hallways. I use my stairs as a place for my step-ups. That's what I love, you need minimal equipment and really you can for the most part do these exercises anywhere!
Did you buy all the equipment?
I bought weights, jump rope and medicine ball!
Did you start with the BBG 12 week program or the 4 week beginner plan?
I started with the 12 week regular plan! I start week 3 today!
Do you have to have weights, etc?
There is minimal equipment required. She tells you all you need to know in the guides!
Are you trying to lose weight or just get in shape with the BBG 12 week program?
Both! I've gained weight over the past few months. I'm not sure if it's noticeable or not, but it is to me! My jeans were feeling tight, so I knew I had to get my booty in gear! I've also been super stressed and anxious lately, working out really helps me with this. It totally helps my mind and body. I'm not looking to lose weight, but more to tone up and just feel better about myself, in my skin. I'm already feeling better in lots of aspects and I'm only a couple weeks in!
I'm a week ahead of you and the exercises are repetitive and boring. Will I get new ones?
I don't find them boring at all because they change up each week. I do believe after each 4 weeks its a new set of exercises, but I'm not too far in yet, so I can't confirm that! I'm on week 3 now which is the same exercises as week one! Next week, week 4, will be the same exercises as week 2! I actually like repetitive workouts because I know what to expect, so I've loved that aspect!
What is your weekly workout regiment with the BBG 12 Week Program?
I do BBG Monday, Wednesday and Friday. I try to walk 30-45 min each day (in addition to BBG on the days I do it), 7 days a week. I also do 30 push-ups each day!
What is your food plan?
I am trying intermittent fasting, but not following a program. I try to eat my first meal around 11:30 or noon each day and I am usually done eating by 7:30pm. I'm really just trying to do minimal carbs and lots of protein and veggies. I don't eat gluten for the most part, so cutting out bread and carbs isn't really tough for me. I'm eating lots of lettuce wrap sandwiches for lunches, hard boiled eggs for snacks, carrots and siracha ranch for snacks, salami and cheese for snacks and protein and veggies for dinners. I probably won't always do this fasting, but, as I said earlier, I have a specific goal I am trying to reach over the next few months, so I figure, I'll see how I feel once I get to my goal and see what I want to change. I don't think I'll be as strict, but my goal is to get to a place where I can eat a basket of fries and not feel guilty, because I know I'll be burning it off the next day. We shall see! No promises on that. I will also say, I don't believe in cutting foods out. If I want a few chips with salsa, I'll have that, but I won't eat the whole basket. I truly believe in the "everything in moderation" way of thinking. I always feel like when I tell my body it can't have certain things, I crave those things more. Total mind game! So, yes, I'll have a fry or two if I want them!
I hope this helps to answer some of your questions about the BBG 12 Week Program and I hope it gives you more of a glimpse into me as a person and daily parts of my life. My fitness journey is a constant one. And as I get older, I think it's just harder to keep myself fit, so I really have to make it a priority. My hope is that I can really succeed in this and hit my goals and keep up with it! That's the hardest thing! I wanted to share this with you today in hope that it can motivate you, too! I'm just like you, I struggle. My days aren't unicorns and rainbows like Instagram can make it seem to be. I have anxiety (more on this soon), I have stress, I have too much on my to do list, but I am really trying to focus on making myself a priority and I think as moms, that's really easy to forget and it's easy to put yourself last! We can't do it all, but we sure try! I just really hope that adding in this active routine will continue to help me mentally and physically and if you are anything like me, I really pray that you consider adding some of this into your daily routine! Whether its a walk, pushups, BBG, or any sort of fitness routine, I truly hope you find something that makes you feel better about yourself in all aspects! That is truly what my quest to fitness is all about! Who cares what the scale says, as long as we feel good, inside and out! Thats what matters. Have a great day, friends! XO!