Happy Wednesday, my peeps! I hope your week is off to a great start! I'm sorry this post is a few weeks later than expected, but life happens and I figure it's better late than never. This year, for spring break, we headed to Colorado! Beaver Creek, to be exact! It's one of Mr. Fancy's favorite places and really has become one of my favorite places, as well! I'm going to tell you a bit about our trip and what worked well for us. Each family is different, so definitely keep that in mind when planning your own trip, but i think we learned a few tips and tricks along the way! Our original plan was to ski 2 days, take a day off and then ski another 2 days. Our kids (and us!) were having so much fun and didn't want a day off, so we ended up skiing all 5 days of our trip! Here's a peek into our spring break in Beaver Creek!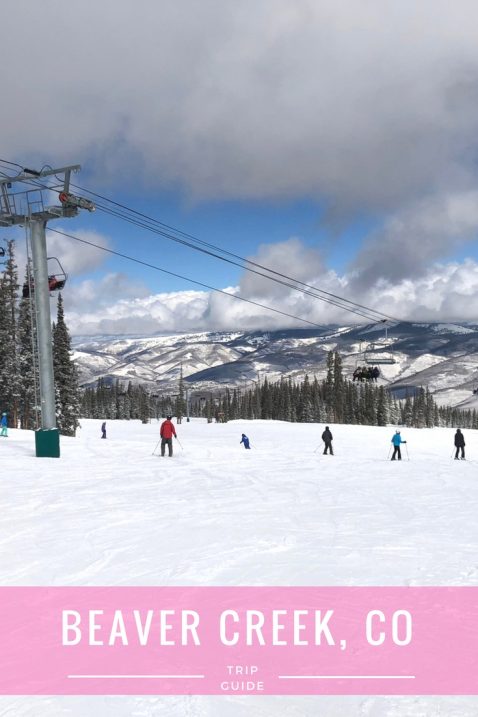 Travel:
We flew directly from Houston to Eagle Airport in Vail. We much prefer flying right in and having a short drive to the mountain. You can also fly into Denver and drive 2-3 hours. Some say that the gradual drive up is better to get used to the altitude? I'm not sure on that, but flying directly in works the best for us. You can also drive depending on where you live. This would be awesome route because we have SO much gear! It's a lot to fly with!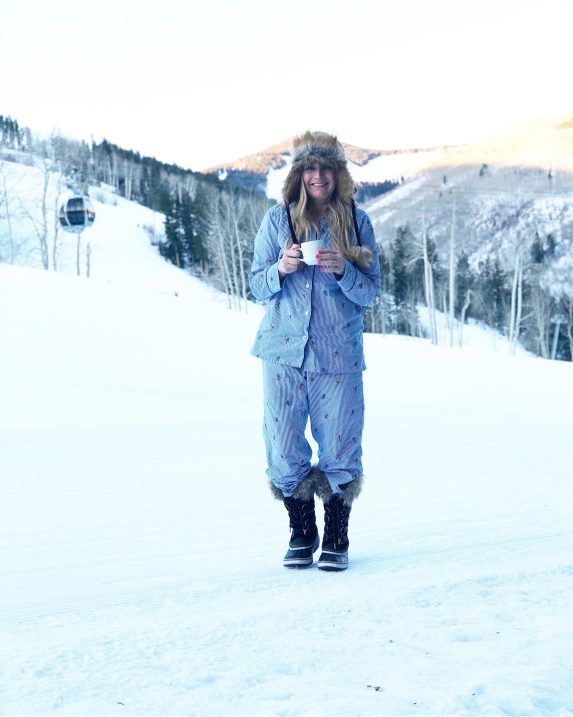 Ski Gear:
We rented all of our ski gear (skis, boots, poles) prior to arriving at the mountain. Once we arrived, we headed to the rental shop to grab our gear. This was super easy and the best way to do it unless you own your own ski gear!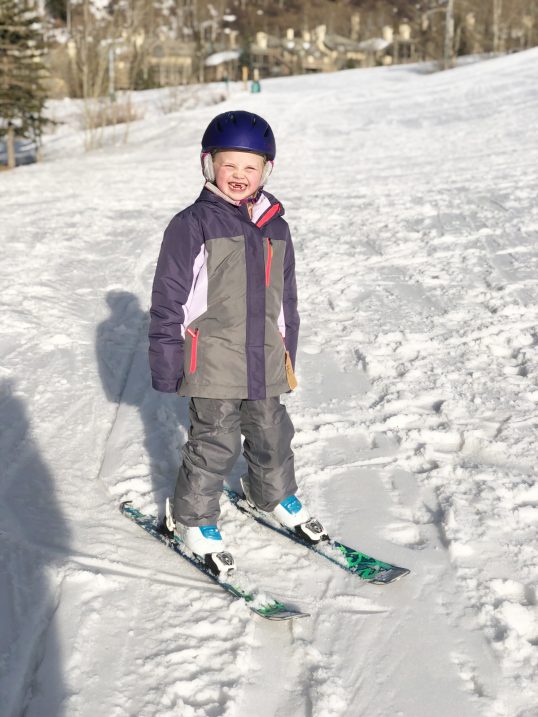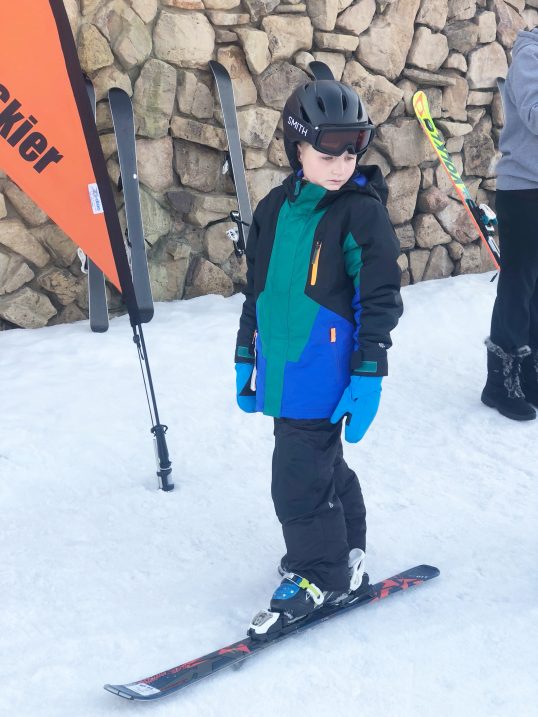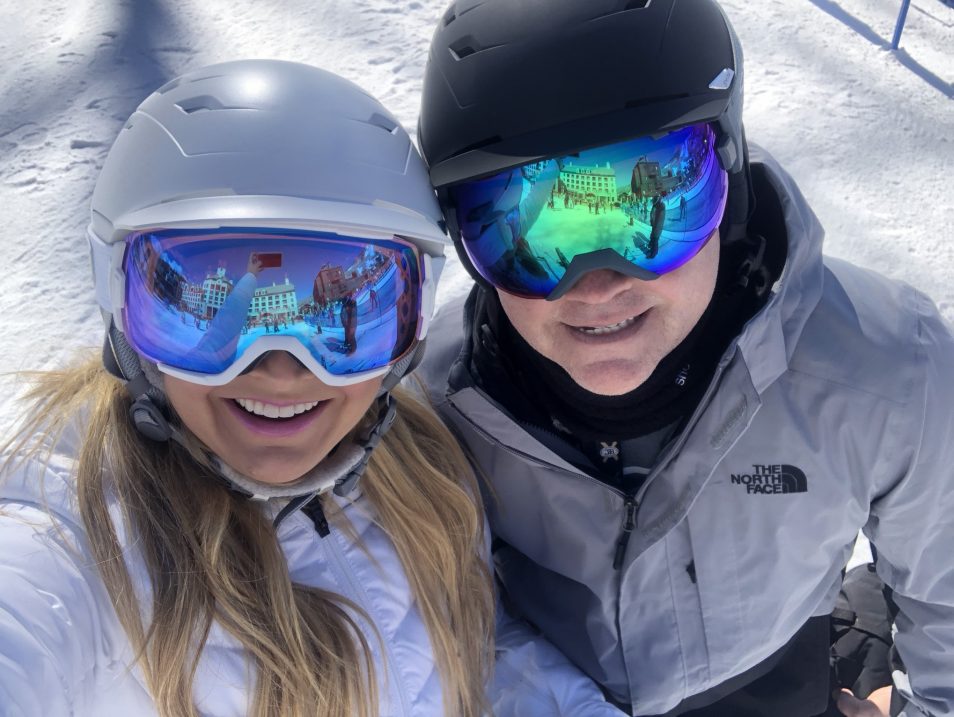 Lodging:
We like to stay slopeside and have a ski in/ski out place. That being said, unless your kids, or everyone in your party can ski, this might not be your best option. Ha! I'm just being honest about this part because it can be tough to get places if you can't ski. The first two days, we walked the kids down the mountain…with all their gear for ski school and then we had to hike back up the mountain, huffing and puffing. I was out of breath the whole trip! #altitude Ha! Thankfully, once the kids learned to ski, we could ski them down to ski school and then when we picked them up, we could take a lift back up and ski down together as family and right into our condo! The other downside to this is, while you are close to town, you really need to take a shuttle to and from the town. Mainly at night, because, obviously the lifts are closed. During a busy week, sometimes you have to wait awhile for a shuttle and with exhausted kids (and exhausted parents), it can be a long wait. That being said, where we stayed worked well for us, but I think those are all things to consider when booking a trip. I will admit, I prefer a hotel room for traveling typically, but with kids, and TONS of ski equipment, I am a believer that a condo is the way to go and I totally understand now why my husband insisted on it! There are tons of slopeside options in Beaver Creek, whether you want a house, hotel or condo. You could also stay over in Bachelor Gulch and that's not too far either.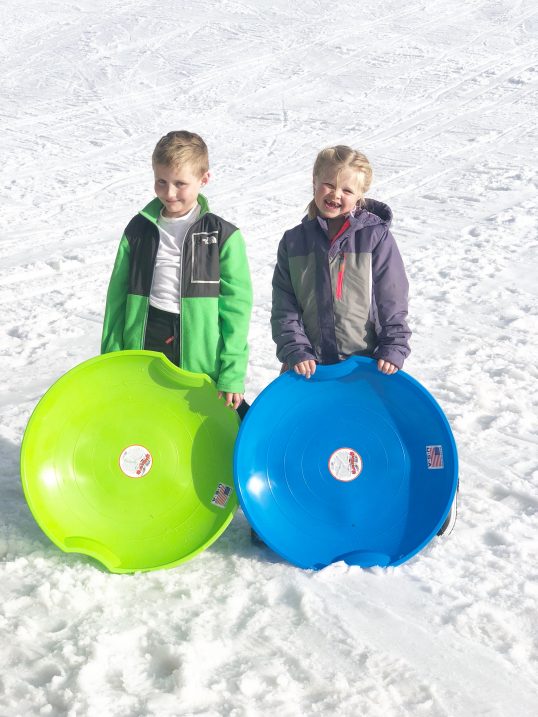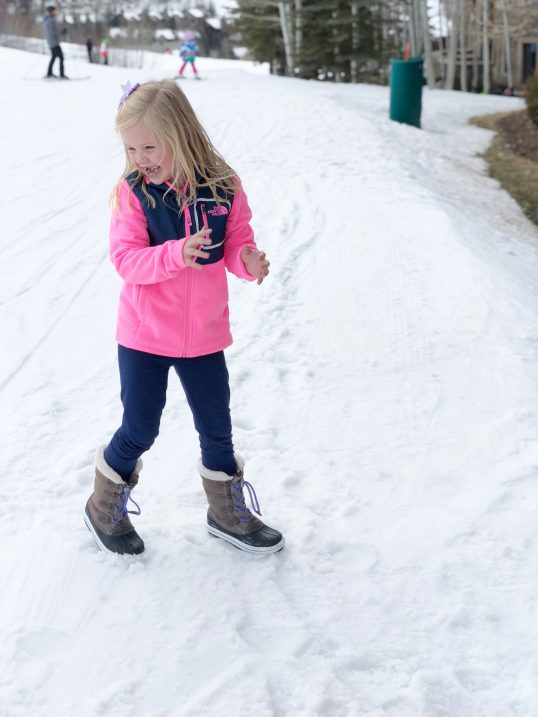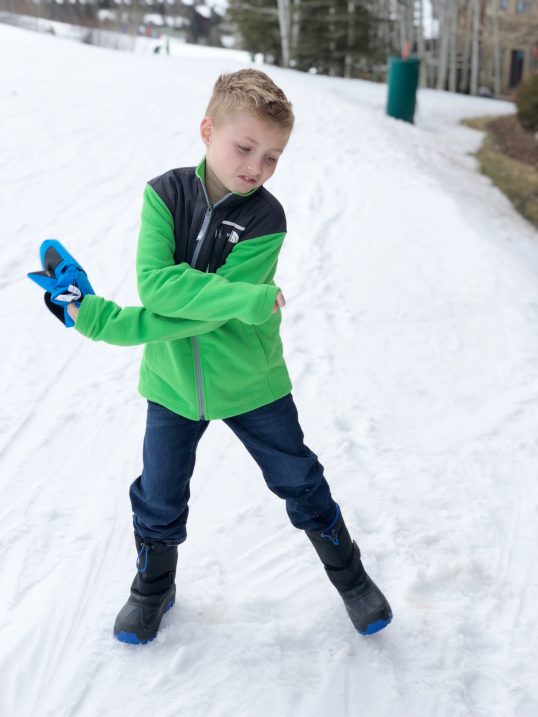 Meals:
As for meals, we specifically chose a condo, so that we had more space, but also so that we could cook meals, etc! We made breakfast every morning and that was really the extent of our cooking. We ate lunch on the mountain most days because we were all up at the top. Some days, we had lunch just us and two days, we were able to meet the kids for lunch during their lesson, which was super fun! Dinners were a tad different than expected. I had made reservations for most nights because I did not want to have to wait, with tired and hungry kids. After the first night, I canceled most of the reservations. We were all pretty exhausted by the end of the day and takeout was just easier and truthfully more enjoyable! The kids really loved getting home from skiing and going sledding outside our condo, so, it was nice to be able to sit and watch them and just hang! My kids are 9 and almost 7, so this worked well for us. We did get showered and dressed to go out a couple of nights, but we all agreed that the pizza at the condo nights were our favorite! Besides, the night that we took a sleigh ride to the top of the mountain for dinner. This was by far the most fun restaurant of the trip. My husband had been numerous times and I had been once as well. It was so fun for us and the kids. It actually snowed the whole way up to the top, so it was freezing, but really fun and so beautiful. This was also the best food of the trip, in my opinion. I highly recommend Beano's Cabin. There are a few different restaurants like this up at the top of the mountains. I cannot speak for any of them besides Beano's. It's our favorite, so we keep going back and haven't tried another one. Here are a few restaurants that we loved…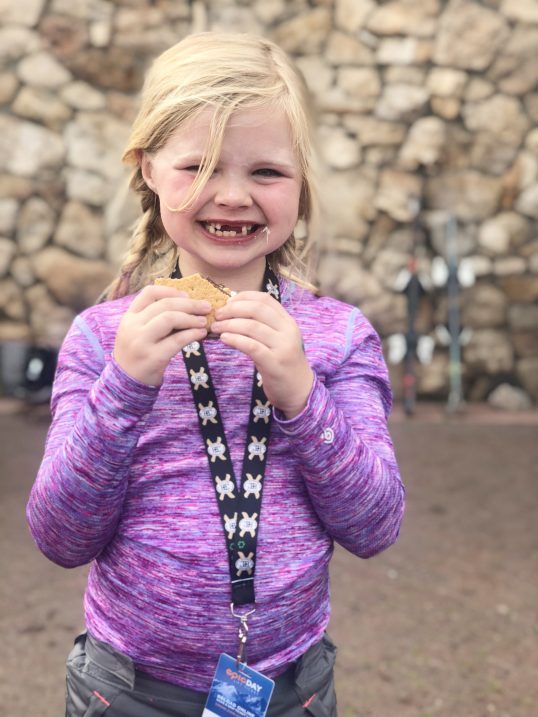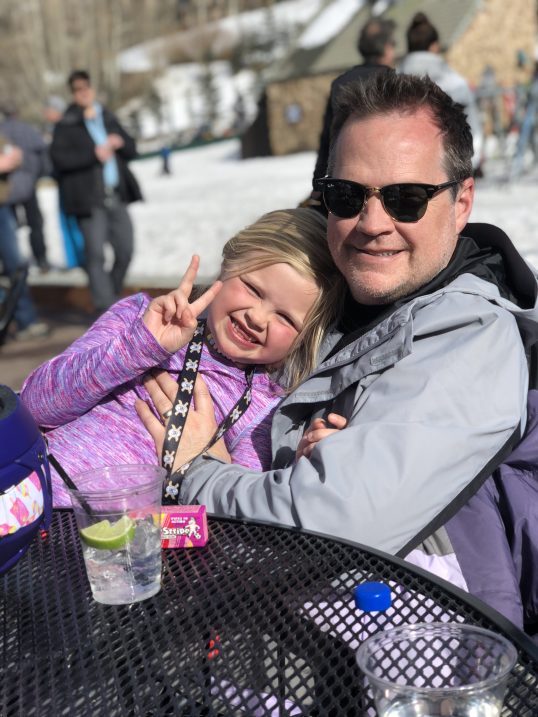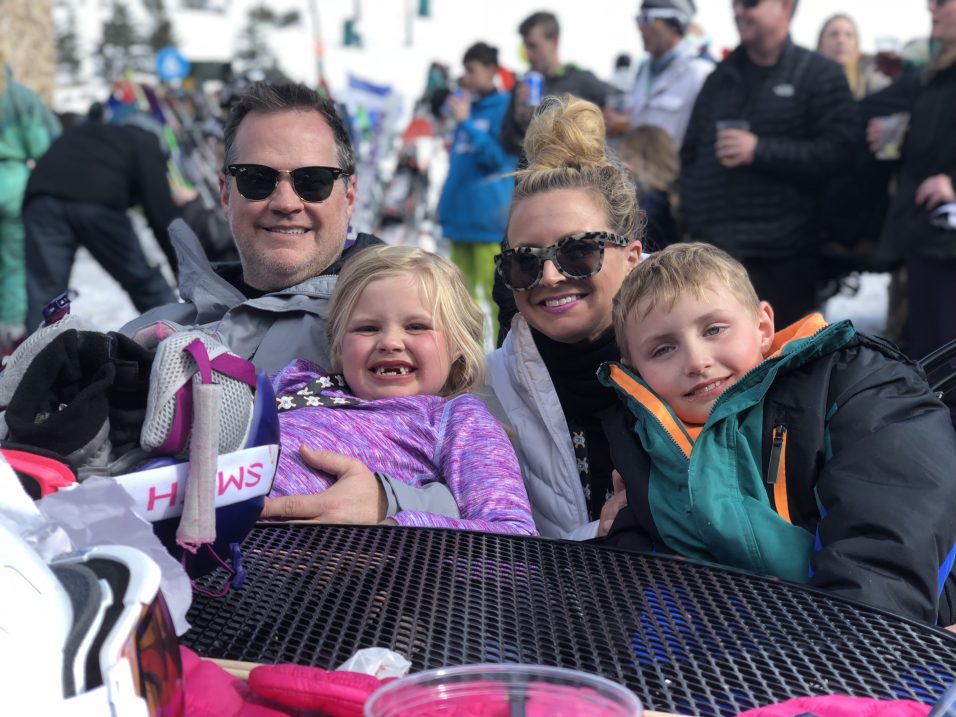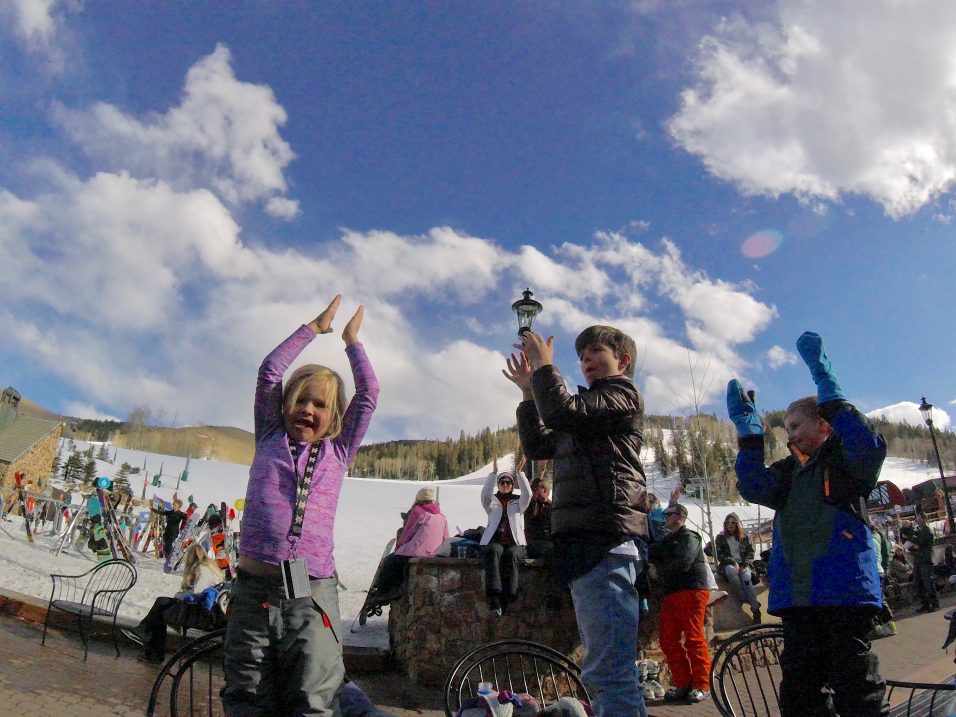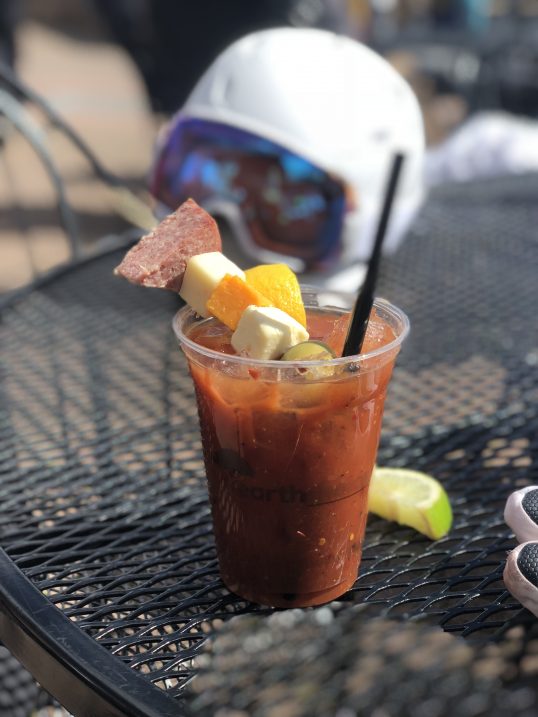 Restaurants we loved:
Beano's Cabin (need a reservation!!)
Blue Moose Pizza (We ate here numerous nights. Just so easy! Bonus!!! They have a great gluten free pizza crust!)
Hyatt Restaurant (sat outside for lunch-under heaters)
Spruce Saddle (top of mountain-lunch)
Toscininni
Beaver Creek Chophouse
Powder 8 (fun to have cocktails and apps after skiing. They have s'mores for the kiddos every afternoon, too!)
Ski School:
This is truly a must in my book, unless you're an strong skier and feel confident to teach your kids how to ski. I'm not a strong skier and I'm okay with that. Skiing is a hard activity, so unless you know what you're doing, which like I said, I'm not an expert, I'll leave it to the experts! I'm thankful we could send our kids to ski school, where they learned TONS, made new friends and had a blast! They did a regular group lesson 3 days and a private lesson for 2 days. They obviously prefer the group lesson because they got to hang with lots of other kids! The private lesson helped them gain momentum and brush up on their skills. They learned a TON with the one on two lessons. That being said, next year, I think we will probably do all group lessons and possibly one private lesson the first day. I will definitely taking a lesson on day one next year, too! It was definitely like riding a bike for me and I picked it right back up, but my knee bothered me most of the trip, so I know I had to be doing something wrong and the kids' instructor gave me a few tips, but I think I'll benefit from some help the next time just as I get back into the swing. I did mainly green runs, with a few blues mixed in and I just love the greens. They are fun and not stressful for me, so that's what I stuck with. My hubby and I did split up a few times, so he could go do harder runs. This worked well for us! Reagan did a blue on her last day. The girl loved skiing! So did Teddy, but he's a bit more cautious, like his mom. 🙂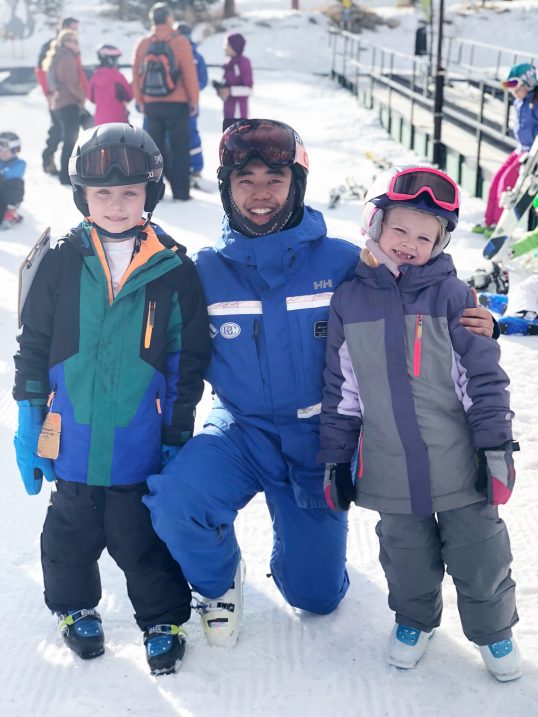 What to bring:
Spring skiing can be warm or it can be freezing. We had a few days in the 40's and a couple in the 20's. I totally thought we had overpacked, but we truly used everything we brought and I even had to do laundry a few times. Mainly just for long underwear and socks! Here is a list of items that we brought and used!
For Skiing:
Ski Coat (I sized up to a medium)
Ski Pants (I sized up)
Base Layer (Hot Chilly's/Thermals-I did these: Pants // Top)
Glove Liners (If your gloves don't have them)
Sunscreen (for me) Kids are using THIS
Headband/Hat//Helmet (Mr. Fancy and I both got this helmet!)
Mid Layer (If your coat doesn't have one-I will use this one)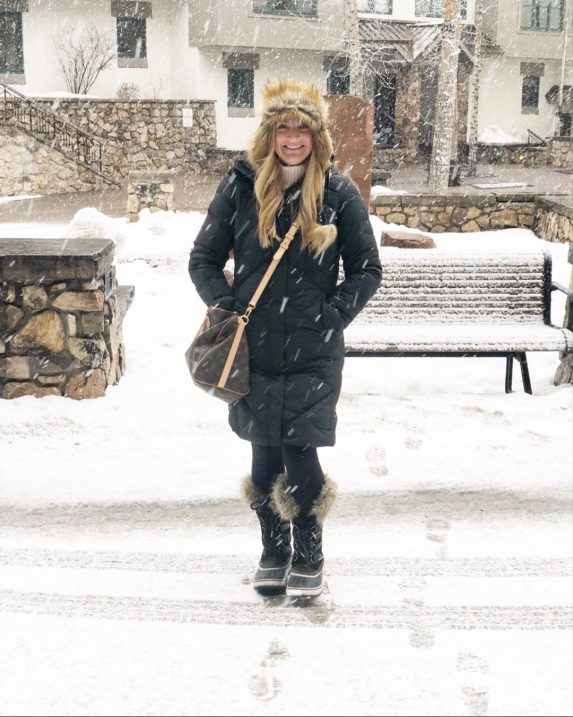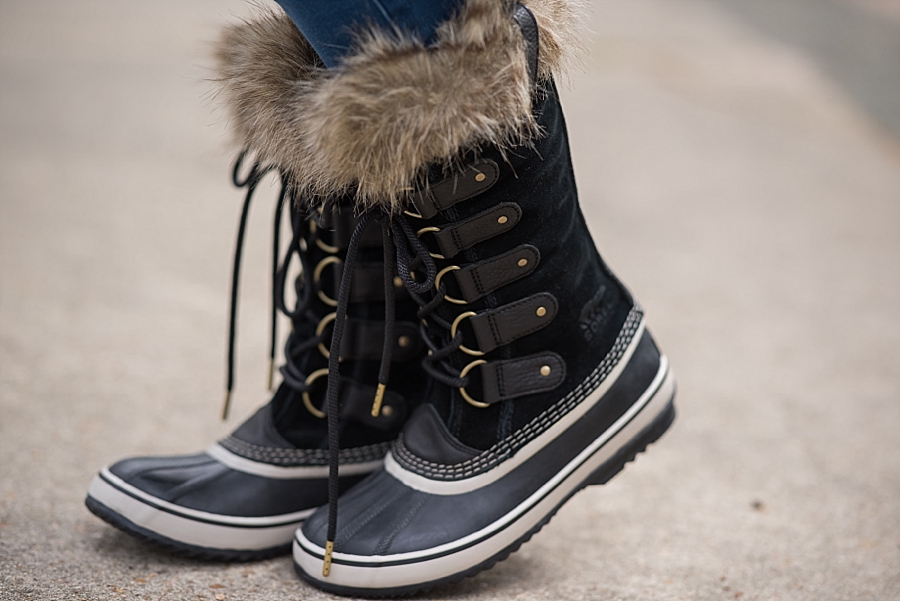 SOREL BOOTS // NORTH FACE JACKET // JEANS // TOP // LIPSTICK (color: #49)
For After Skiing/Non Ski Days:
Longer Coat (optional! I bought one because I was SO cold last time we were in Colorado! This is the coat in the pictures in this post!)
Hat/Headband (I brought both)
Sweaters (THIS // THIS // THIS)
Socks
Swimsuit (spa time!)
Pajamas (couldn't resist a good ski themed pair!)



Groceries:
We used a grocery delivery service. It saved time on our end and was so easy! I had them deliver essentials, like eggs, bacon, water, Gatorade, fruit, etc! Just things I knew we would need. We needed to get the kids' equipment rented by 4:30pm the day we arrived (to save time the next morning), so having the groceries delivered was easier. We used resortdelivery.com.
Altitude:
I was so worried about altitude sickness. My hubby always has us arrive there a day before we actually ski. This gives us time to grab our gear, chill and get acclimated. I felt super headachy and not 100% on the second day of our trip. I took it easy with skiing and did easy runs and drank tons of water and Gatorade and I felt better by that evening. The minute we got on the plane, I started pushing water for all of us. We all drank water and Gatorade and tried to stay super hydrated the whole trip. I think that is key. They say anyone can get altitude sickness and it can strike even days after you've been on your trip, so I really hoped to prevent it and they say hydration is key! Like, I said, I didn't feel great the second day, but taking it easy and drinking a ton, helped! We live at sea level, so it was super high for us.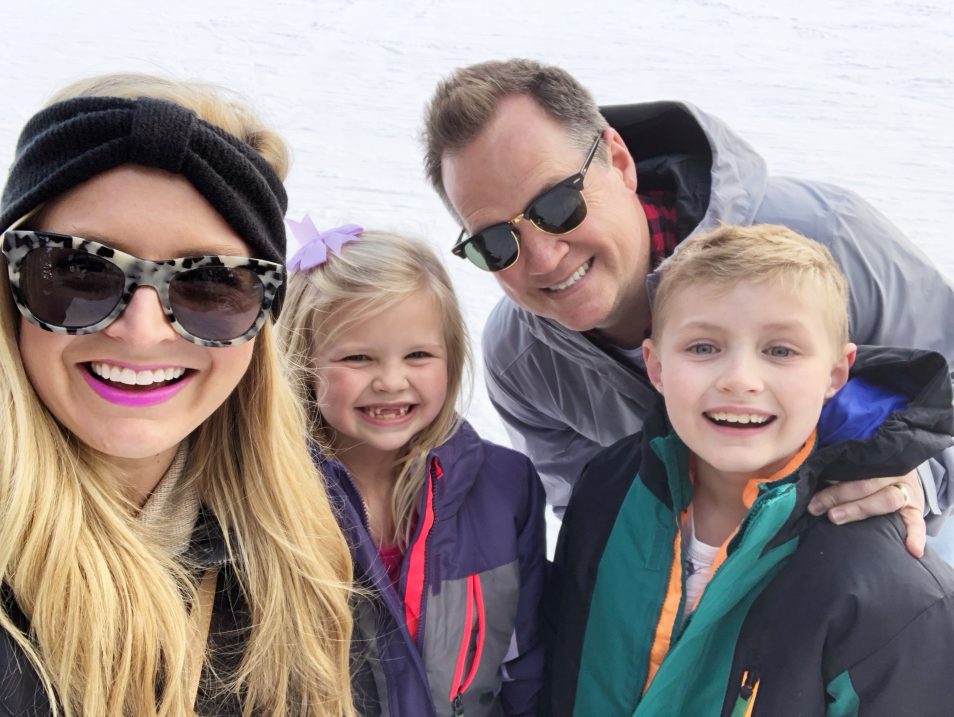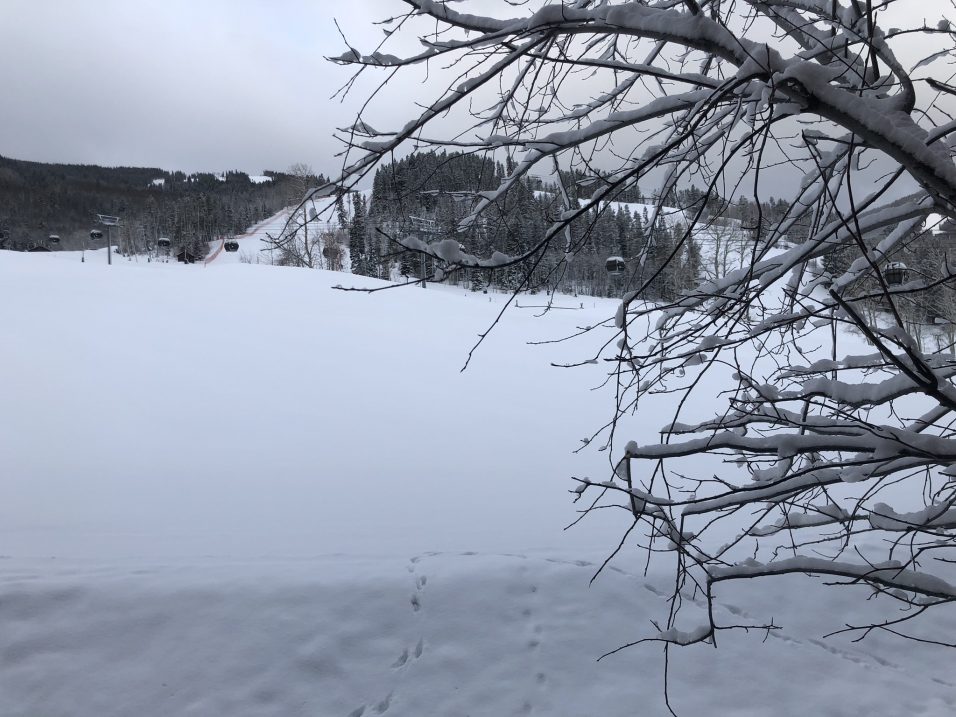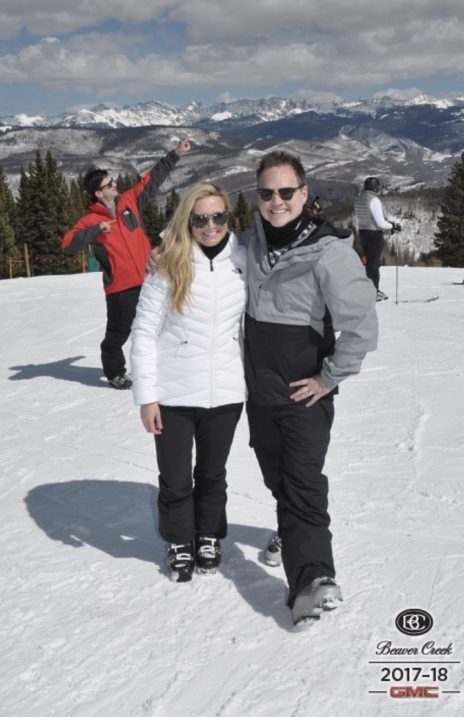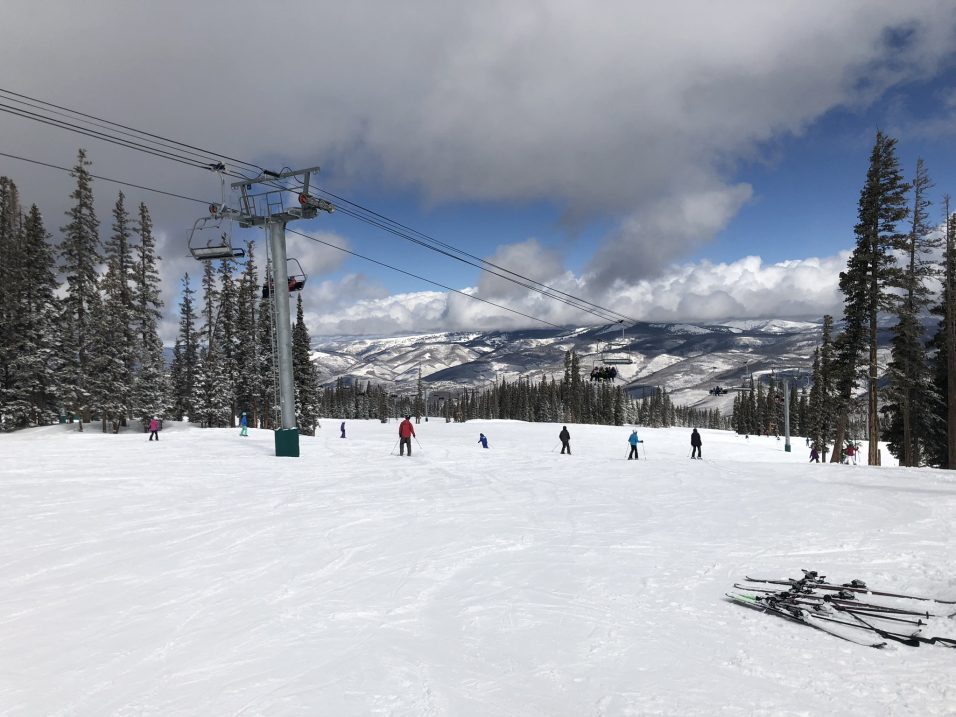 All in all, it was such a fun trip! We had the best time! All of us were truly happy there and I was not ready to come home. We are already planing our trip back for next year and we can't wait! Have you been to Beaver Creek? Do you love it as much as we do? Let me know if you have any other questions!! Have a fabulous day, friends! XO!
SaveSave