Happy Tuesday, peeps! I hope your week is off to a good start! We are into our second week of summer vacation and everyone is happy to be hanging, playing with friends and having lots of pool time! The little presidents are doing a little camp this week and had the best time on day one!
For three years now, Teddy has been asking for a bunk bed. It's one of those items that we always say we'll think about, but then decide the present time isn't the right time. Personally, I love the idea of a bunk bed. I come from a large family, so I love having extra sleeping space when family or friends come to visit. There are so many out there to chose from and honestly, it's a tad overwhelming to decide which would be the right fit. Walmart recently asked me to take a peek at their online home selection and I just knew they would have some cute bunk bed options. Boy, was I right! I found so many cute bunk beds that it was hard to pick a favorite. Personally, I love all the options with the mini staircases on them. That is probably the route we would taken when we finally decide to take the plunge on one for Teddy's room. I absolutely love all of the options that Walmart online has to offer. There are tons of bunks in varying price points, which is so nice. You can definitely find a great option if you are on a budget, as well. They even have different color options besides the basic brown and white wood versions. I love this bunk bed. It comes in SO many fun colors!
Here are a few bunk beds that I love: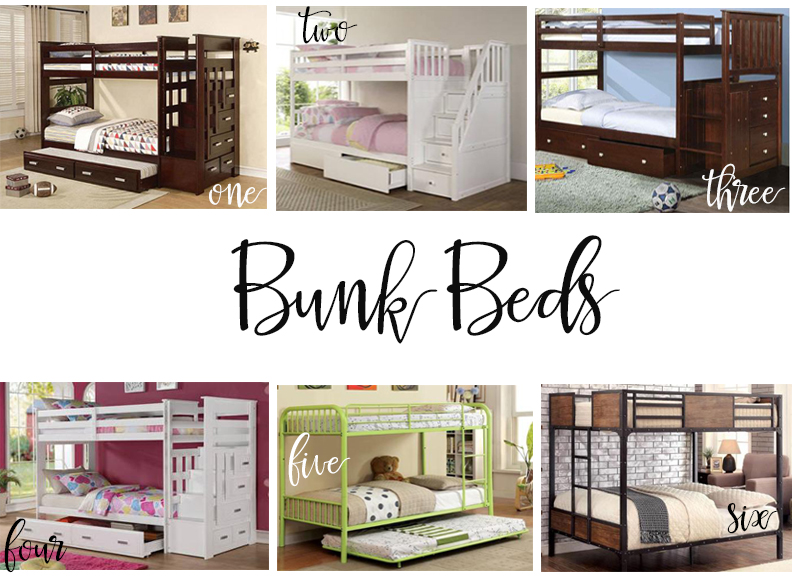 One– What I love about this bunk bed is the staircase and the drawers. You can't go wrong with extra storage options in a kid's room. I also love the trundle bed. This bunk will sleep 3 different people comfortably! I love that!
Two- A few key items that I love about this bunk bed are the stairs again and also the drawers, in the stairs and under the bottom bunk. I could imagine lots and lots of toy storage in those two bottom drawers, or even clothes. This bunk is definitely a great option for someone who needs or wants lots of extra storage space!
Three- This bunk bed is along the lines of the two above. I love the stairs all the storage. If your kids are anything like mine, you feel me on the drawers. These would be perfect for legos, blocks or stuffed animals, etc!
Four- This is a white version of the number one bunk bed on the list! Again, the drawers on the side, by the stairs are ideal. I think we would use this storage space for clothes, if we chose this bunk bed.
Five- I love this bunk bed because it is so cute! It comes in LOTS of different color options. For some reason, I just loved the lime green, but really, I think all the colors are fun! I love the optional trundle as well. Again, the more sleeping space, the better!
Six- This bunk bed is so great! I love the industrial look to it. Metal and wood is such a great combo and I could totally see this going perfectly with Teddy's current room decor.

So, which one is your favorite, if you had to chose just one? We are having a tough time deciding! We love them all!
Hope you have a fabulous Tuesday! XO
*Thank you to Walmart for sponsoring this post. All opinions and fun bunk bed room plans are my own!