Welcome, be our guest, be our guest! I'm so excited to show you this updated guest room. Over the last few weeks I've been working hard to get this room up to par with the rest of the house. I partnered with Walmart on the final details of this space and I'm so pleased how it all came together. I believe in creating a warm, welcoming place for guests. My goal is for them to feel comfortable and at home. Little touches can make a space feel charming and luxurious while still staying in budget. Below is our guest room update reveal, as well as all my exclusive tips for creating a welcoming space.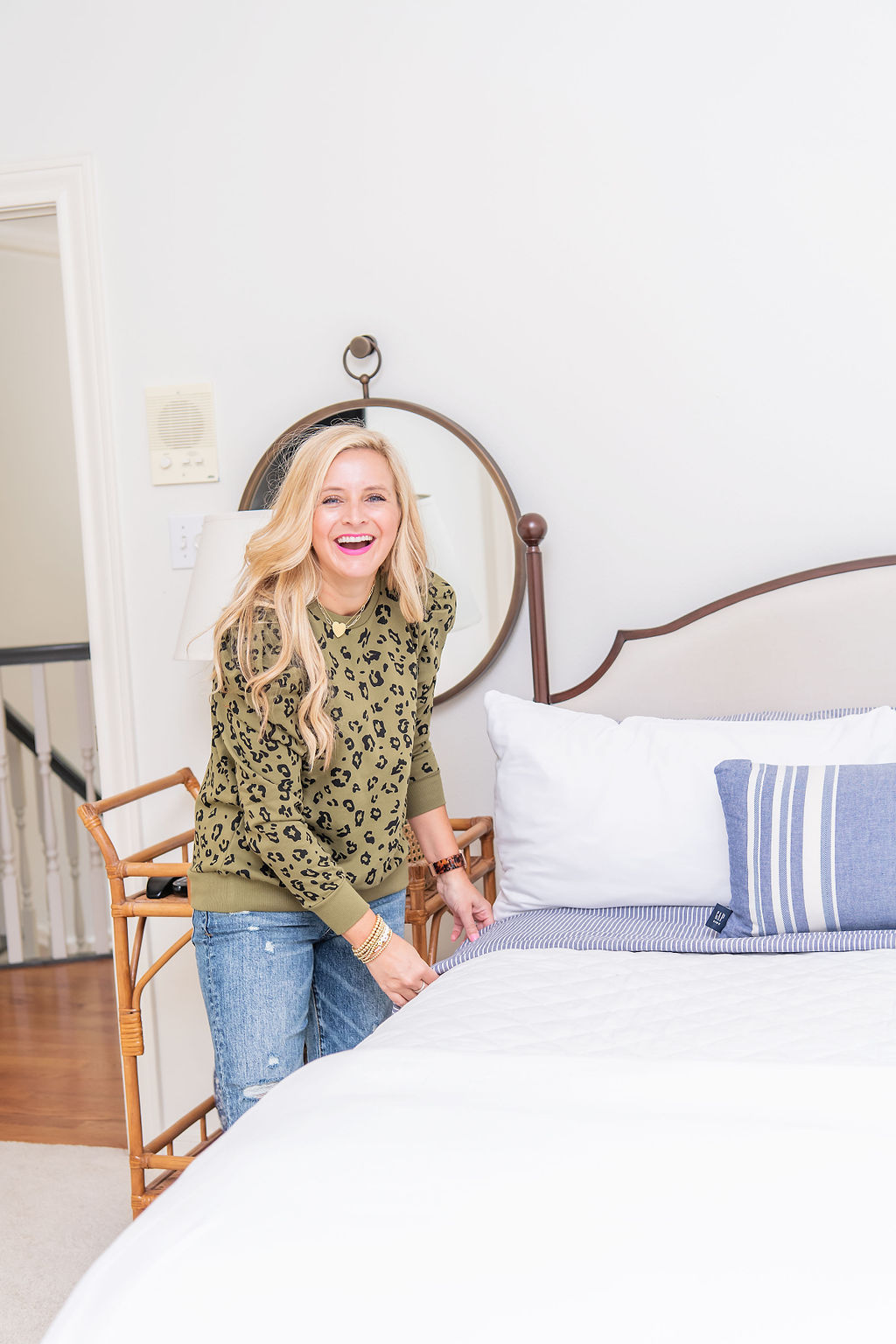 QUILT | SHEETS | PILLOW | SWEATSHIRT

When deciding on how I wanted this update to look and feel for our guests, I wanted to lead with neutral colors. I wanted our guest room to feel calming and relaxing, just like a luxurious hotel room. We decided on crisp whites and calming blue. Walmart's Gap home decor line was our golden ticket when trying to stay in budget while adding fresh pieces to this space. These pillows and sheets add just enough color and pattern while allowing the room to stay neutral and calm. I can envision switching these out at Christmas time for some holiday pillows, and maybe even a little plaid. That is the beauty of opting for white bedding, you can easily switch out pillows depending on the season!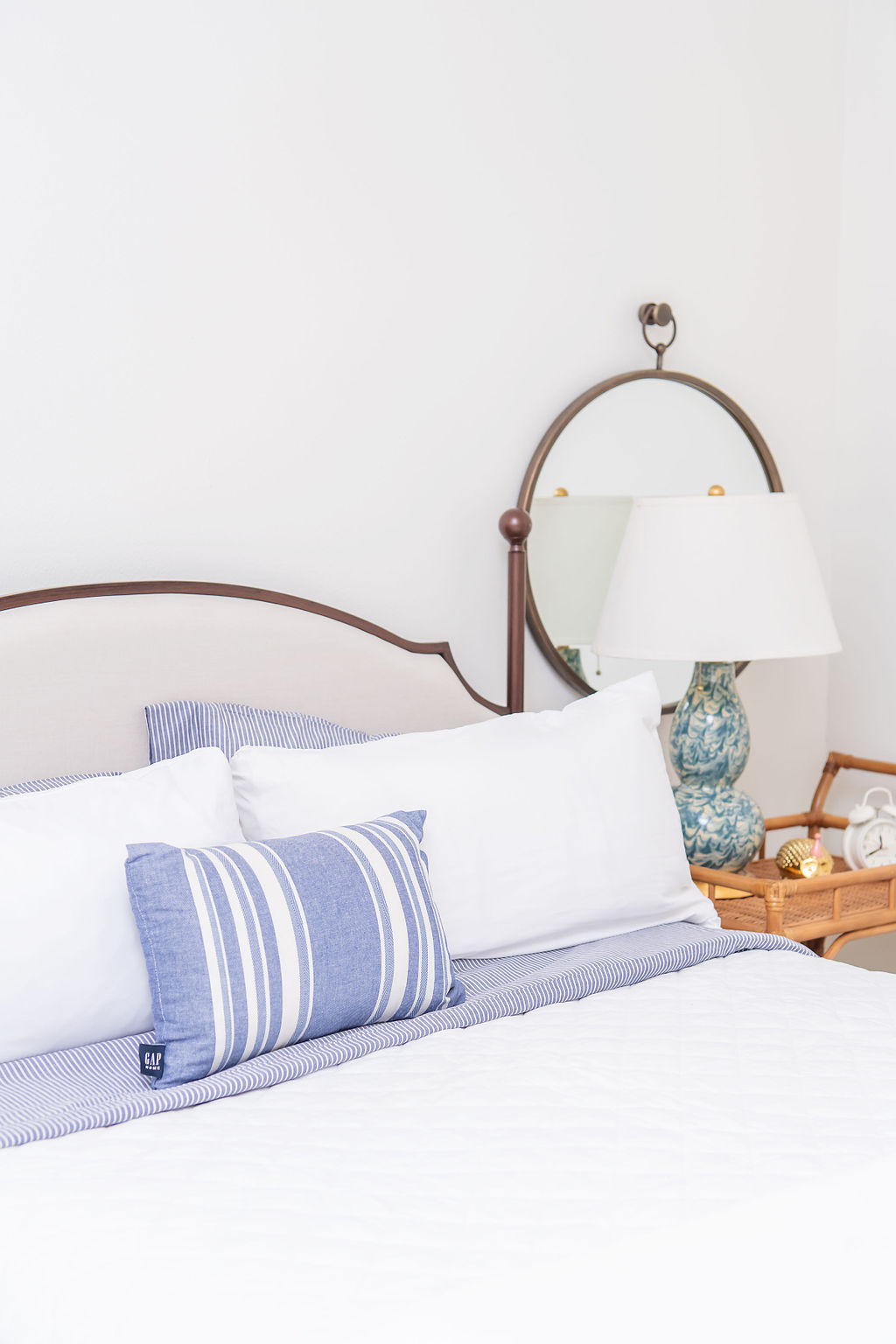 QUILT | SHEETS | PILLOW | BARCART (similar) | ROUND MIRROR (similar)| BED (similar)

To me, nothing says luxury hotel more than soft and comfortable bedding. Walmart's Gap collection has just that. The frayed edge quilt offers cozy comfort in sustainable style. It's made with 100% organic cotton so it's healthy for you and the environment. The sheets we selected are also 100% organic cotton from the Gap collection, giving the bedding that luxurious feel, while still being very affordable. They have deep pockets so they fit the mattresses with the padded top perfectly.
Tips for Making Your Guest Room A Retreat
For a cozy, personalized touch I always make sure to include the Wifi password as well as a few other little necessities that your guests may need. Some of my favorites include noise canceling ear buds for a restful night of sleep, seamless hair ties, and my favorite face cleanser. I also love to include fresh florals in a pretty vase like this one. I'll also be sure they have plenty of blankets in case they get cold at night and will stock their bathroom with travel toiletries just in case they accidentally forget something. I always want my guests to feel right at home. Walmart helps me do all of this and stay in budget!
Creating a Cozy and Inviting Guest Bathroom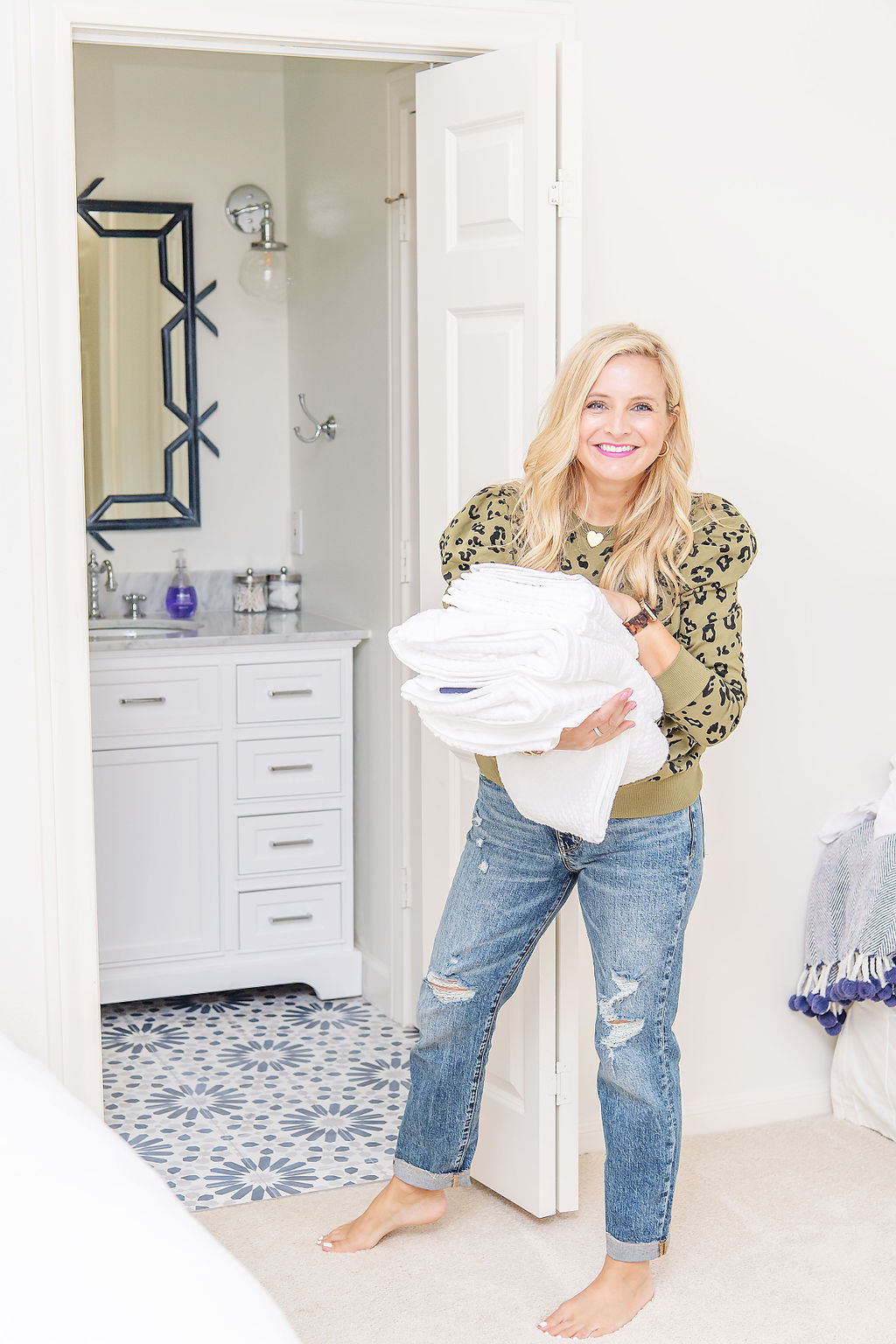 Not only was the Gap collection at Walmart a win for the bedroom but they also have super soft towels that we updated the guest bathroom with too! If you're looking for an easy way to make your guest room and bathroom feel more elevated, simply add crisp white towels! Just like the bedding, they are made with 100% organic cotton. Gap is committed to do better for the planet which means that not only are these bedding option or towels made with organic cotton but all of their Gap Home items are!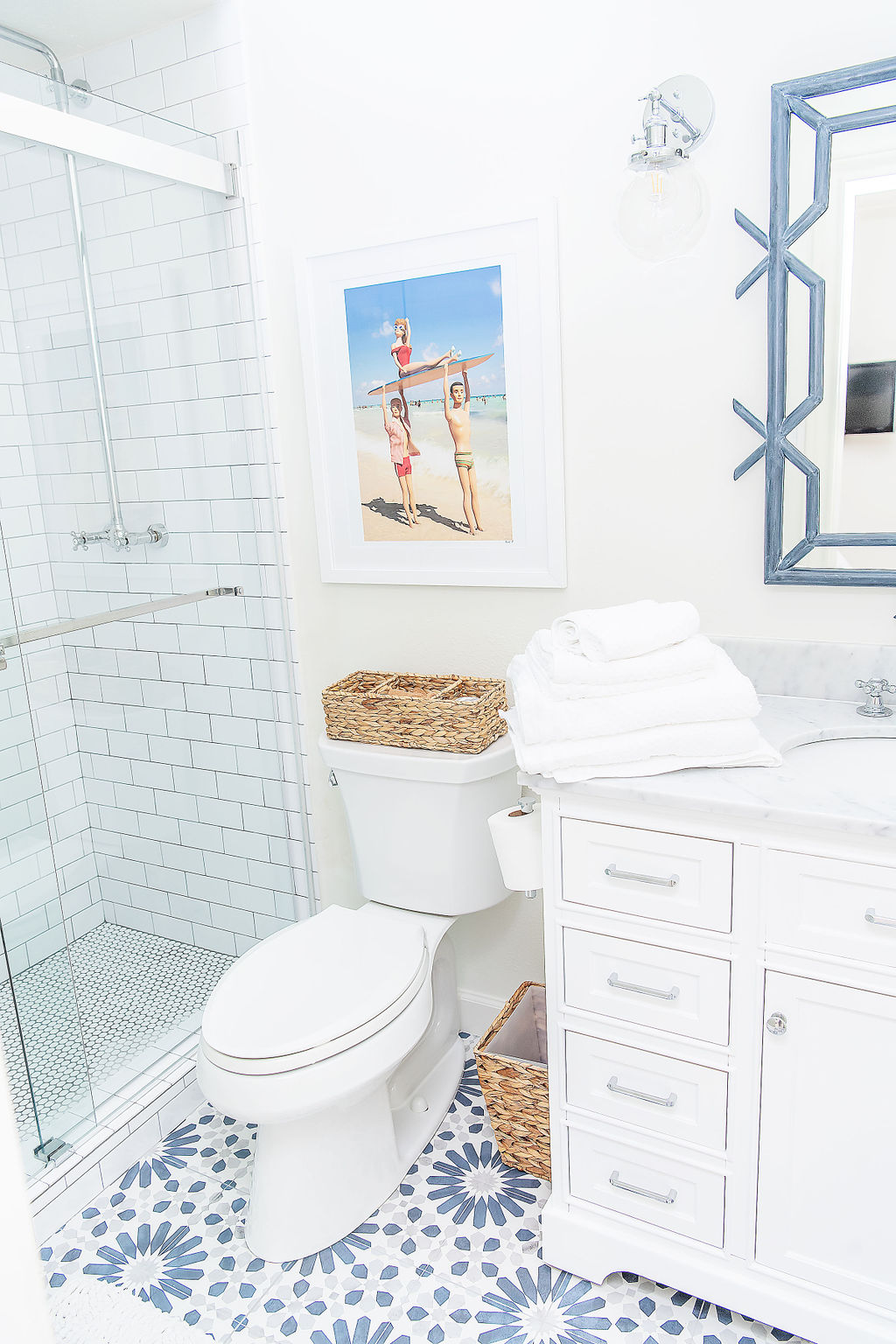 When it comes to the guest bathroom I love fresh white linens. However, I always include a few dark colored washcloths under the sink in case they need to use them to remove makeup. This way the towels stay white and guests don't have to stress about removing makeup and possible staining the towels! Another tip is to include disposable makeup remover wipes under the sink, just in case!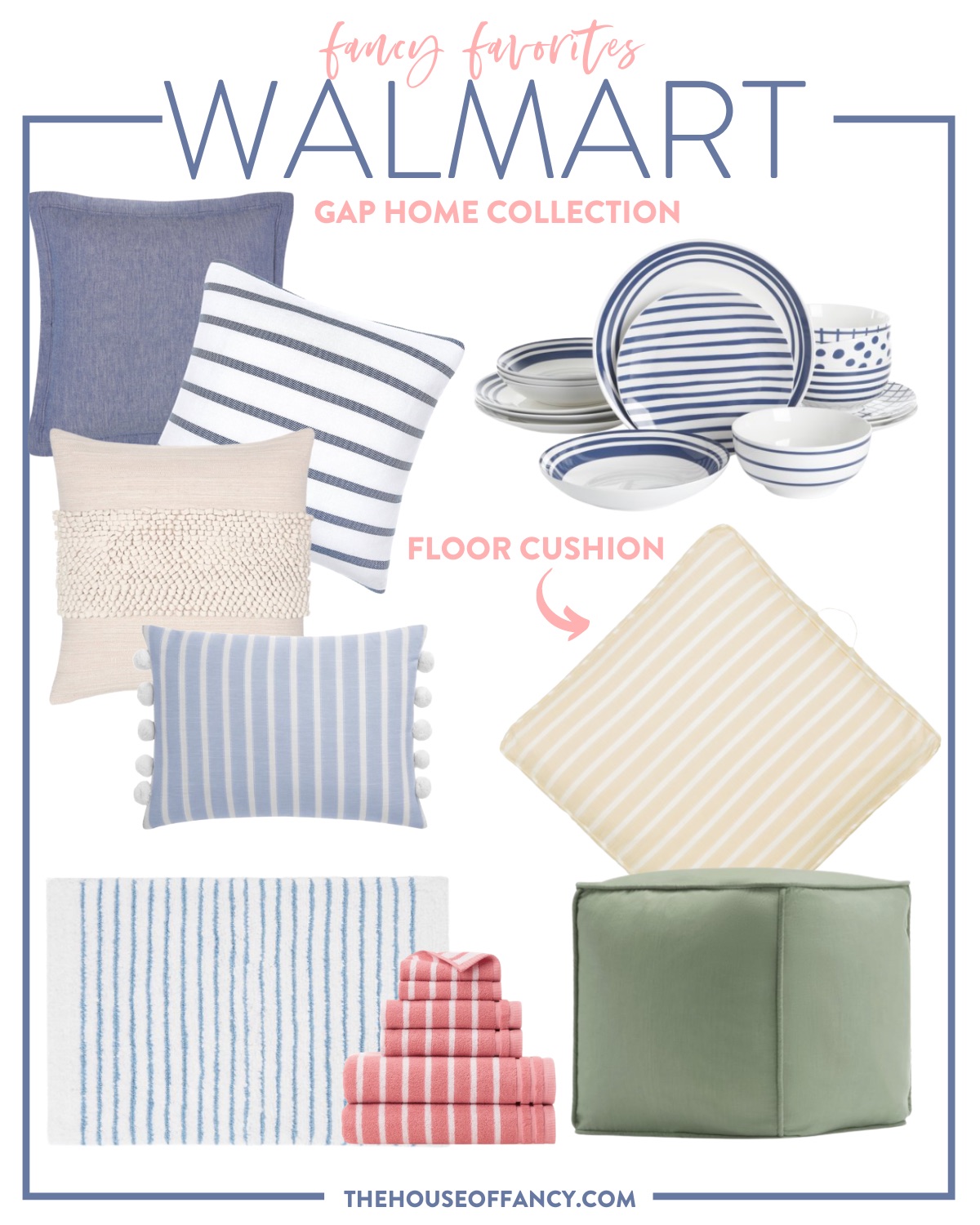 SHOP THE POST
BLUE PILLOW | WHITE STRIPE PILLOW | CREAM PILLOW | BLUE STRIPE PILLOW (SIMILAR) | RUG | TOWELS | DISHES | FLOOR CUSHION | POUF

So, there you have it! Our little abode for when guests come to visit! Here's to hoping we have many friends and family drop in so they can use this room. What do you think? Would you love to stay in a guest room like this? I sure hope our guests love it as much as I do!

If you loved this post, be sure to check out the Walmart section on the blog where I feature the very best finds, all from Walmart! Have a fab day, friends! XOXO
Thank you so much to Walmart for sponsoring today's blog post! I love being able to partner with brands I trust, to share products I truly love!