Happy Thursday lovelies!!!
With Valentine's Day coming up, I have been brainstorming gift ideas for my hubby (and the little presidents, more on their gifts later). He's really pretty tough to buy for because he really wants for nothing and never has a wish list. But, I always like to get him a little something! Since the beginning of the new year, we have both been back at the gym in full force (along with everyone else!). Workout gear seemed like the best idea for a Valentine's Day gift this year!  Enter my favorite store ever, Nordstrom! I have said it before and I'll say it again, I love Nordstrom! For SO many reasons, but my main reason is, it's a one stop shop. I can get everything I need for the whole fam bam at any given time, for any occasion! In this case, I can get the hubby a couple gifts for Valentine's Day and grab a few goodies for the little presidents (and myself!) too! Love that!!!!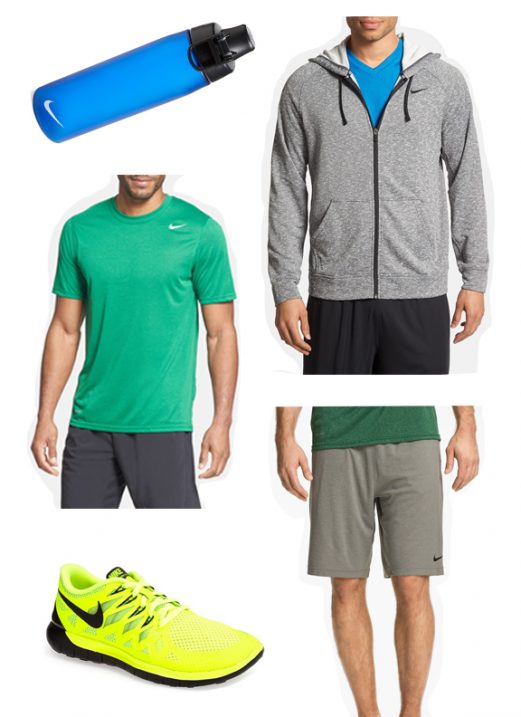 WATER BOTTLE // SHIRT // HOODIE // SHORTS // SHOES

Nike dri-fit shirts are my hubby's favorite, so I figured that would be the perfect thing to start with! In addition to the tee, I decided that a pair of knit training shorts, a hoodie, a water bottle and a pair of new shoes, seemed like a REALLY great gift! Honestly, who wouldn't love this gift?! I think any or all of these items would be really awesome to open up on Valentine's Day or birthday or for no reason at all. I am a huge fan of the "just because gift." I would pretty much LOVE to receive some women's workout gear for Valentine's Day as well (Hope you are taking notes, Mr. Fancy!)!
See a few more Nike men's workout gear items that I love, below!
More JACKET options:

More SHIRT options:


More SHOE options:

I hope this gives you some gift giving inspiration for the gym-loving guys in your life!
This post was brought to you by Nordstrom. As always opinions are my own.