Homemade Cinnamon Rolls Recipe
Hi friends and happy Tuesday! I hope your week is off to a great start! It's been a busy one here and I keep reminding myself to slow down, but it seems like there is hardly time for that! Ha! If you have followed me since the beginning, you probably know this, but every year, we gift homemade cinnamon rolls to gift to friends/neighbors. (I use The Pioneer Woman's recipe and it's listed below, along with my instructions for freezing the rolls prior to delivering) I started this tradition years ago and spend a full day making about 300-400 cinnamon rolls and then we deliver them to people, frozen. I really tried to think of thoughtful homemade gifts and realized giving people breakfast for Christmas morning was the best idea. The holidays are busy and I love taking Christmas morning breakfast off people's plates. The intention is that people will freeze the rolls after we deliver them and then pop in the oven on Christmas morning for breakfast. I provide all the instructions for how to bake them/freeze them on the tags and I try to update these every couple years! This year is the year to update the tags and I am so excited to bring you this year's new tags! Our homemade cinnamon rolls have been a hit for years and people truly look forward to this each year, as do we! It's so much better to give than to receive, in my opinion and these cinnamon rolls are one of my favorite ways to love on our people!
Take a peek at these homemade tags and how I deliver the rolls. I add ribbon, a bell and usually some fresh greenery!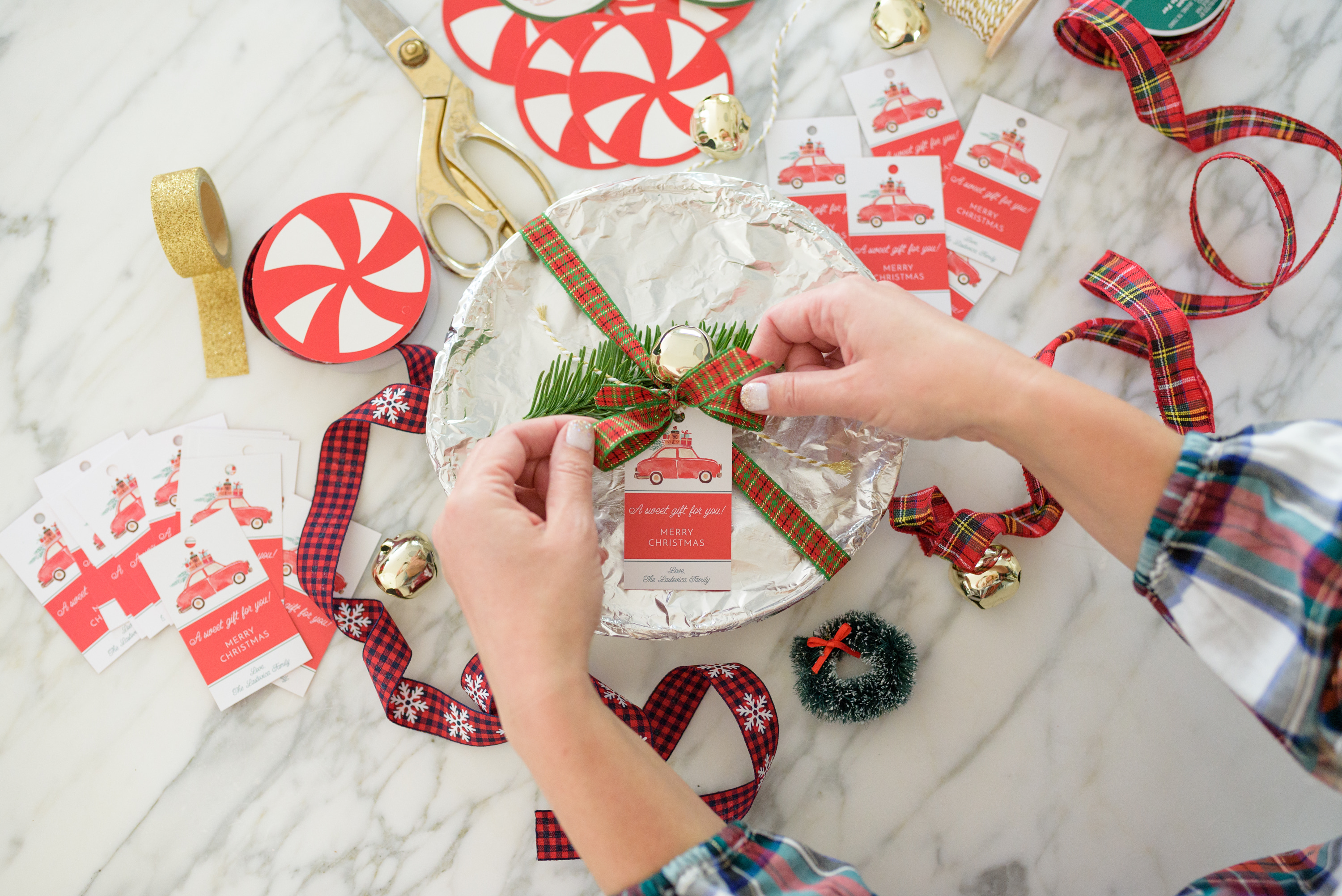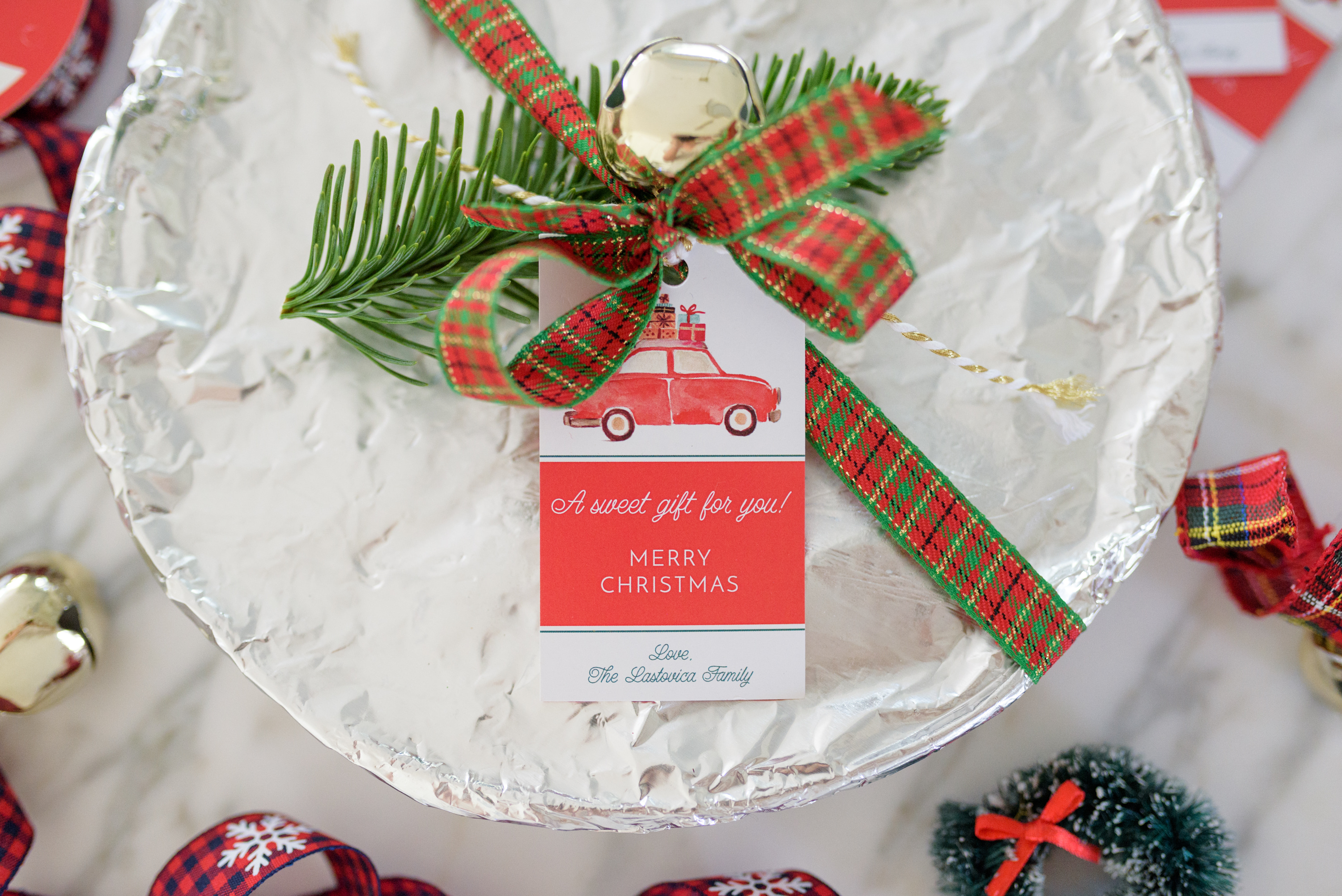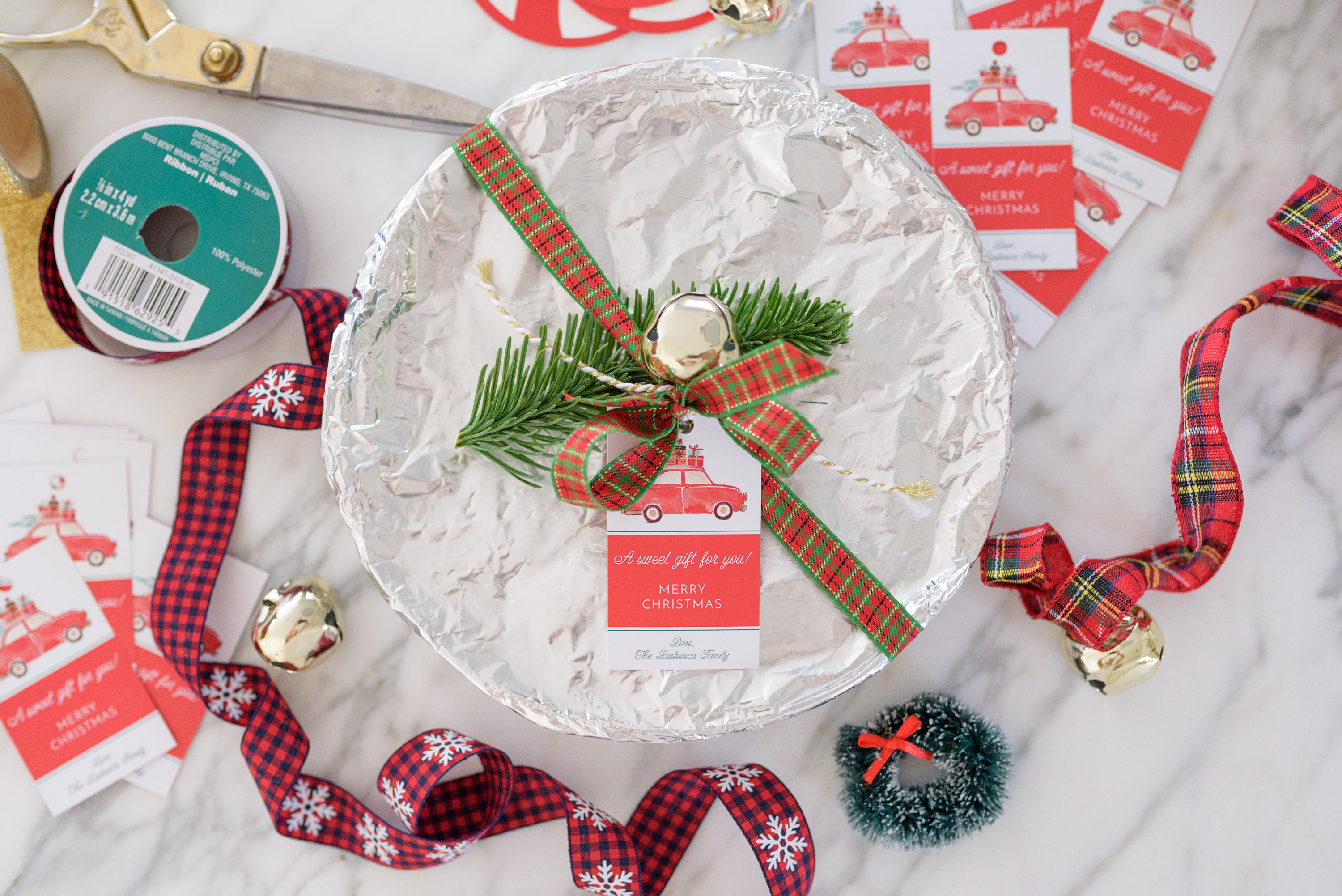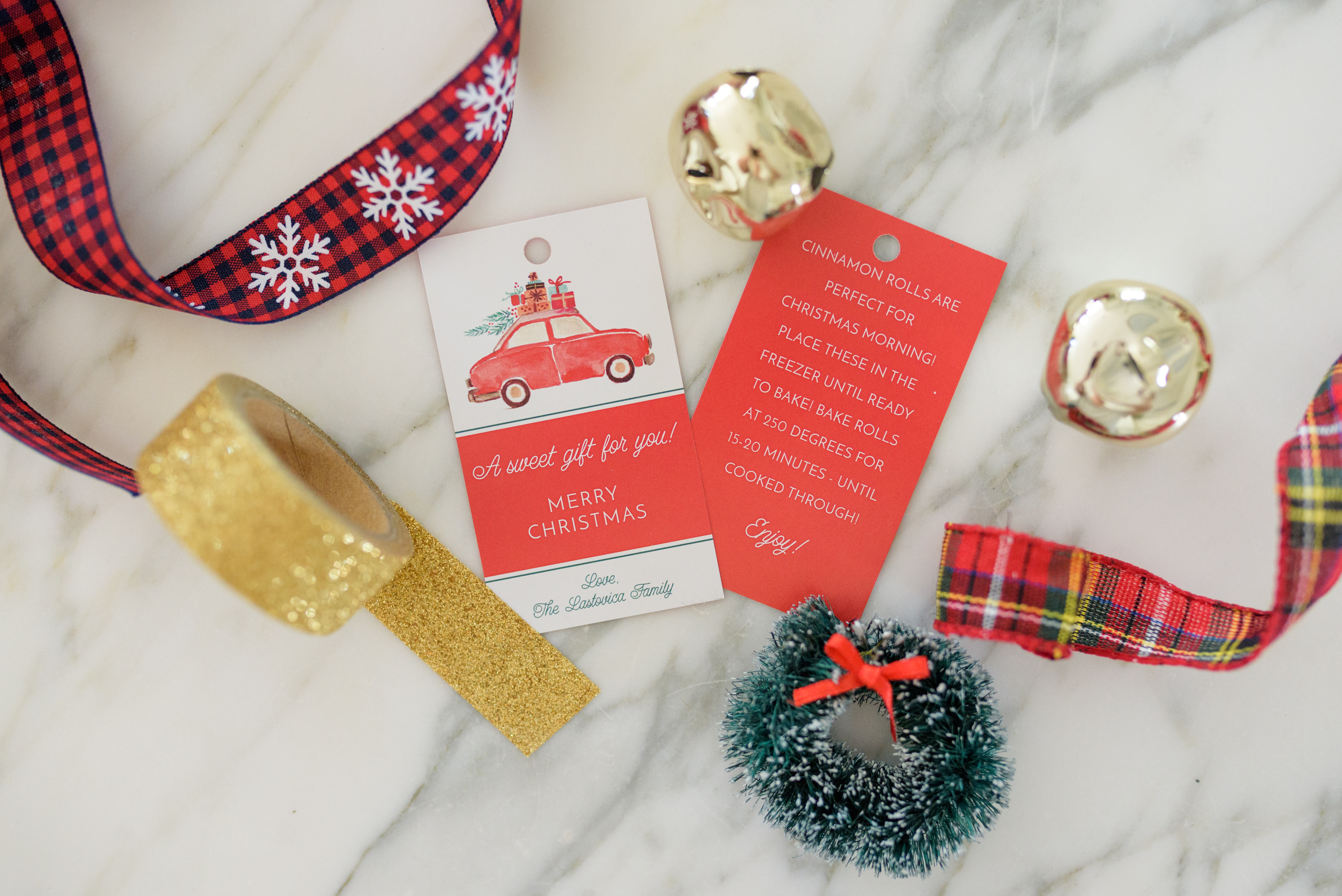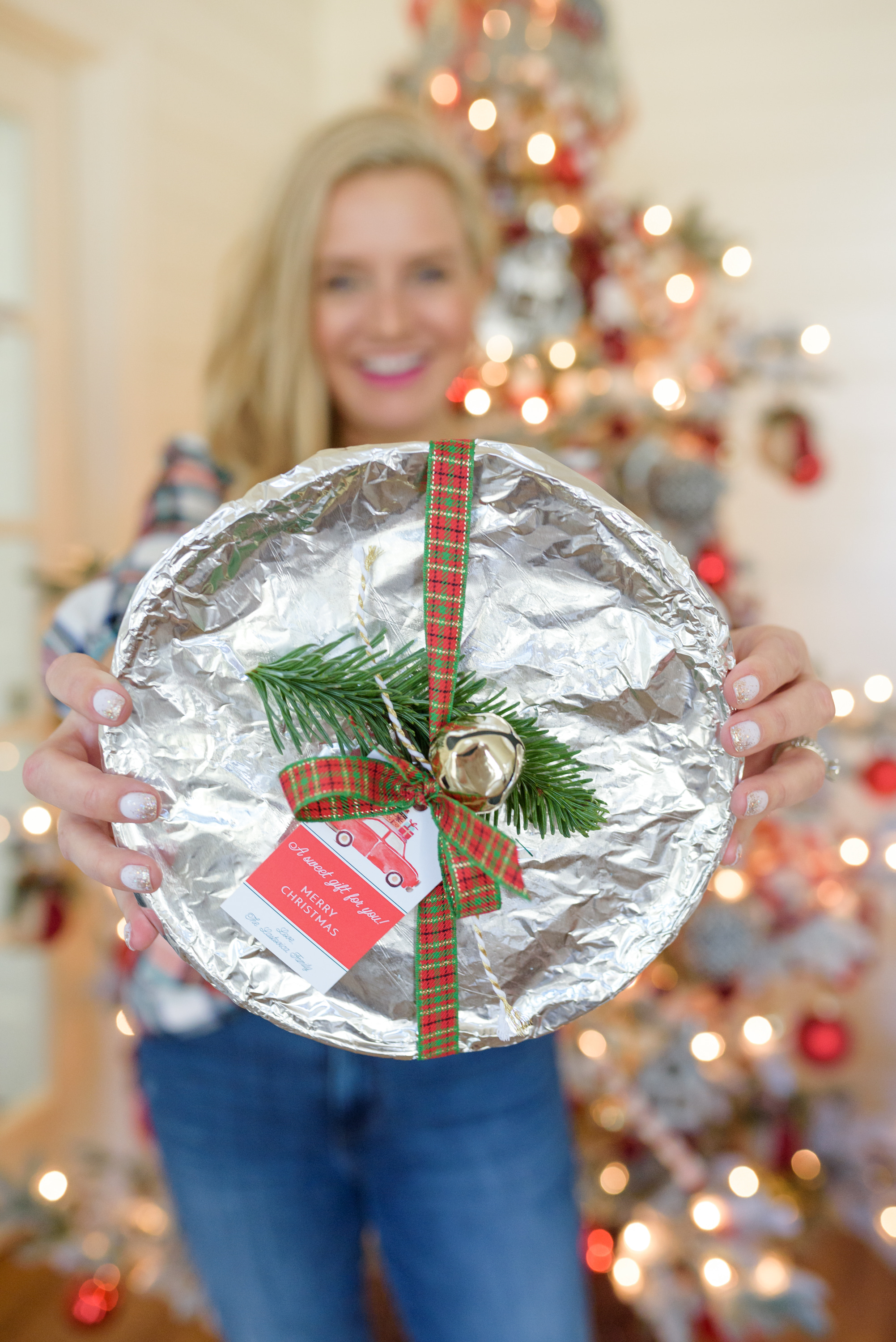 Homemade Cinnamon Rolls Recipe
THE BEST CINNAMON ROLLS RECIPE
Ingredients
INGREDIENTS
1

quart

Whole Milk

1

cup

Vegetable Oil

1

cup

Sugar

2

packages Active Dry Yeast

0.25 Ounce Packets

8

cups

Plus 1 Cup Extra, Reserved All-purpose Flour

1

teaspoon

heaping Baking Powder

1

teaspoon

scant Baking Soda

1

Tablespoon

heaping Salt

Plenty Of Melted Butter

2

cups

Sugar

Generous Sprinkling Of Cinnamon
MAPLE FROSTING:
1

bag Powdered Sugar

2 pounds

2

teaspoons

Maple Flavoring

1/2

cup

Milk

1/4

cup

Melted Butter

1/4

cup

Brewed Coffee

1/8

teaspoon

Salt
Instructions
INSTRUCTIONS
*I added my personal thoughts in bold, the rest are from her site!

For the dough, heat the milk, vegetable oil, and sugar in a medium saucepan over medium heat to just below a boil. Set aside and cool to warm. Sprinkle the yeast on top and let it sit on the milk for 1 minute.

Add 8 cups of the flour. Stir until just combined, then cover with a clean kitchen towel, and set aside in a relatively warm place for 1 hour. After 1 hour, remove the towel and add the baking powder, baking soda, salt, and the remaining 1 cup flour. Stir thoroughly to combine. Use the dough right away, or place in a mixing bowl and refrigerate for up to 3 days, punching down the dough if it rises to the top of the bowl. (Note: dough is easier to work with if it's been chilled for at least an hour or so beforehand.)

Preheat the oven to 375°F.

To assemble the rolls, remove half the dough from the pan/bowl. On a floured baking surface, roll the dough into a large rectangle, about 30 x 10 inches. The dough should be rolled very thin.

To make the filling, pour 3/4 cup to 1 cup of the melted butter over the surface of the dough. Use your fingers to spread the butter evenly. Generously sprinkle half of the ground cinnamon and 1 cup of the sugar over the butter. Don't be afraid to drizzle on more butter or more sugar! Gooey is the goal.

Now, beginning at the end farthest from you, roll the rectangle tightly towards you. Use both hands and work slowly, being careful to keep the roll tight. Don't worry if the filling oozes as you work; that just means the rolls are going to be divine. When you reach the end, pinch the seam together and flip the roll so that the seam is face down. When you're finished, you'll wind up with one long buttery, cinnamony, sugary, gooey log.

Slip a cutting board underneath the roll and with a sharp knife, make 1/2-inch slices. One "log "will produce 20 to 25 rolls. Pour a couple of teaspoons of melted butter into disposable foil cake pans and swirl to coat. Place the sliced rolls in the pans, being careful not to overcrowd. *I do about 8-9 rolls per pan. I use circular (8.5 inch) and square (8 inch x 8 inch) pans.

Repeat the rolling/sugar/butter process with the other half of the dough and more pans. Cover all the pans with a kitchen towel and set aside to rise on the countertop for at least 20 minutes before baking. Remove the towel and bake for 15 to 18 minutes, until golden brown. Don't allow the rolls to become overly brown. *I watch mine carefully. Each oven is different, so be sure to keep am eye on yours!

While the rolls are baking, make the maple icing: In a large bowl, whisk together the powdered sugar, milk, butter, coffee, and salt. Splash in the maple flavoring. Whisk until very smooth. Taste and add in more maple, sugar, butter, or other ingredients as needed until the icing reaches the desired consistency. The icing should be somewhat thick but still very pourable. *I always follow the recipe as is and never need to add extra of any ingredients.

Remove pans from the oven and immediately pour icing over the top. I just eye it and make sure each roll is covered nicely! If delivering to family and friends, warm, cover with foil and head out to deliver!

I had lots of questions about this part! I fully bake and ice the rolls per instructions above, PRIOR to freezing them!

We deliver our rolls frozen, so that our friends can enjoy them Christmas morning. After I ice the FULLY BAKED rolls, I cover them with foil, and put them into the freezer. Once frozen, I wrap them up with cute ribbon and TAGS and we start delivering them. I also include instructions on how to bake the rolls, on the back of the TAGS.

INSTRUCTIONS AFTER FREEZING

Bake at 250-300 degrees for 12-18 minutes, just depending on oven. We personally bake at 250 and that is what the tags state. Again, you don't want to overcook them, especially since they've already been baked, this oven time is just to heat them up from the freezer. Chances are if you are making these, you'll want to freeze a few pans for yourself! Definitely follow these steps to keep some pans on hand for Christmas breakfast!
Printable Gift Tags for Homemade Cinnamon Rolls (or any edible gift)
You can print these tags at home and cut them out and punch a hole at the top. You could also have them printed at a local printing place(OfficeMax, OfficeDepot, Kinkos, etc)-in that case, they can probably print them front and back, so that the instructions are on the back of the tags! You can also add your name at the bottom of the tags! Either way you do these tags, they will make the perfect addition to any sweet treat that you deliver this season!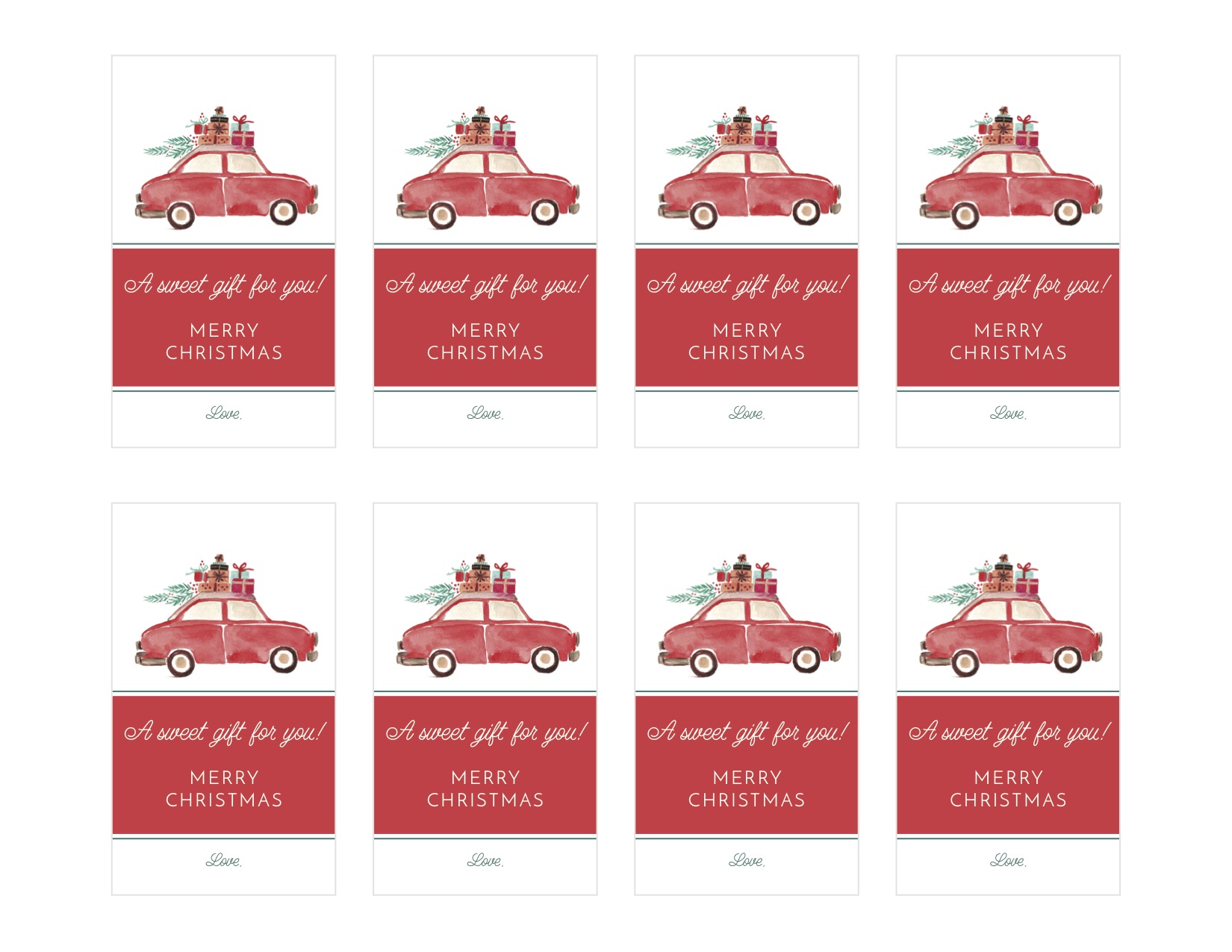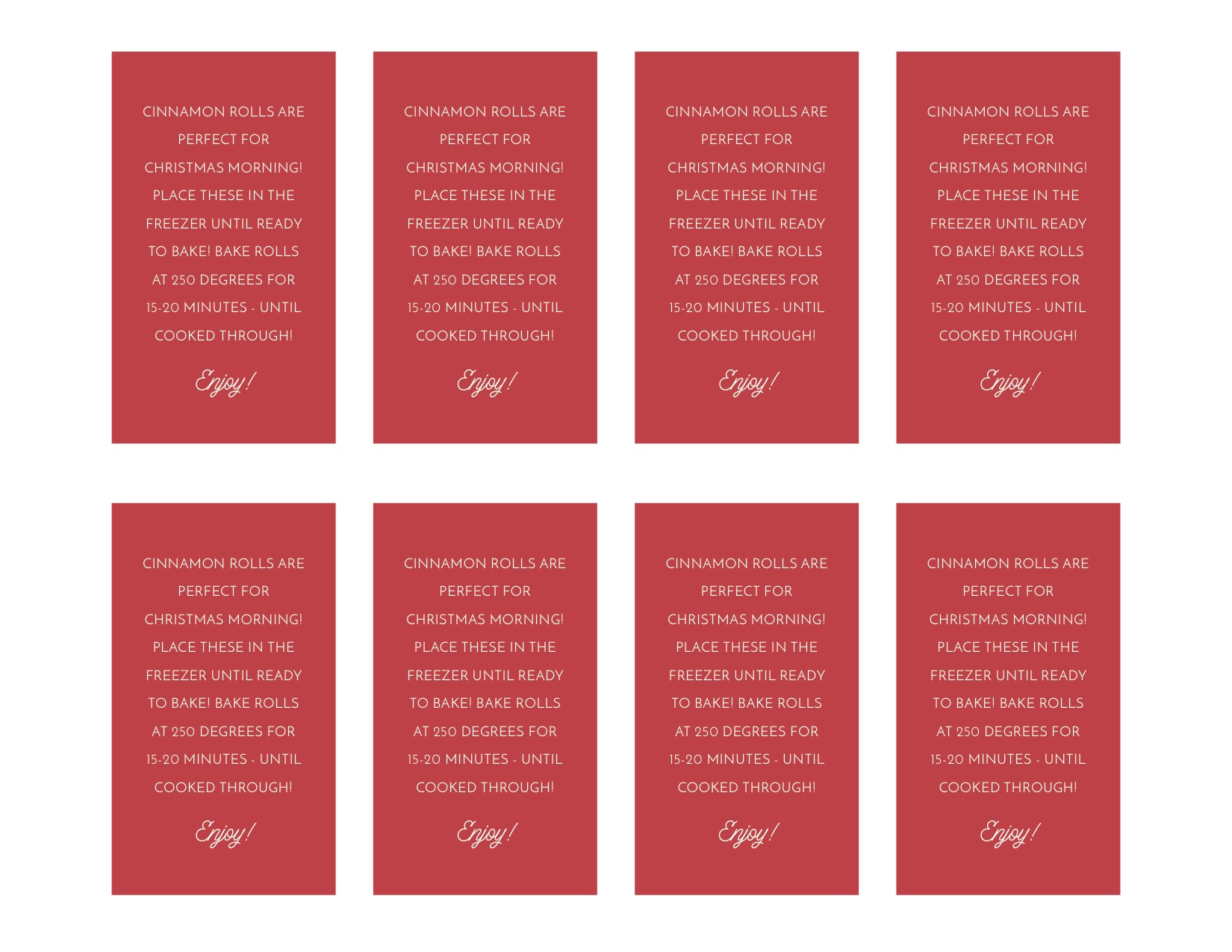 (CLICK TO PRINT)
FANCY ASHLEY Cinnamon Roll Tags PDF (General) FANCY ASHLEY Cinnamon Roll Tags PDF (General)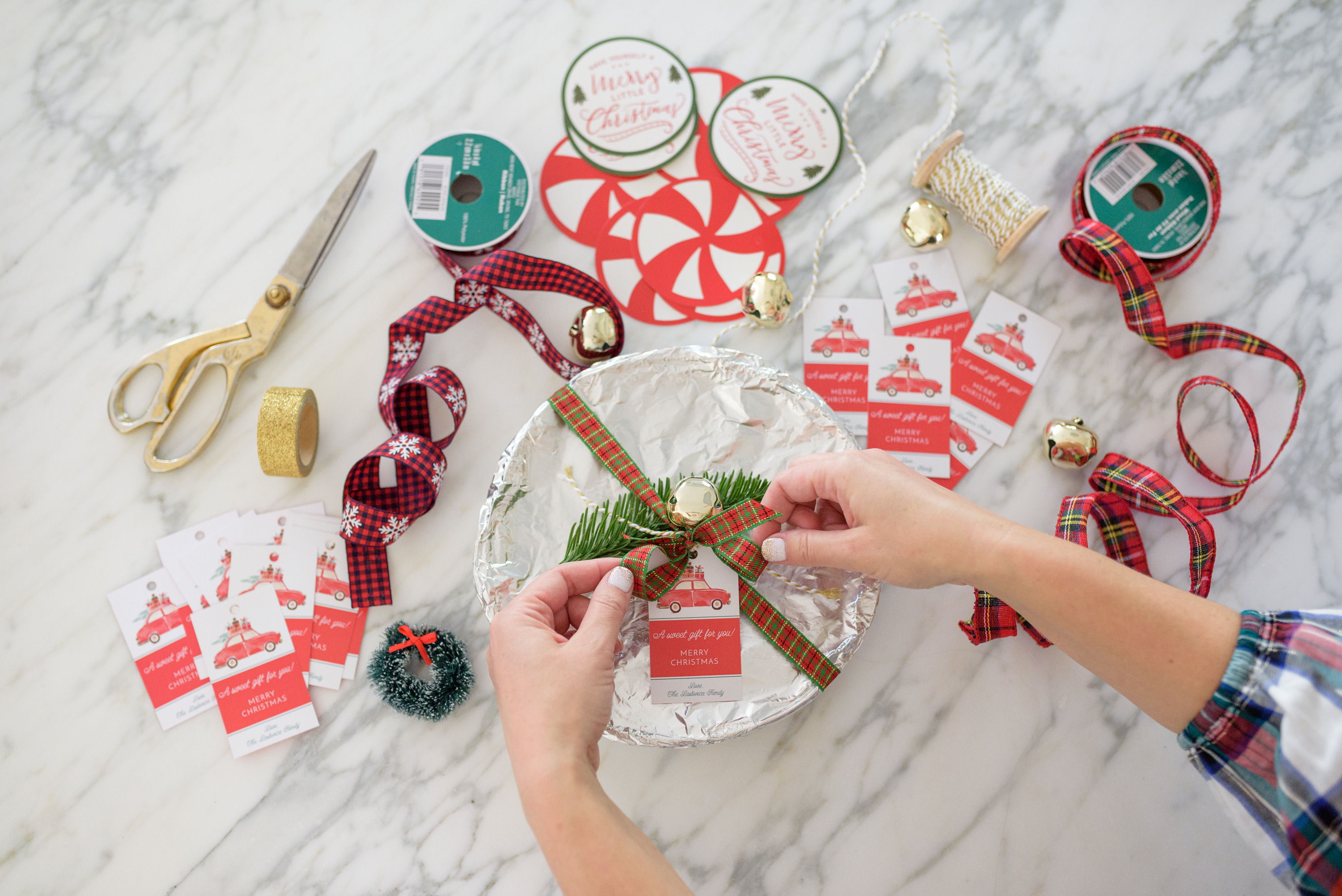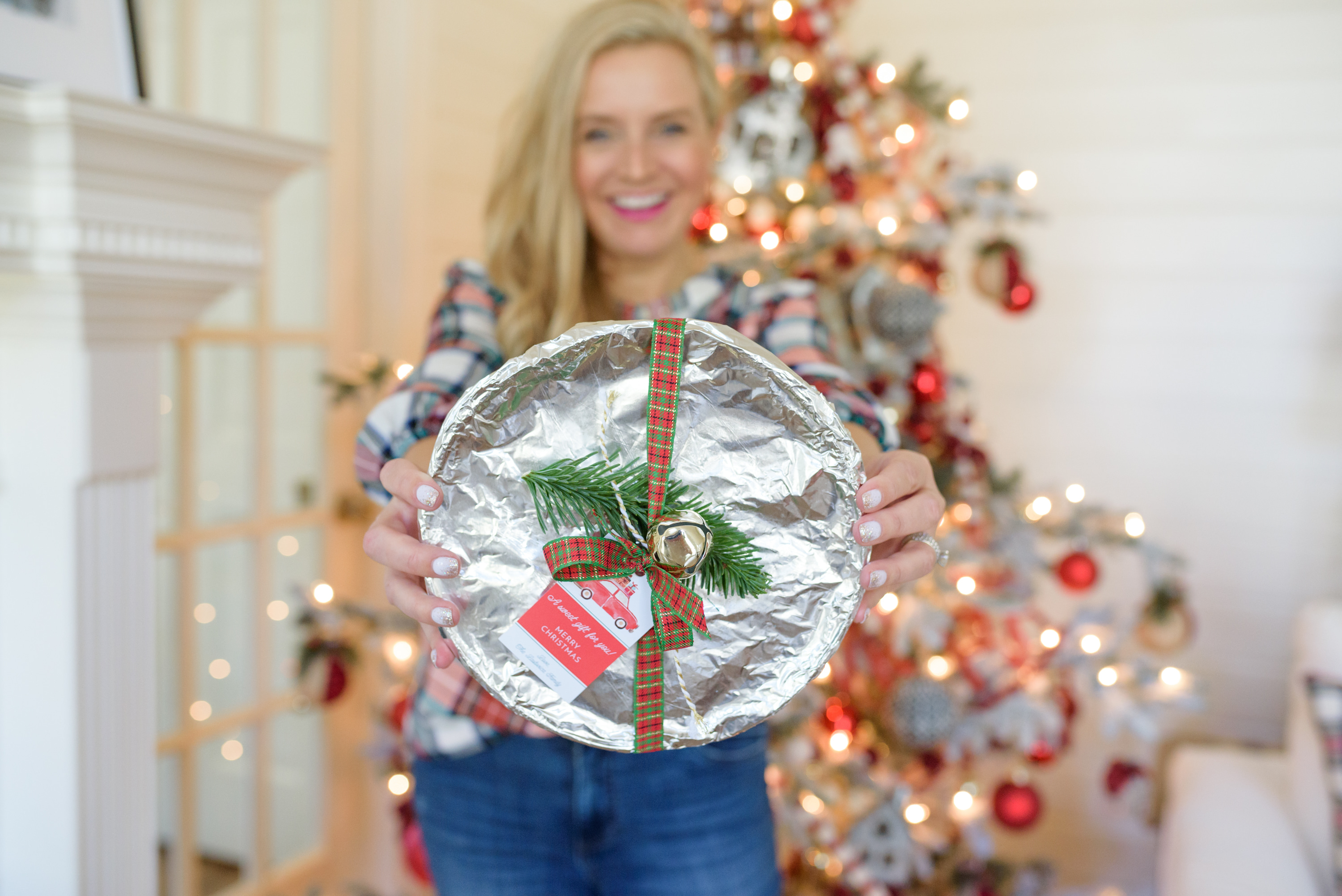 Happy baking, friends! XO!