Happy Thursday, Friends! This chicken and rice salad bowl is hearty and bursting with flavor! I love a satisfying salad, and while it tastes like a salad you might order at a restaurant, it's easy to make right at home! The best part is it's Weight Watchers approved! Anyone else using the Weight Watchers program? I would love to know who is on this journey with me! If you are, let me know your favorite meal!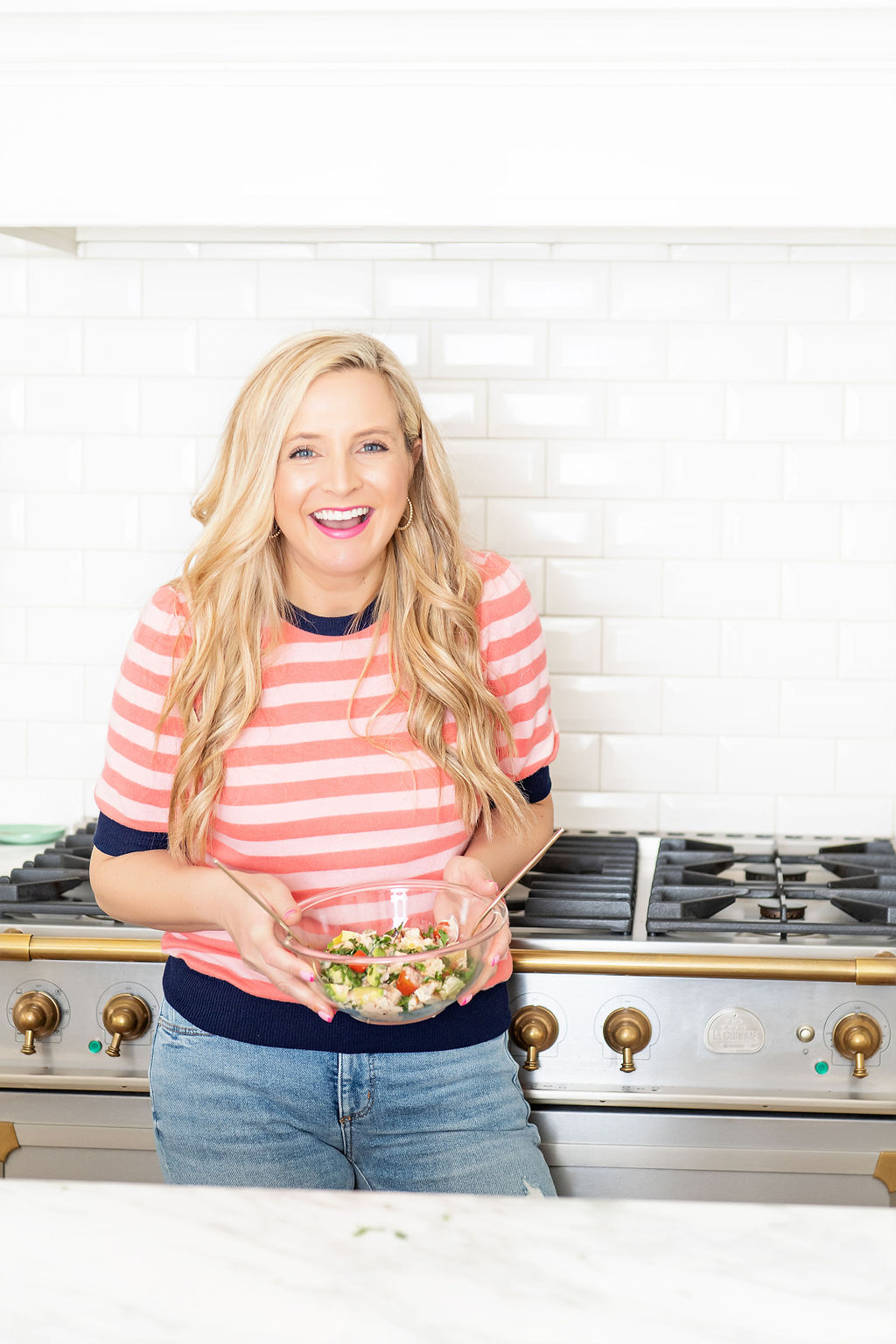 SHIRT (XS, save 15% with code FANCY15) | JEANS (27) | EARRINGS
INGREDIENTS
Recipe from Skinnytaste
For dressing:
2 tablespoons plain whole milk Greek yogurt
1 1/2 teaspoons sriracha sauce, ore more to taste
1 teaspoon water, to thin
For bowl:
1 ½ cups baby arugula
½ cup cooked brown rice
4 ounces cooked skinless chicken breast
1 ounce avocado, cubed
6 grape tomatoes, halved
½ ounce shaved gruyere cheese
Kosher salt
Freshly ground black pepper, to taste
Instructions:
In a small mason jar, mix the siracha, yogurt and water to create your dressing.
Layer arugula, rice, chicken, avocado, tomatoes, cheese and salt and pepper!
Mix and Enjoy! This is an easy everyday recipe.
You can make the ingredients ahead for easy lunches and dinners.
SHIRT (XS, save 15% with code FANCY15) | JEANS (27) | EARRINGS

According to Skinnytaste, these are the points for Weight Watchers (I am in the green plan):
Blue Smart Points: 7
Green Smart Points: 10
Purple Smart Points: 4
SHIRT (XS, save 15% with code FANCY15) | JEANS (27) | EARRINGS




If you give this salad a try, let me know how you like it!
If you enjoyed this Chicken and Rice Salad Bowl, check out THIS post about how I lost 12+ pounds.




SHOP FANCY ASHLEY'S OUTFIT