This patio makeover post is brought to you in partnership with At Home. I love collaborating with brands that I love and trust. Opinions and post ideas are always my own. 
Happy Monday, friends! I hope you had a wonderful weekend! We are officially one week into summer and this pation makeover post comes at a great time because we've been spending lots of our time outdoors and in the pool! I was really excited to partner with At Home again on today's post! We loved our spring partnership with them! They challenged me to do a patio refresh! After mulling over my patio, I decided to head into my local At Home store to gain some inspiration. A few minutes after I walked into the store, I saw some fabulous chairs and got my idea! We have been wanting a dining area for our yard for awhile now. We recently removed and pushed our fence back, so we had the perfect spot for a long table and chairs. I envisioned us sitting out there with family and friends and just enjoying life at this table! And truthfully, even a few days in, it's already been used a handful of times by us! The kids are loving having a table out there where they can eat snacks and dinner mid swims!
PS: read the whole post to find out about the amazing giveaway!!
THE PERFECT PATIO MAKEOVER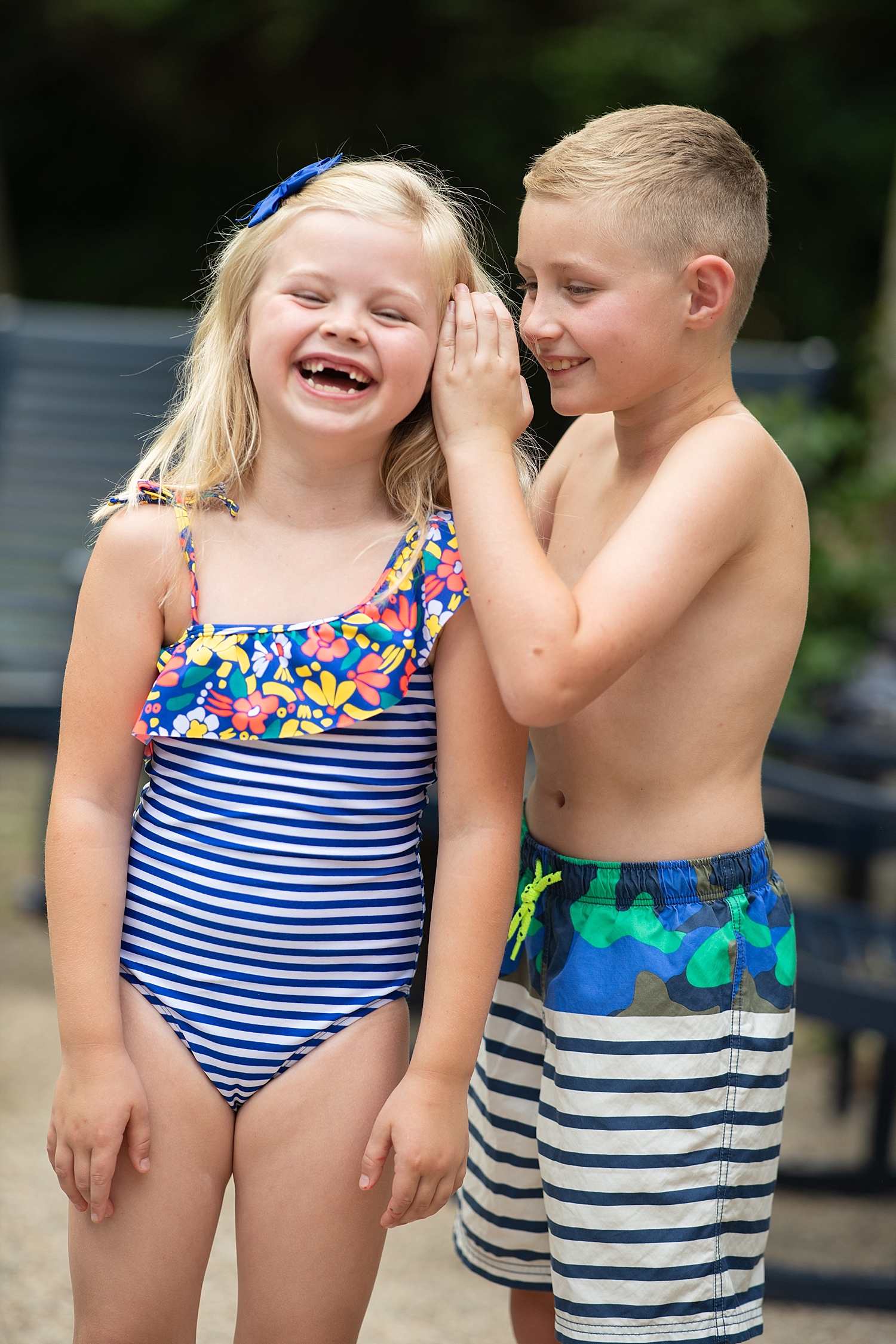 Since this space is outside and not covered, we wanted to go super simple with our patio makeover and just do a great table and cute chairs. I absolutely loved these chairs and at under $70 a chair, they were a great deal! I really think they helped make this space so darn cute!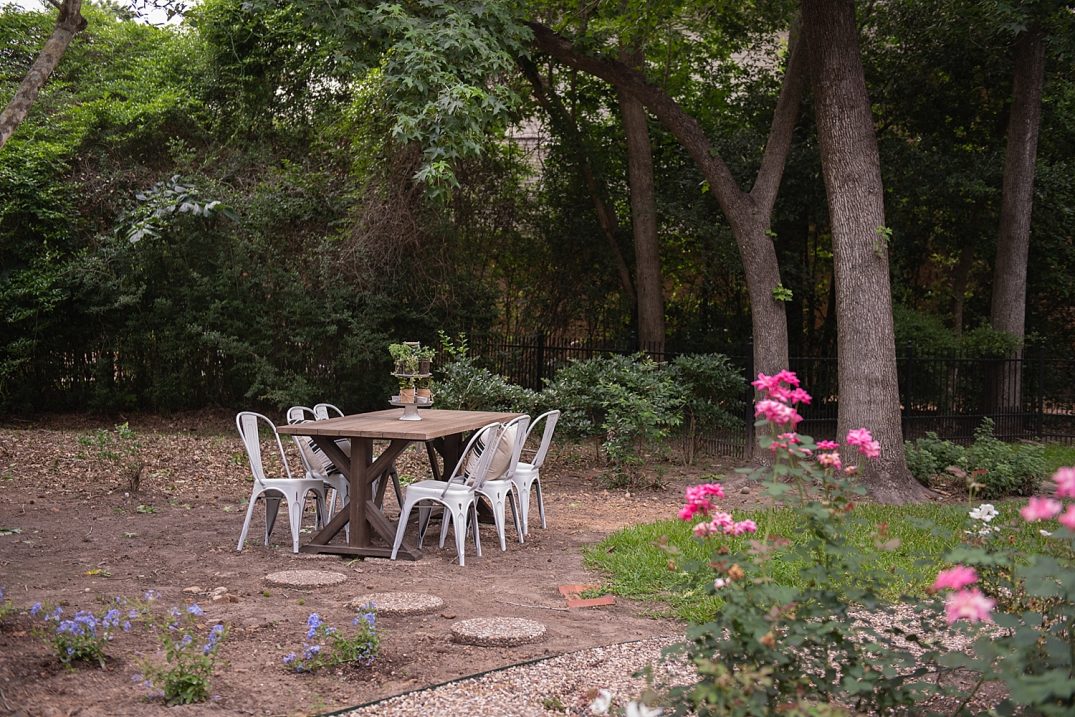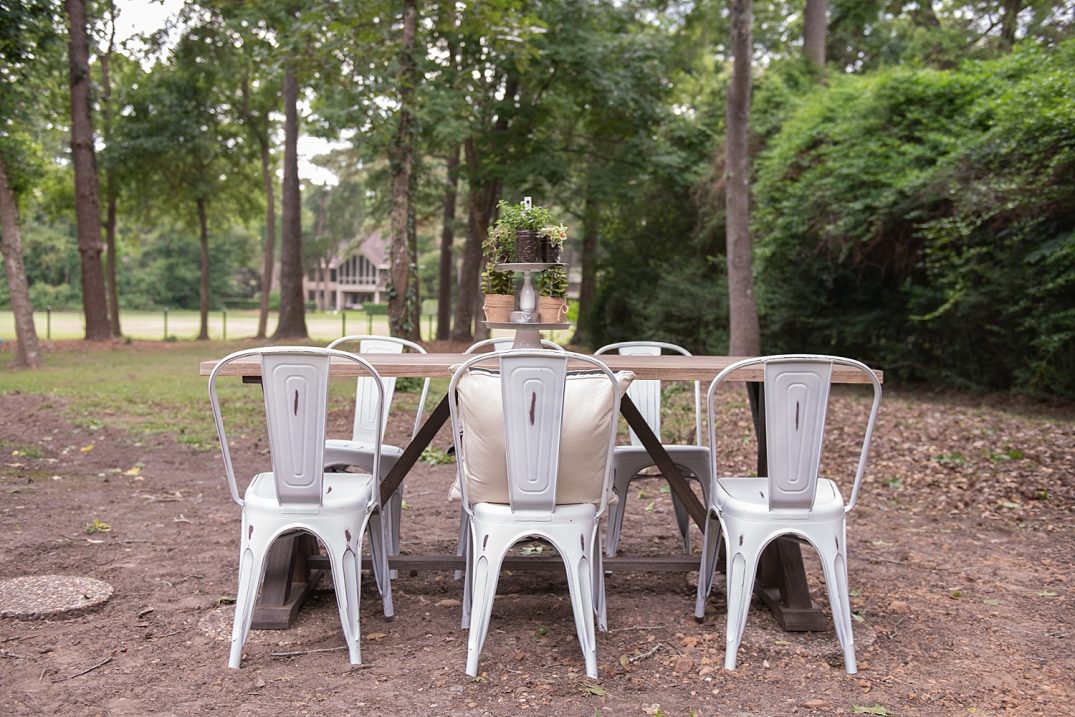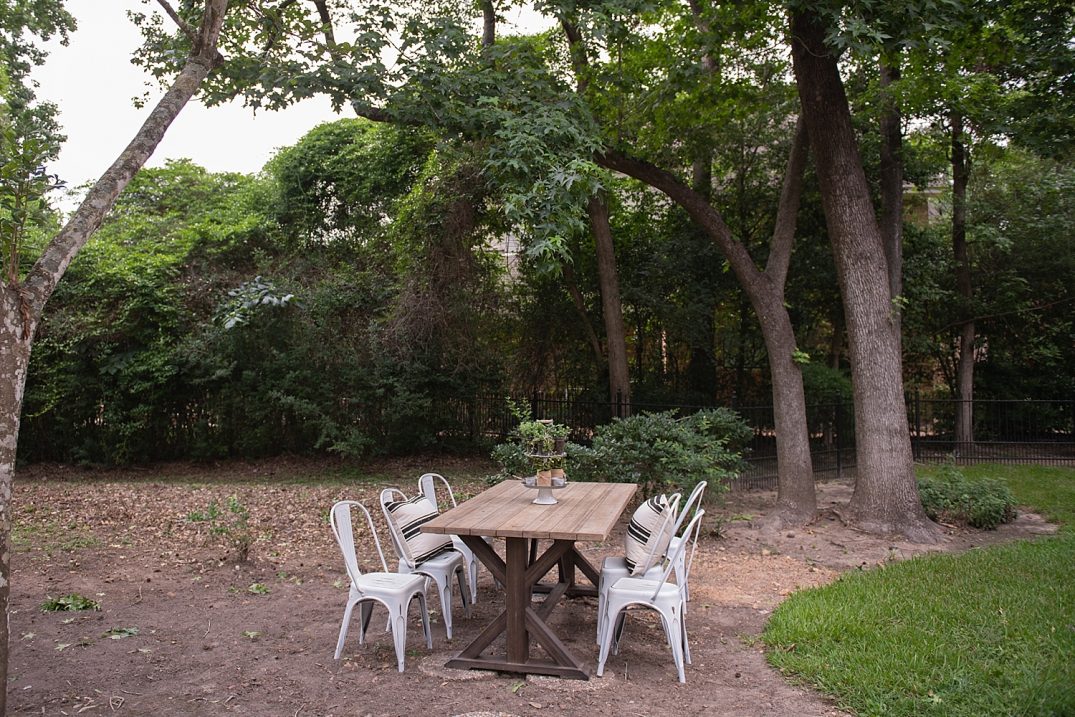 I wanted a cute centerpiece that I could keep outside at all times, so I found this cute tiered stand and went with it! At Home has so many fun options like this! They have a great selection of faux florals and plants, so I did a mix of both fresh herbs and faux herbs on the stand. Can you tell which are real and which are faux? I also added the cute citronella candles in tins from At Home as well. If you're from Houston, you know these are 100000000% necessary because the mosquitoes are insane here!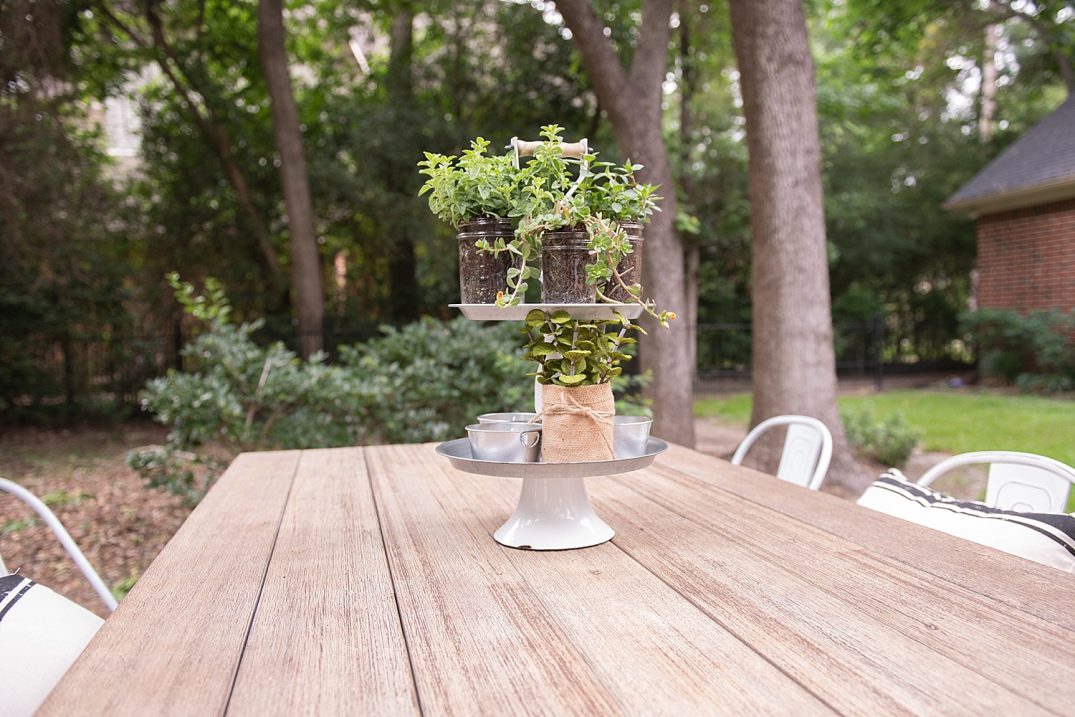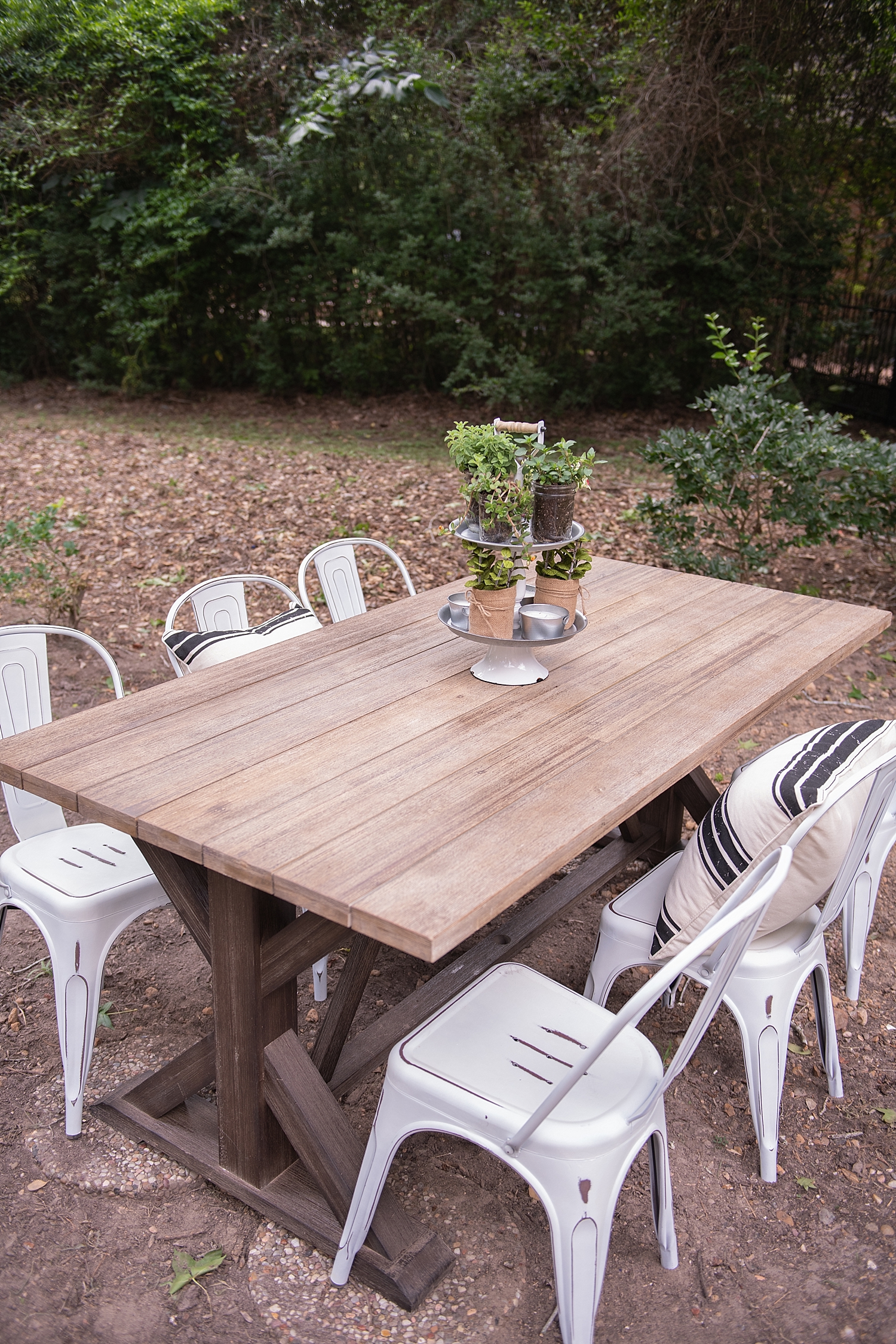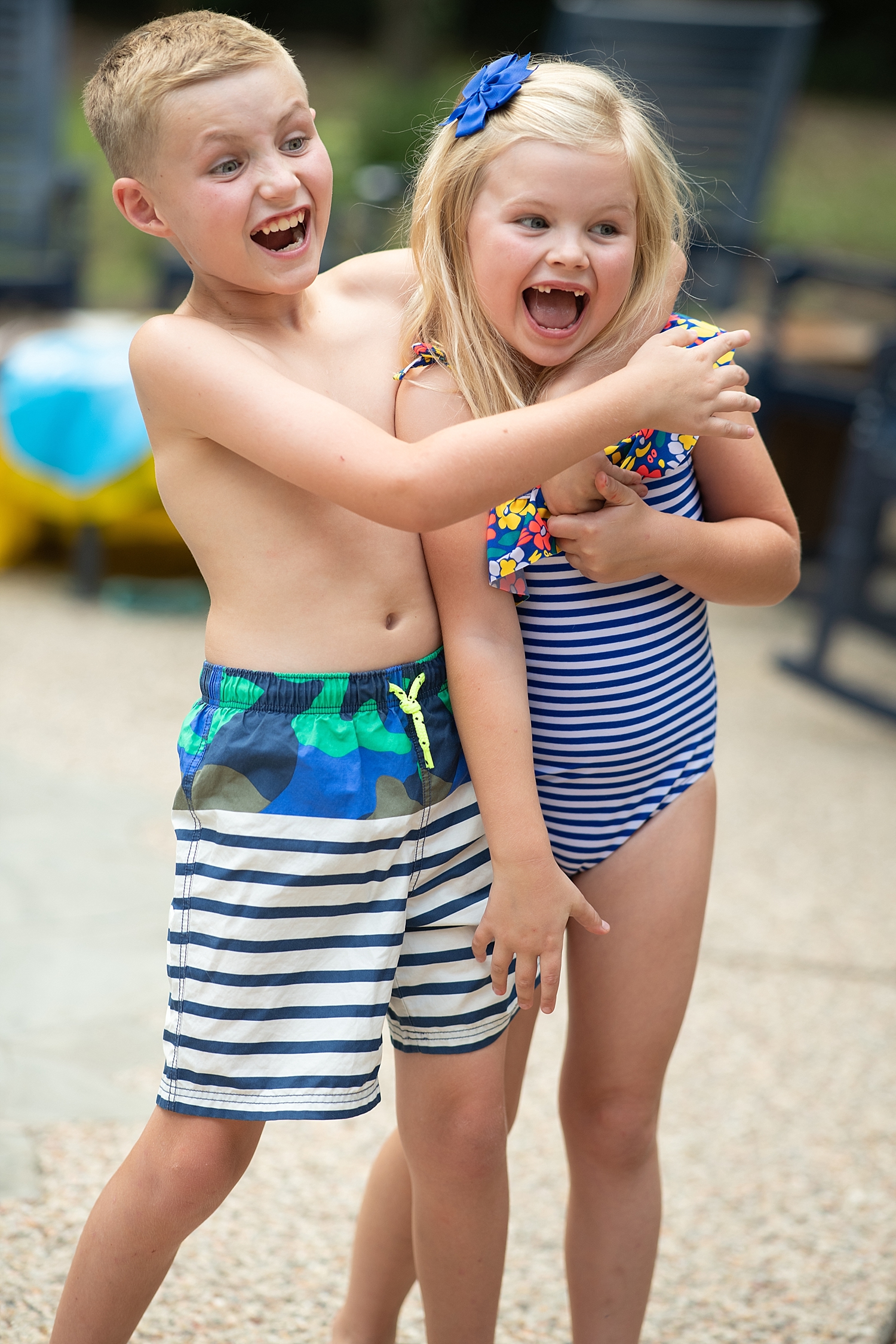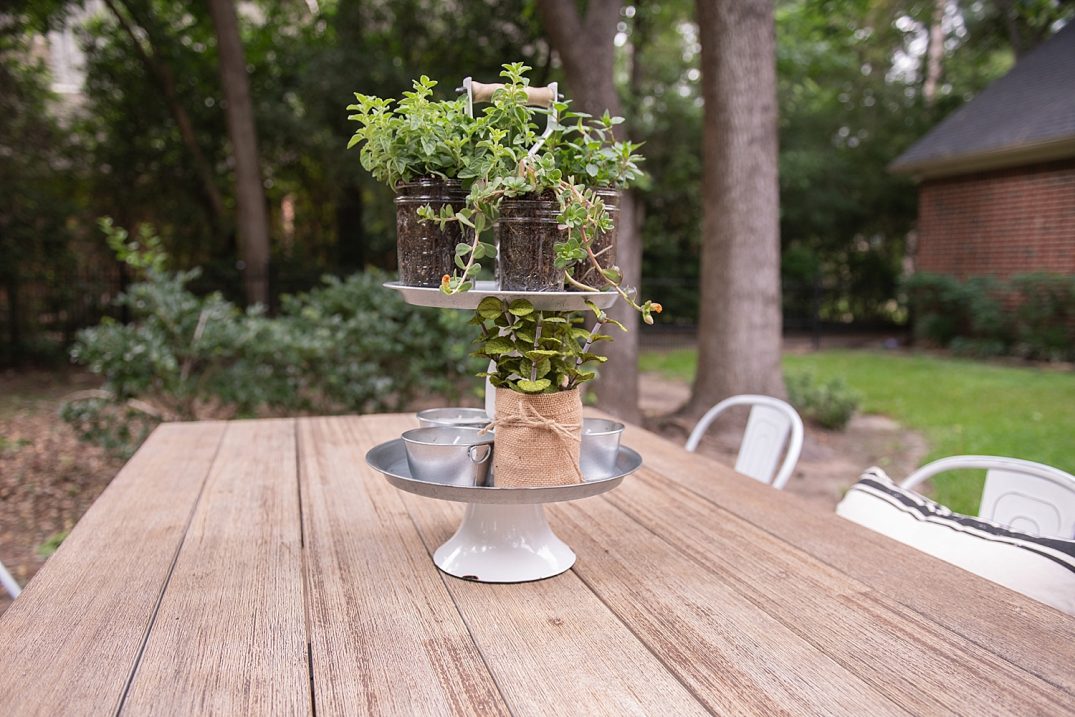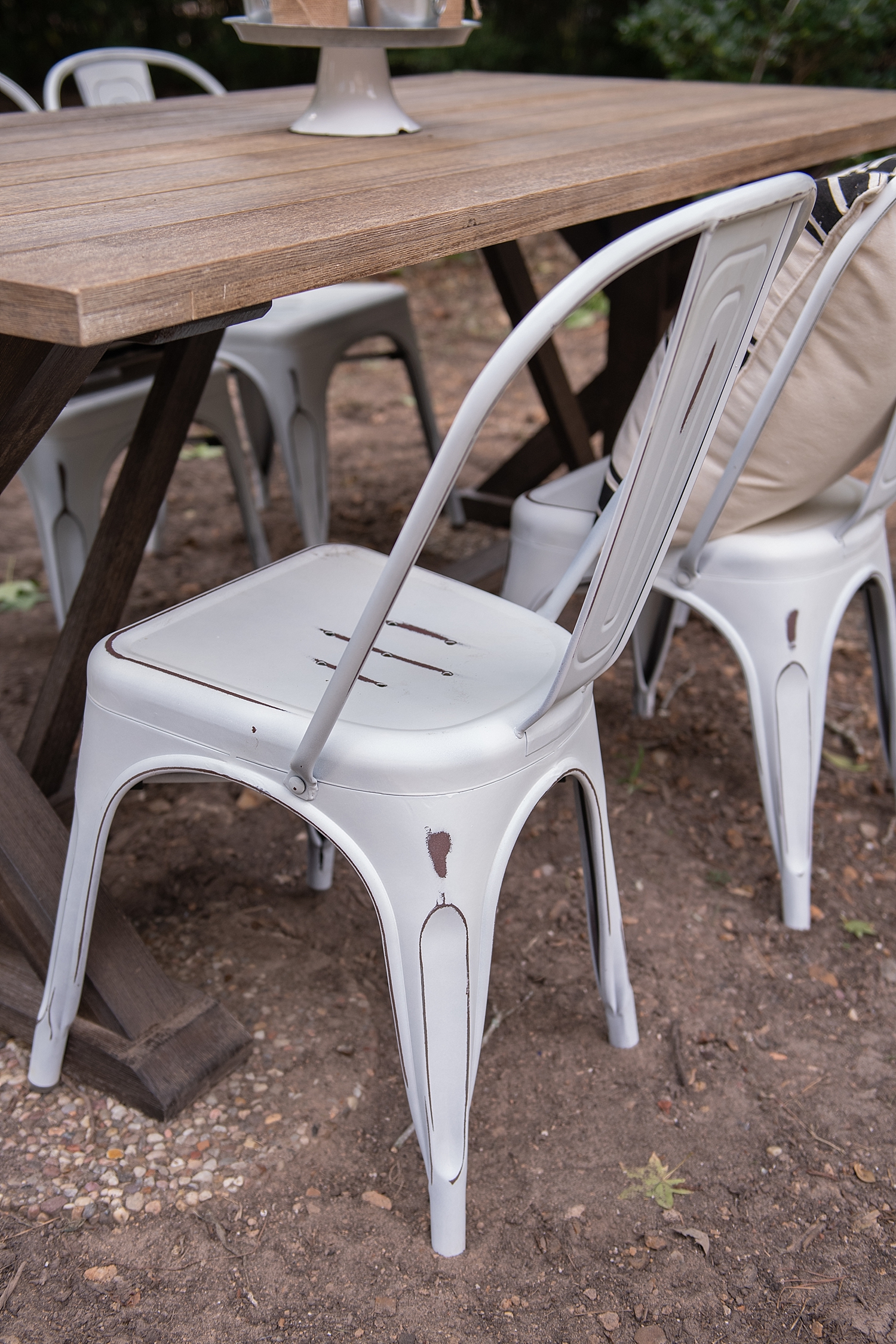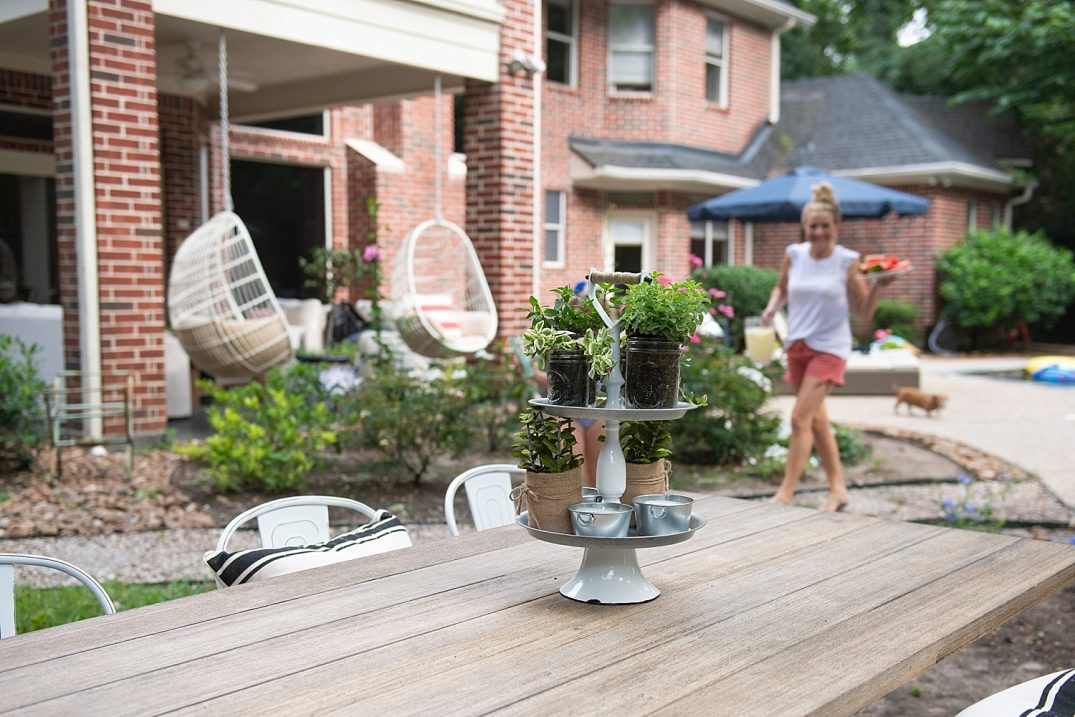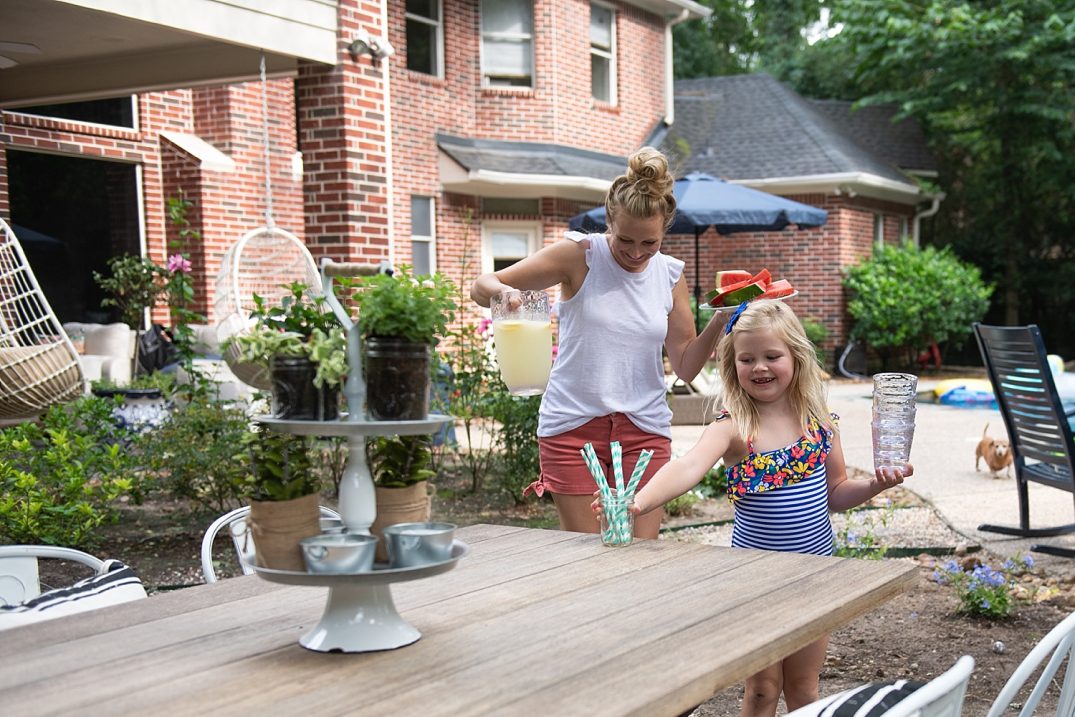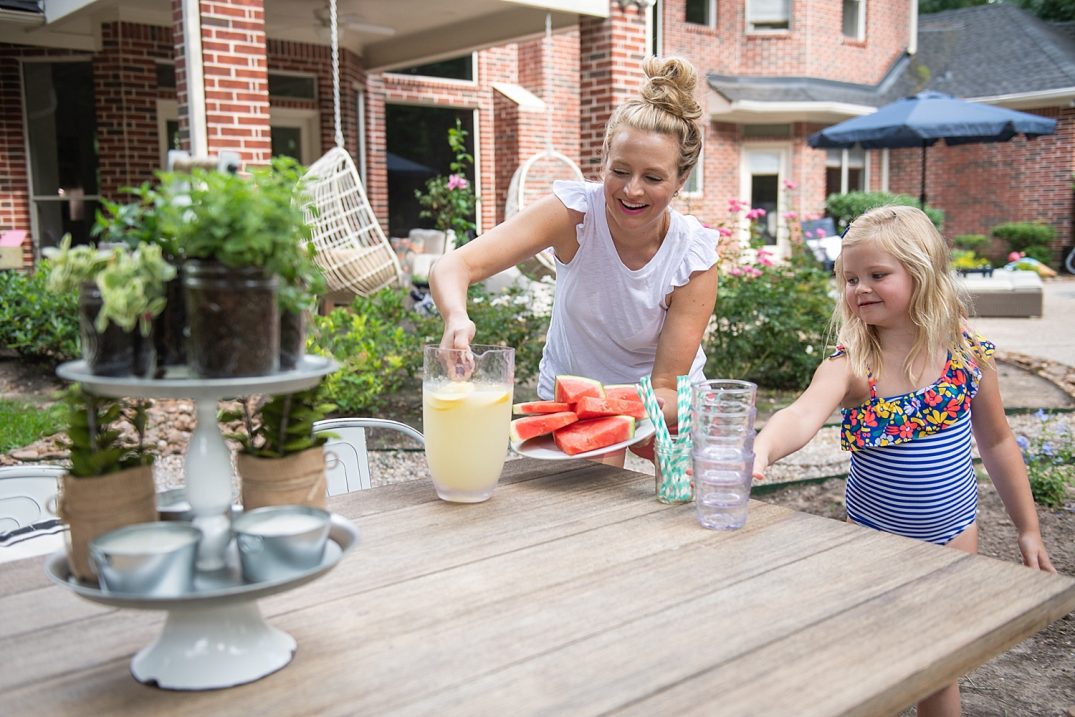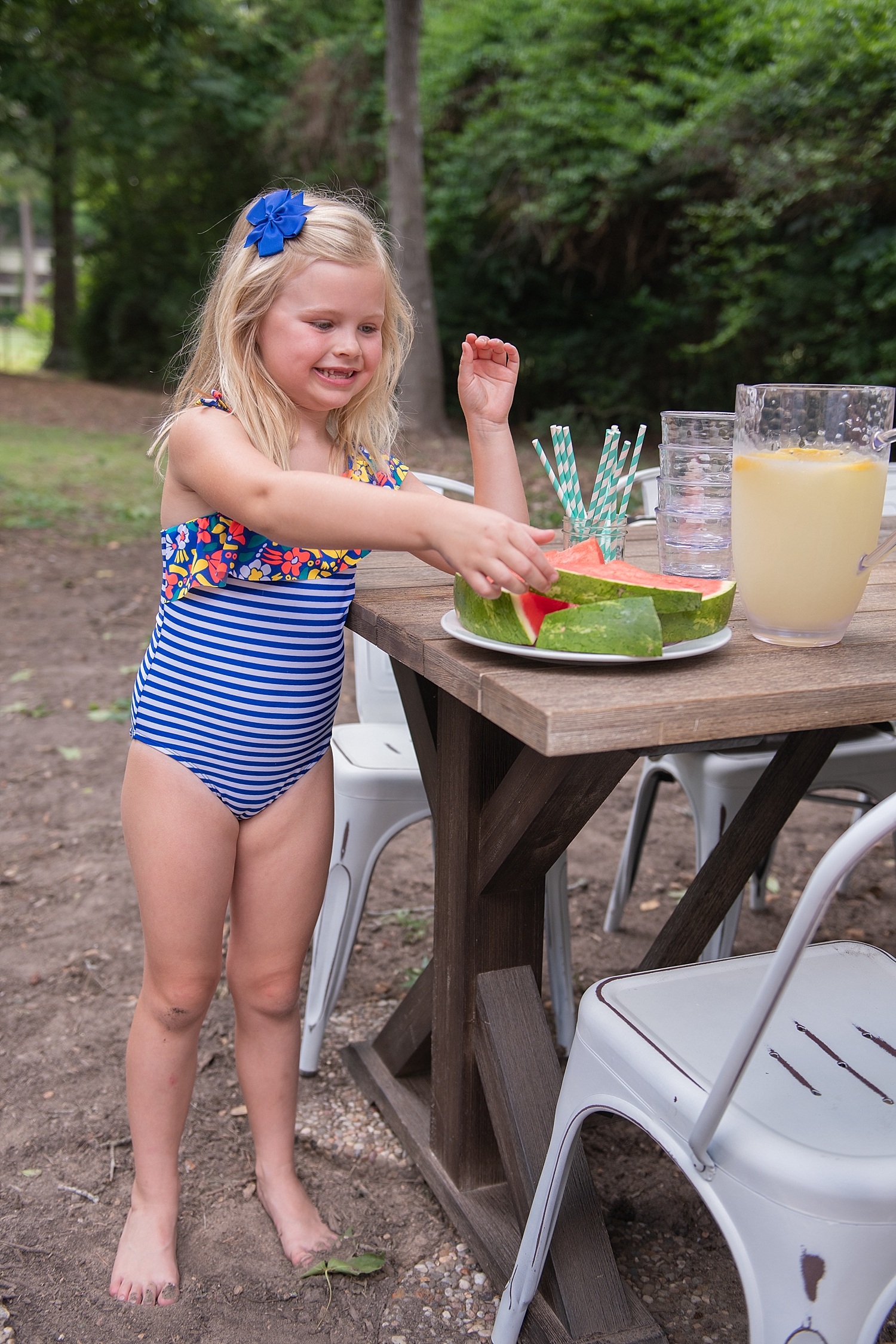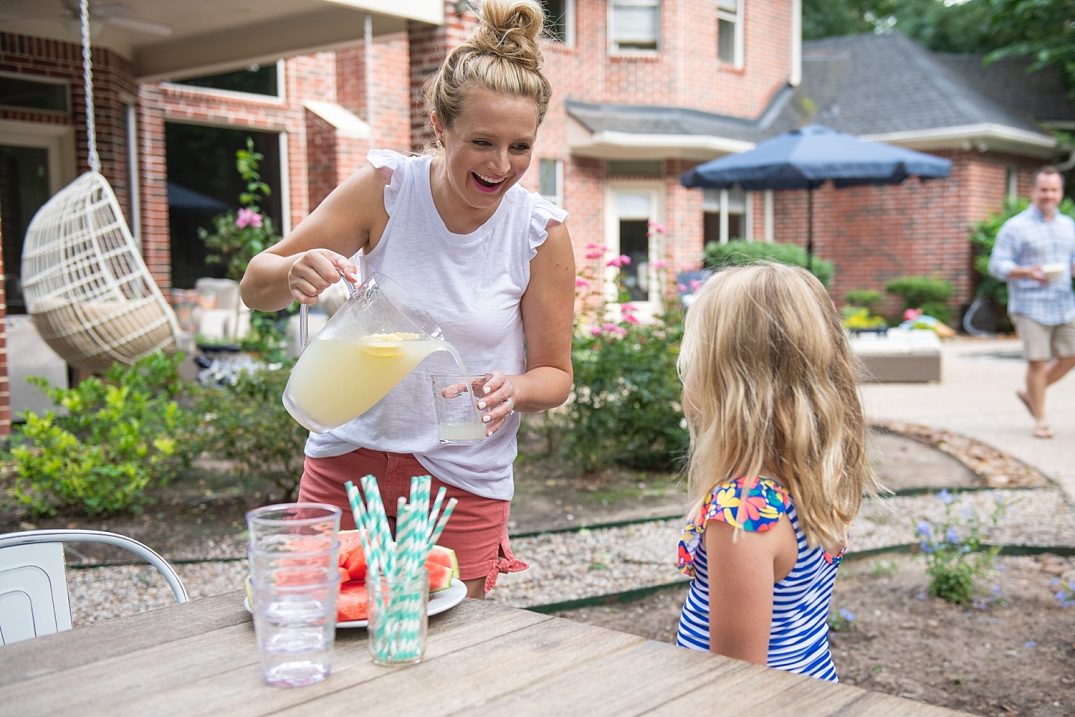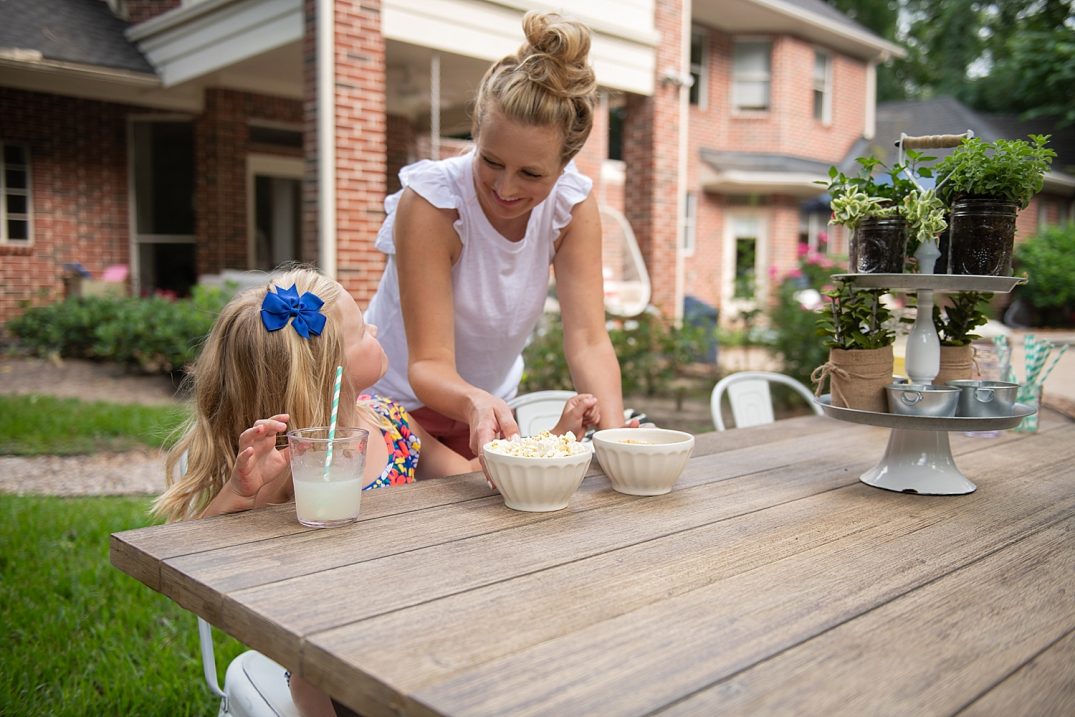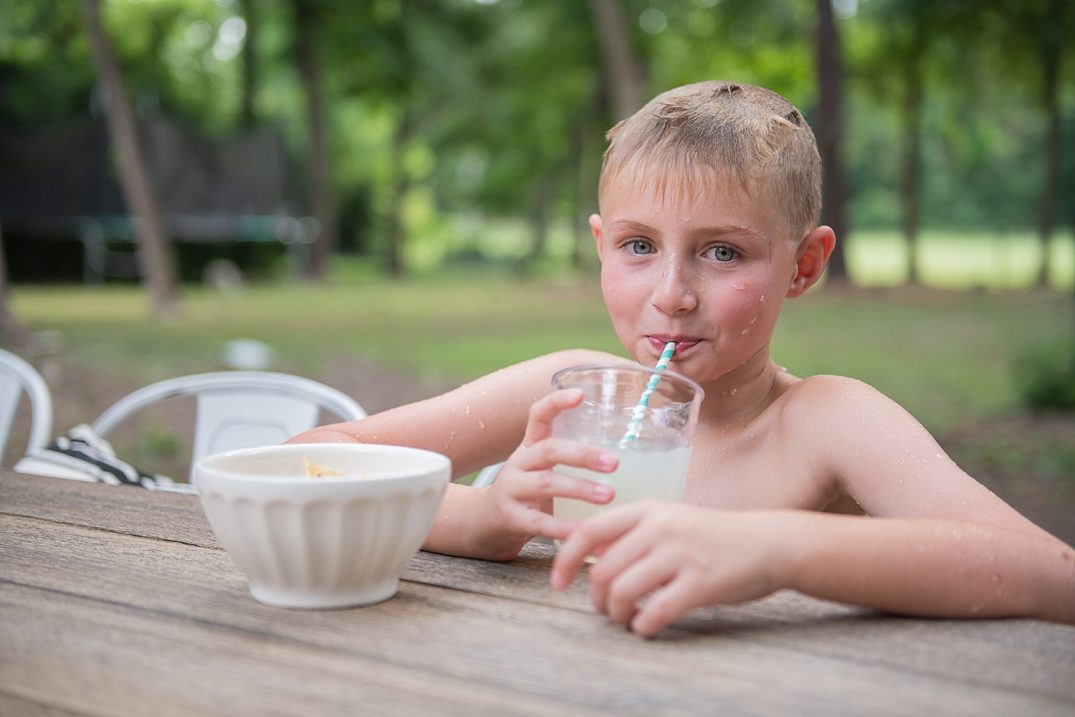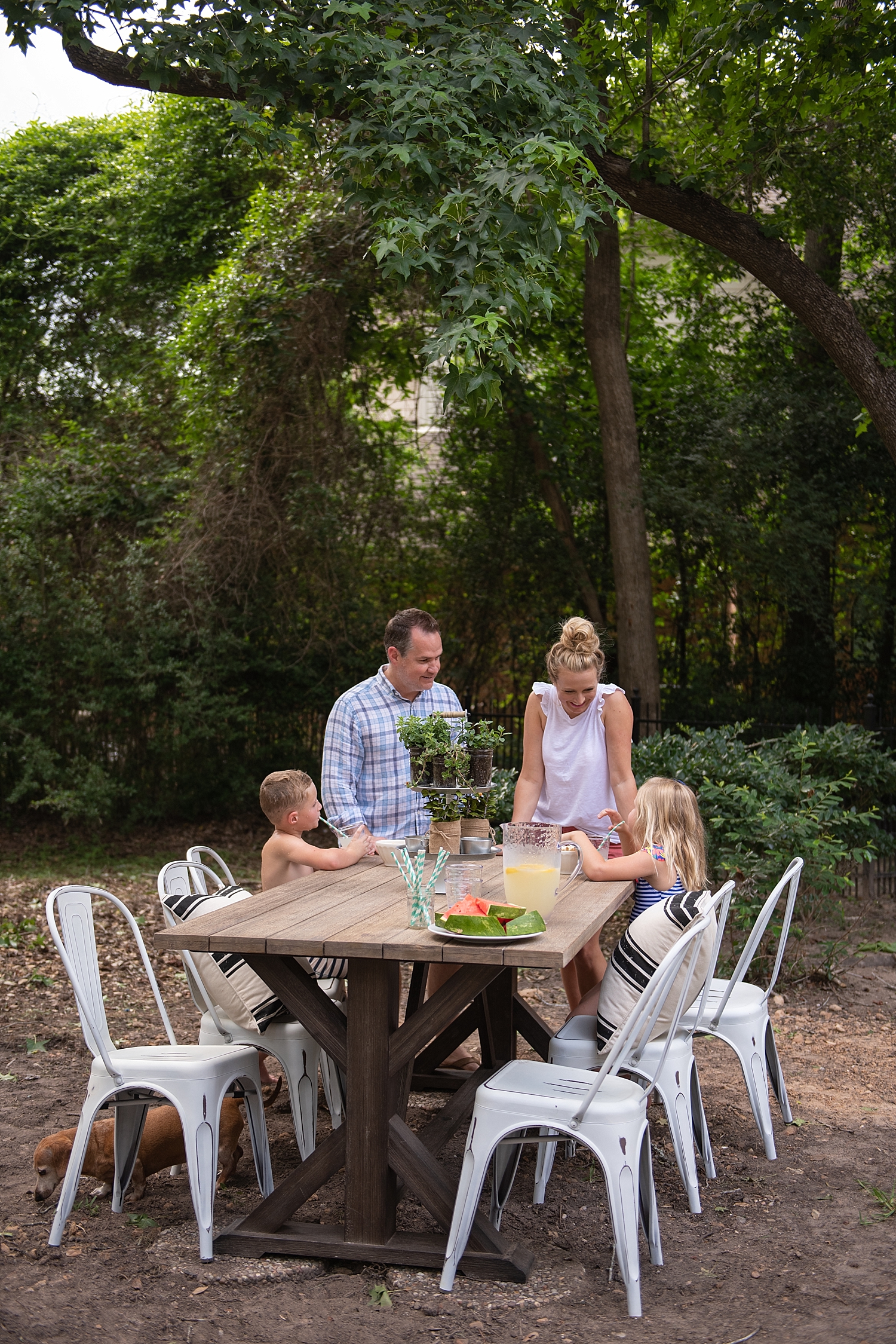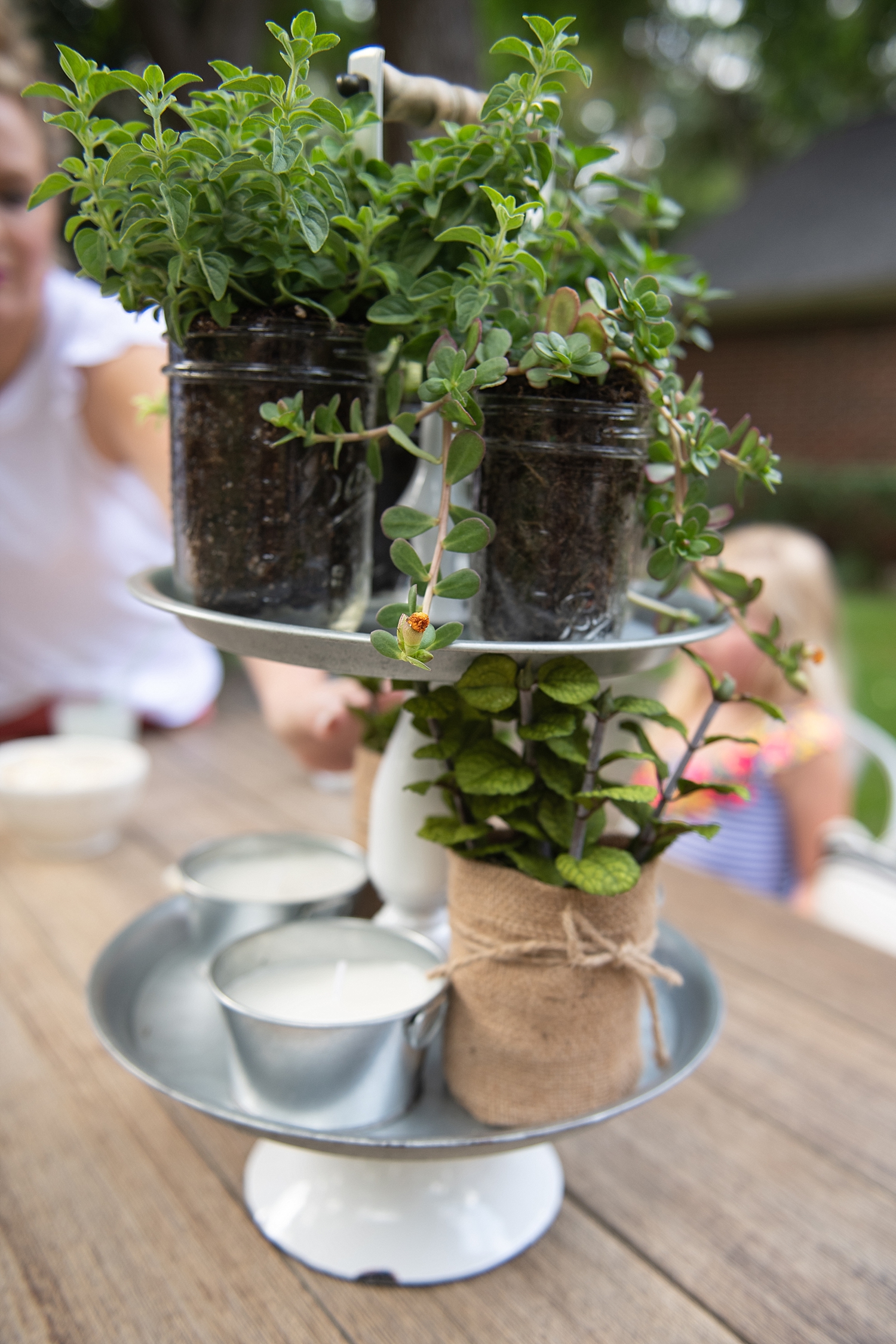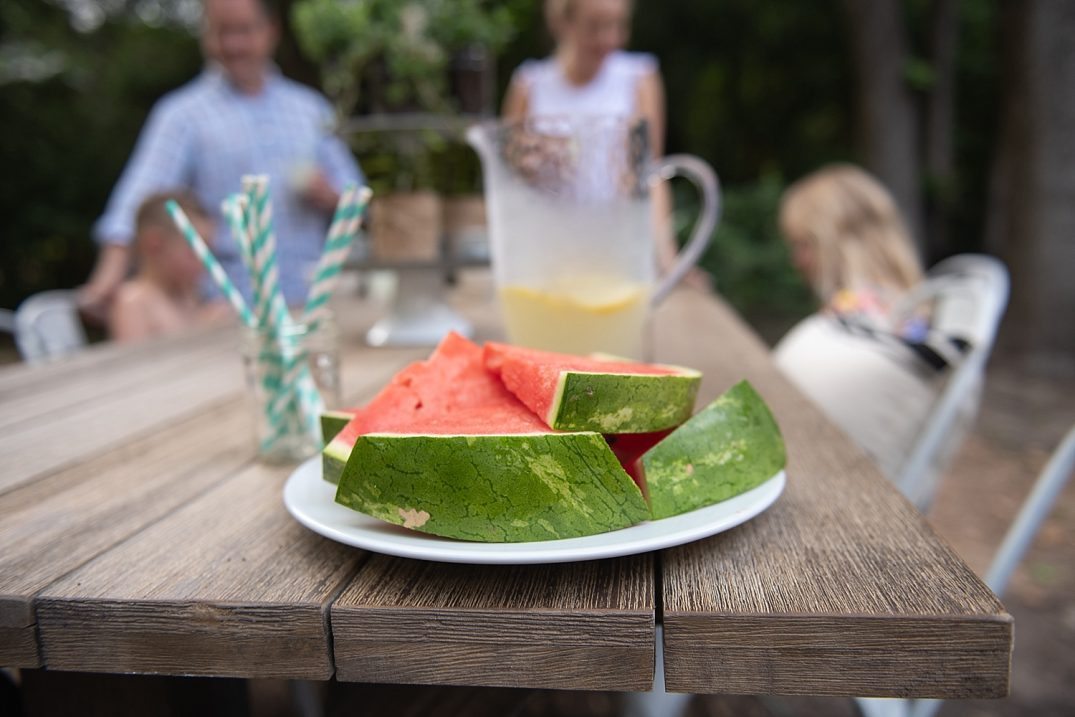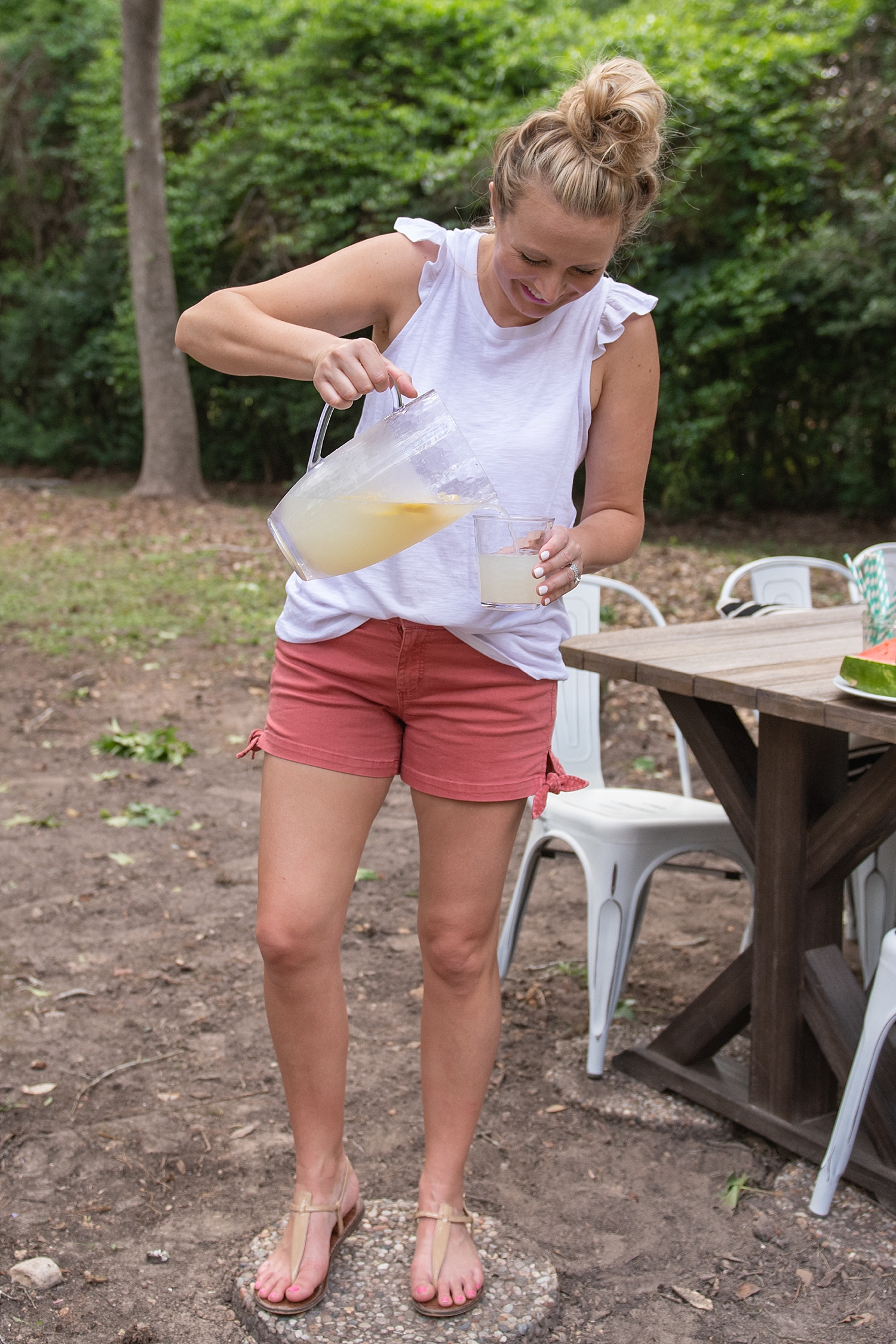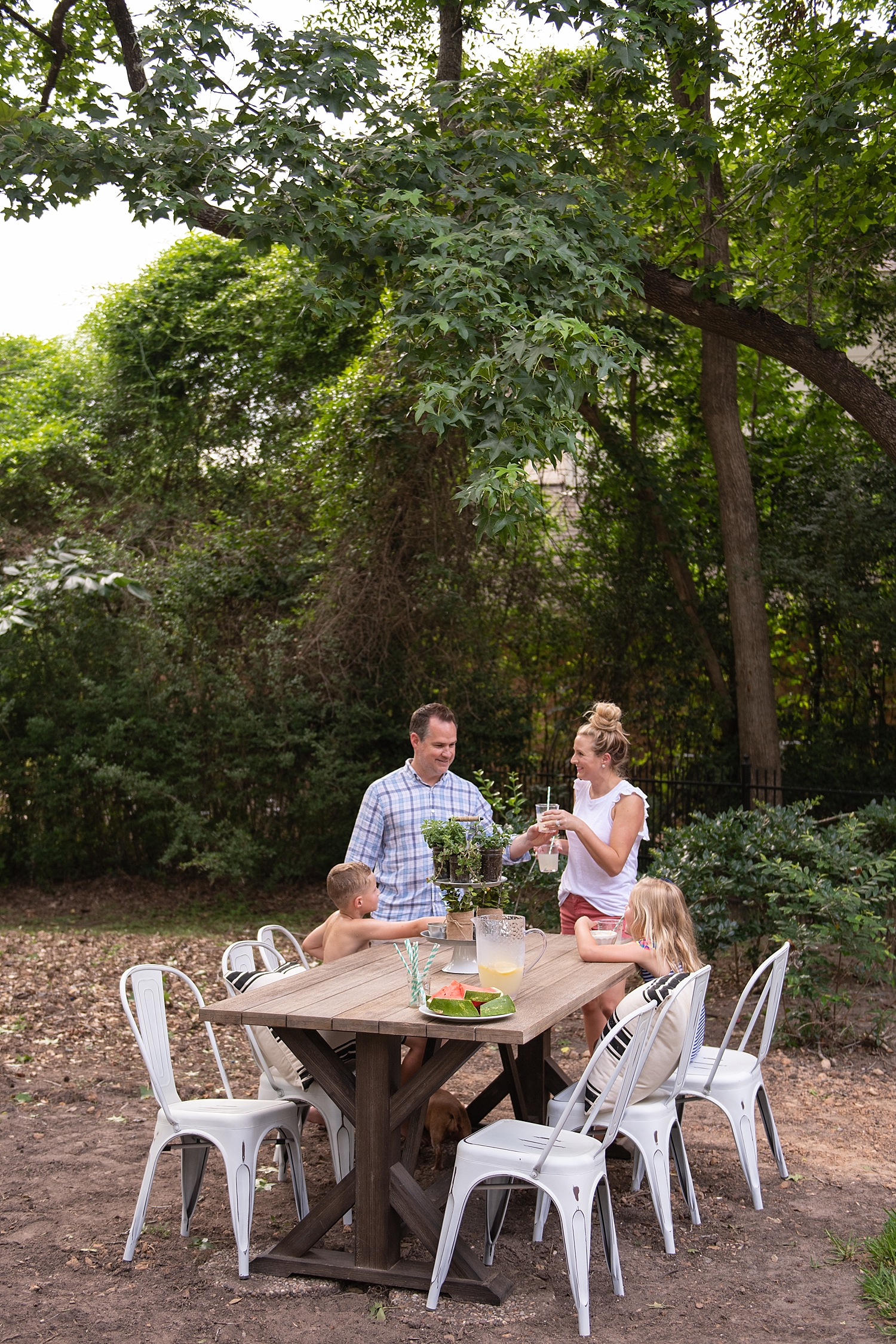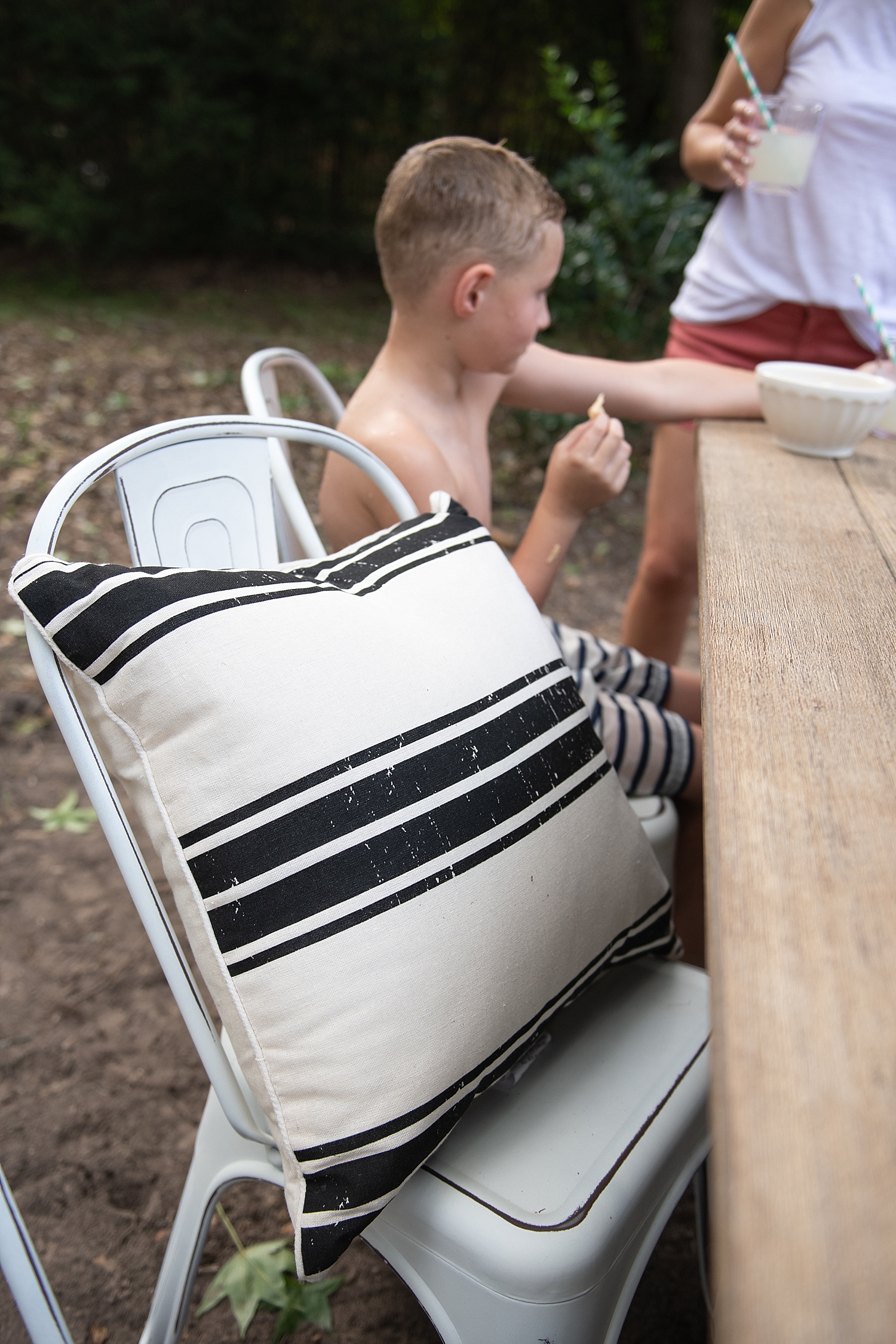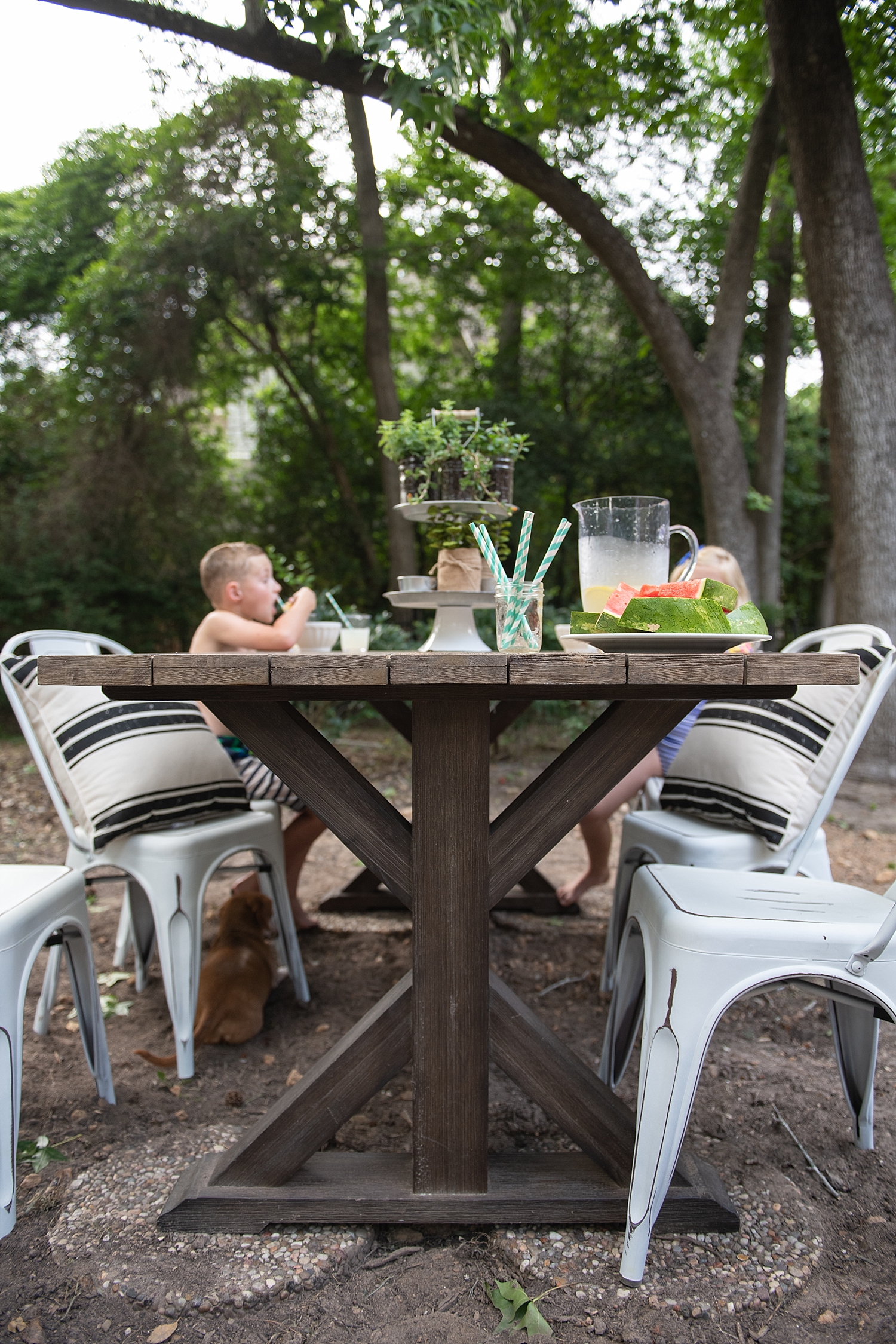 While we were refreshing the yard a bit, we decided to add an umbrella to the lounge area. We've been needing one for years! At Home has a huge umbrella selection, so it was easy to find an umbrella and stand that was perfect for our yard! We also updated our lounge pads because the dogs have decided these chaises are their personal beds. Needless to say, our old ones were ready to go and these new ones are perfect and now I just need to keep these crazy dogs off of them! When I say there were aisles and aisles of chair pads, I am not exaggerating! We spent 15 minutes along just looking through pads to find the perfect one for our yard! Seriously, At Home has almost everything you could need!! It's such a fun experience to shop there!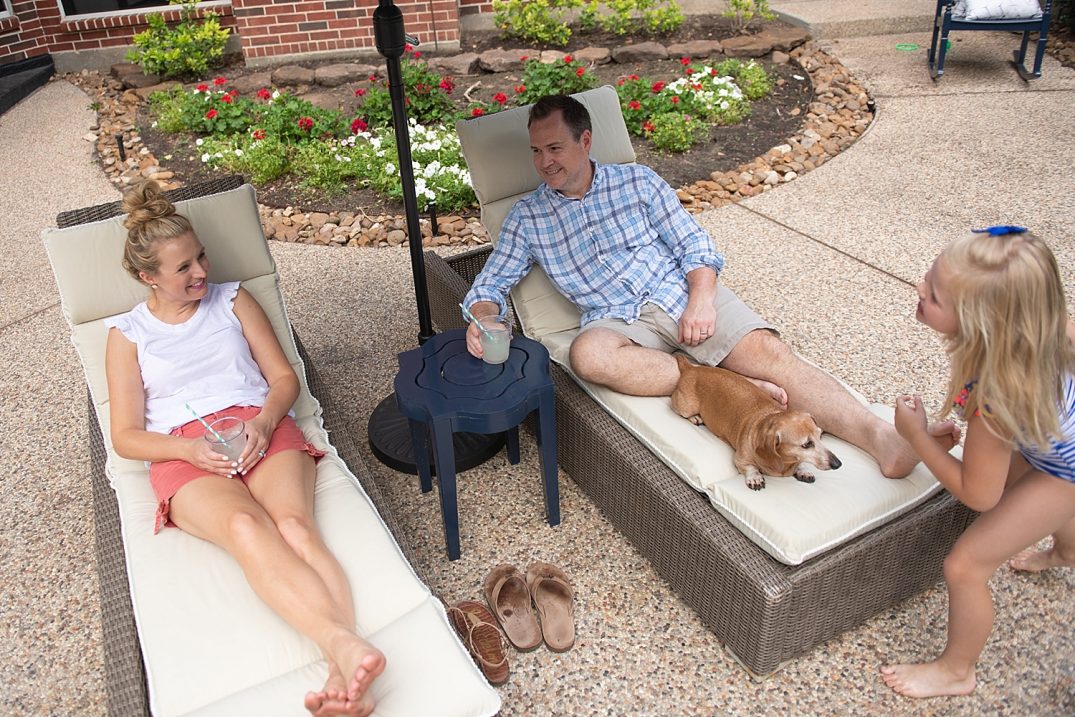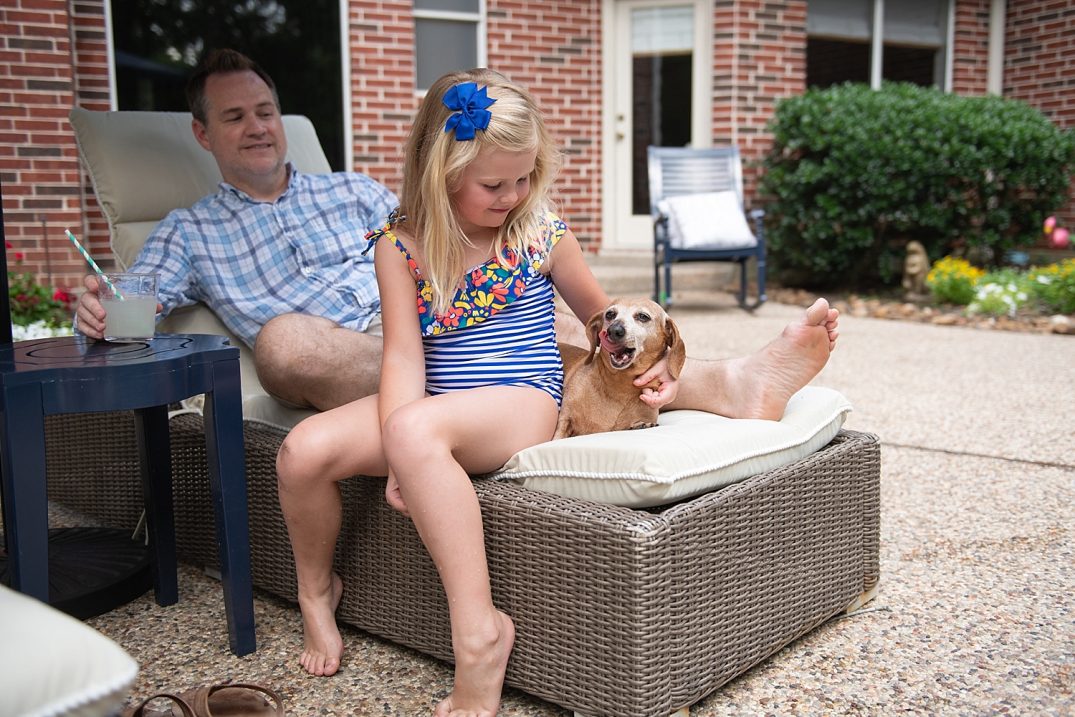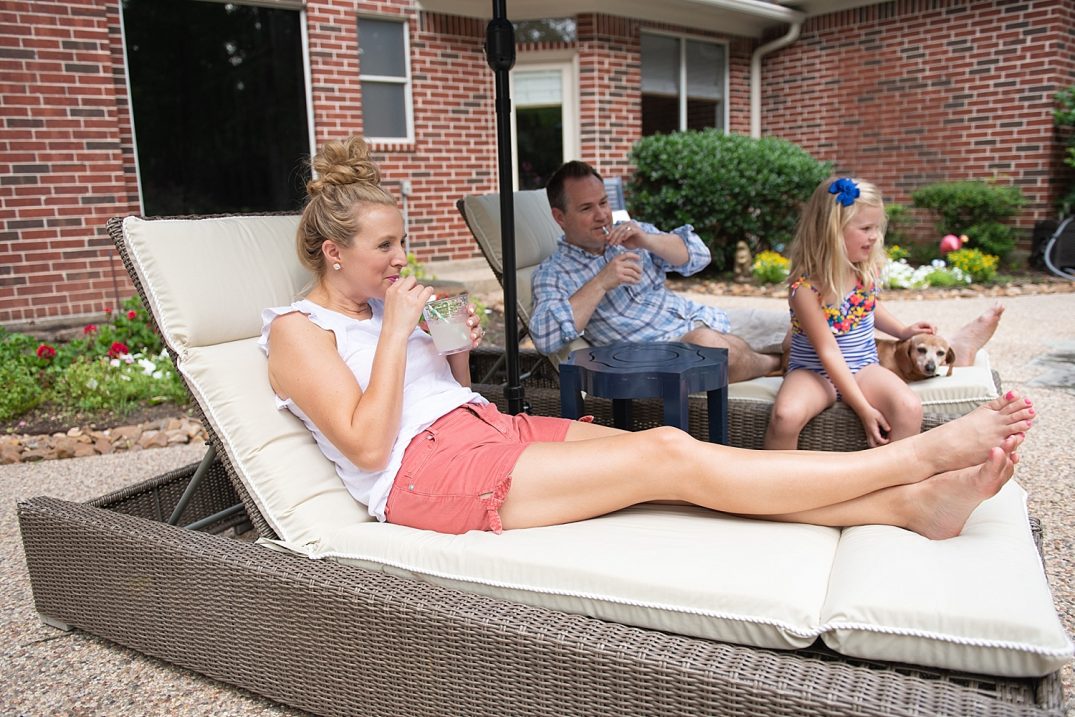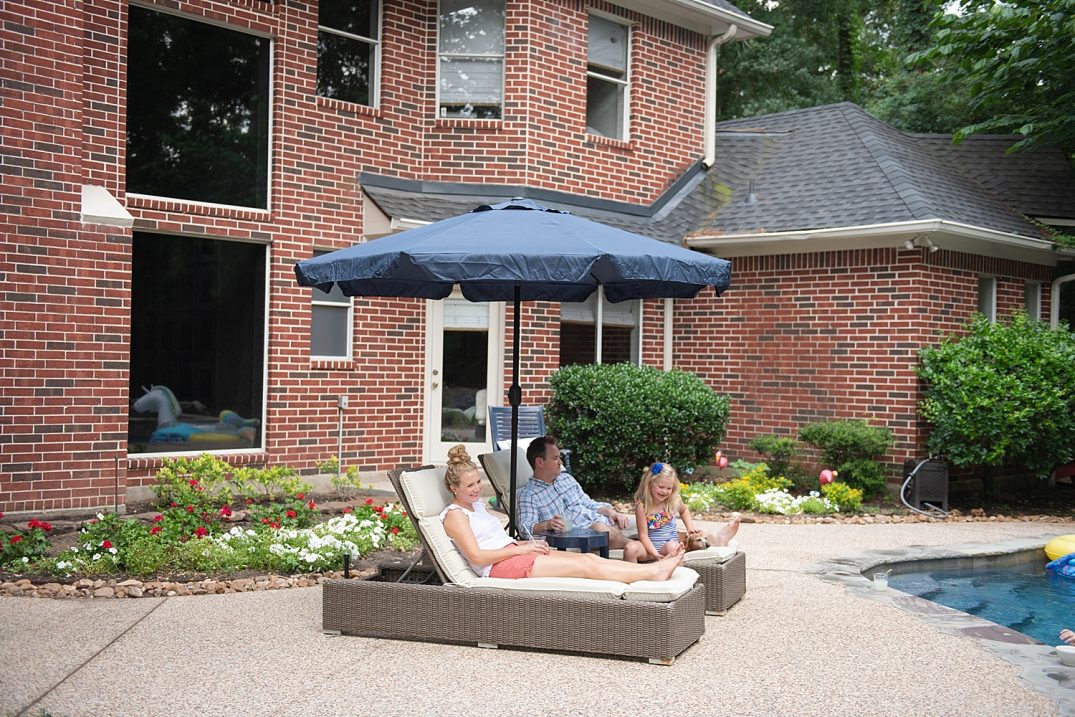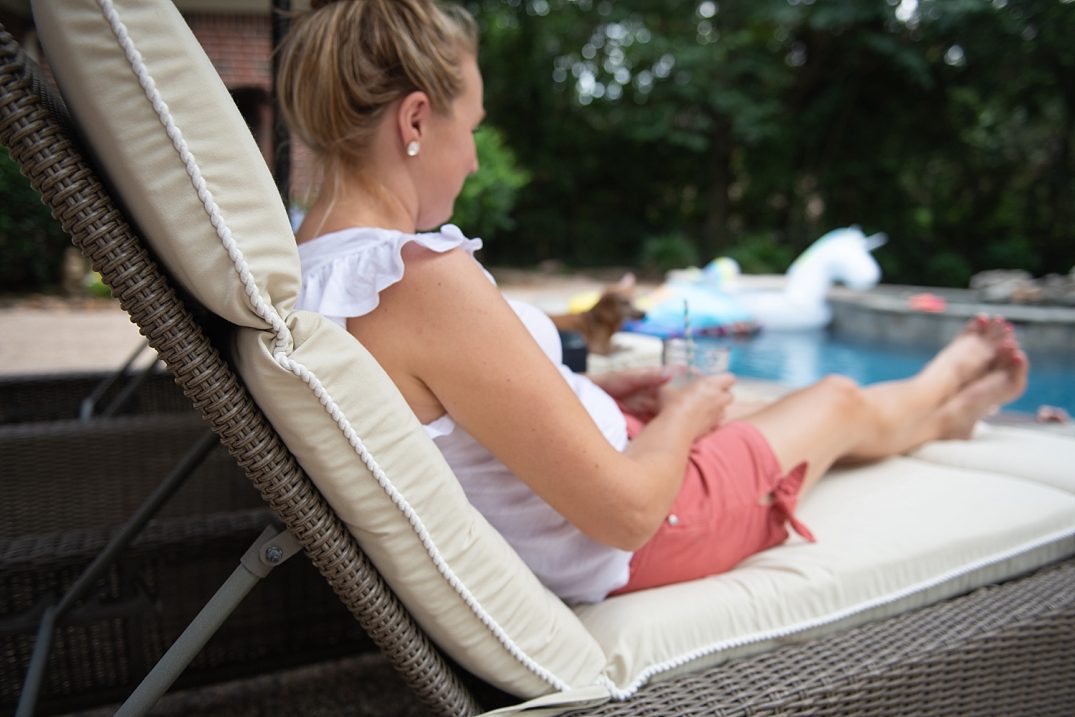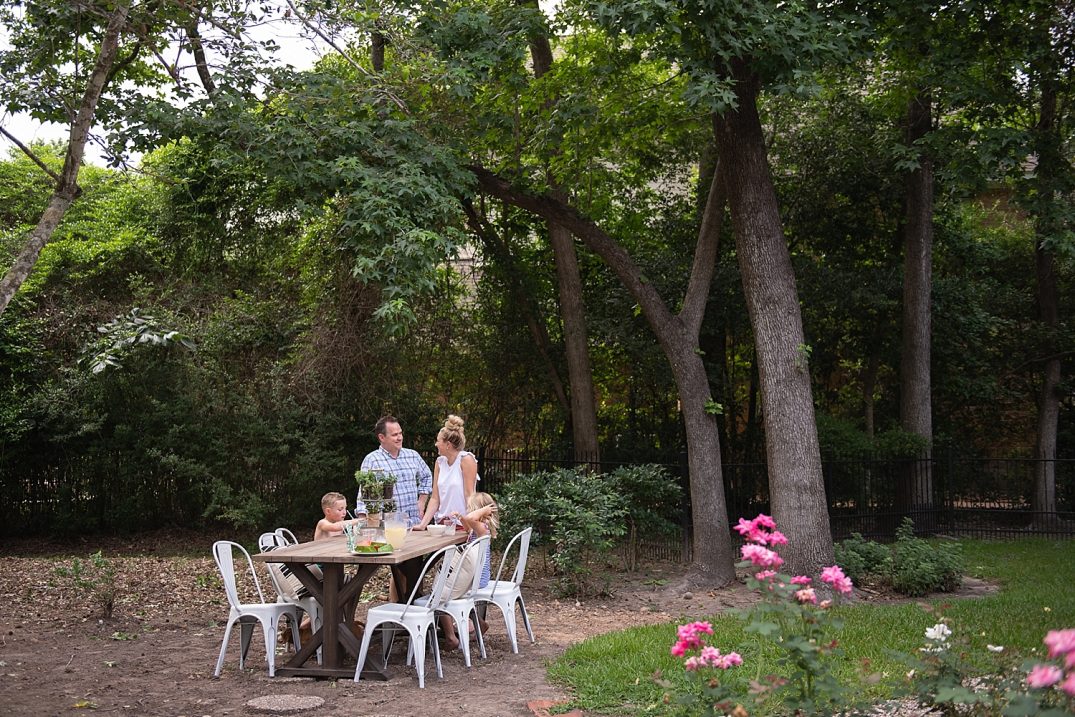 Patio Makeover Sources: (At Home items must be purchased in stores, check your local store for inventory) 
Table // Chairs // Chaise Pads // Faux Herbs // Pillows // Umbrella // Umbrella Stand
Outfits: 
Ashley: TOP // SHORTS // SANDALS
Reagan: SWIMSUIT
Teddy: SWIM TRUNKS
We are truly thrilled with this patio makeover and little updates in our yard! It's so great to finally have a dining area out there and I foresee lots of outdoor diner parties in our near future! Do you need a patio refresh in your life?
I might be able to help out with that! At Home and I are doing a little giveaway for you! Enter to win a $1000 shopping spree to fancy up your own patio with ME at our local At Home store. The catch to this is that you need to be local to Houston to win (or at least willing to travel to Houston to shop with me!). We will meet up at my local At Home (The Woodlands) and spruce up your patio!! I'm seriously so excited about this! We will have so much fun!!! Enter to win below! After winner is announced, the shopping spree will take place sometime in July!
a Rafflecopter giveaway

SaveSave
SaveSave
SaveSave
SaveSave