Since we moved into the new house, I am so anxious to unpack and finish rooms. Lots of items that I like, are on backorder or have a 6-8 week turnaround time. Then, there are the items that I just can't decide on. I don't want to rush on anything before deciding if I love it, yet, I have no patience and would like it all finished asap! Ha! But alas, that's not realistic.
I decided to start making inspiration boards for the rooms that I am working on. That way, I can see all the items that I like, together in one place and I can get a feel for how they look together.
With summer on the horizon, our covered patio needed some TLC. We have been sitting on beach chairs out there lately. Ha! We had patio furniture that I loved, in our old yard, but the people who bought our house, wanted to buy it, so we sold it. Since we moved, I have been searching for something that I loved just as much as the old stuff. At this point, we are not completely sure what we are doing in our backyard, so I decided to focus on the covered patio area. I just want an cozy area where we can hang as a family. Where we can have cocktail hour, while watching the little presidents play. A place, we can sit and read and a place to sit and chat with friends when they come over. I am missing our old yard a lot lately. The views, the plants, the flowers and my fruit trees. Those will all come to the new yard in time, I know. But, I think that giving our patio a little TLC, will help me feel like it's home, back there.
I love all things red, white and blue and am doing lots with that color scheme lately, so naturally, I decided to do a star spangled theme on the patio.
Here is my inspiration: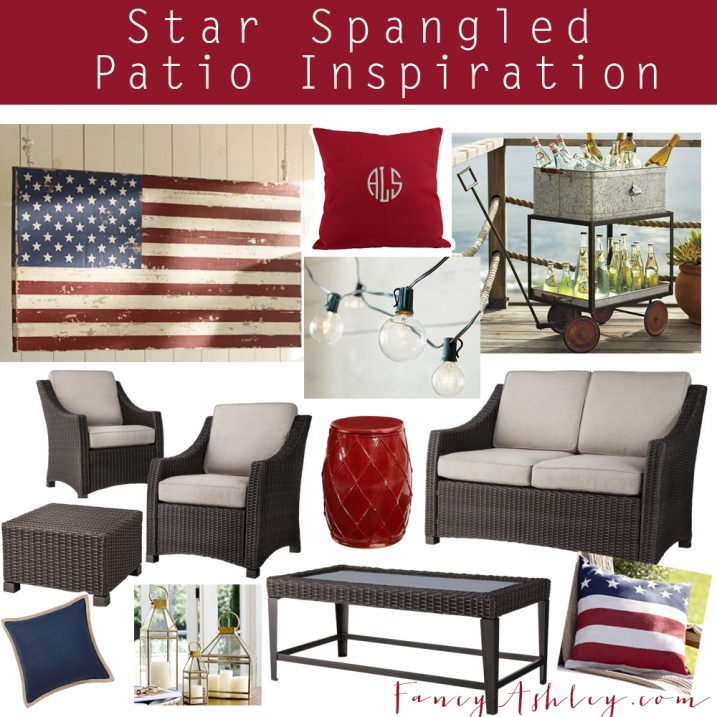 Wooden Painted Flag //Monogram Pillow // Globe Lights // Party Bucket Wagon // Chairs // Ottoman // Ceramic Stool //Love Seat //Pillow // Brass Lanterns // Coffee Table //Flag Pillow
I am super excited to see this area come to life and I am hoping to finish it before it gets way too hot and humid to sit outside and enjoy it! Haha!