Hi friends and happy weekend! Due to an overwhelming request and response, here is the pizza dough recipe that I have been making for years! It makes the best and the most perfect pizza dough and crust! I'm also sharing all of the items that you need to create the perfect pizza night at your own house!
The Best Pizza Dough Recipe
Ingredients:
½ cup warm water
1 envelope instant yeast (I use this rapid rise yeast)
1 ¼ cups water at room temperature
2 tbsp. extra-virgin olive oil
4 cups bread flour-plus more for dusting the peel (I use this bread flour)
1 ½ tsp. salt (I like to use Kosher Salt)
olive oil or non-stick cooking spray for greasing the bowl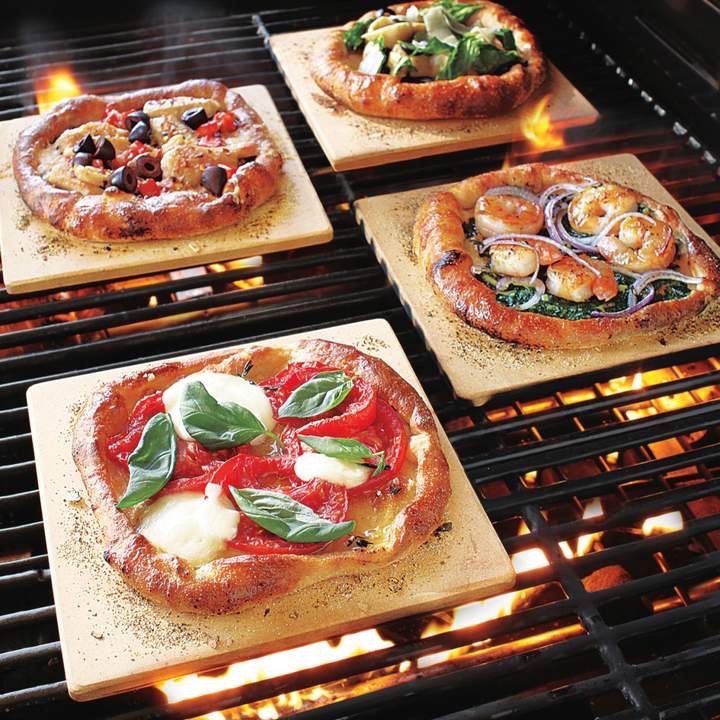 *photo from website listing
Pizza Dough Directions
Measure the warm water into a 2-cup liquid measuring cup.  Sprinkle in the yeast and let stand until the yeast dissolves and swells- usually about 5. minutes.  Add the room temperature water and 2 tbsp of oil and stir to combine ingredients.
Place the flour and salt in the bowl of a stand mixer fitted with the paddle or dough hook attachment. Mix the dry ingredients at a low speed.  Slowly add the liquid ingredients and continue to mix at low speed until a ball of dough forms. If you're not using the dough hook at this point, stop the mixer and add on the dough hook. This attachment is key!  Let the dough hook knead  the dough until it is smooth and elastic feeling, usually about 5 minutes.  Form the dough into a ball, put it in a deep oiled bowl, and cover with plastic wrap.  Let rise until doubled in size, about 1 ½ to 2 hours.
After the dough has risen form dough into small dough balls, if using mini pizza stones. You should be able to get 6 or so small dough balls. Or you can get two large dough balls, if using a large pizza stone. Then place them on a floured pizza peel and cover the dough with damp paper towels. Let rest for at least 30 minutes prior to making your pizzas. Freezer tip: At this point, you can wrap each dough ball in Saran Wrap and also place in a freezer ziplock bag if you're wanting to serve at a different time. I will defrost it morning of or day before, in the fridge. 
Preheat your stones in the oven at 500 degrees for at least 30 minutes…this is key for a good crispy crust. Once stones are heated, slide your pizzas onto the stones via your pizza peel. You can bake in the oven or on the grill. Honestly, both are great! We typically do the grill. Even if you grill them, still preheat your stones in the oven.
I just watch the pizzas- each grill, every oven, is different. I'd say around 6-10 minutes, but again, just keep watch on the pizzas as they cook!
What you need for your next pizza night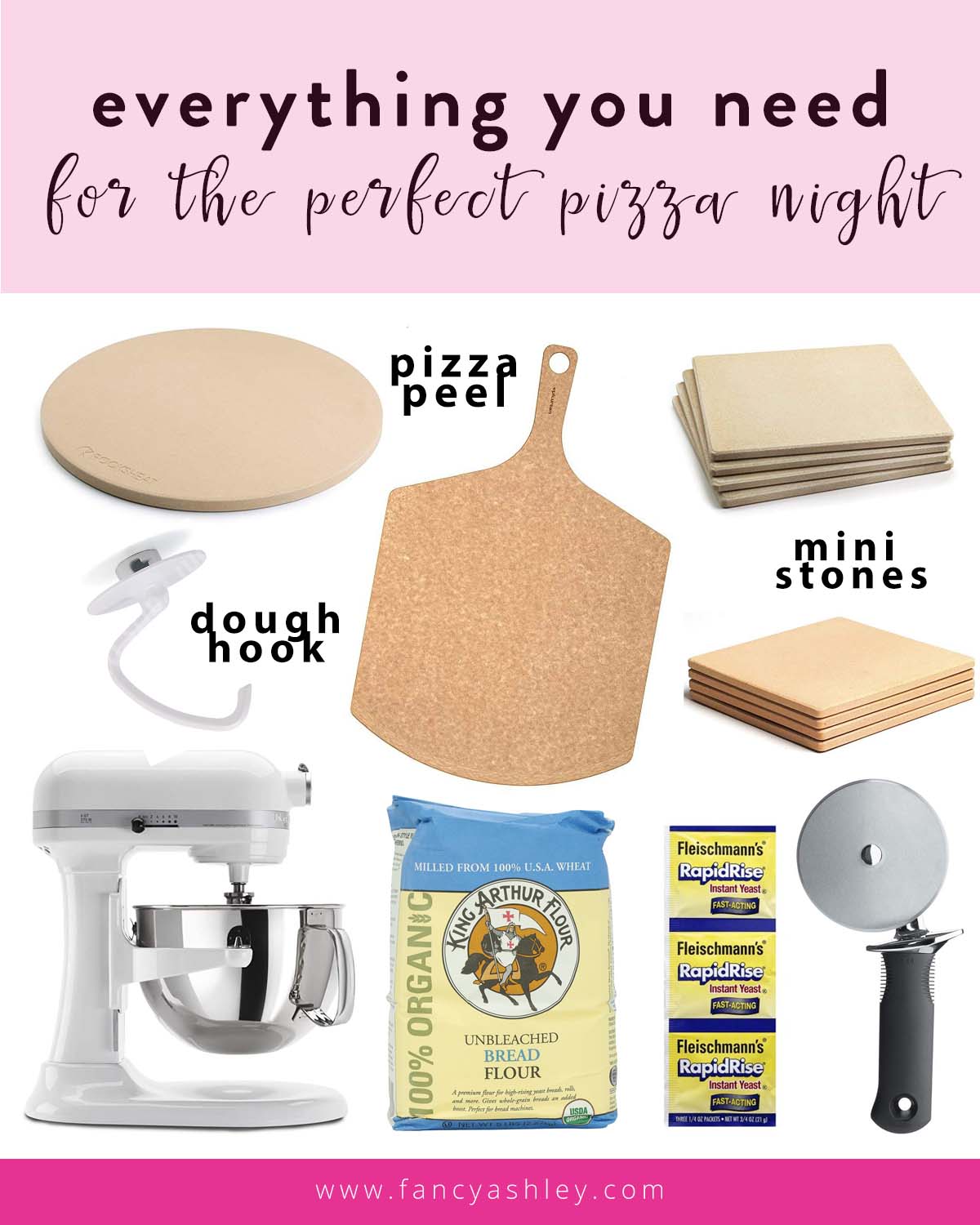 PIZZA STONE // PIZZA PEEL // MINI PIZZA STONES // MINI PIZZA STONES
MIXER // BREAD FLOUR // YEAST // PIZZA CUTTER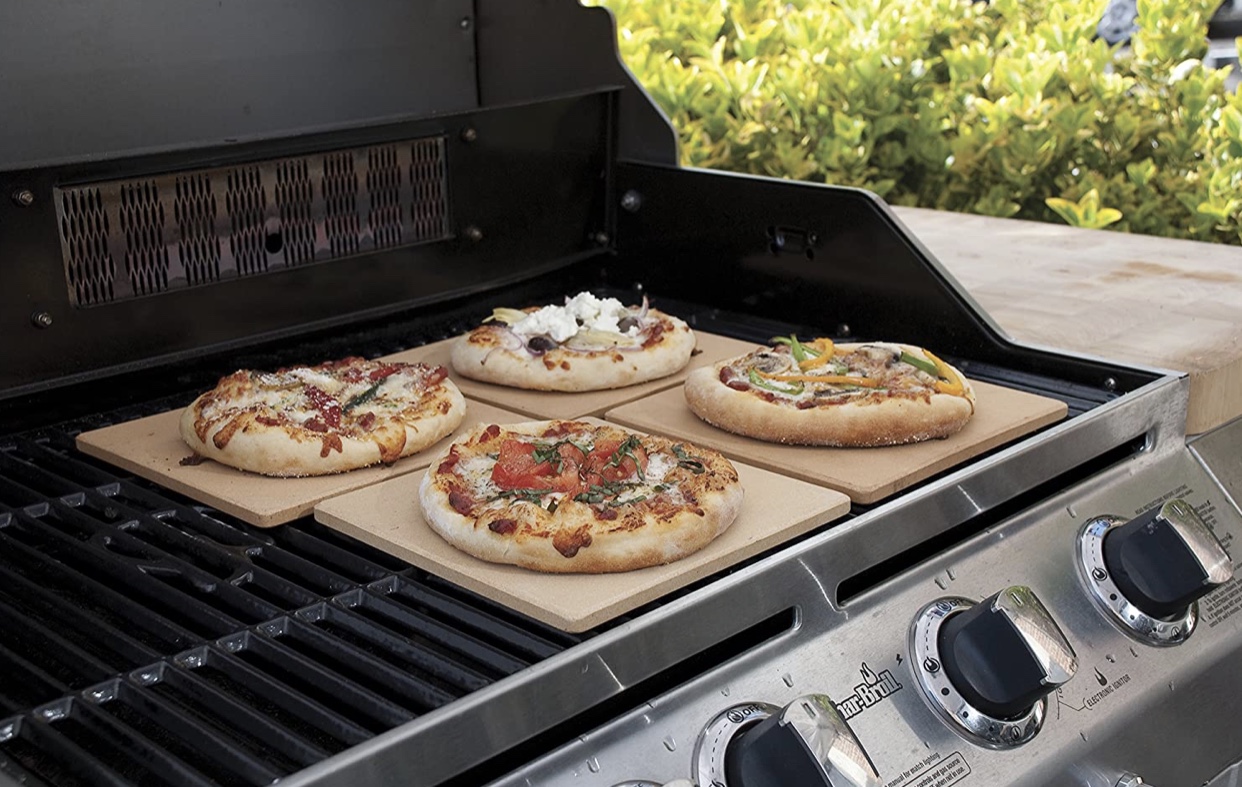 *photo from website listing
I hope you'll try this recipe! It is the best! We've been making it, going on ten years now! Happy weekend, friends! Hope it's a great one! XO!
If you liked this post, you'll love Energy Bites Recipe and The Best Margarita Recipe!