Happy Wednesday, Friends! It's that time of year to choose which fall pie recipes will grace your table. There is something about these fall months that just call for warm, fresh, out-of-the-oven pies. At our house, apple pie is our go-to and thanks to Walmart we can get, not only essentials for baking, but fall tabletop decor too!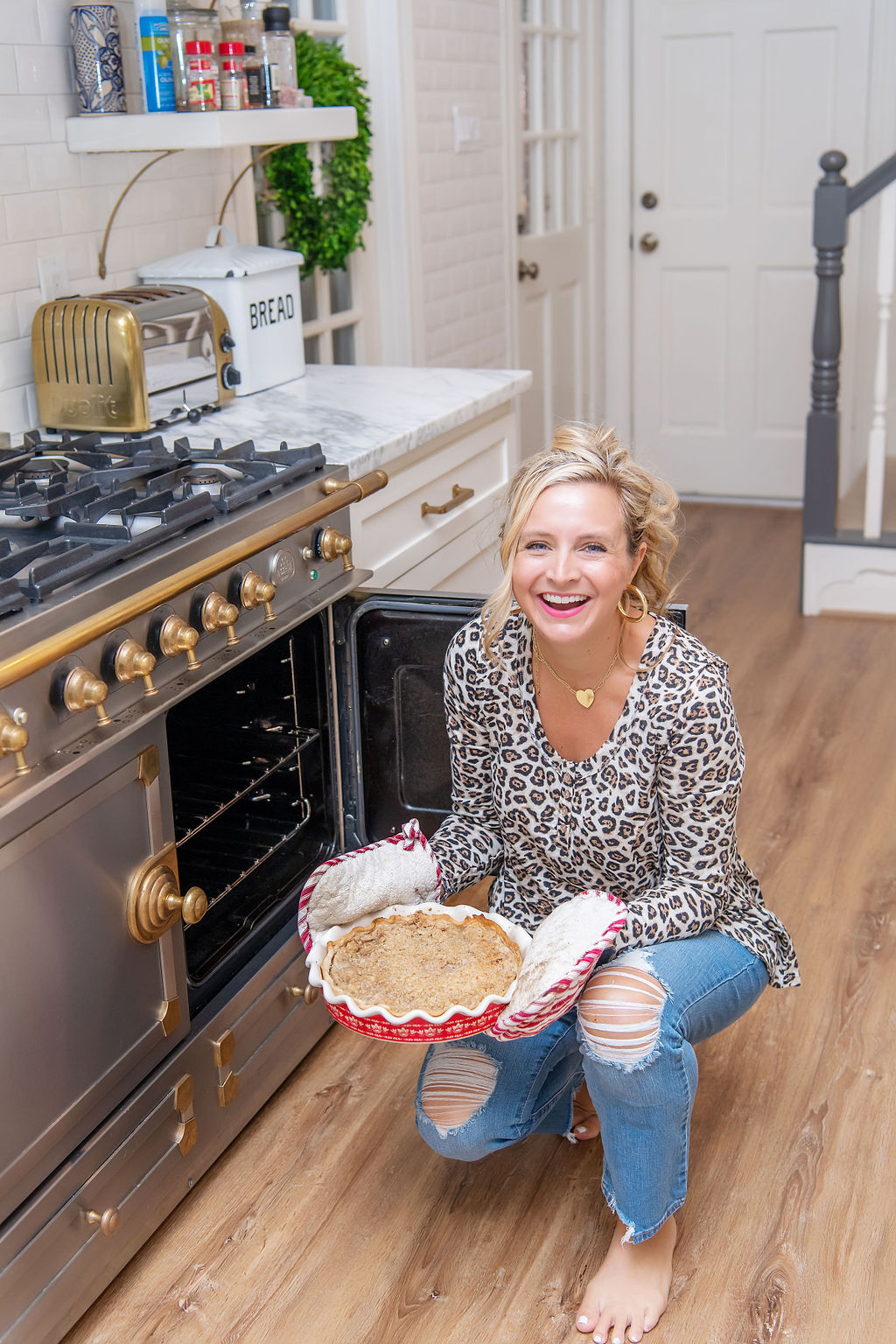 SHIRT | JEANS | PIE PLATE | OVEN MITS (SIMILAR)

PREP SET | SILVERWARE (SIMILAR) | TEA TOWEL (SIMILAR ) | PLATE | LEMON SQUEEZER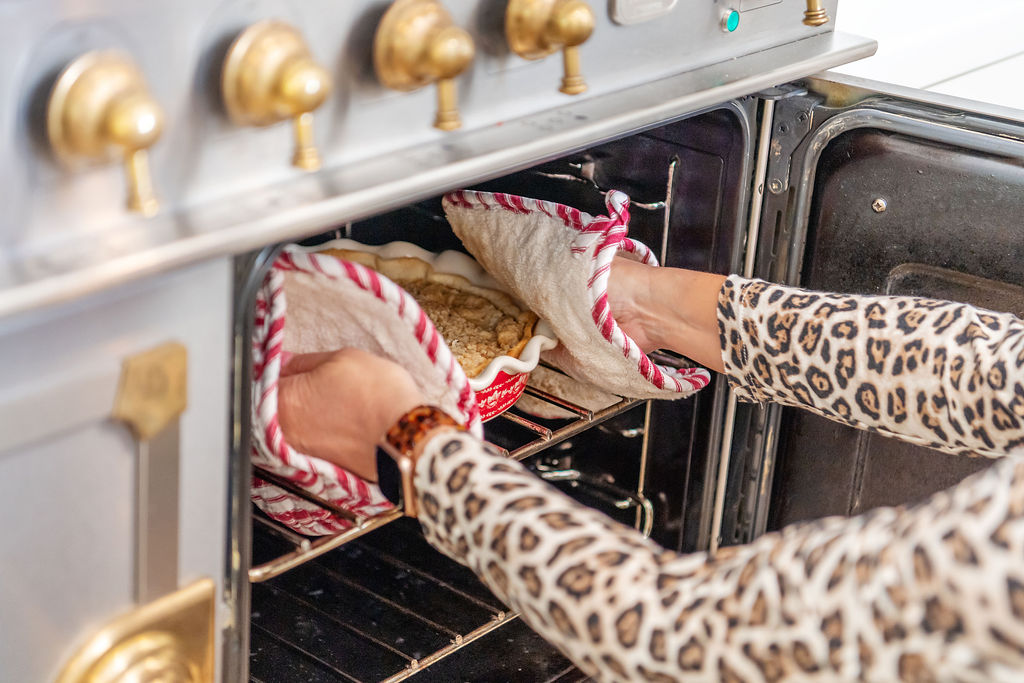 SHIRT | JEANS | PIE PLATE | POT HOLDERS

When planning desserts for a holiday or get together I could honestly skip the cake. Pie, on the other hand, is my kind of dessert. Sweet and warm fruit with a flaky crust, topped with whipped cream or ice cream… or both! In my option, there is no better dessert! This apple pie recipe is so easy it'll become your favorite too! Now tell me, are you team cake or team pie?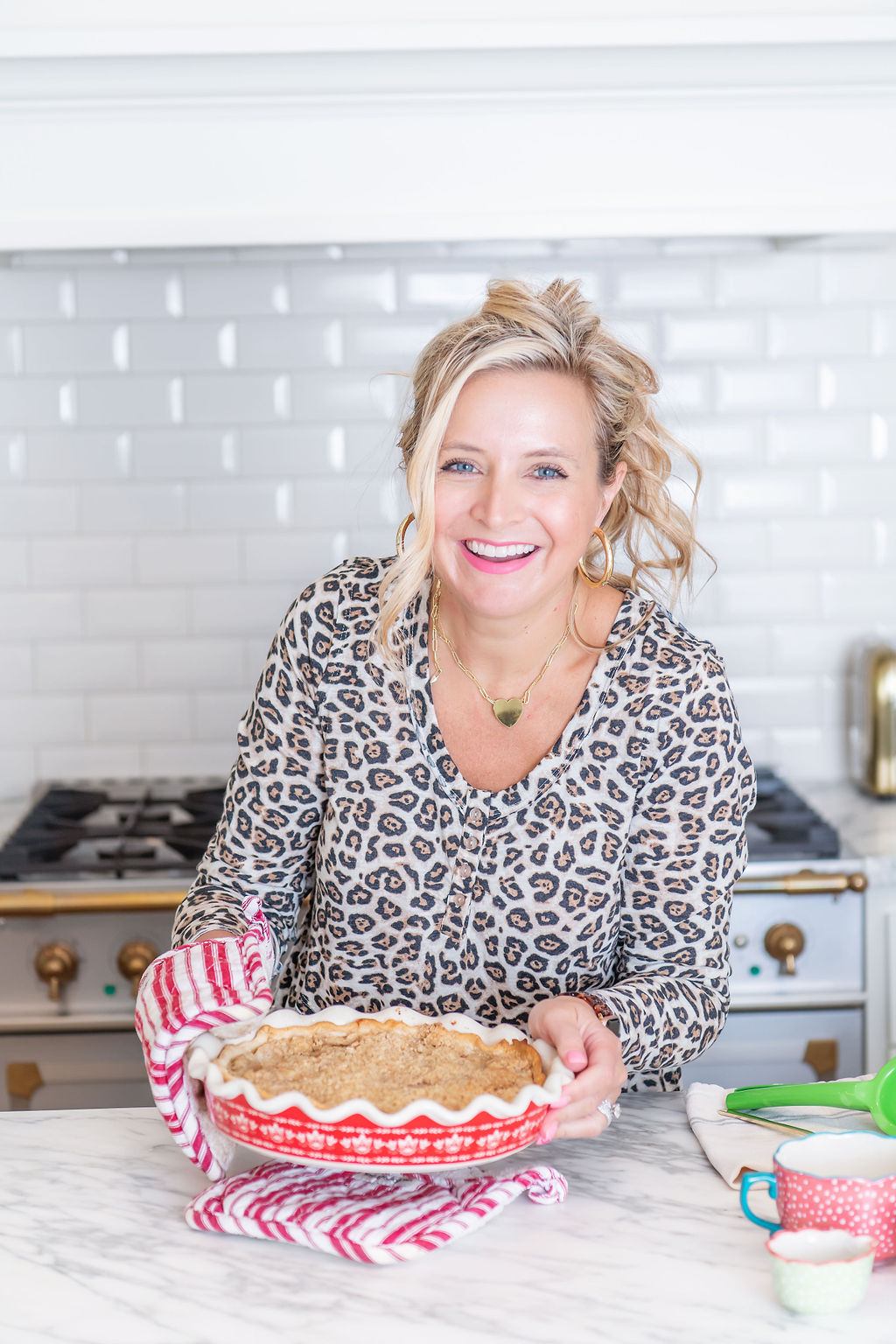 SHIRT | PIE PLATE | POT HOLDER | TEA TOWEL (SIMILAR) | PREP SET | LEMON SQUEEZER | SPOON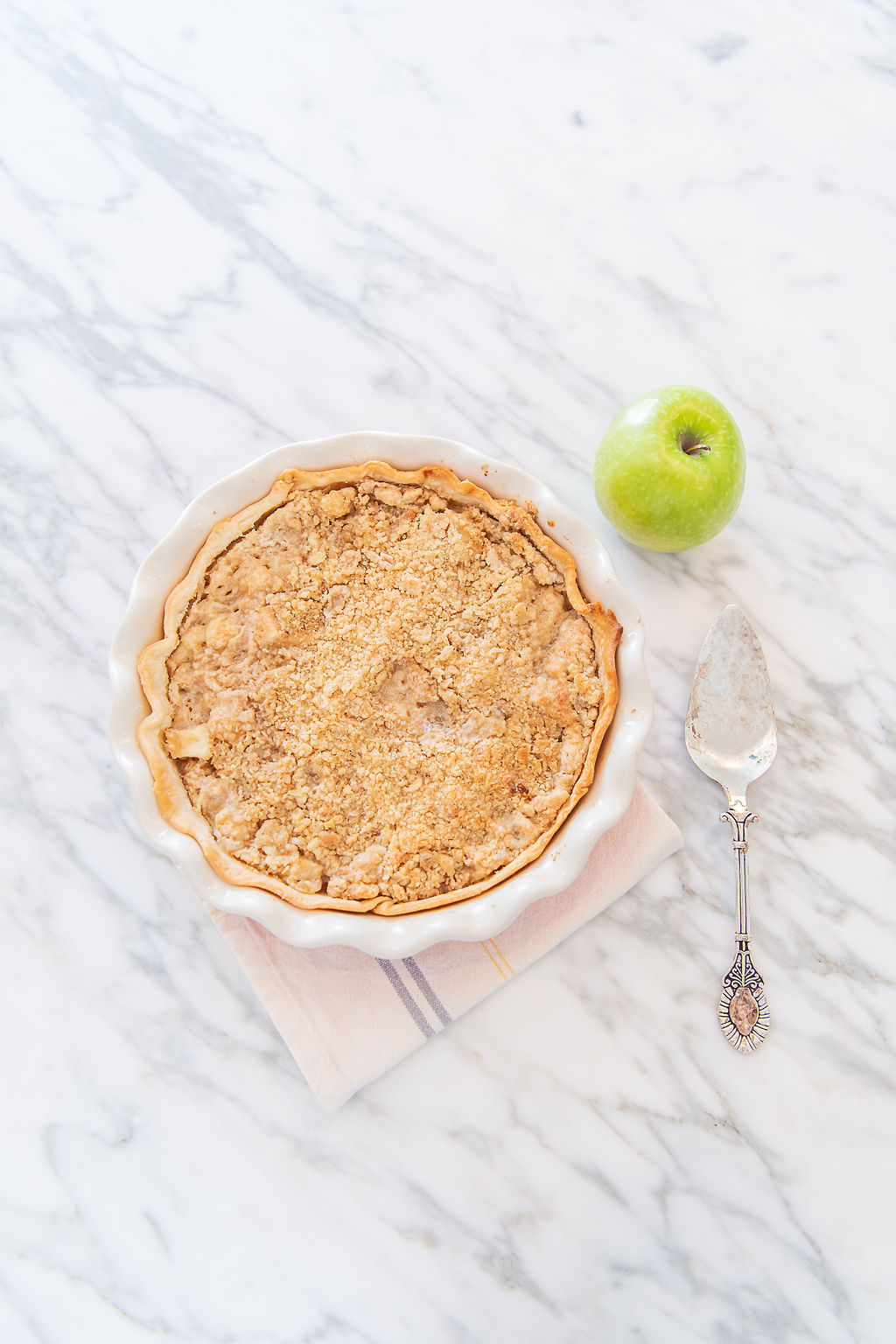 PIE PLATE | TEA TOWEL | PIE KNIFE

The Easiest Apple Pie Recipe
(adapted from Betty Crocker Dutch Apple Pie Recipe)
Crust:
I like to use a pre-made pie crust! In this case, it's just easier and faster, at least in my opinion. If you have the time and want to make your own crust, you do you.
Filling:
4-5 green apples cut into cubes
1/2 cup granulated sugar
1/4cup all-purpose flour (can substitute a cup for cup gluten free flour)
1/4 teaspoon ground cinnamon
1 tablespoon lemon juice

Topping:
1/2 cup unsalted butter, softened
1 cup all-purpose flour
2/3 cup packed brown sugar
1 tablespoon granulated sugar

Directions:
-Heat oven to 400°F.

-In large bowl, toss Filling ingredients. Pour into pie plate. Make sure apples are evenly distributed.
-In medium bowl, use a spoon or fingers to mix butter, 1 cup flour and the brown sugar until a crumb forms. Sprinkle evenly over top of pie. Sprinkle 1 tablespoon granulated sugar on top.
-Bake 45 to 55 minutes or until pie crust and crumb topping are deep golden brown and filling begins to bubble. Transfer to cooling rack to cool.
Enjoy!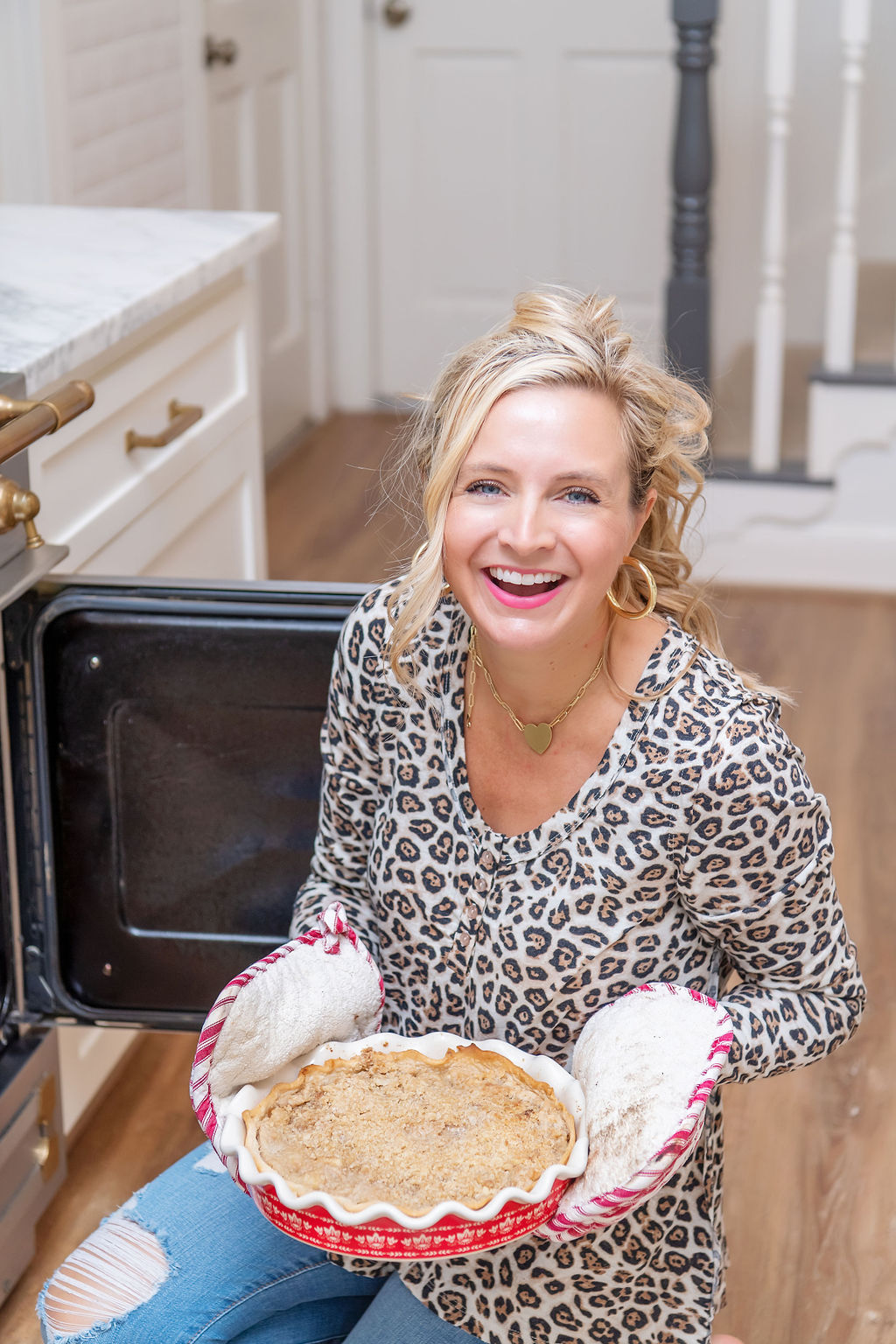 SHIRT | JEANS | PIE PLATE | POT HOLDERS

If you love nonstick pans, this SET is fab and such a great one! I love anything with a golden touch, it gives it a more modern look. This set from Pioneer Woman are my favorite!
Walmart also has so many good fall decor pieces right now! I've rounded up my favorites for you. I love that I can get my baking essentials and home decor all in one place at a reasonable price. Now is a great time to stock up on kitchen essentials before the holidays hit and we are too busy to think about what we have and what we need to pick up.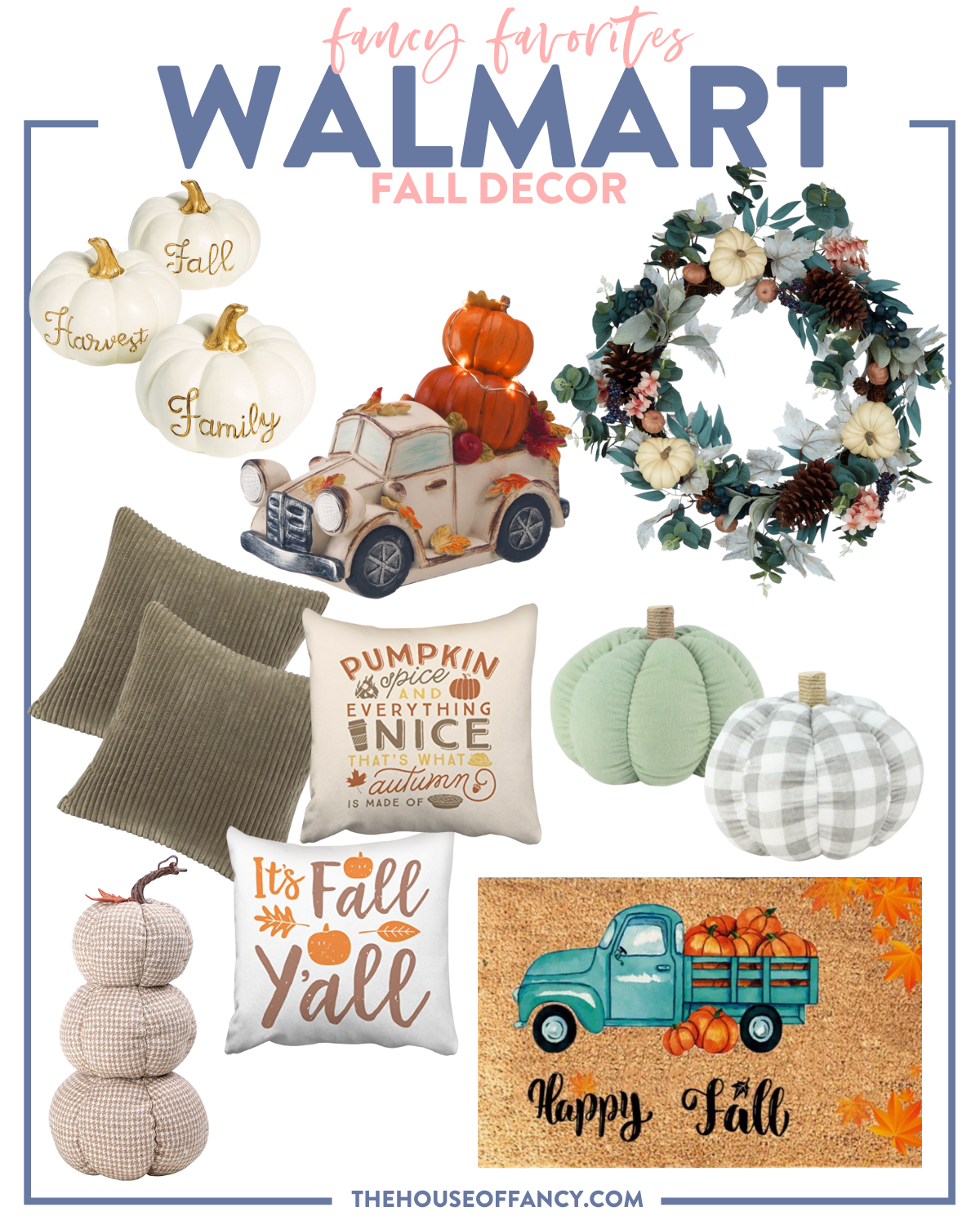 WHITE PUMPKINS | TRUCK | WREATH | OLIVE PILLOWS | PUMPKIN PILLOW | FLANNEL PUMPKINS | STACKED PUMPKINS | FALL PILLOW | FALL DOORMAT

If you loved this post, be sure to check out the Walmart section on the blog where I feature the very best finds, all from Walmart! Have a fab day, friends! XOXO
Thank you so much to Walmart for sponsoring today's blog post! I love being able to partner with brands I trust, to share products I truly love!