Happy Tuesday, Friends! I've had a lot of requests to chat more on my favorite couch since they are currently on sale. People are asking why I love them so much! And I love these couches so much that I have THREE of them! Yes, you read that correctly! I have three of the same couch! When I say this is a must have couch, I mean that! Not only is it comfortable and awesome for kids and pets, but you can't beat the price point, whether it's on sale or not! And as I write this post, they are 20% off, so if you're on the fence about grabbing one or a couple, now is the time! I will forever think they are the most comfortable and affordable couches! The Ava Sofa comes in two different sizes (86″ and 93″). Let me tell you some more reasons why I love this couch!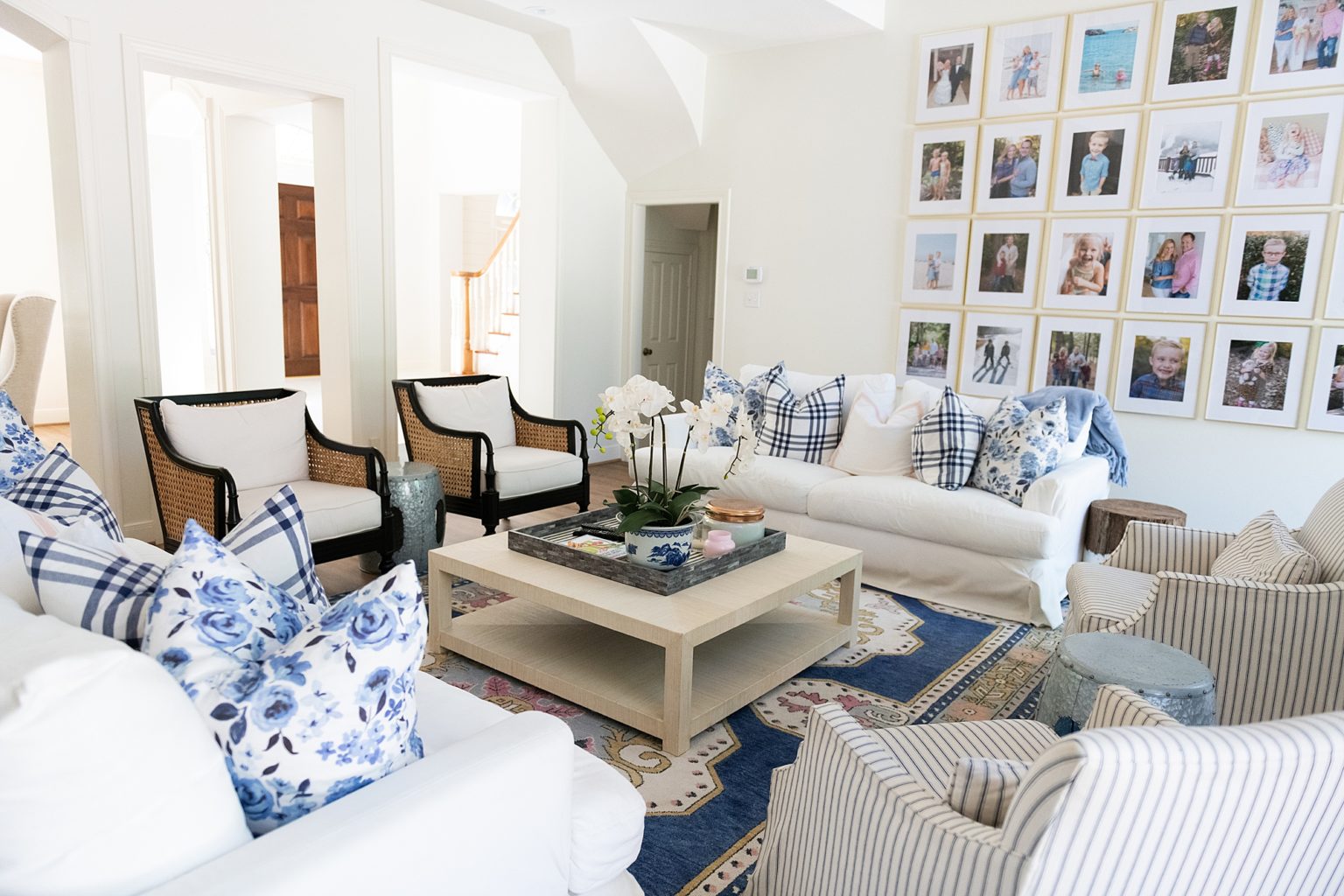 RUG (what I have) | FLAT WEAVE RUG | COUCHES | SWIVEL GLIDERS | CANE CHAIR | ACCENT TABLE (SIMILAR) | PLAID PILLOW | FLORAL PILLOW | BLUSH TRIM PILLOW | PICTURE FRAMES

As I mentioned, these couches are cozy, comfy and perfect napping couches, as I call them! They come in other colors, but I am partial to white in our homes. People ask us how we keep white couches clean with kids and three dogs and I try to do no food on the couches. But, that being said, that is what I love about a slipcover, they can be cleaned. Ironically, the biggest spill we've had on one of these couches was from me! Ha! I spilled a FULL cup of coffee on it and it went EVERYWHERE. So, spills happen, but it's also performance fabric, which I love. If I didn't have white, I think I would do the navy. I really love that color, too. It probably masks spills and dog slobber a little better, too.
A few things to note:
Livesmart® Performance Fabric Slipcovers are moisture-repellent and designed for heavy-duty wear
Soft feather-and-foam fill is ideal for serious relaxing
Down-blend-wrapped cushions for a softer feel
8-way hand-tied suspension: highest quality available for maximum flexibility, support, and comfort (great value)
Interwoven synthetic webbing strips provide cushion support
Strong, corner-blocked, kiln-dried hardwood frames for lasting sturdiness
Four self-fabric throw pillows included (I don't use these on ours, but you can)
Slipcovers packaged separately; customer-applied (you put them on once it's delivered)
Spot clean slipcovers as needed; dry clean for overall soiling *I do wash mine on cold and hang to dry but I cannot recommend this since it's not what they recommend, but I know you guys know I do this. So if you choose to be a rebel like me, do it at your own risk! Ha! I also recommend FOLEX for spot cleaning.
RUG (what I have) | FLAT WEAVE RUG | COUCHES | SWIVEL GLIDERS | CANE CHAIR | ACCENT TABLE (SIMILAR) | PLAID PILLOW | FLORAL PILLOW | BLUSH TRIM PILLOW | PICTURE FRAMES

Our fabric color is pearl, but there are five other colors to pick from. You can even order a swatch if you are unsure about the color. The slipcovers come off so you can easily clean them if you do have pets, kids or get a little too excited watching The Bachelor and spill some wine. Putting the slipcovers on is a workout and I promise it gets easier each time you do it! I show the process a lot over on Instagram! If you're looking for an cost effective, comfy and family friendly couch, I can tell you, this couch is it! I truly love them and I always say, no matter where I end up when I move out of this house, you better believe I'll always have an Ava Sofa or two in each house moving forward! I love a slipcovered couch and these are just the best…in my opinion! Have I convinced you to buy one of these couches over the years or today? Let us know in the comments! Have a fab day, friends! XOXO
If you liked this post and want to see more details of our family room, check out these posts!
Family Room Reveal
Family Room Before and After