Hi friends and happy Monday and happy August! I know I say it all the time, but I feel like it's true- TIME is FLYING!! I'm excited to be back today with your most loved items from July! As always, this list is made up of my tried and true favorites and I'm thrilled you all loved them, too!
12 Most Shopped Items July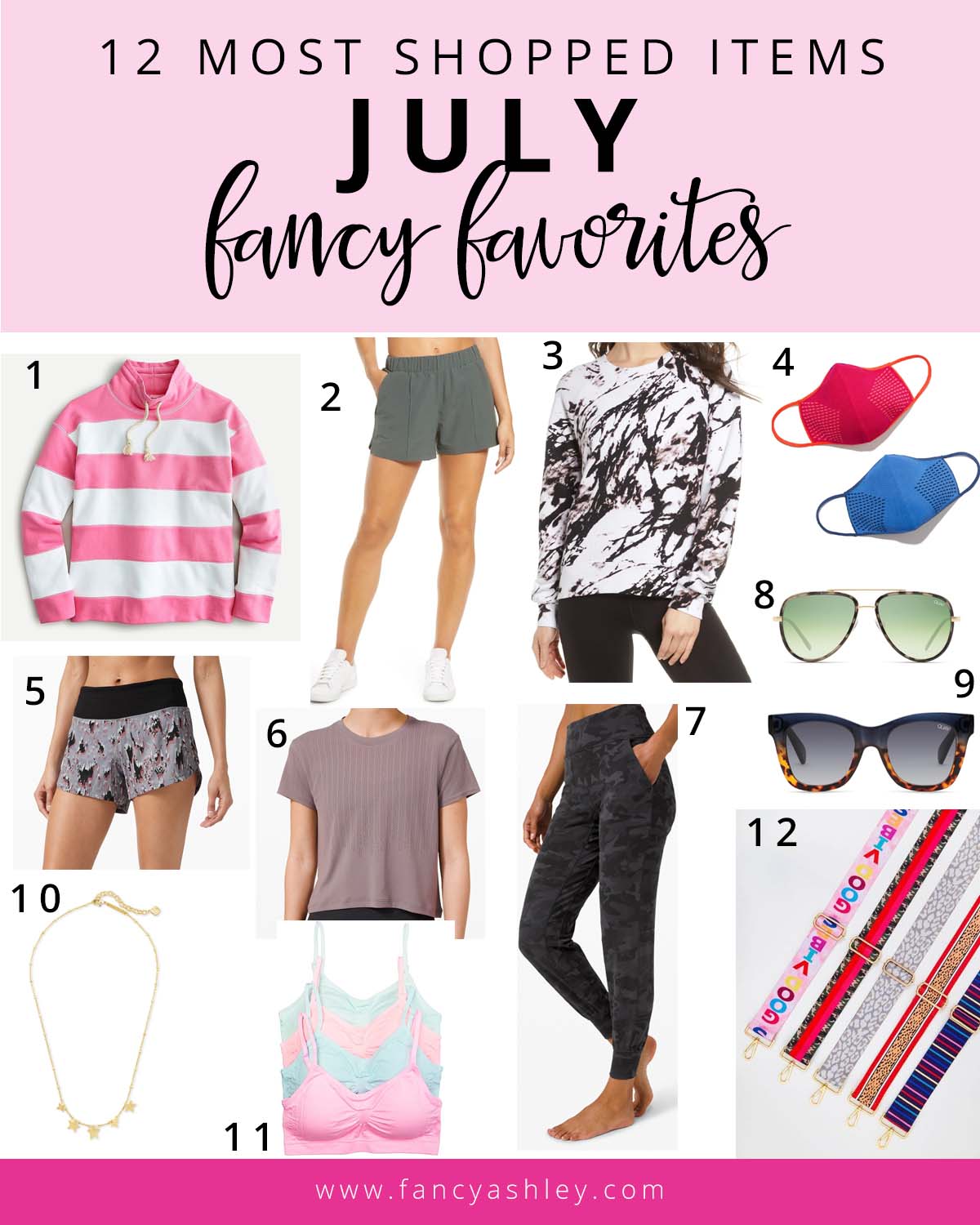 FIVE // SIX // SEVEN // EIGHT // NINE
ONE – Yes, this sweatshirt is a must! It is darling! I loved it so much, I bought it in two colors! It runs small, in my opinion, so I would size up! I did a medium!
TWO – These shorts are awesome! You all loved them and they sold out, were restocked and sold out again in some colors! They are an awesome workout short!
THREE – I love this sweatshirt and you all did, too! It's so fun! I sized up to a medium for a more relaxed fit!
FOUR – These are some of my favorite masks! Those of you who ordered these, agree with me! They are breathable and cute, too!
FIVE – Another pair of workout shorts- can you tell I'm living in workout gear lately? Desperate to get my quarantine pounds off! These shorts are great! Again, size up, I do an 8 in these! They run small.
SIX – A favorite two months in a row! These tees are perfection for working out! I have them in most of the colors now!
SEVEN – I love a good jogger and couldn't resist the leopard print and camo print version of these! Again, size up! They are great for travel, lounge and working out.
EIGHT – My favorite glasses! I have these in all the colors and they are always my go to!
NINE – Another favorite! I have worn these for years and loved this gradient color!
TEN – My favorite necklace- the one I hardly ever take off! This one is so great! I love stars and just love this for daily wear and it's also fun to layer.
ELEVEN – These bras are like loungewear in bra form! I love them and wore them a ton on our trip.
TWELVE – My purse strap that I designed was a favorite! I loved how my stripes could take you from summer into fall! We still have a few left!!
Are any of these top 12 items, your new favorites? I'd love to hear in the comments! See you back here tomorrow with my first #NSALE post of the sale!
Have a wonderful day! XO!
If you liked this post, you'll love 12 Most Shopped Items in June and Easy Chicken Salad Recipe!