Hi friends and happy Monday! I hope all is well where you are! We are in Southern California at the beach and enjoying a little change of scenery. I am always happier by the ocean. It's funny how that happens right? The waves crashing is just so peaceful to me. As my kids get older, our beach essentials change yearly. I always like to provide you with an up to date look at our favorites! Take a peek at our current beach essentials!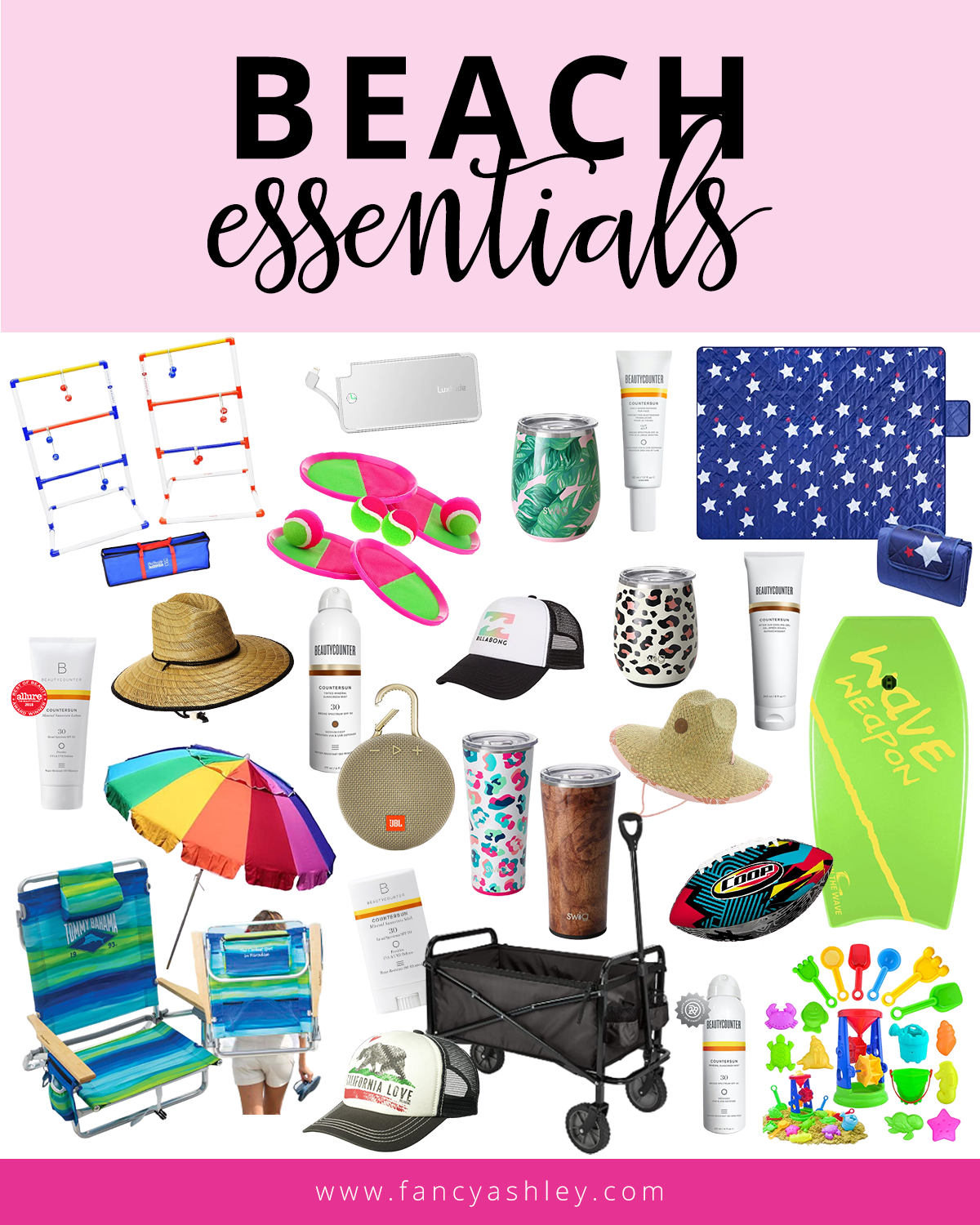 GAME // CHARGER // DRINK CUP // FACE SUNSCREEN // BEACH BLANKET
SUNSCREEN // HAT // GAME // TINTED SUNSCREEN // HAT // CUP // AFTER SUN GEL // BOARD
UMBRELLA // SPEAKER // TUMBLER // HAT // FOOTBALL
CHAIR // SUNSCREEN STICK // HAT (girl's size) // BEACH WAGON // SPRAY SUNSCREEN // SAND TOYS
GAME – My kids love this game! The people a few blocks down had it out last year and invited my kids to play with it anytime they wanted and since then, its one of their favorite beach/yard games!
CHARGER – Our fave portable charger for our phones! These are THE BEST because the cord is attached to the device!!
DRINK CUP – I've used this cup a ton! Perfect for keeping your rosé or chardy cold!
FACE SUNSCREEN – LOVE this face sunscreen! I've used it daily since I got it! It is lightweight and perfect!!
BEACH BLANKET – These blankets are great for the beach! They fold up into a bag and are waterproof and washable! We love them and used these a TON when our kids were smaller!
SUNSCREEN – More safe and great sunscreen!
HAT – Everyone needs a hat at the beach!!
GAME – This game brings me back to my childhood! So fun!!
TINTED SUNSCREEN – Want an instant airbrush tan while you're at the beach and pool? This stuff is awesome!
HAT – More hats for the whole fam!
CUP – Another great print in this cup! They come in so many colors and prints!
AFTER SUN GEL – This is great for an after sun moisture boost! My kids love this!
BOARD – Boogie boards are so fun for the kids to ride the waves! They love them!
UMBRELLA – A must for the beach when you're still wanting to be out, but need to get out of the sun!
SPEAKER – A speaker is always a great idea! I love that this one can hook onto a chair! Perfect!!
TUMBLER – These are great to fill with water (or whatever else you're drinking)! They help keep my hydrated at the beach and I love that I can close the lid, so no sand gets in!
HAT – I try to always have a hat for each person just in case!
FOOTBALL – Just another fun beach activity!
CHAIR – These chairs are THE BEST! We have had them for years!! They turn into a backpack which is ideal and it makes walking to the beach so much easier! I will never own a different brand beach chair! The kids can carry these, too!
SUNSCREEN STICK – Love this stick for quick swipes on the nose and under eyes!
HAT (girl's size) – Reagan loves this hat! I have the matching HAT!
BEACH WAGON – These wagons are THE BEST! If you have a long walk from house or car to beach or pool, these are the easiest way to do it! Throw everything in and head to your destination! We used this a ton when the kids were little and even last year in Florida when we had a long walk to the beach! These are just great!!
SPRAY SUNSCREEN – Can you tell we use a lot of sunscreen here? Ha!
SAND TOYS – Even at (almost) 9 and 11, they enjoy building sand castles from time to time! I like to have toys just in case!
Besides a good book (I just started this one), is there anything else I'm missing on my beach essentials list?
Have a great day! XO!
If you liked this post, you'll love Road Trip Essentials and 11 Things I'm Loving Right Now!