Do you ever find yourself in a cooking rut?
I do, often.
Do you ever peruse Pinterest (ps if you're not following me on there, you should!) and think "hmmm, this recipe looks good…maybe I'll try it!"??
I do, ALL the time!
Most of the time, I don't actually find the time to try all the recipes that I pin, but there are some lately that have stood out to me, plus a few of my favorites that I wanted to share with you today. They are all "Pinterest Wins" as I call them, because each recipe is so delicious, plus I have found new blogs to look at for recipe inspiration which I LOVE! Also!!! All the recipes that I am sharing are healthy, so that is a huge bonus! Woohoo!
First up is this Lentil Soup from Dinner was Delicious. Most of our things, including kitchen supplies are in storage, while we wait for the new house to be completed. I love to cook and bake, so we don't typically eat out, even half as much as we have lately. One of the items that I do have with me, is my trusty dutch oven, so I am forever searching for recipes that I can cook in it. I came across this soup and It is SOOOOO good and healthy! I often make it on a Monday or a Tuesday and eat it for lunches and/or dinners, throughout the week! Yum! Since I am solo for dinner a few days a week (the little presidents will NOT eat this), I like a meal that keeps on giving. I have learned to appreciate leftovers. There are so many recipes that look great on their site! I am looking forward to trying more soon! *I add sea salt to the veggies while I am sautéing them and also add a good amount to the soup.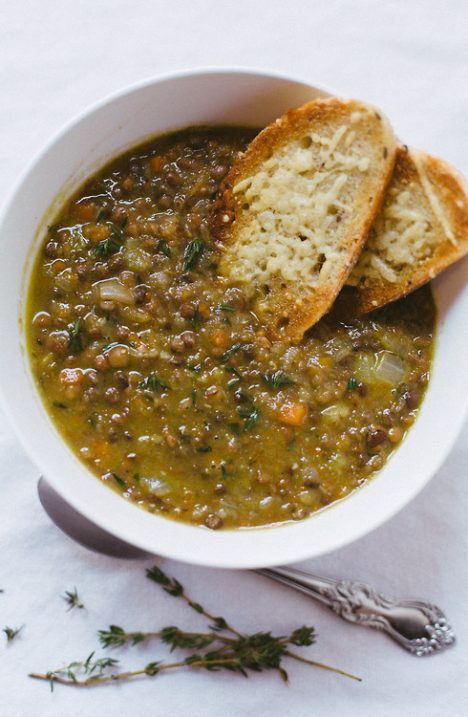 Photo Via
Next up is this Chia Seed Pudding. If you are not a chia seed person yet, you should try them. They are awesome. I incorporate them into my diet daily with my green smoothies and now, with this pudding. I like to add a tablespoon of maple syrup, coconut flakes, slivered almonds and fresh berries to my finished pudding. It is like dessert. Seriously. It's so good. I like to make a big batch and eat it throughout the week. *I do NOT add the salt that the recipe includes. I didn't think it was necessary.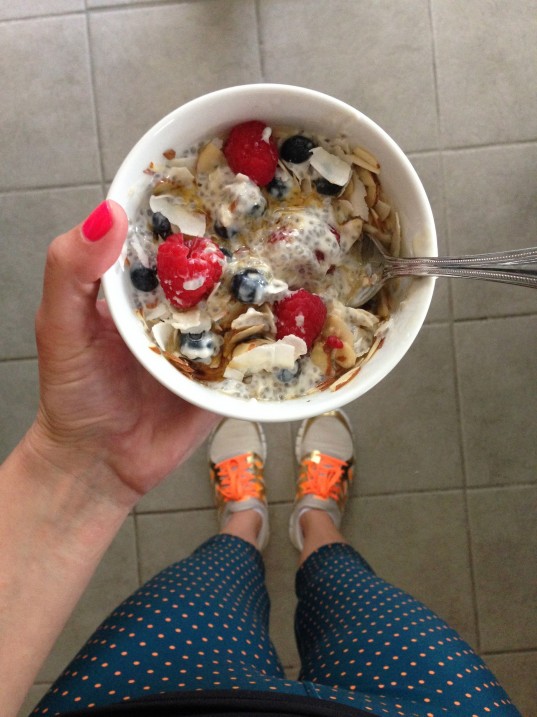 *similar pants here. **shoes are not available anymore, but, checkout these fun alternatives.
Next up are these Quinoa and Kale Patties from Yummy Supper. These are another meal that keeps on giving. I made them on a Tuesday and saved the mix and made another meal of the patties on Wednesday night for dinner. They would have been a perfect addition to a salad at lunchtime as well. I ate 3 patties as my meal with a half an avocado topping them and it was delicious and filling. I loved it!!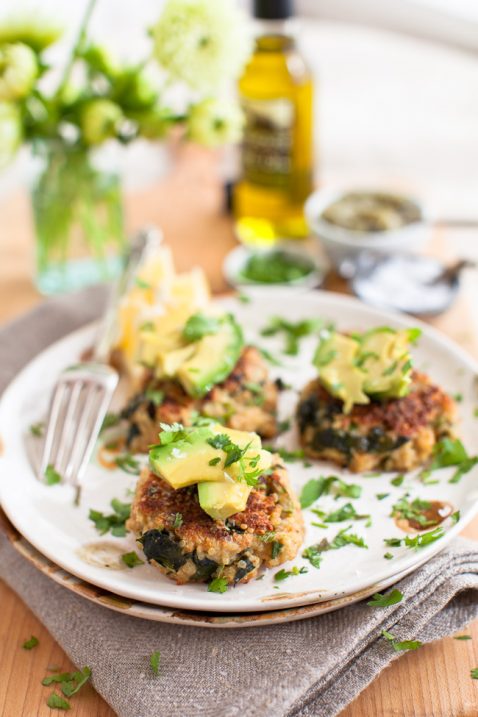 Photo Via
Next up is my green smoothie recipe. I drink this daily. It's a perfect way to add in more of the greens and fruits that we should be eating every day. *I add lemon or wild orange essential oils to my smoothies and LOVE it! You can order any essential oils through me! Email me at ashley@fancyashley.com with questions/to order. I am pretty much obsessed with them and the lemon is perfect in my smoothies or water and the wild orange is delicious in my smoothies. 🙂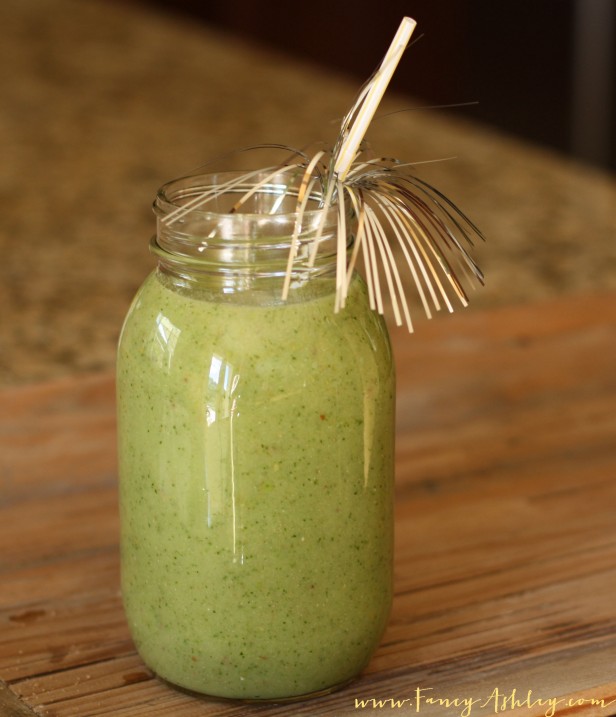 Last, but certainly not least is our beloved energy bites. The recipe is from here, but, we have added a few of our own touches to them…like chis seeds. I am also trying to incorporate these little seeds of gold. 🙂 The little presidents and I love energy bites. They are healthy and delicious. I love to eat one with my coffee before I hit the gym in the mornings. Coffee and peanut butter is such a yummy and perfect combo, isn't it?!!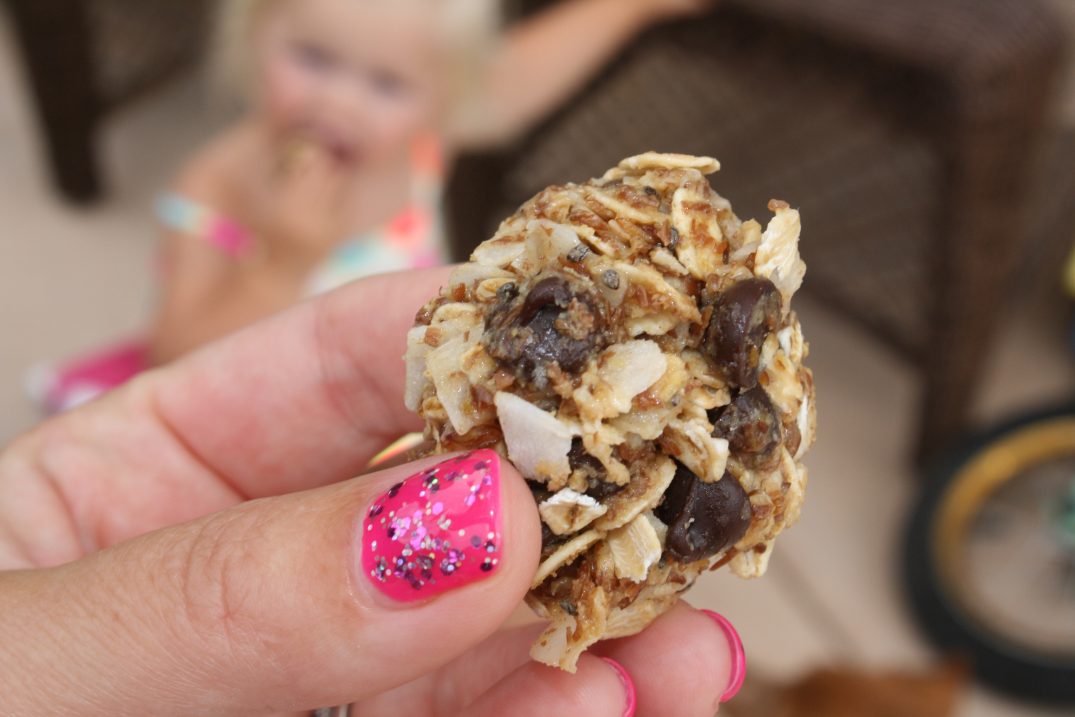 Have you found any new, delicious and healthy recipes lately that you just LOVE? If so, please share!