Yesterday, I shared some of my favorite photos of Teddy's 6th Superhero Party!
Today, I wanted to share some of the details.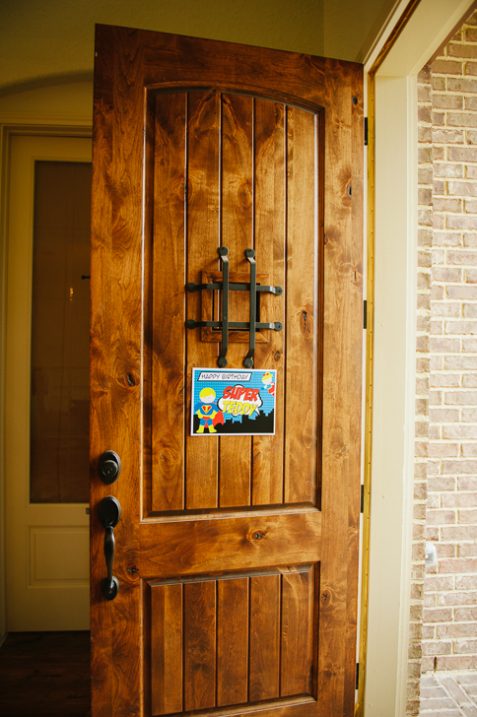 When Teddy decided on a superhero party, I immediately thought pop art superheroes. It's such a fun theme and I just love all the bright colors. We did have a batman balloon and batman piñata, so, there were some characters thrown in for good measure. Because at 6 years old, it's all about the characters! Plus, all the kiddos were encouraged to come dressed as their favorite superheroes, if they had a costume on hand.
I had a vision of what I wanted everything to look like and I'm so lucky to have such a TALENTED friend like Lauren, who helped bring all those visions to life.
I wanted little Teddy and Reagan illustrations on the invite because I just love character illustrations. I decided to add Reagan's character to the invite because it was a boy and girl party and I wanted to get that across upon first glance.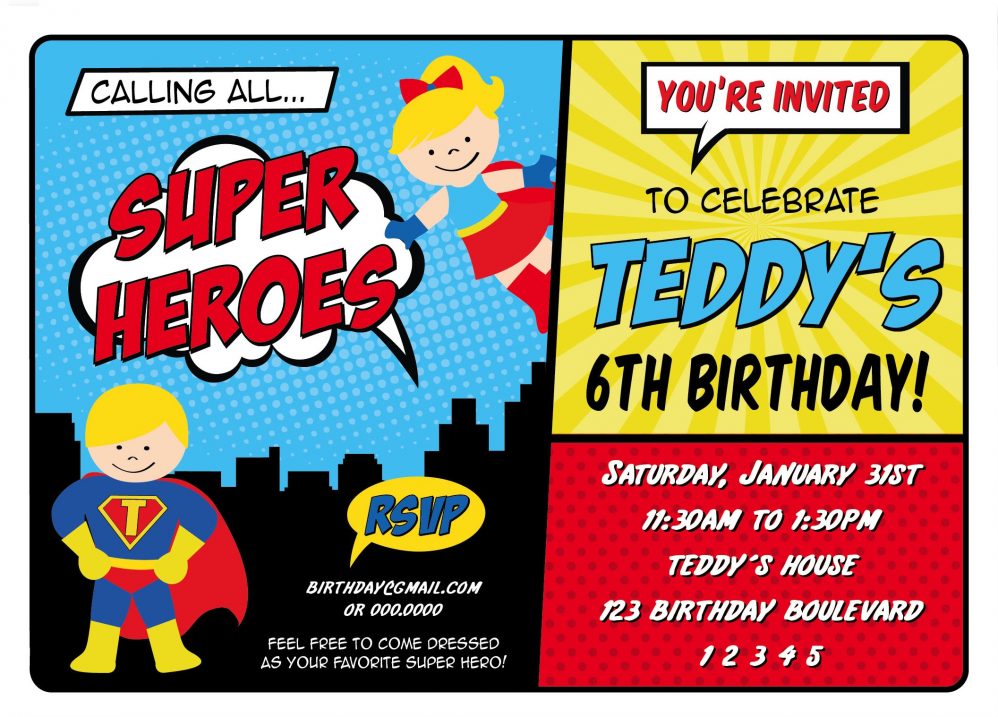 Teddy and I sat and came up with names for all the food and drinks. The "kryptonite nuggets" were a fan favorite. You can't ever go wrong with serving Chick Fil A at a party. It's Teddy's favorite restaurant, so naturally that is what we he requested. Oh and I'm positive that I ate at least 8 chicken mini sandwiches. Those things are my fave.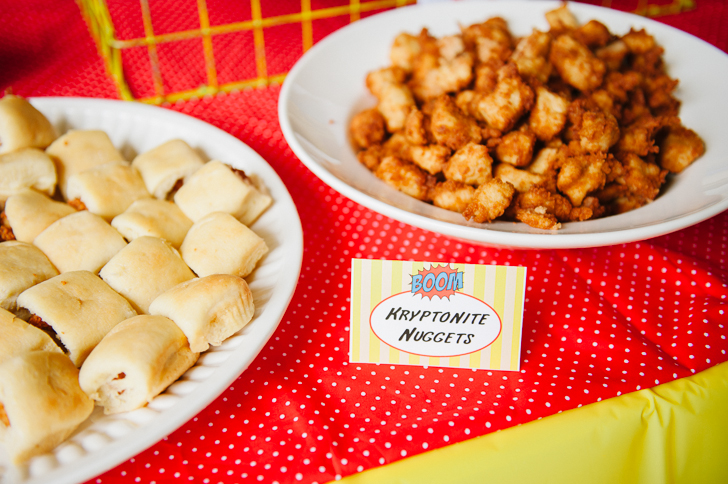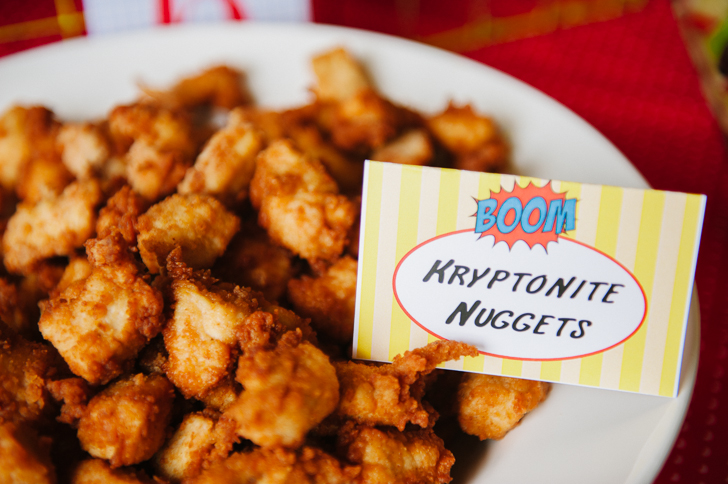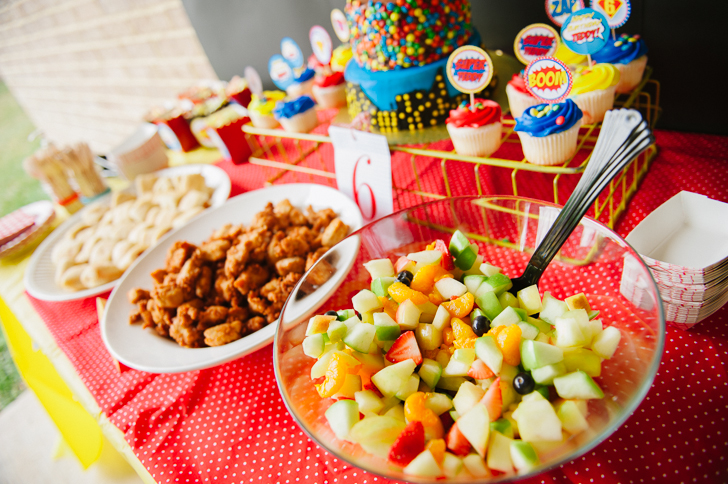 We served "Joker Juice" for the kids (Honest juice pouches) and bottles of water.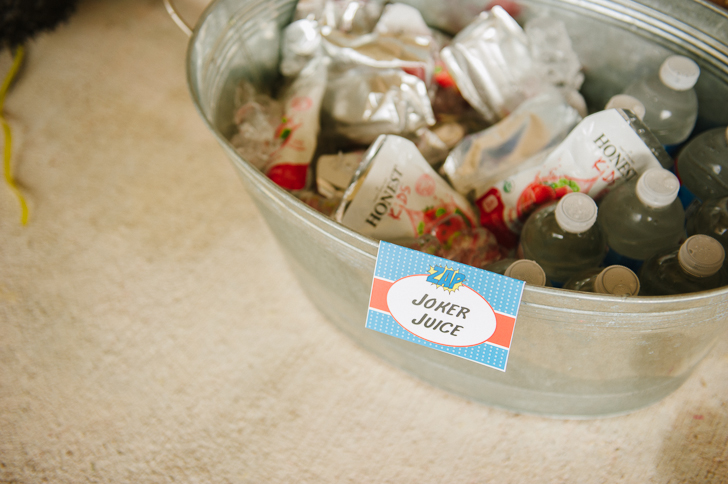 We served "Riddler Juice" aka "Mommy Mimosas" for the adults. I also had beer, waters, sweet tea and lemonade for the parents.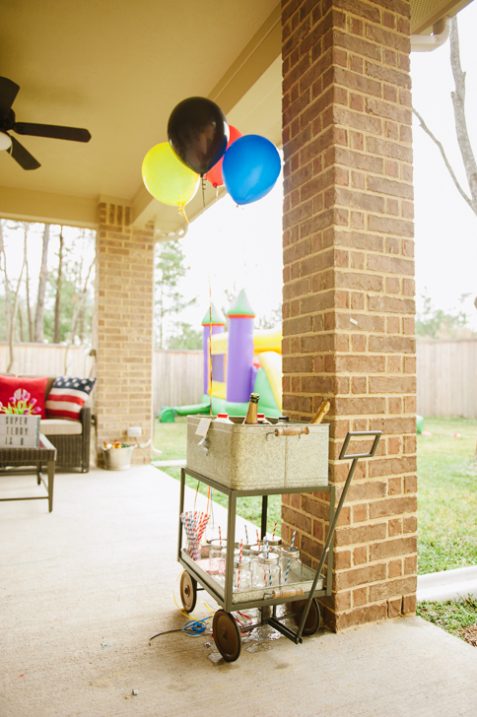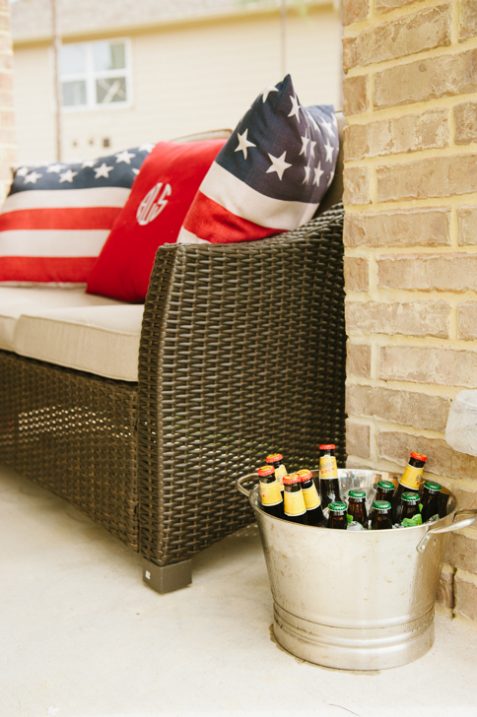 We had pirates booty and veggie sticks for snacks. I ordered mini popcorn boxes and added stickers to all of them. They were the perfect size for little hands to walk around snacking on.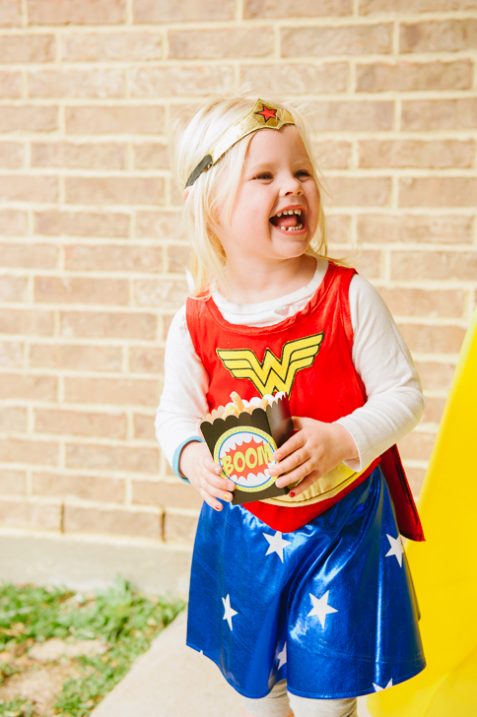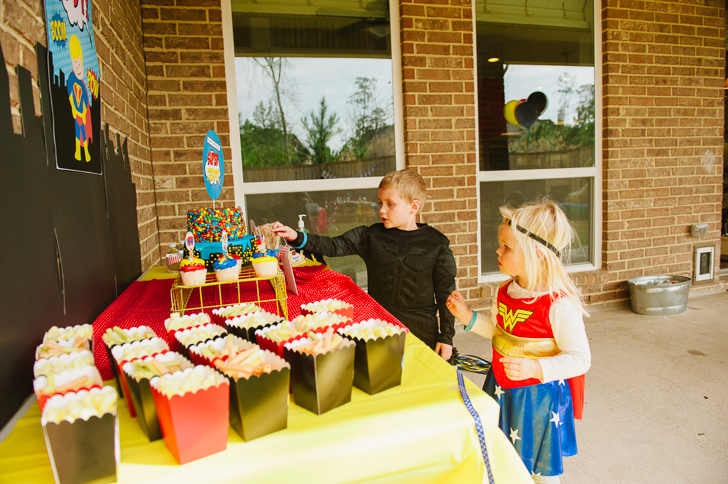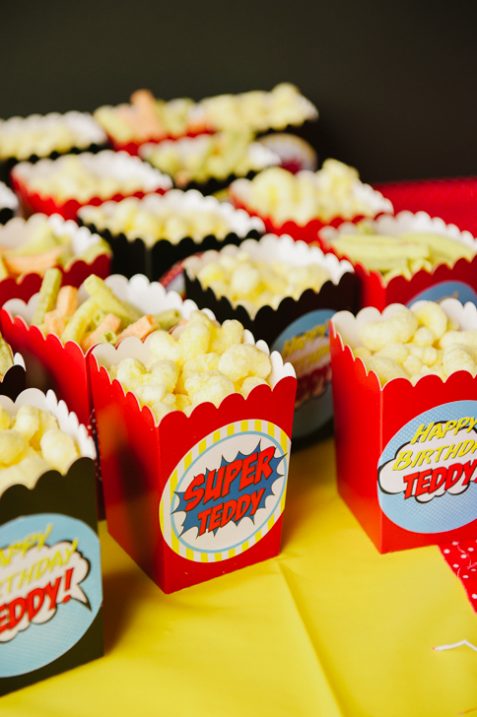 Each kiddos had a mini water bottle at their spot at the tables. I had these water bottle wraps printed onto full sheet label paper and it was so easy to just cut them out and stick them onto the bottles.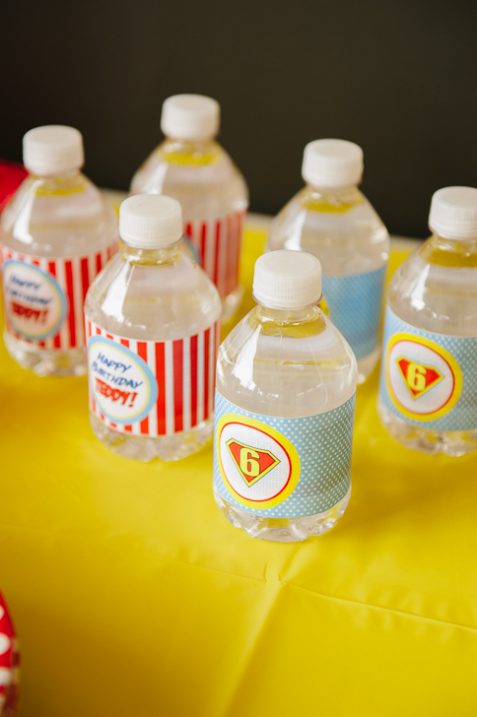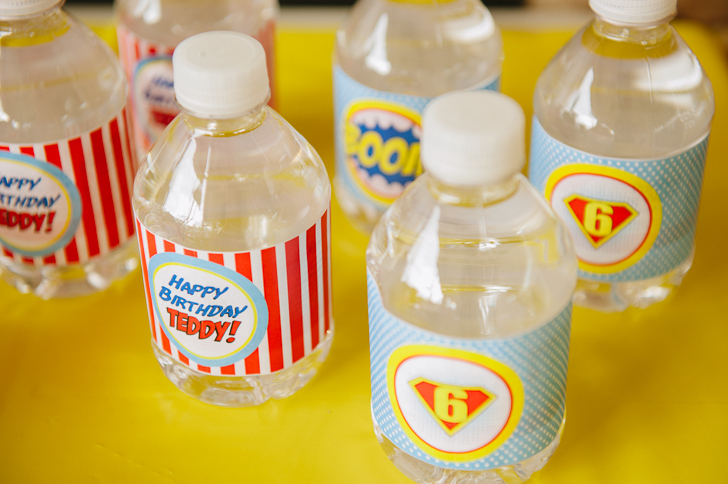 Here is the food table. Mr. Fancy traced and cut a city skyline out of black poster board. The large "Super Teddy" poster was such a hit as well. I just loved it! So, did Teddy! The pennant banner was printed and I just cut out the triangles and taped it to ribbon. It was so simple and I loved how it looked. I used a yellow wire basket (flea market find) of mine for the cake and cupcake stand.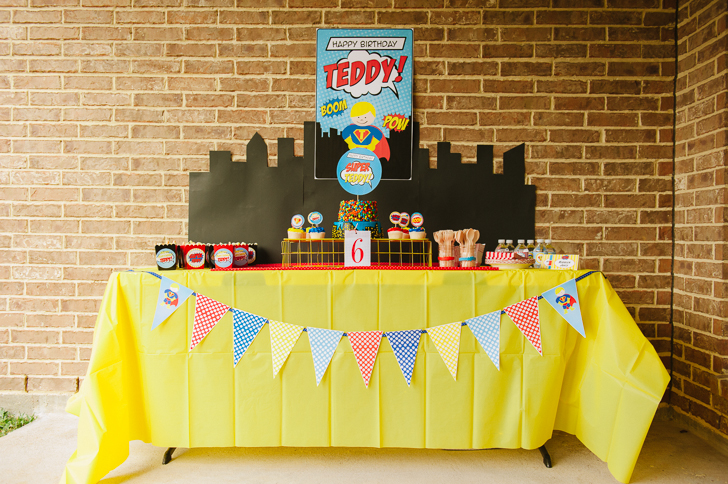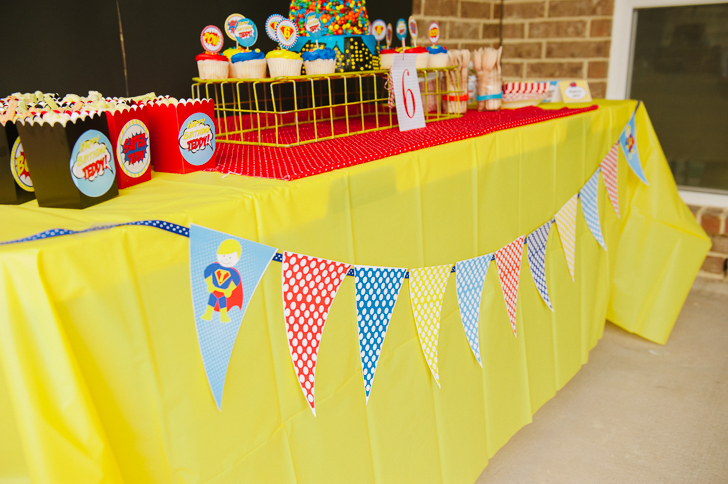 The cake was seriously amazing. I am so THRILLED with how it turned out. Teddy and I designed it and we were both so happy with the end result. I'm told it tasted awesome as well. I was so busy, I didn't grab a piece! As you can see, Reagan got to one of the blue frosted cupcakes with her fingers, before the party even started. 🙂 We did 1 dozen vanilla cupcakes because Reagan requested demanded them. 🙂 The cake was chocolate with chocolate frosting.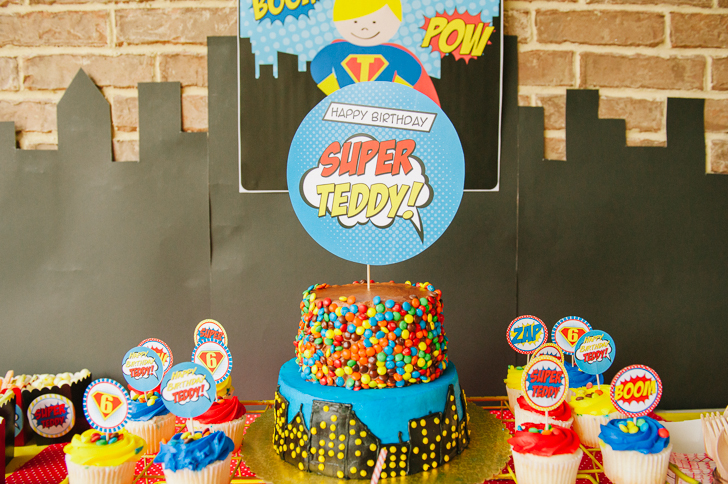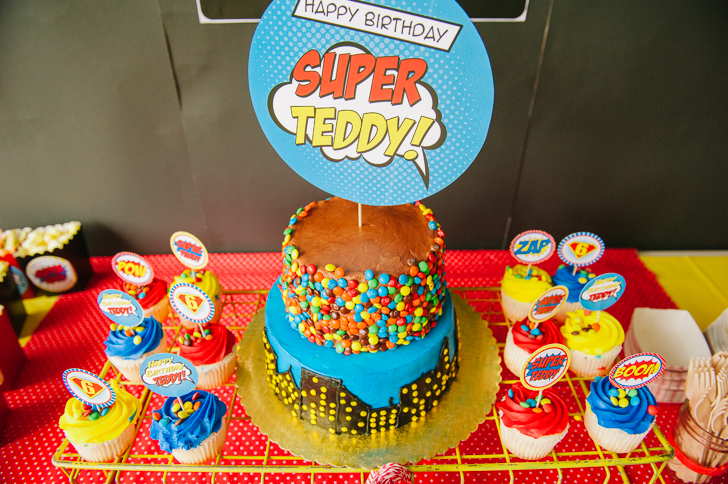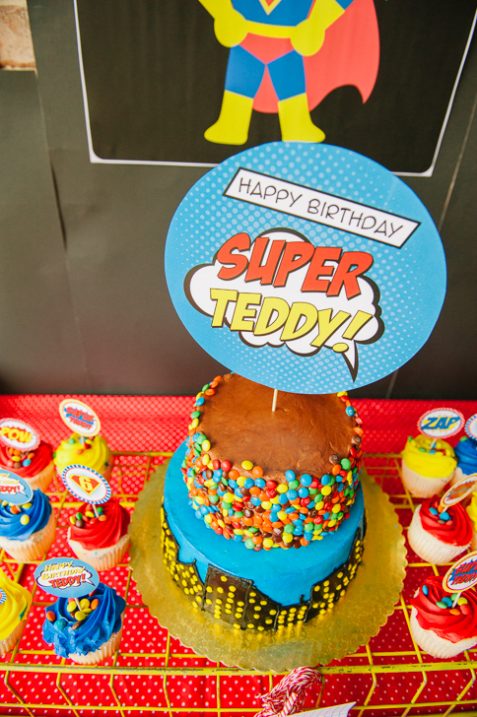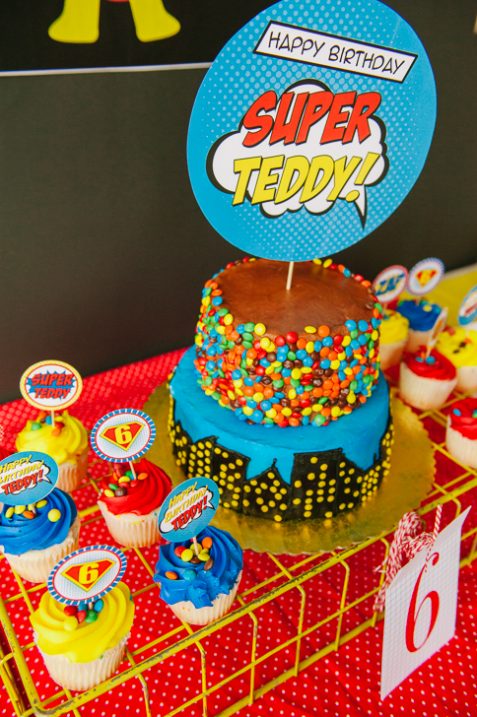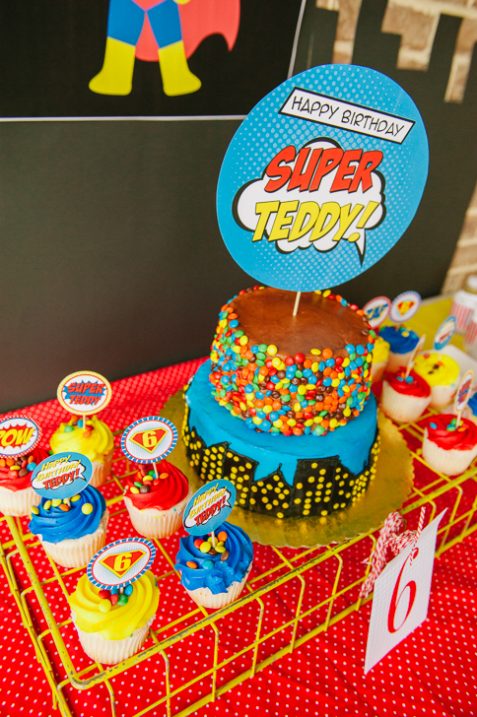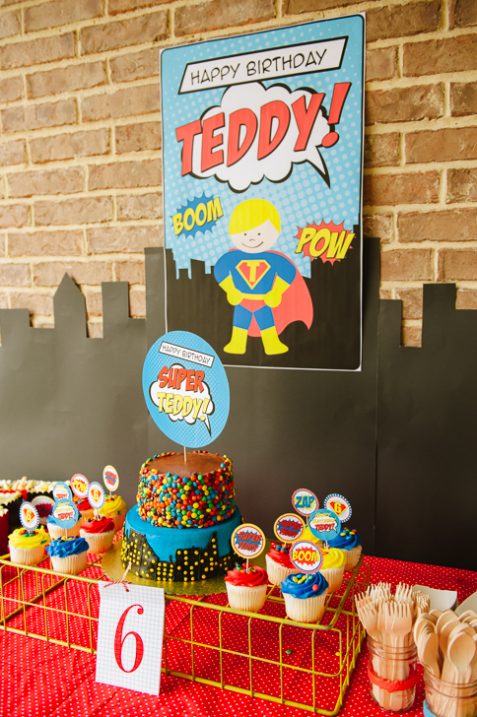 We ordered tables and chairs for the party. The place where we rented the jumpy, offered kid-sized tables and chairs! They were so adorable and the perfect size! The teeny chairs were too cute and came in red and blue which was perfect for our theme. I ended up using red and yellow plastic tablecloths with a wrapping paper runner. I had giant balloons for each table, but even with weights inside the tins, we still lost a balloon and tin into the sky before the party started. The wind was pretty crazy that day.I'll take wind over rain on a party day though!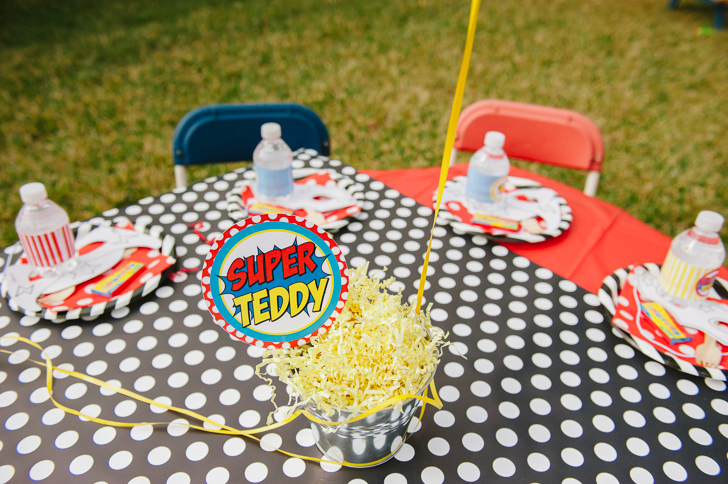 Each place sitting had a napkin, plate, bamboo fork, water, mini crayons and a MASK to color and decorate. The kids all seemed to enjoy creating their own masks!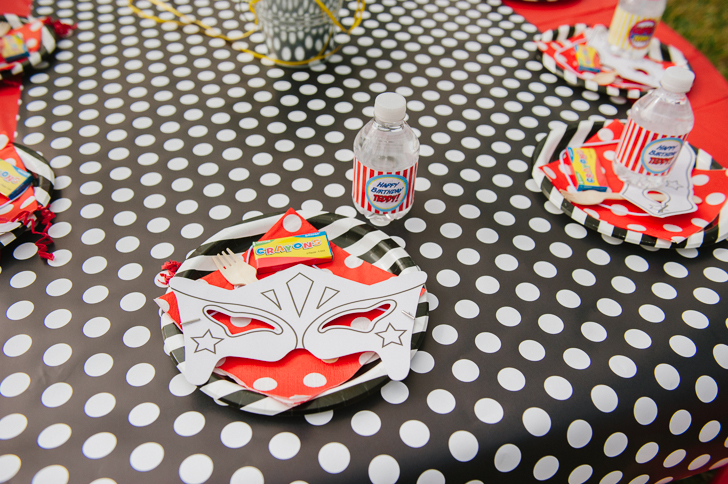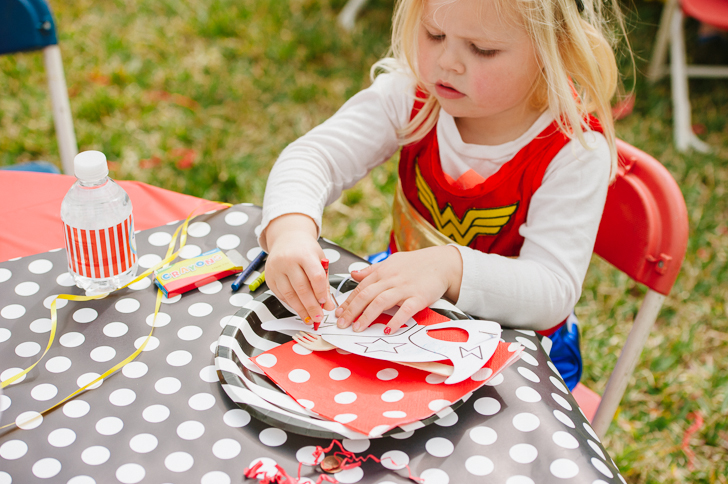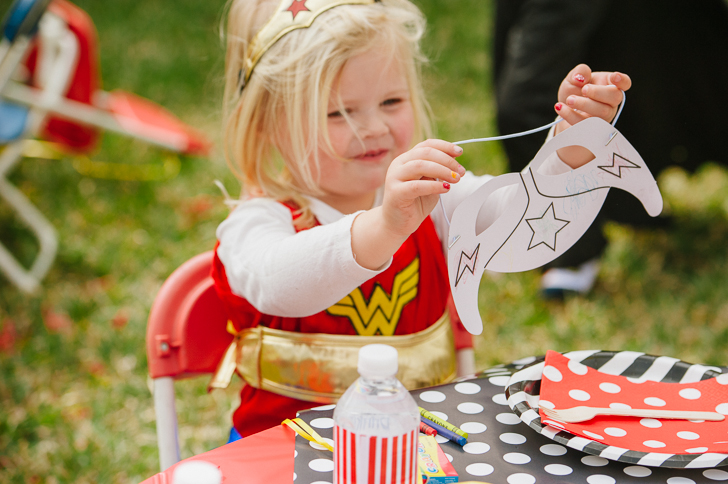 Gotta love the one pink balloon. My party planning assistant said she needed one, so we did. 🙂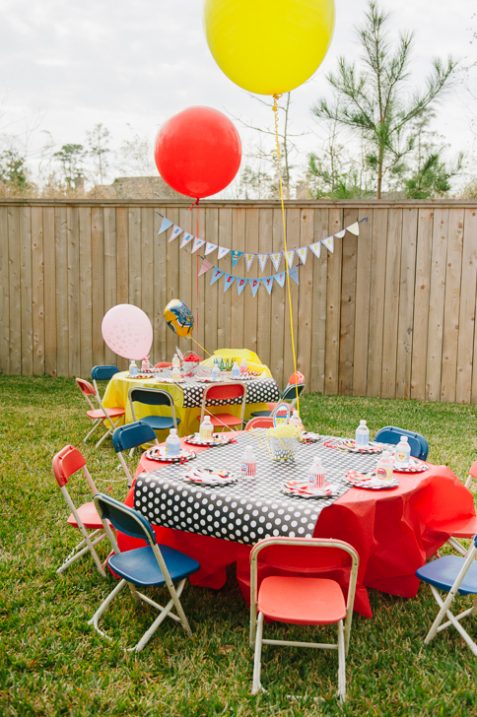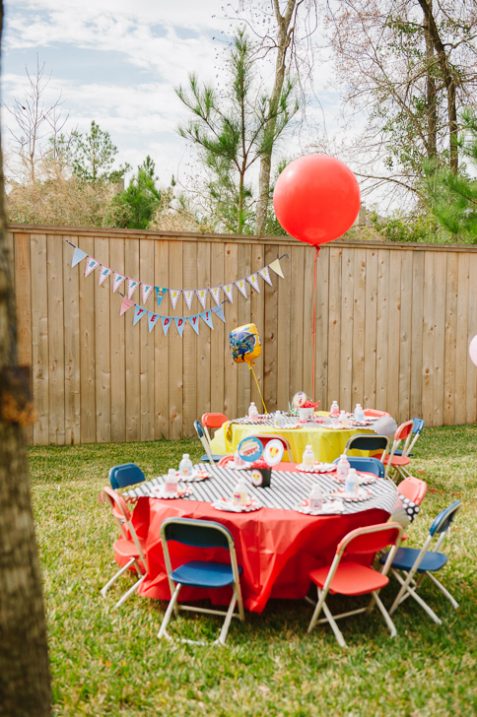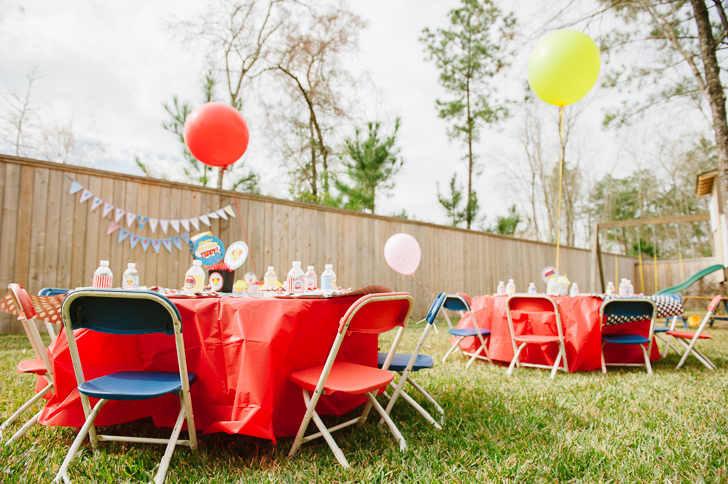 One of my friends has a local cookie business, so we ordered delicious cookies as favors. It was the perfect thing to have for everyone to grab on their way out the door.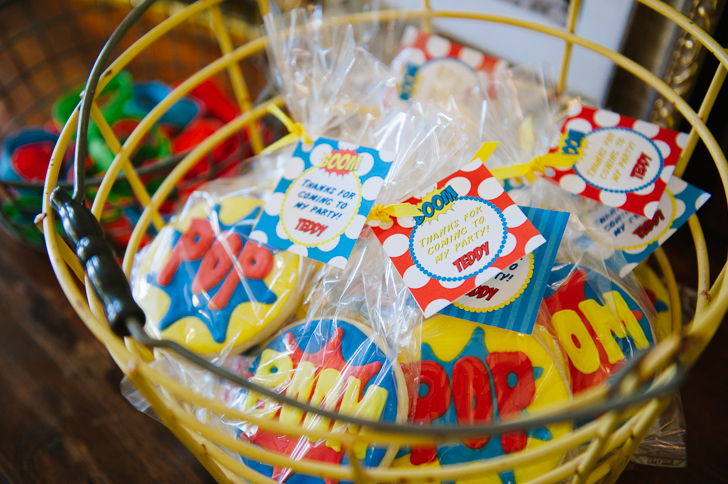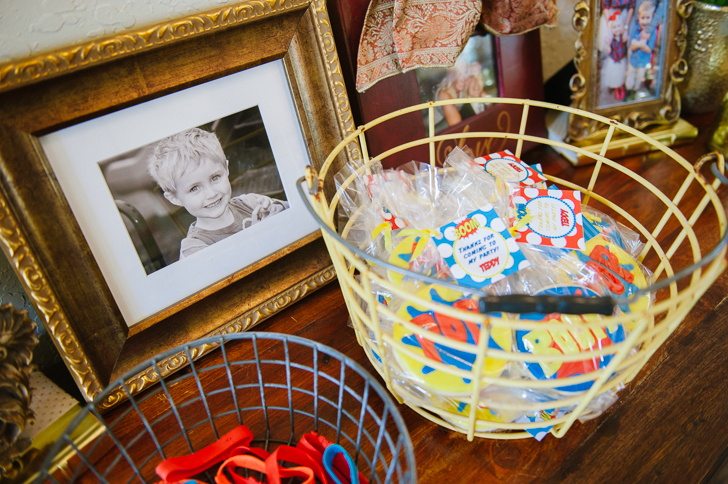 Our birthday boy had the best time! I am so thankful for beautiful weather and wonderful friends who came over to help celebrate our SIX year old!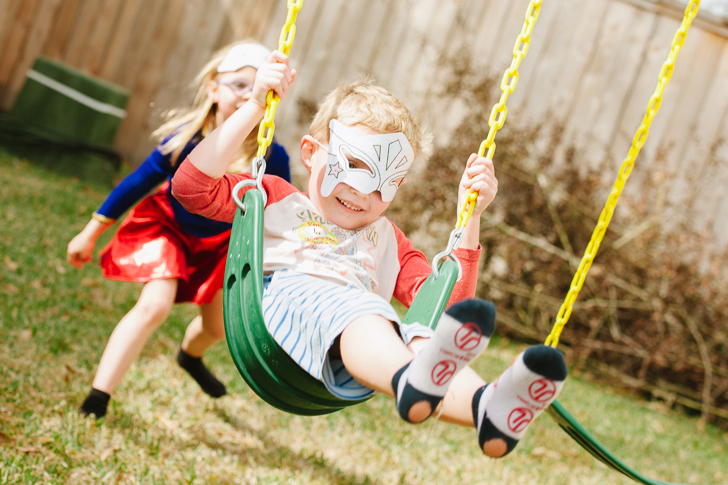 (holes in his socks from running around the yard all day in socks! lol)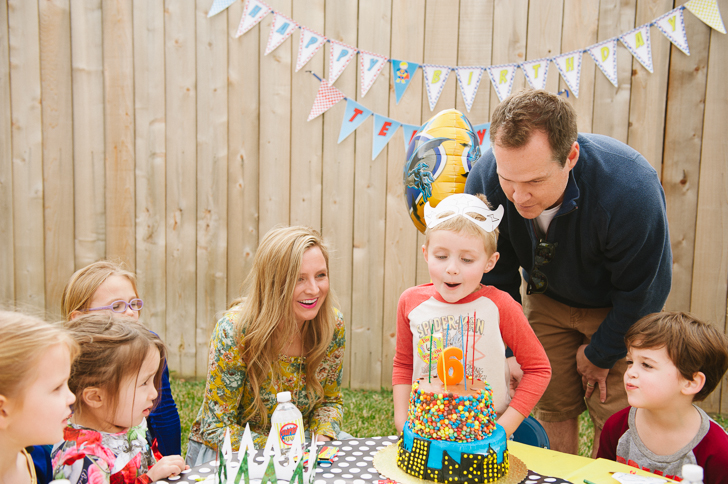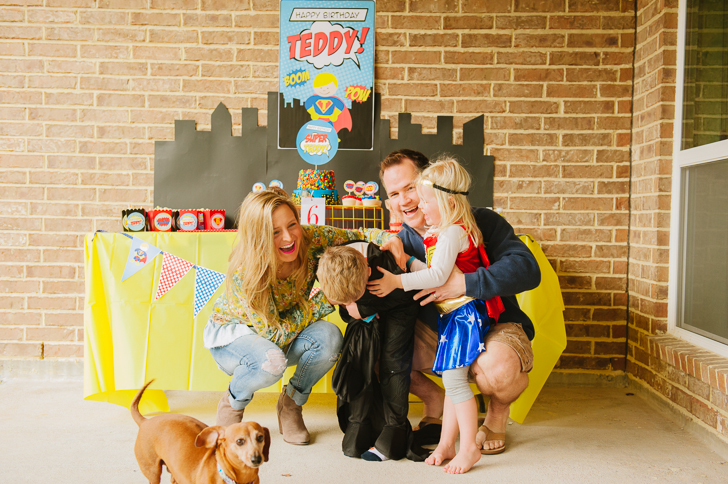 You can see the rest of the party pictures HERE
Reagan's Costume was purchased HERE
My Top was purchased HERE
Teddy's costume was purchased HERE
Photos: Kara Hoey Photography
Printables (posters, banners, etc): Lauren Haddox Designs *Contact her for all your party printables needs!