This post is brought to you in partnership with Disney Cruise Line. Post ideas and opinions are my own. I love partnering with brands that I love and trust.
Hi friends and happy Thursday!!! I am so excited to bring you today's post!! Last fall, we had the opportunity to go on our FIRST Disney Cruise! It was amazing and I've been so excited to share it with you!! I should start off by saying that neither Mr. Fancy or myself had ever been on a cruise, so obviously, the kids hadn't been on one either! When the opportunity arose, we were so excited for this fun family adventure!! We went 2 days early and got to spend a day and a half at the Disney parks prior to heading out on the Disney Merrytime Cruise. Being from California, the kids again, never been to Disney World, so we were so excited to go! We did the Hollywood Studios park the day we arrived…for Star Wars ride and Toy Story Land. Toy Story Land is amazing!! The Slinky Dog Rollercoaster was the fave. The next day we headed to Animal Kingdom in the  morning and the standout rides there were the Avitar ride (we did it twice!) and the Safari ride! Then we ended the day at Magic Kingdom and got to attend Mickey's Christmas Party! It was amazing and such an awesome experience! There is just nothing like experiencing Disney through your kids' eyes! I was teary off and on the whole weekend because it was so fun to see Teddy and Reagan having such a wonderful time! The cruise was a dream experience and as soon as we got off the ship, my kids were already asking if we can go again next year. 🙂 Take a peek at our Disney Cruise experience! It was a good one!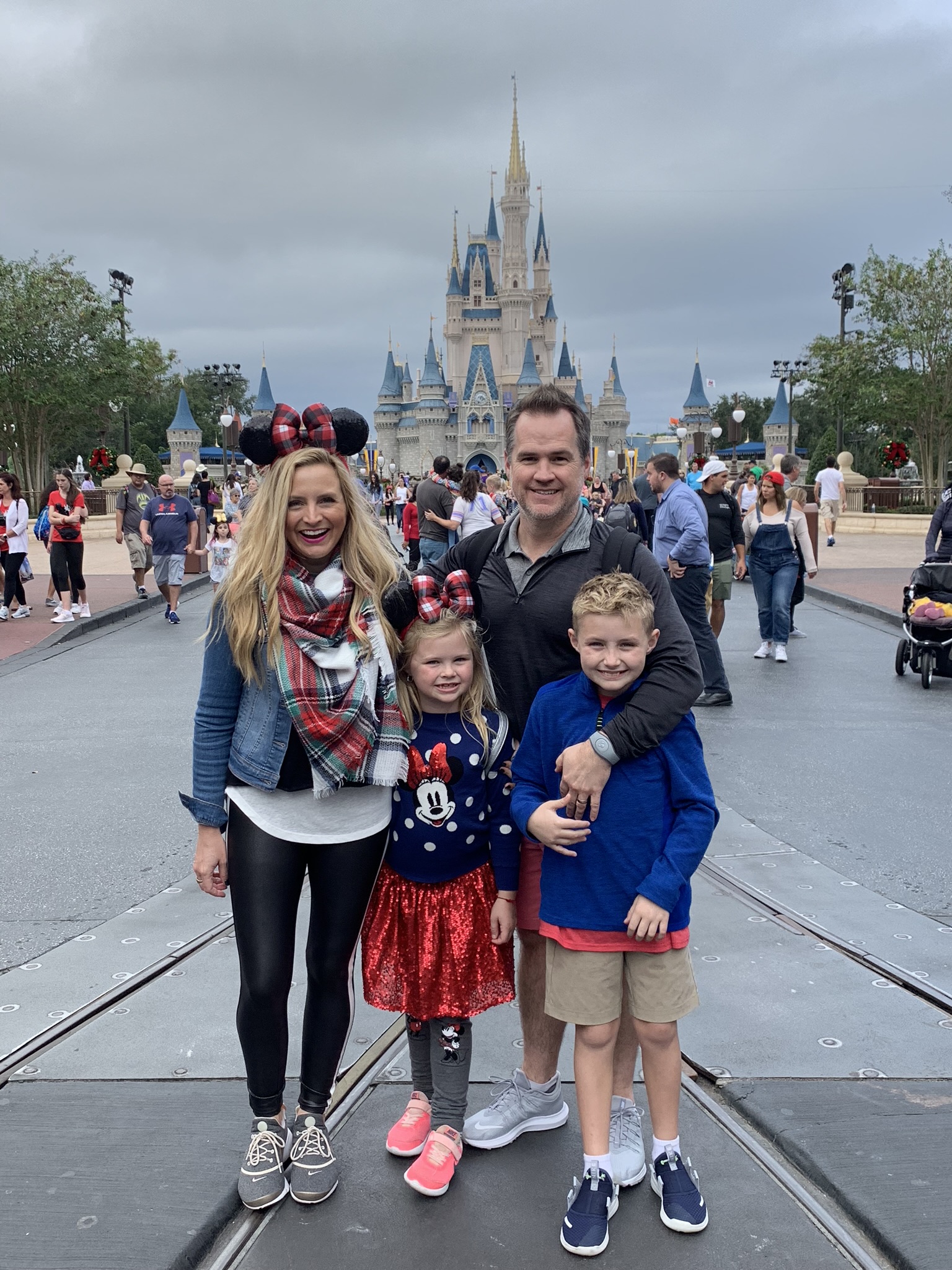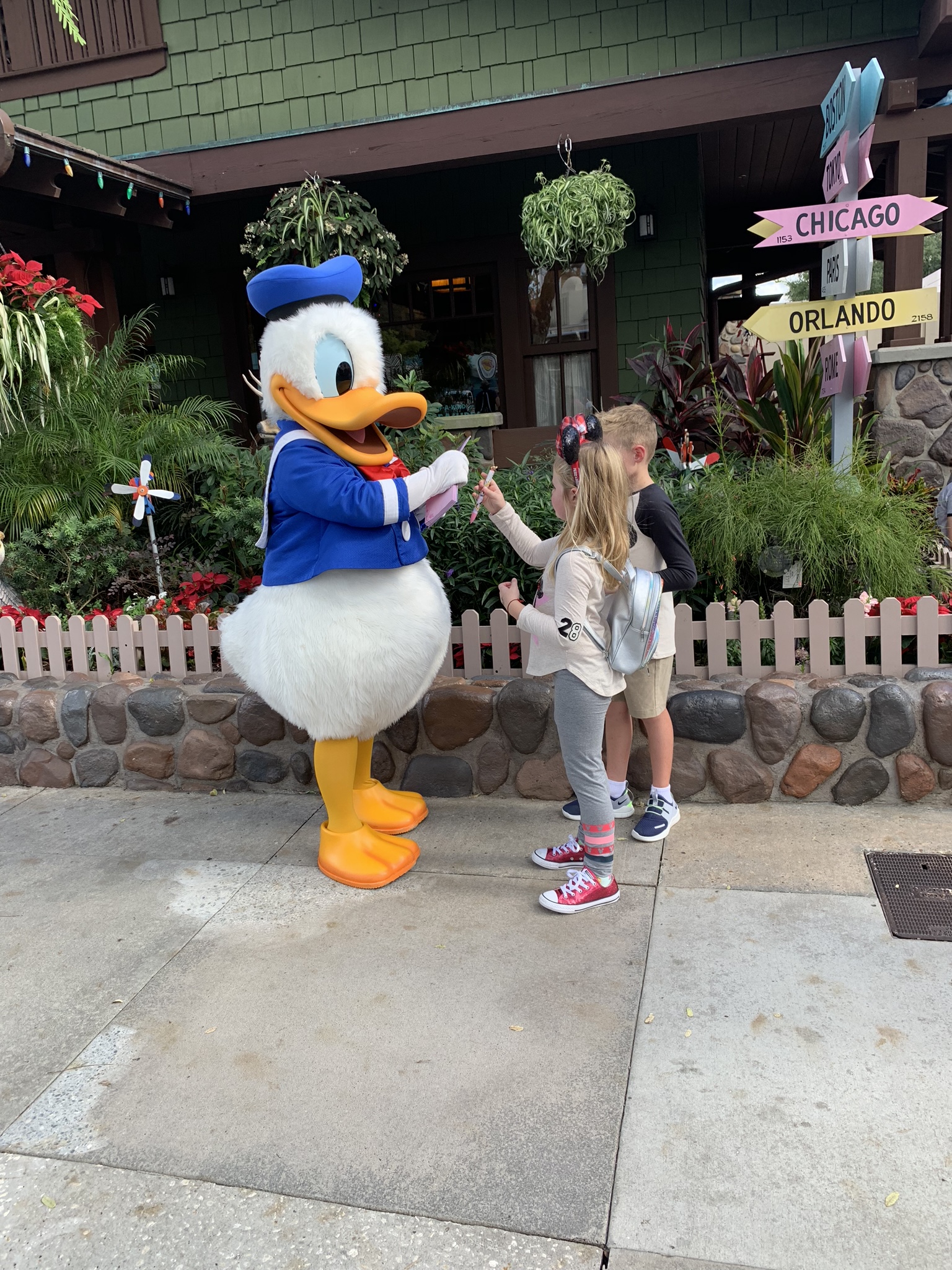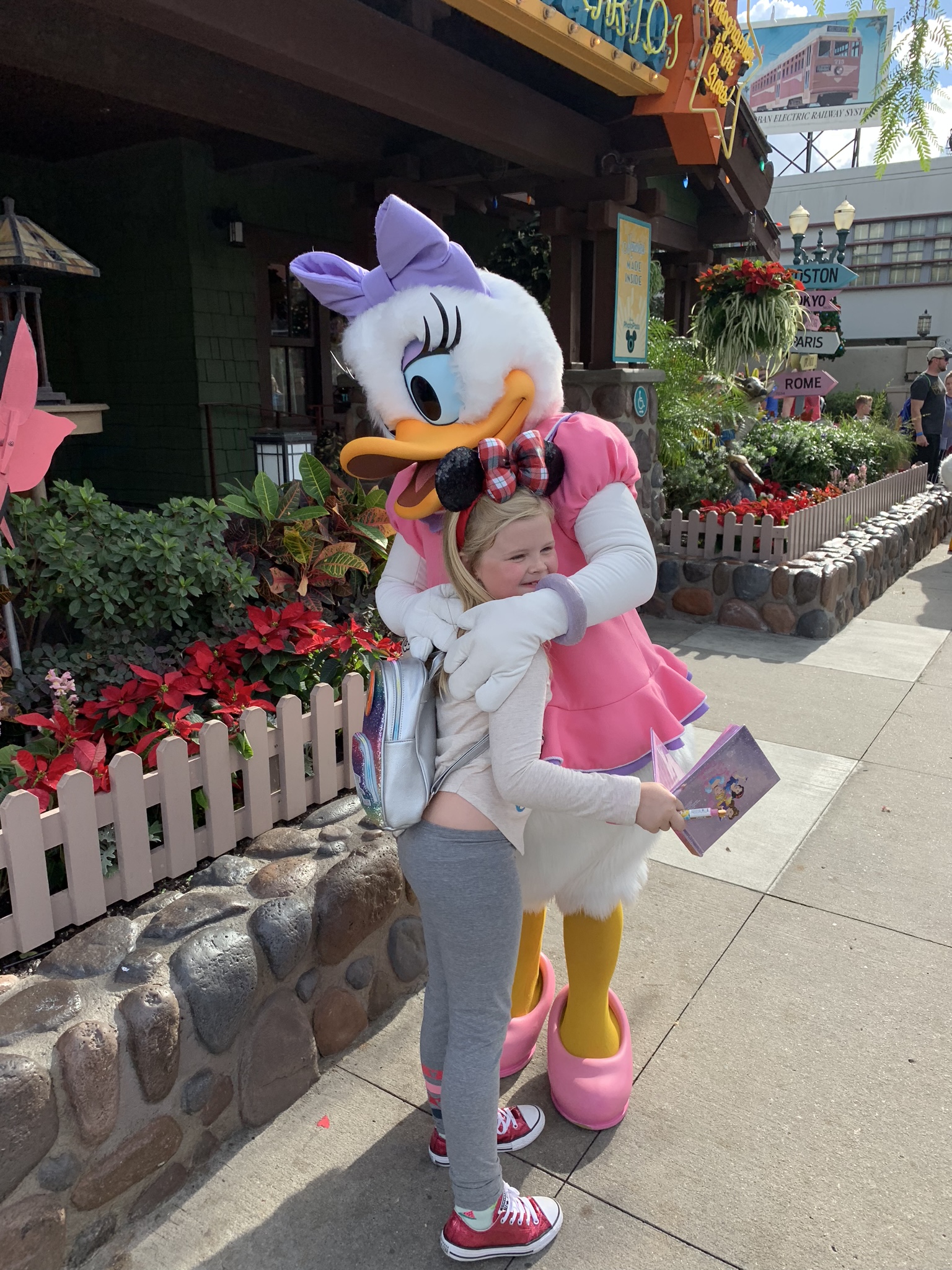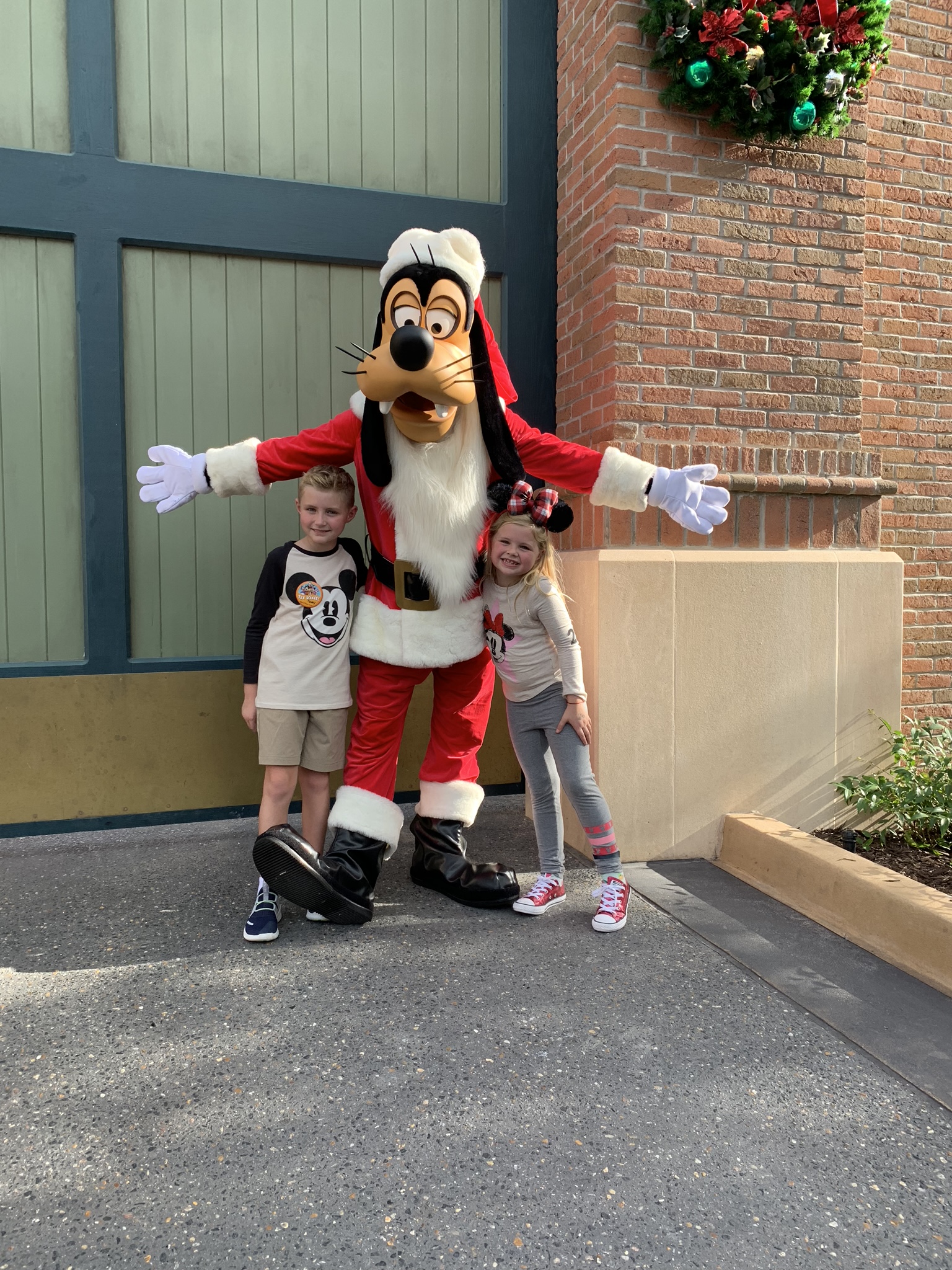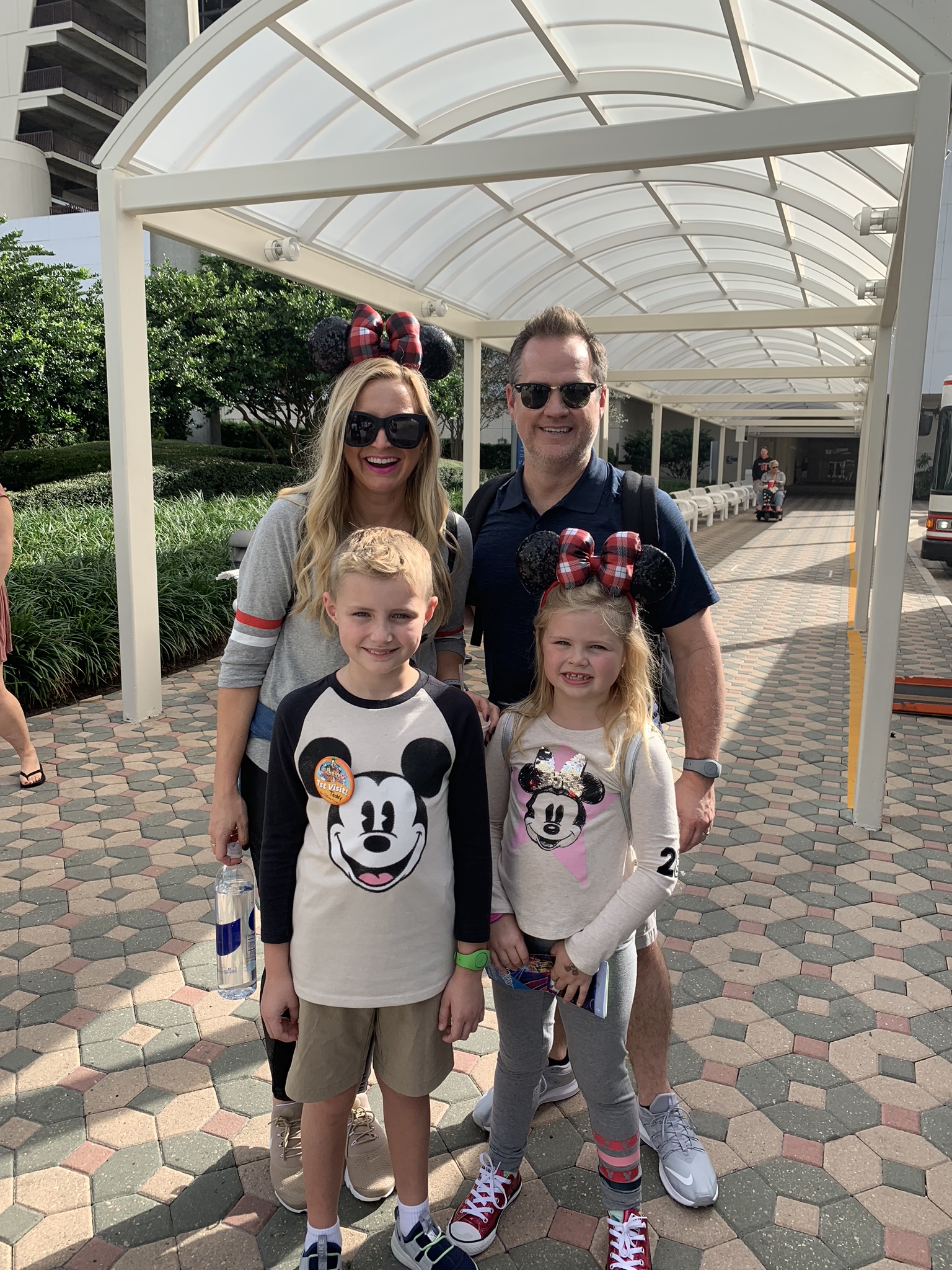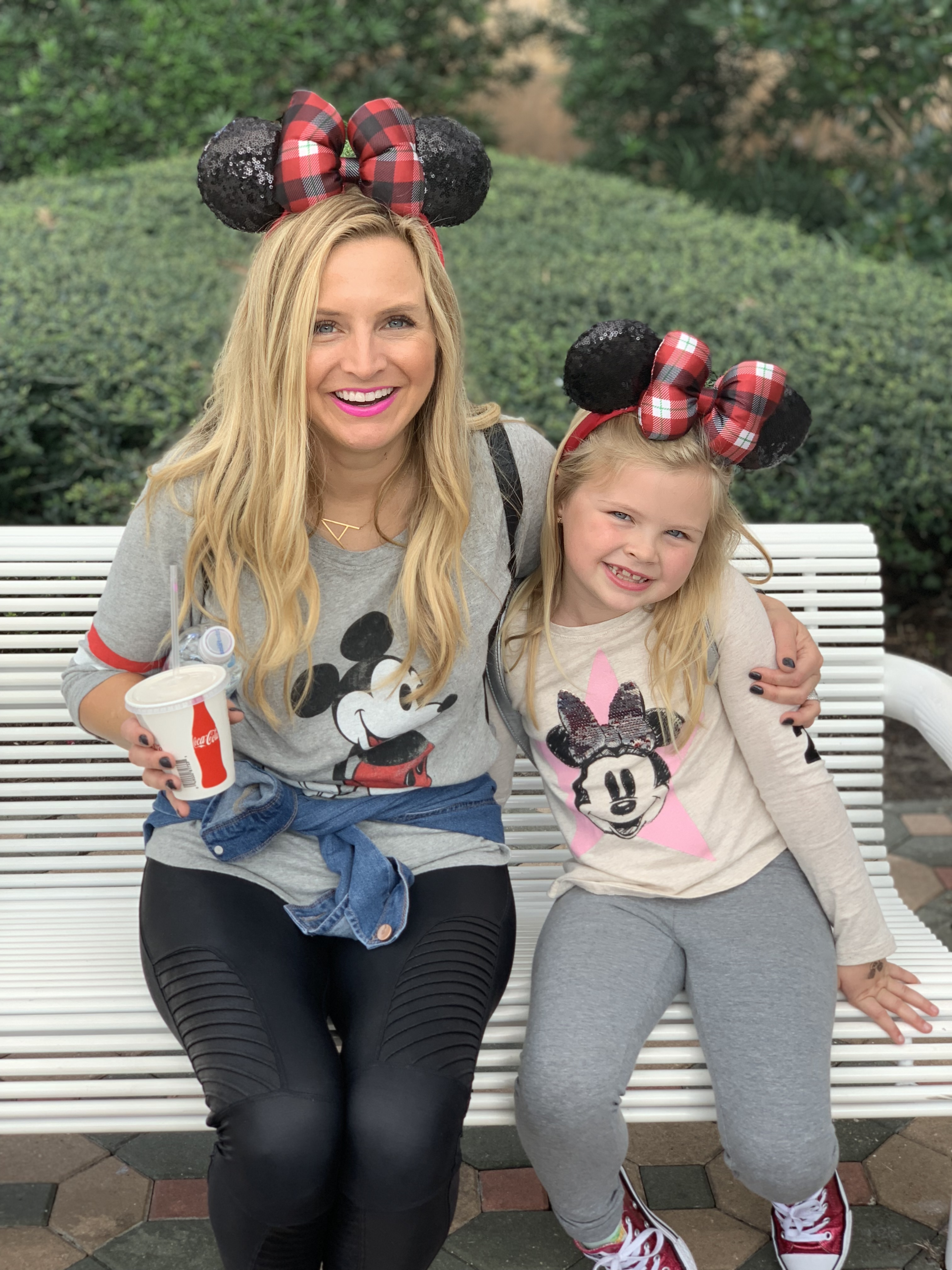 Our Time on the Disney Dream Merrytime Cruise
We boarded the ship on a Friday morning and our cruise was a 3 day adventure! this picture of us is just after we boarded the ship! Can you tell how excited everyone was?!! We woke up in Florida and it was FREEZING this day! I'm glad we packed for all seasons! We are so excited to head to the Bahamas in this pic! We got to take our cruise the Disney Dream and believe me when I say it definitely lived up to name and was a total dream! See more HERE and all of the fun from our 3 day Disney Merrytime Cruise, below!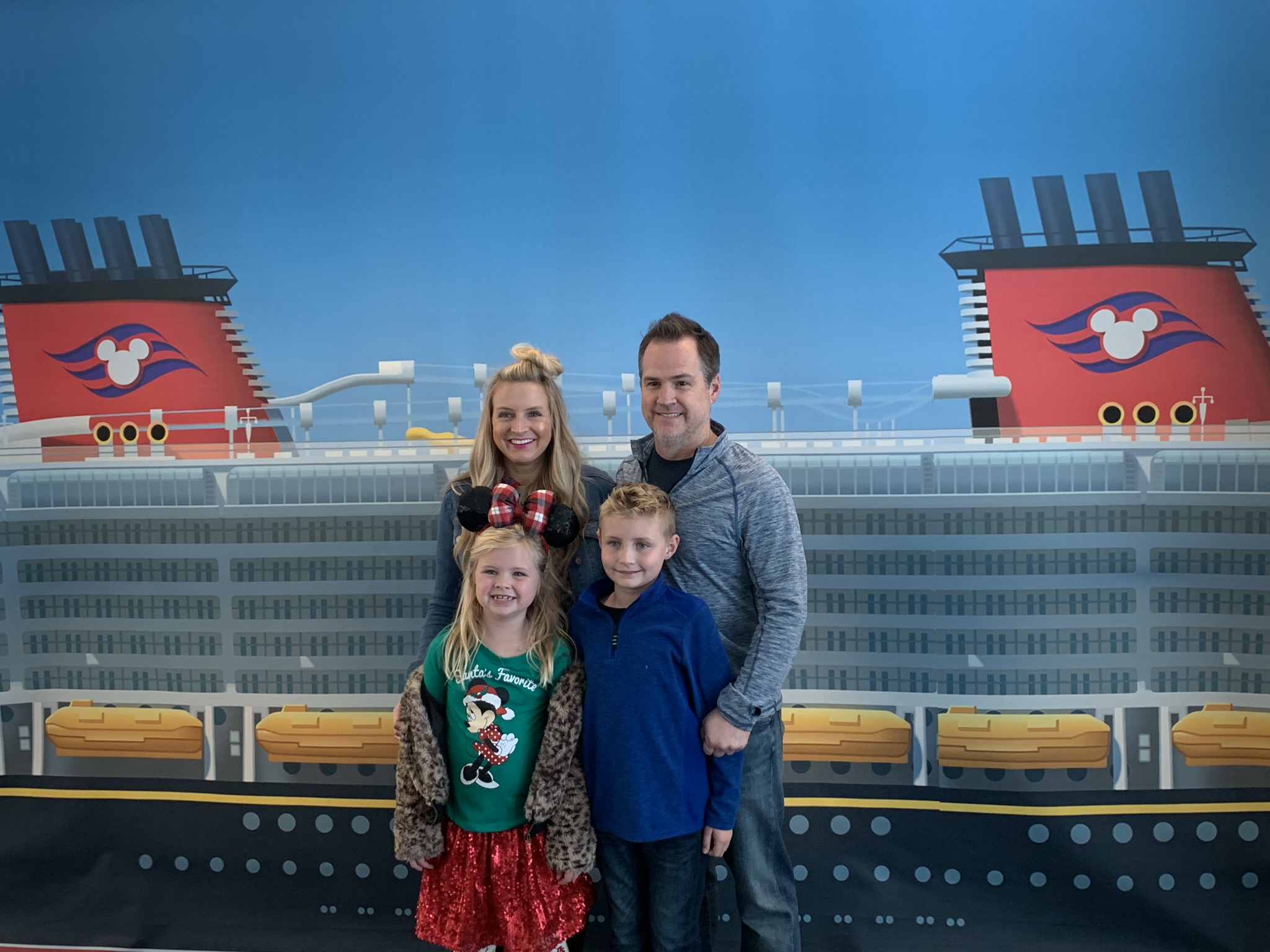 Right after we boarded the Disney Dream, we headed to our lunch spot. The restaurants are such a neat experience! They really go all out!! Our kids (and us!!) loved it!!! The wait staff is incredible and you the same two waiters all all of your dinners! I loved this aspect because they got to know your favorite things and our guy, Tony, always had them waiting for us when we arrived!! The little details are really the big details! We loved that aspect, especially this detail orientated gal, here! You aren't able to get to your cabins until after the safety demonstrations, so after we ate and did lots of exploring. The restaurants were amazing and offered lots of fun stuff for the kids, including lots of fancy drinks and desserts.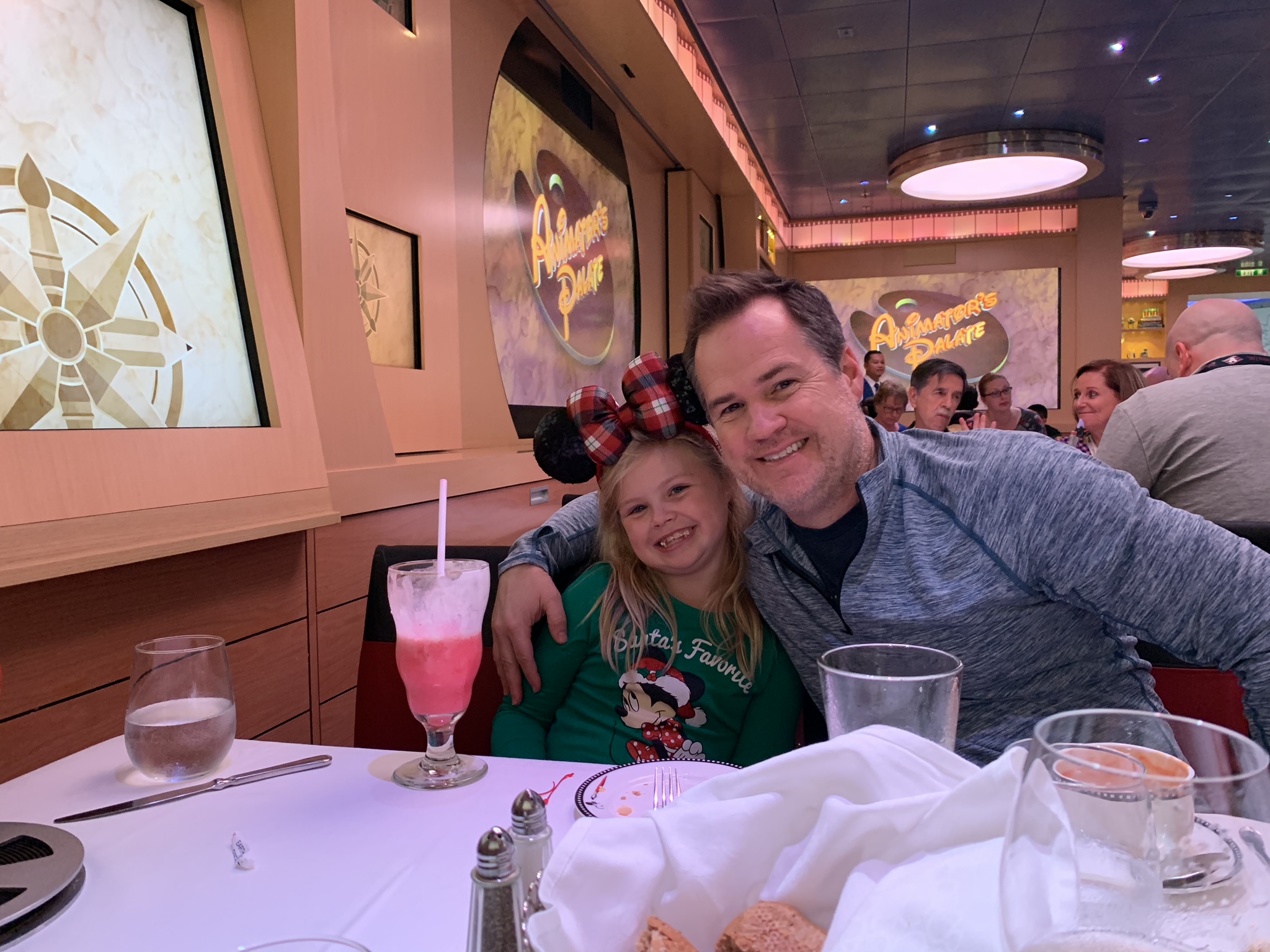 This sparkling cider was a fan favorite of Teddy and Reagan through the cruise and Tony always had it waiting for them at dinner!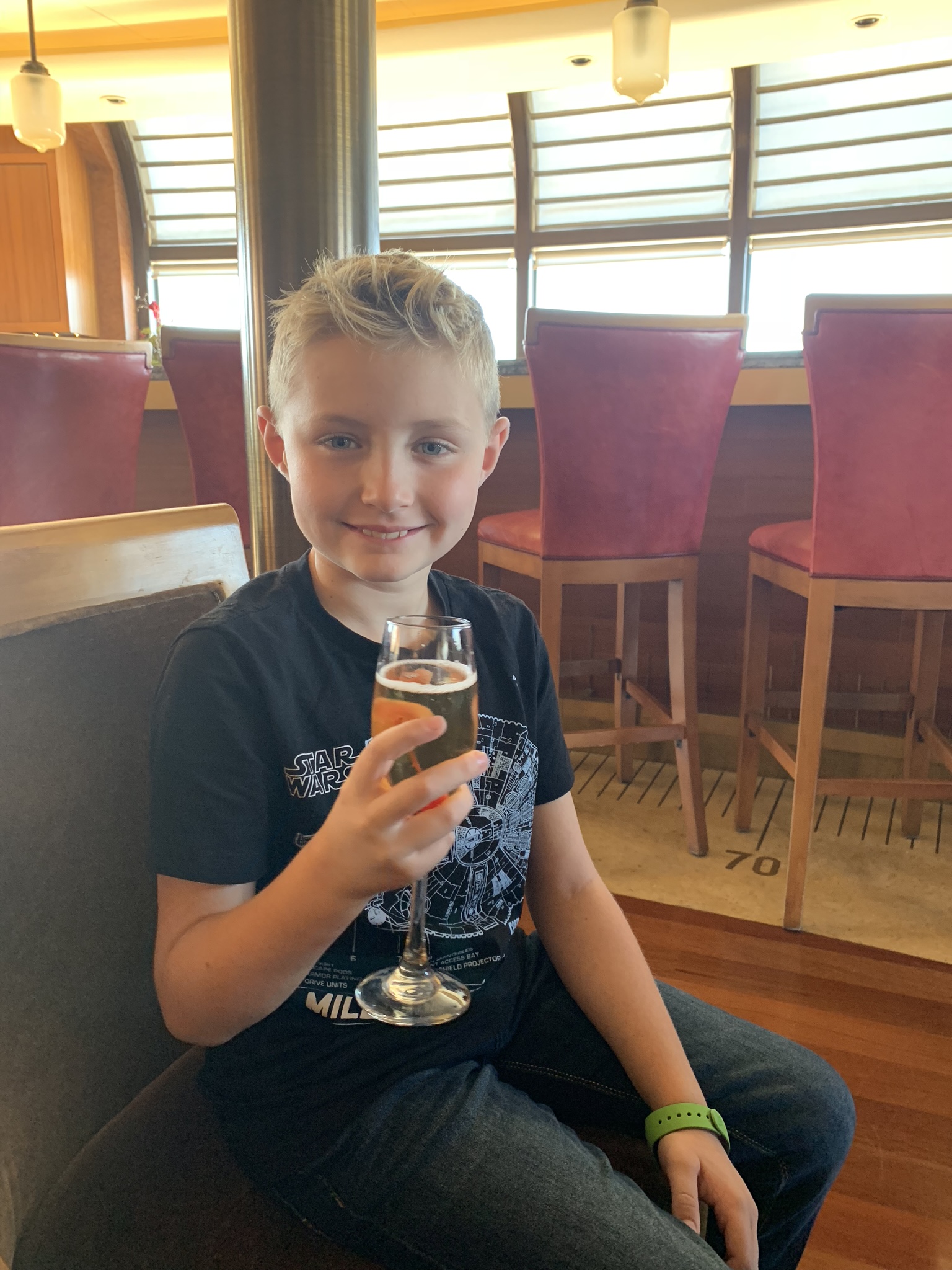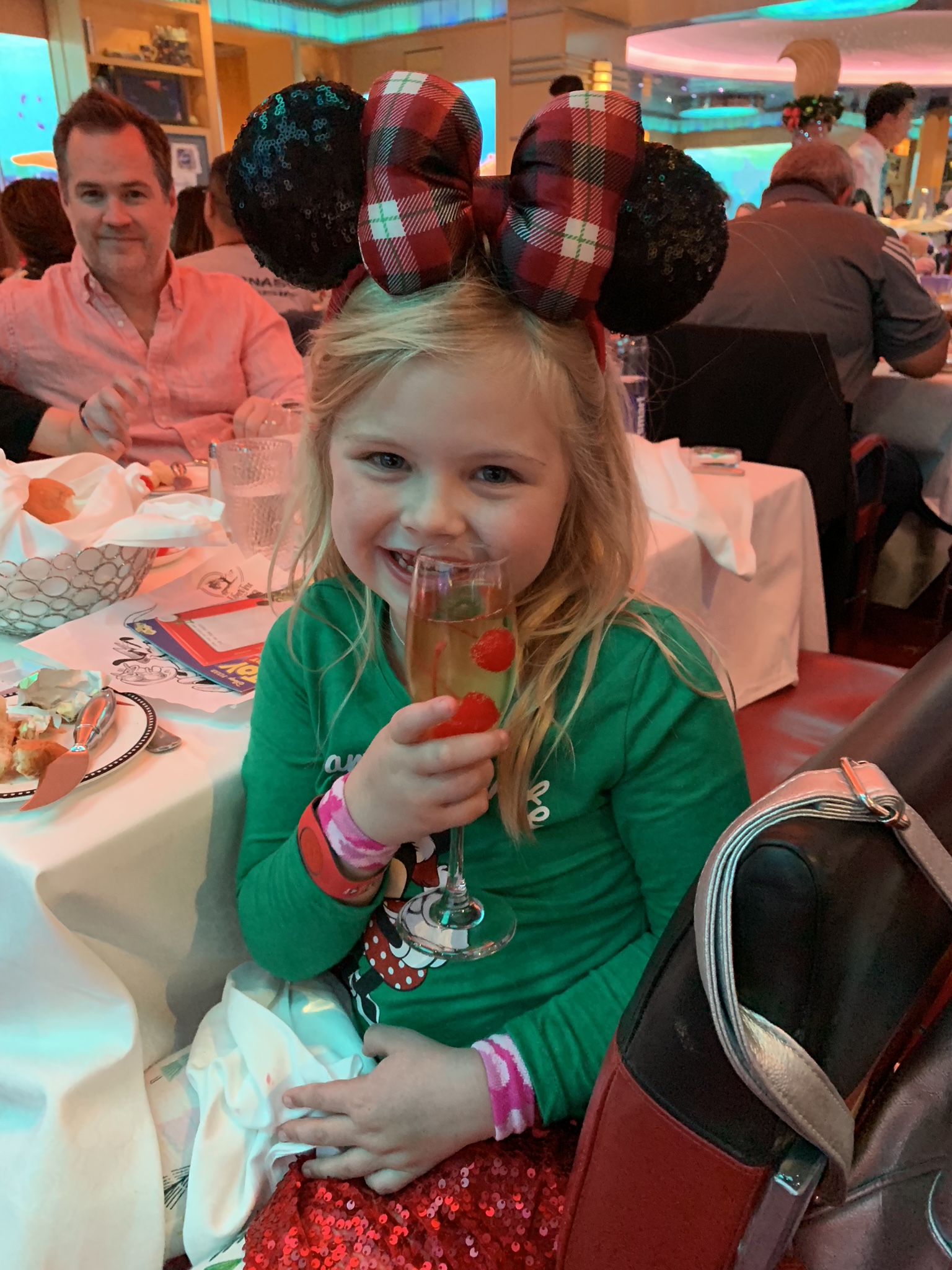 We got to spend time with other influencers on the cruise and Teddy and Boston became besties! Teddy misses him so much!! We loved Krista, Bryce, Boston and Kolly! My kids and B and K became such besties!!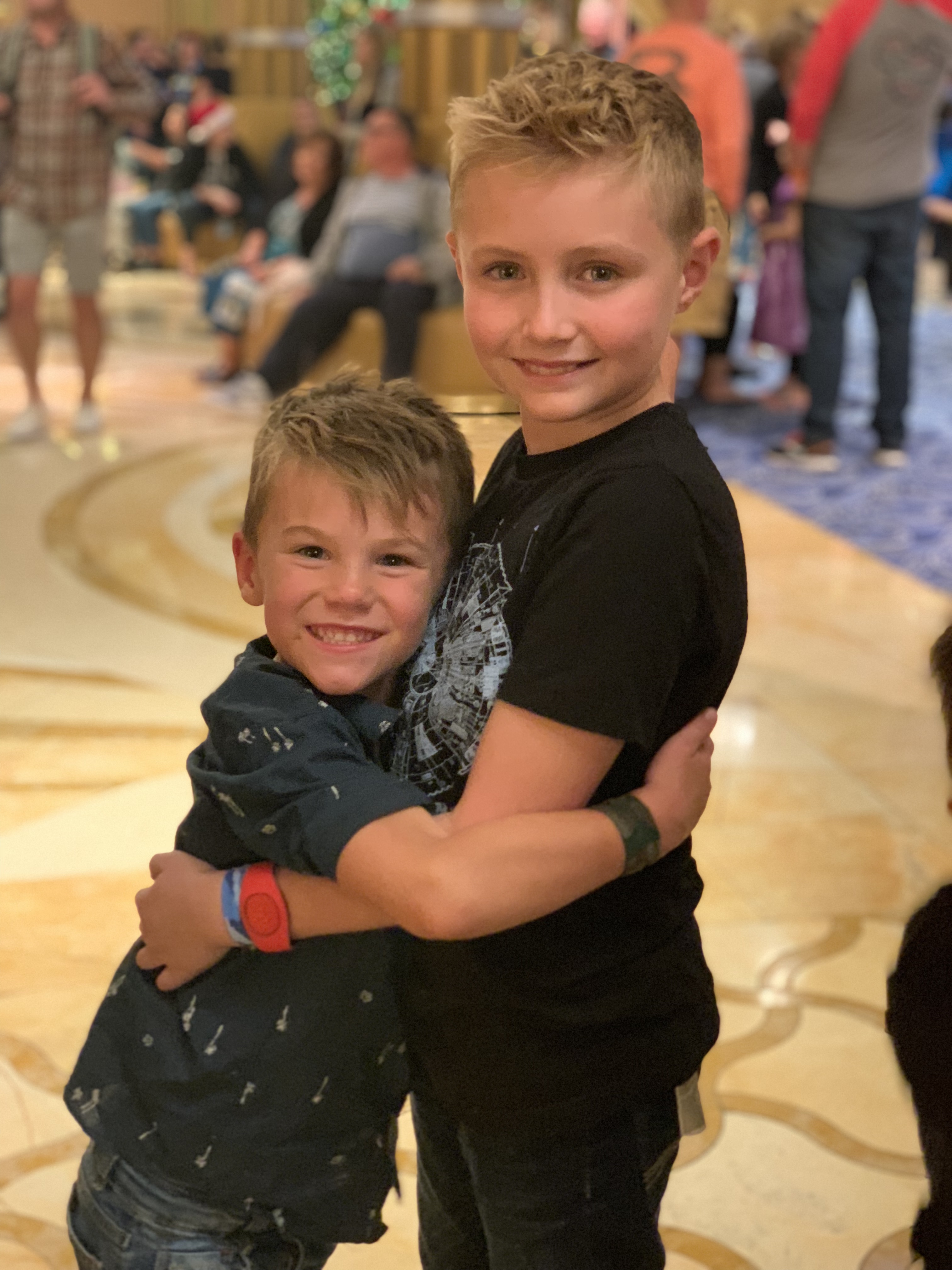 One of my favorite things about the state rooms are the bunk beds that come out of the ceiling. This is such a space saver!! The couch turns into a bed and then a bed comes from the ceiling. Your attendant sets up the beds every night for the kids while you are out for dinner, show, etc! Teddy and Reagan thought this was such a cool aspect!!! Of course, these two couldn't decide who should get to sleep on top!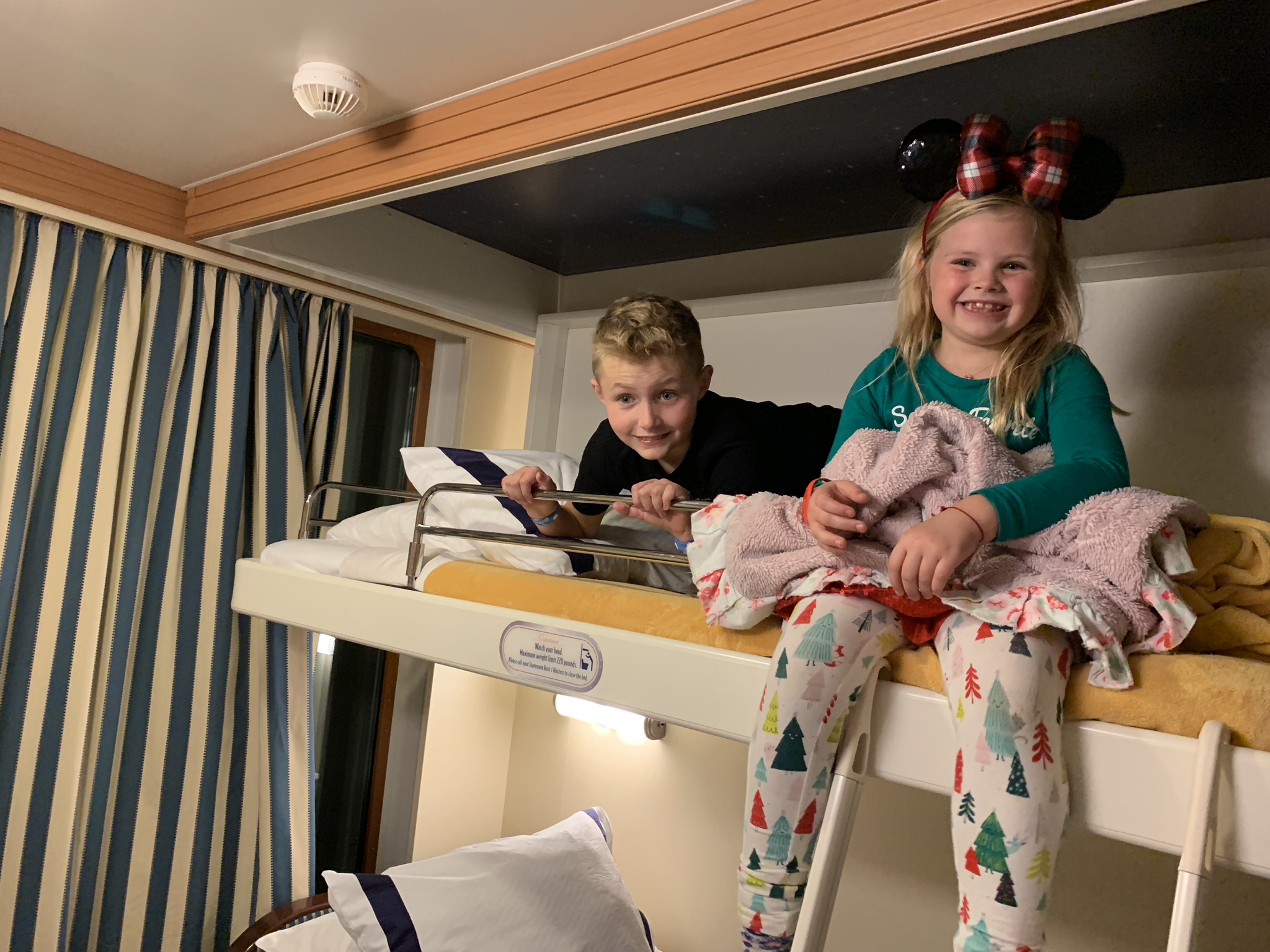 Another awesome thing on the ship is the meet and greet with the characters. There is a schedule of where characters will be at the exact times, so that you can plan your days around seeing these characters! We of course just had to meet Elsa and Anna before heading to the pool for the day in the Bahamas!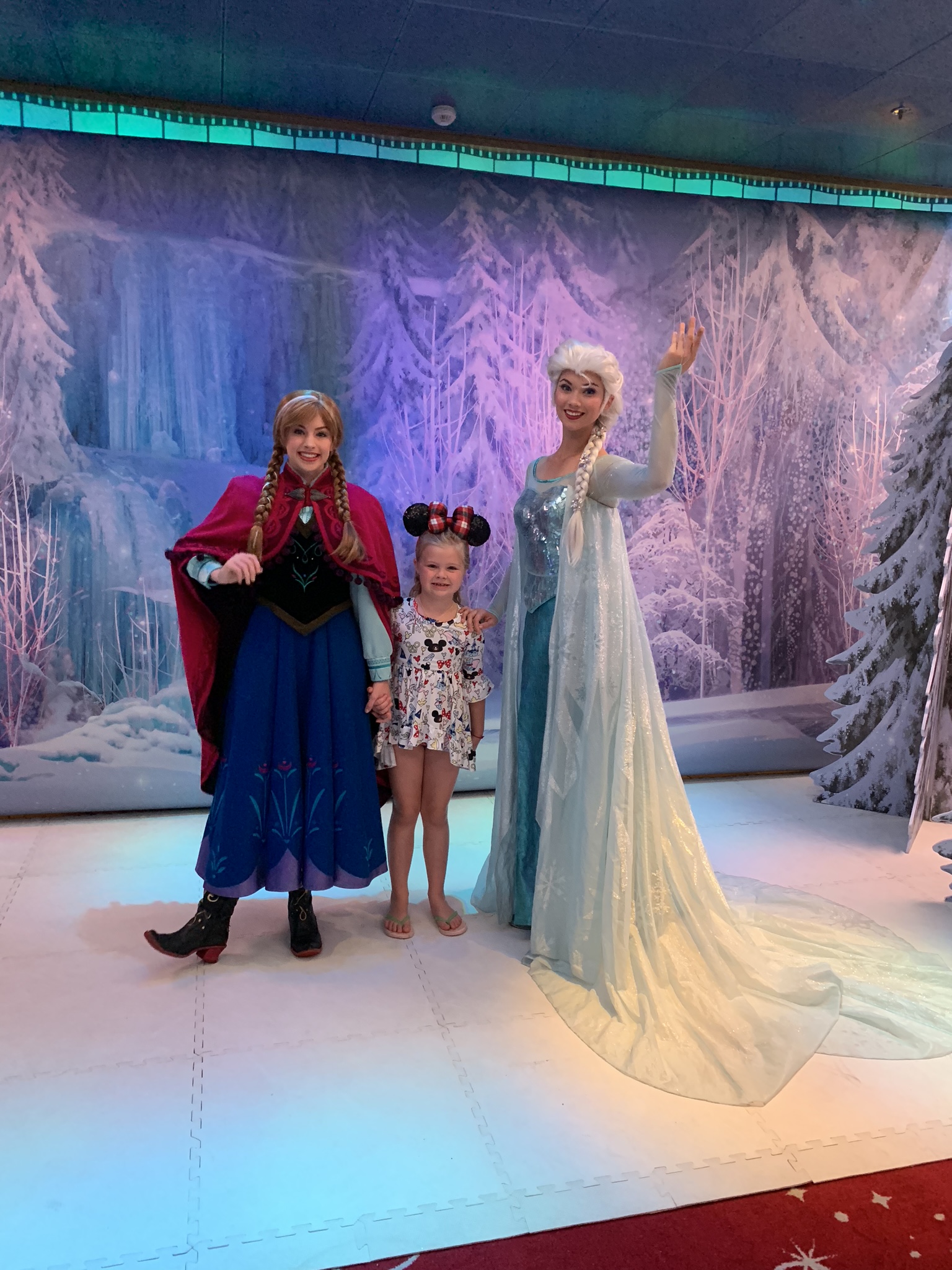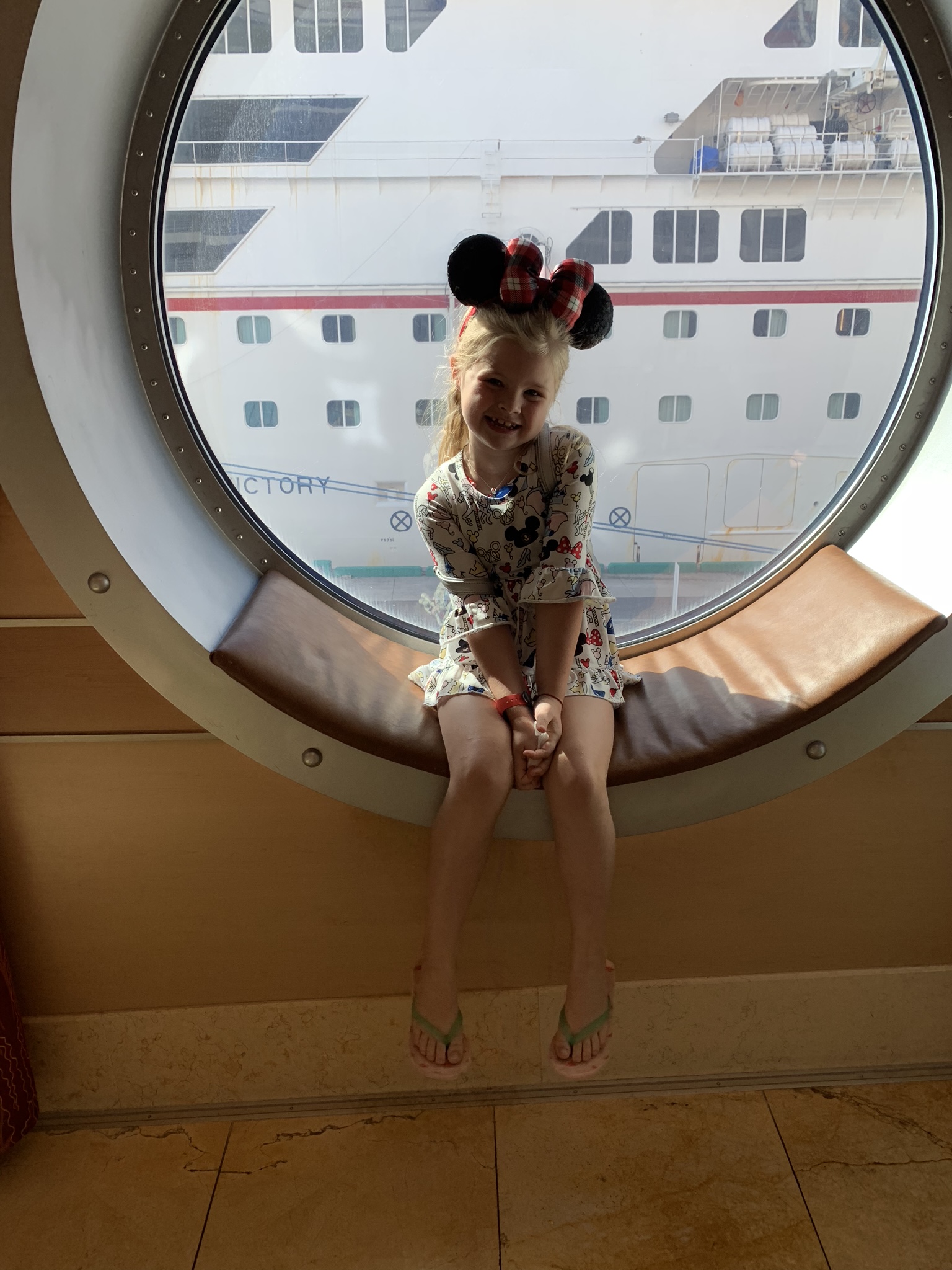 They offer all sorts of fun holiday themed activities on board! Our favorite? Decorating gingerbread cookies! Teddy and Reagan loved this!!! It was super fun and totally got us into the holiday spirit!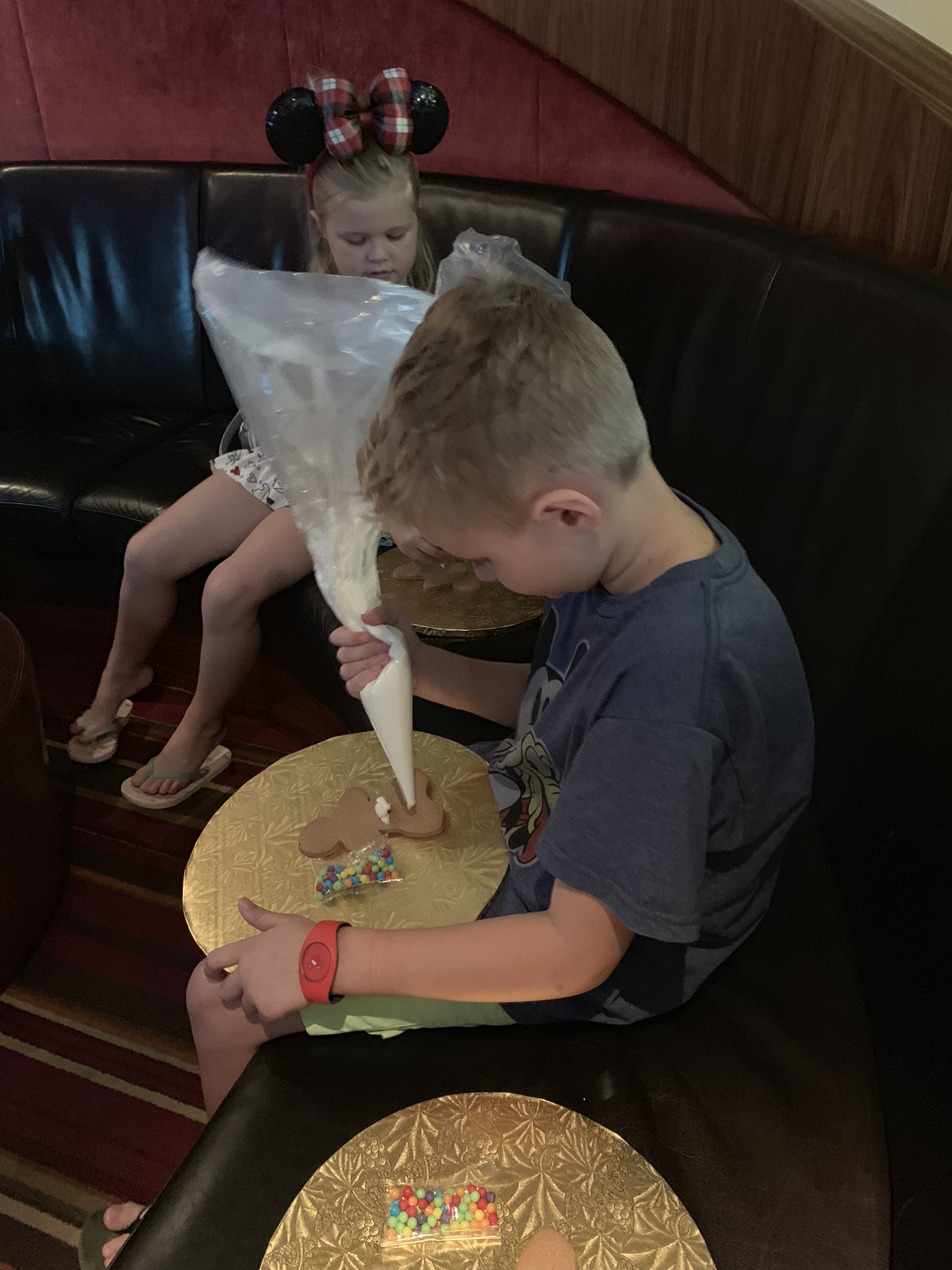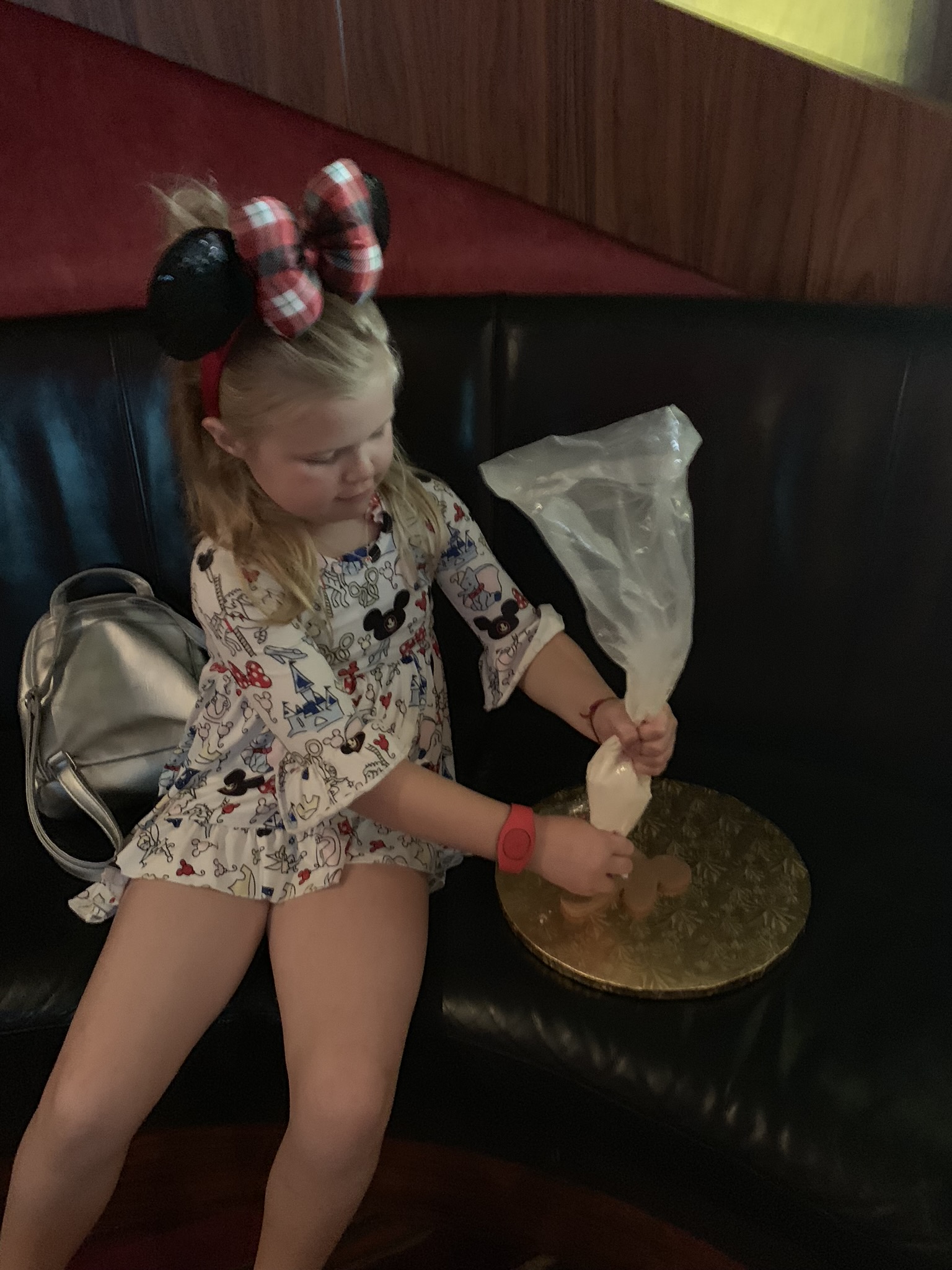 After lots of morning fun, we headed to the pool where the kids rode the water slide a BUNCH!!! They loved this slide! We could see them go around in it, too! It's so much fun!!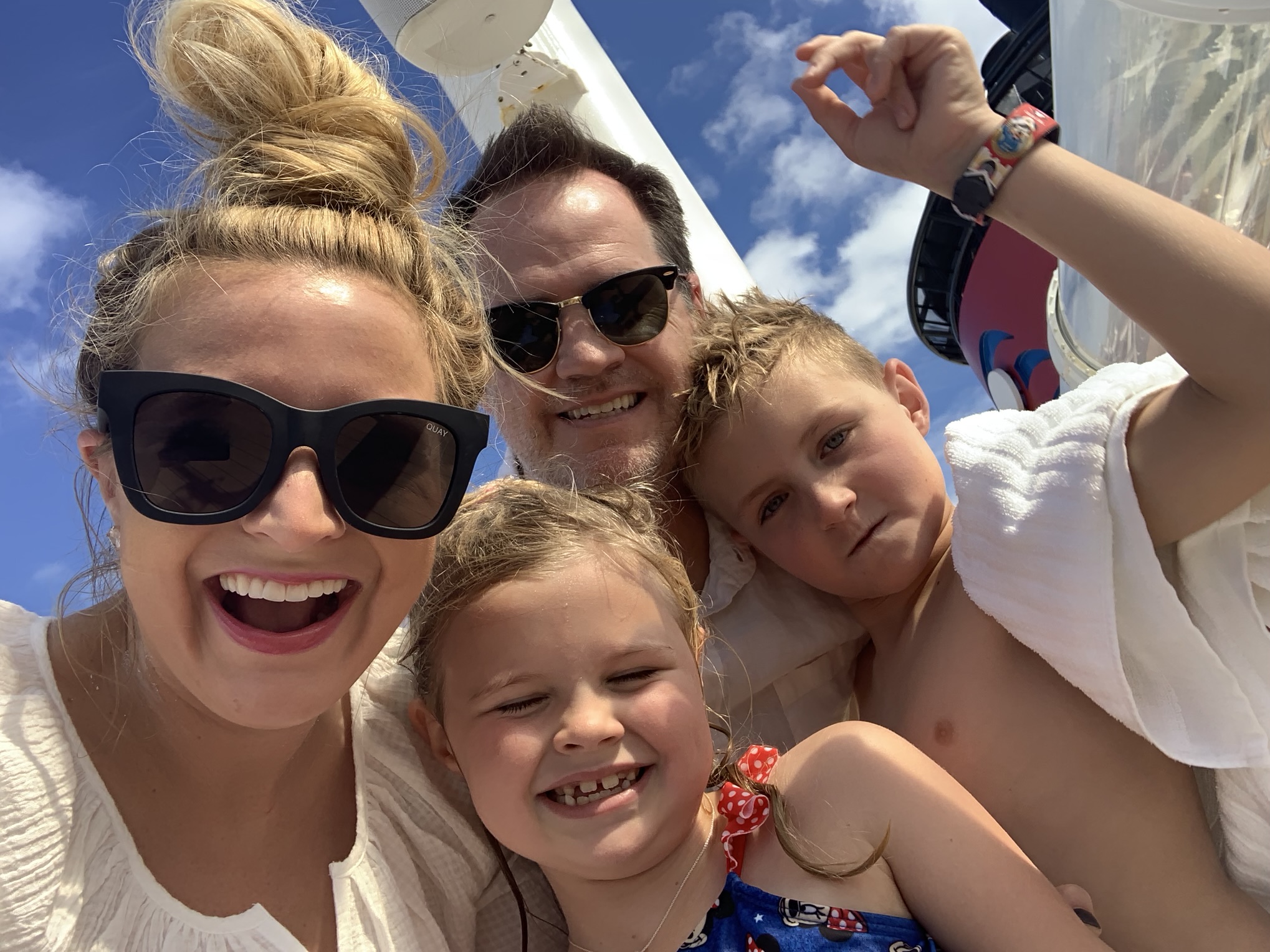 Our second night on the ship was a pirate theme, so we headed to the Bippity Boppity Boutique to get all pirated out! I have heard about these boutiques for years and we've never gone to one at Disneyland, so as soon as we booked the cruise, I scheduled the appointments! They do fill up, so I suggest booking these ahead of time! Teddy was super in character, as you can see by the pictures! Ha!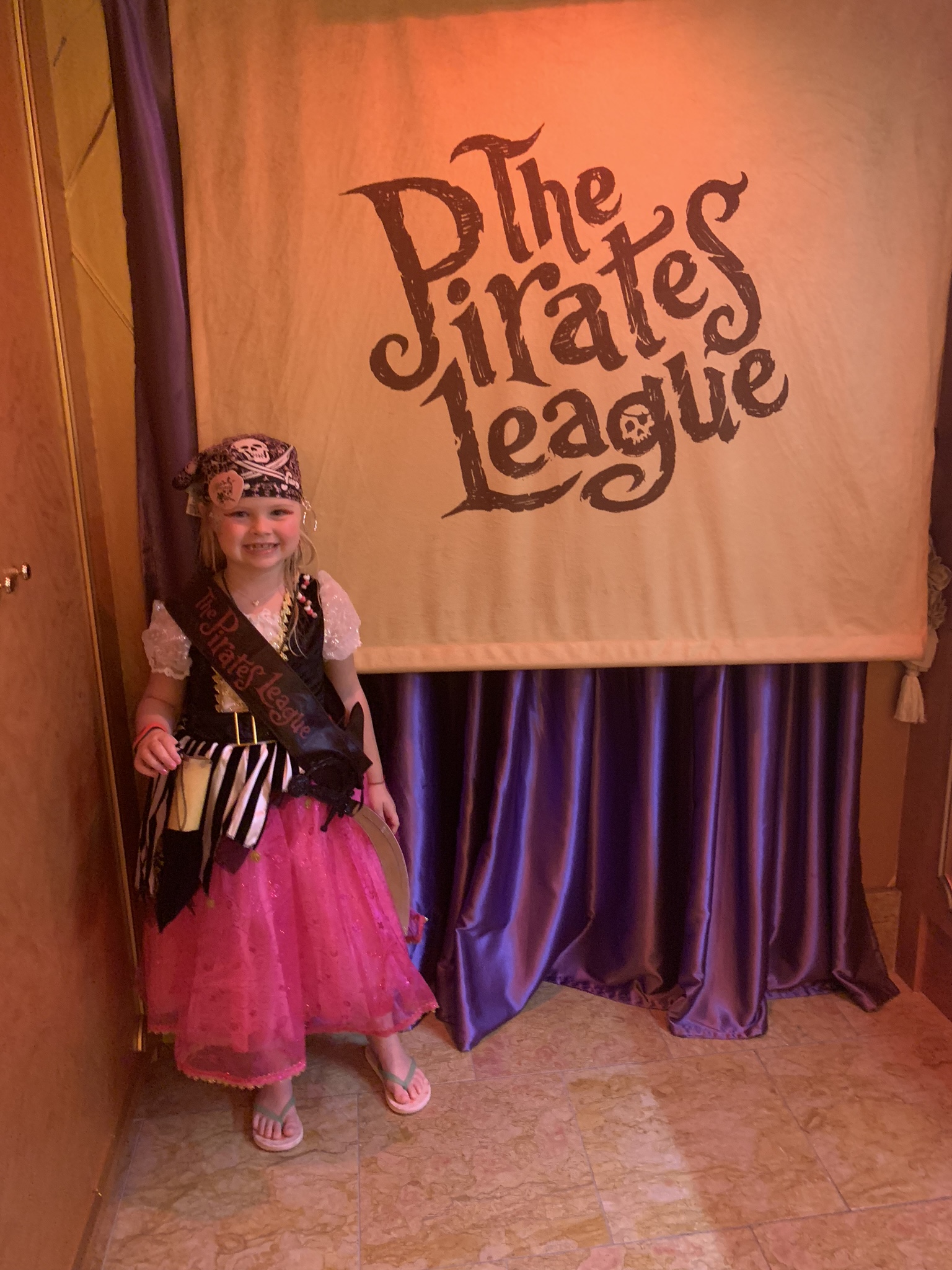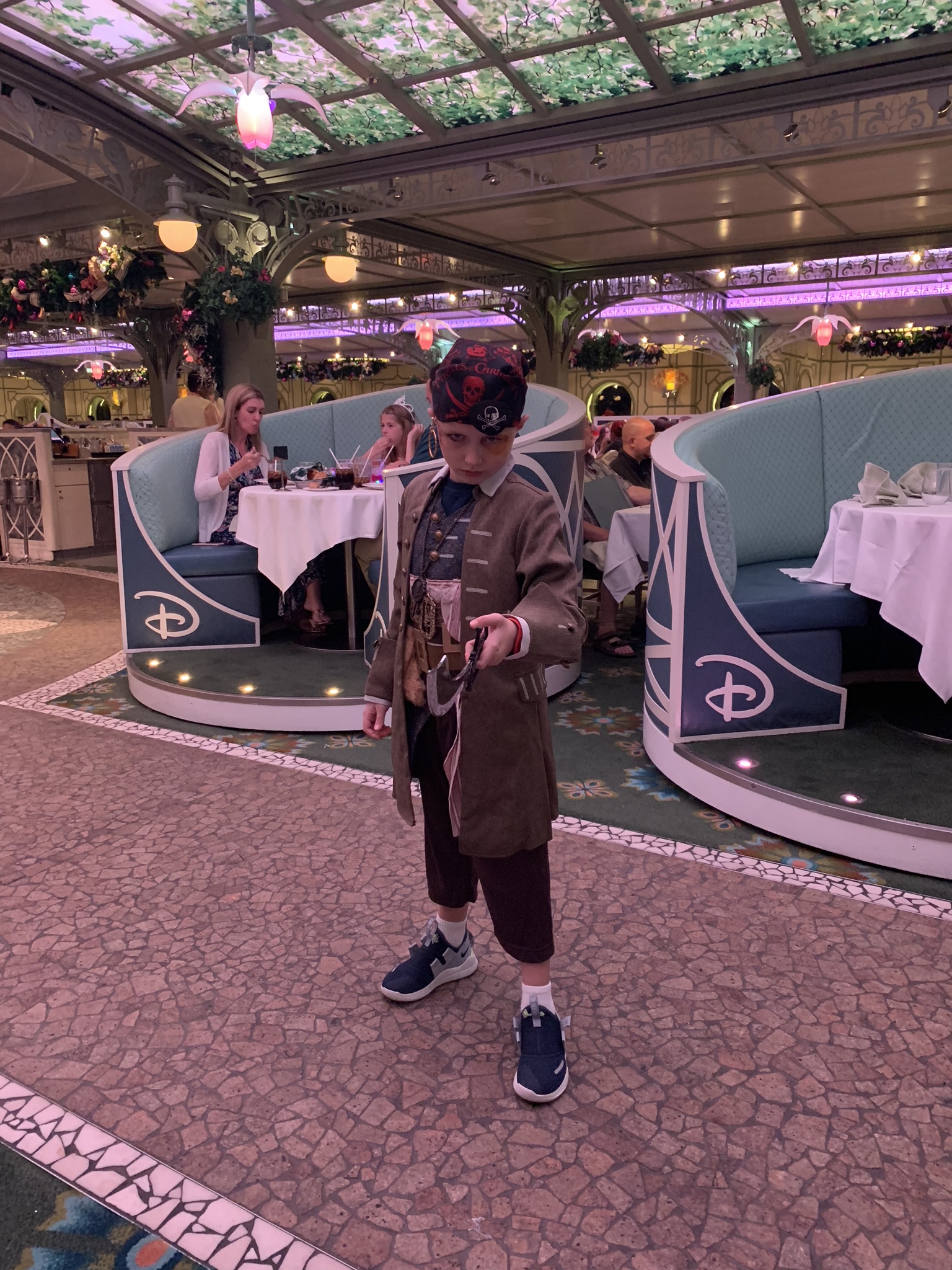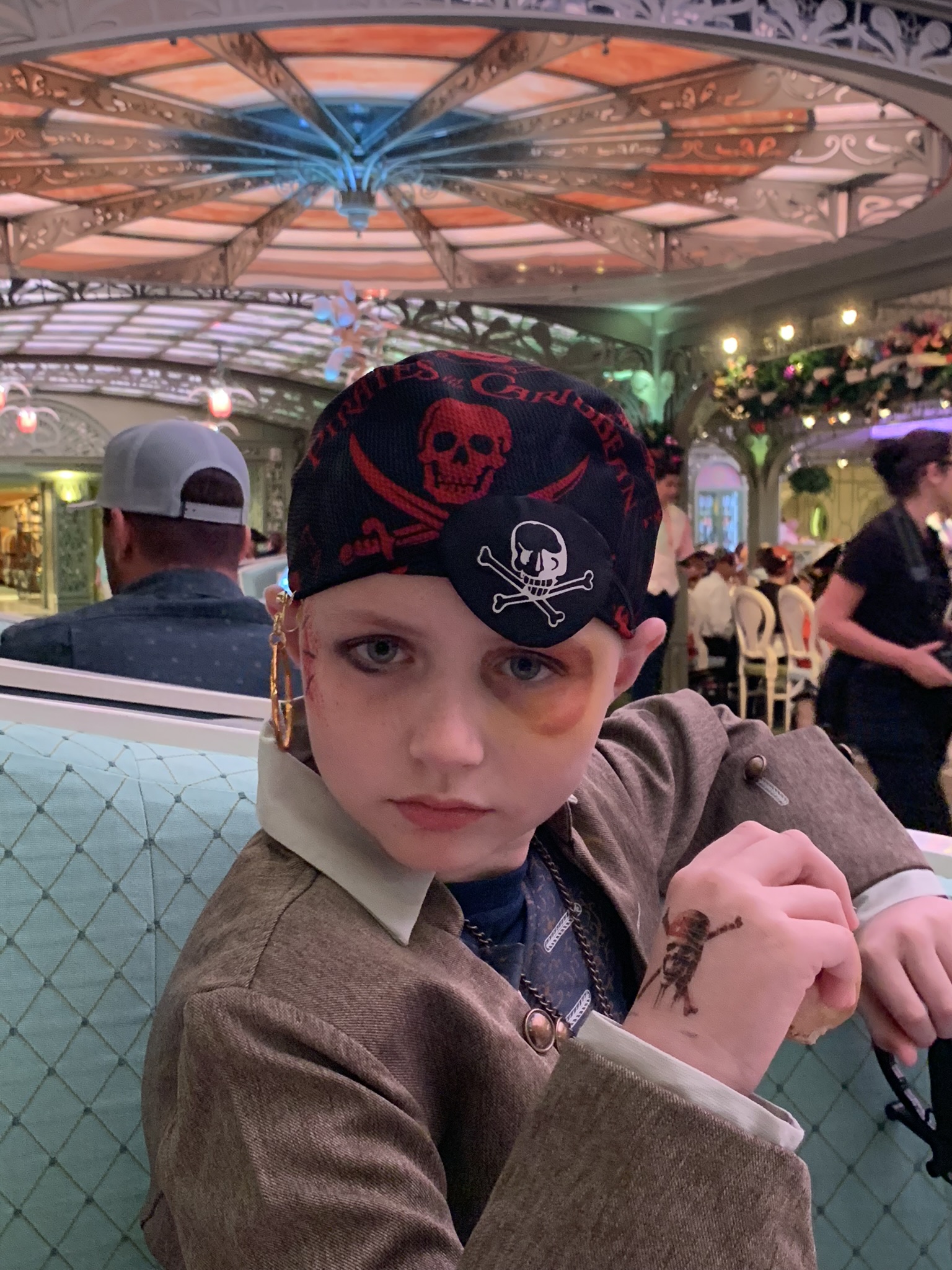 Our cruise happened to be on Mickey's birthday, too! So there were lots of fun things going on, on board to commemorate this big birthday!!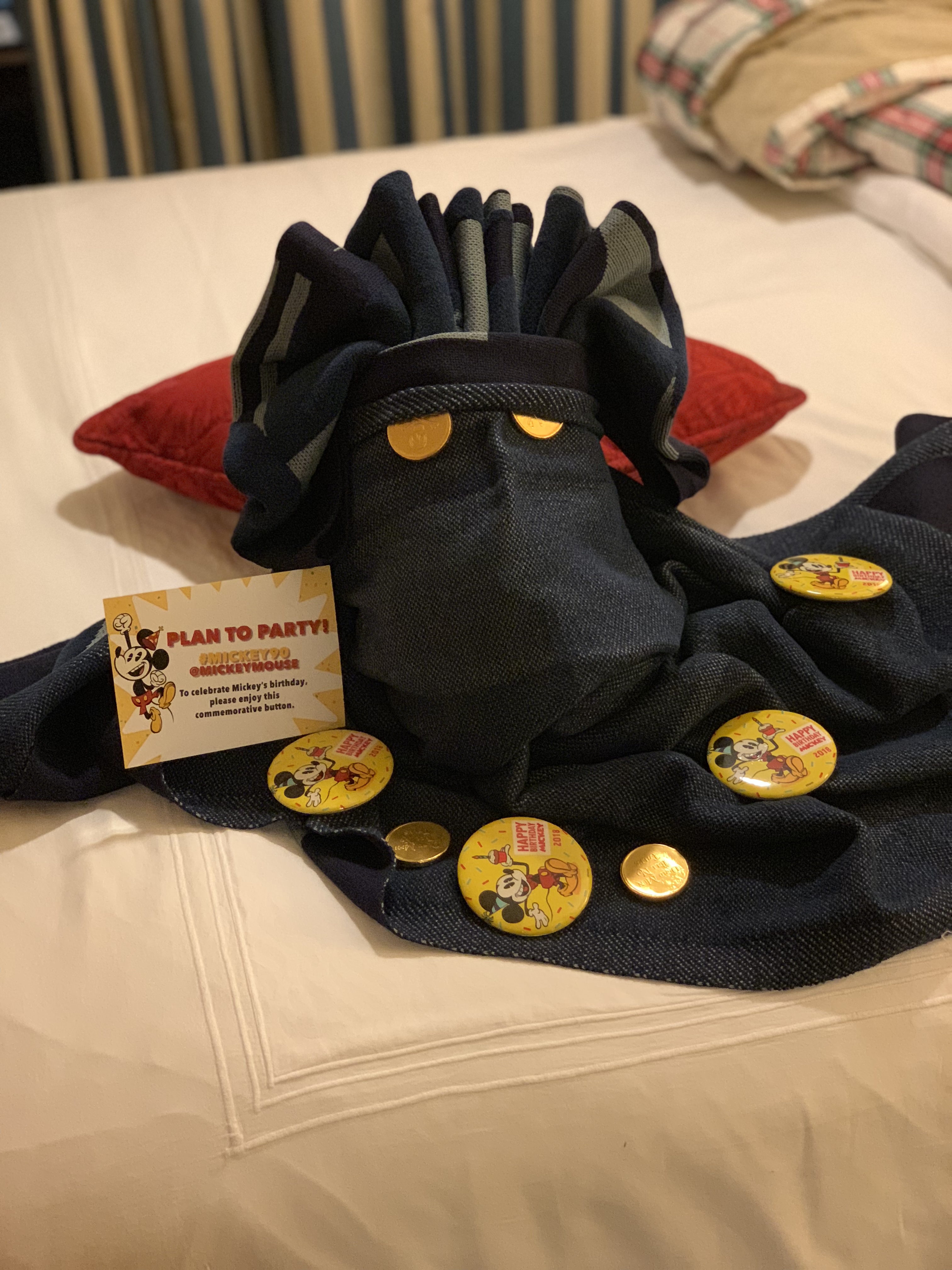 This is how we would come back each night from dinner…they would set up our beds and lay out all of Reagan's stuffed animals! Again, these little details mean so much.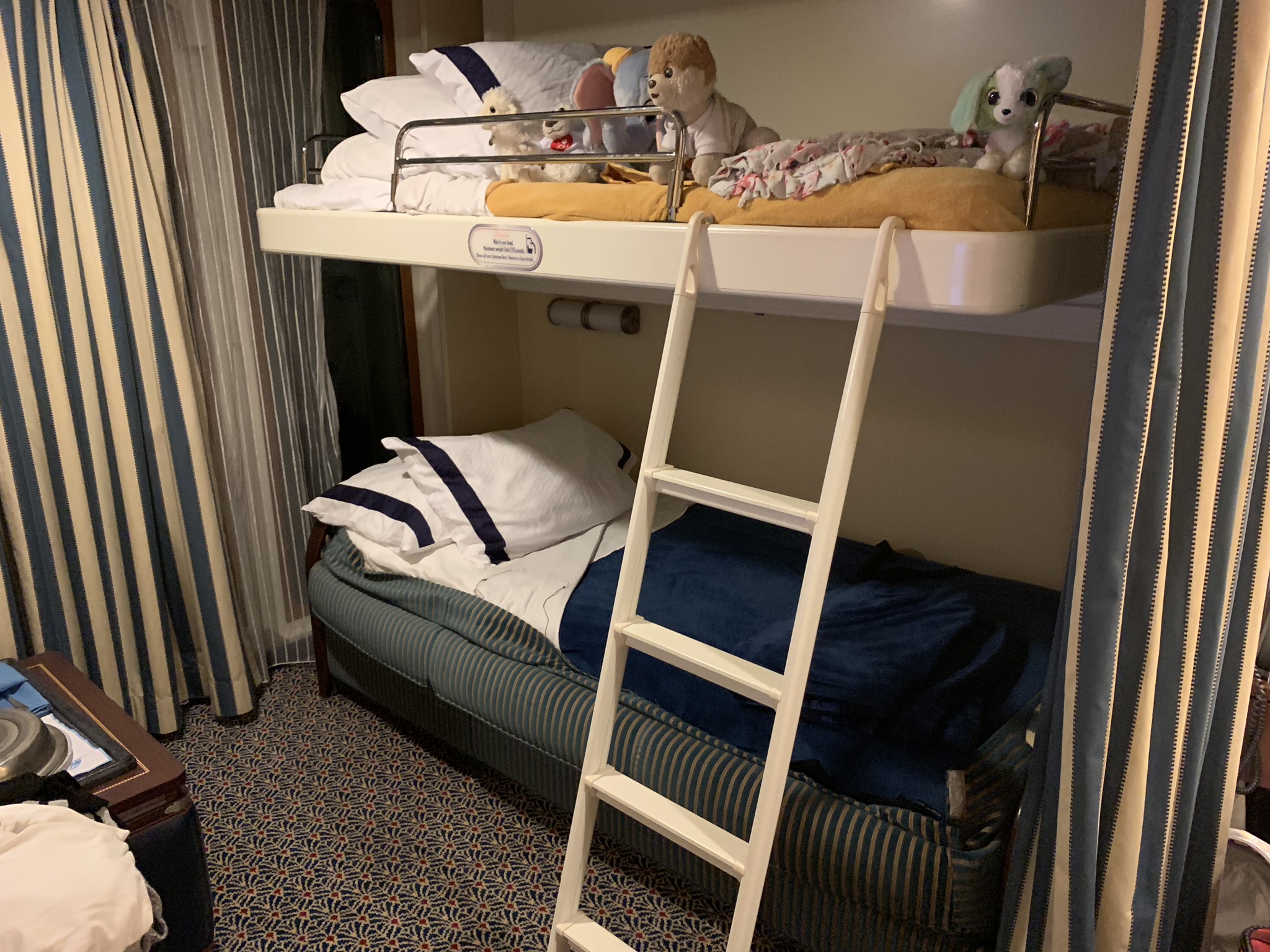 Our kids LOVED the kids club and wanted to go a ton, so we got to head out for a fancy adults only dinner at Palo. This was my favorite meal of the trip! The food was SO good and I loved being able to sneak in a little romantic evening with my boo!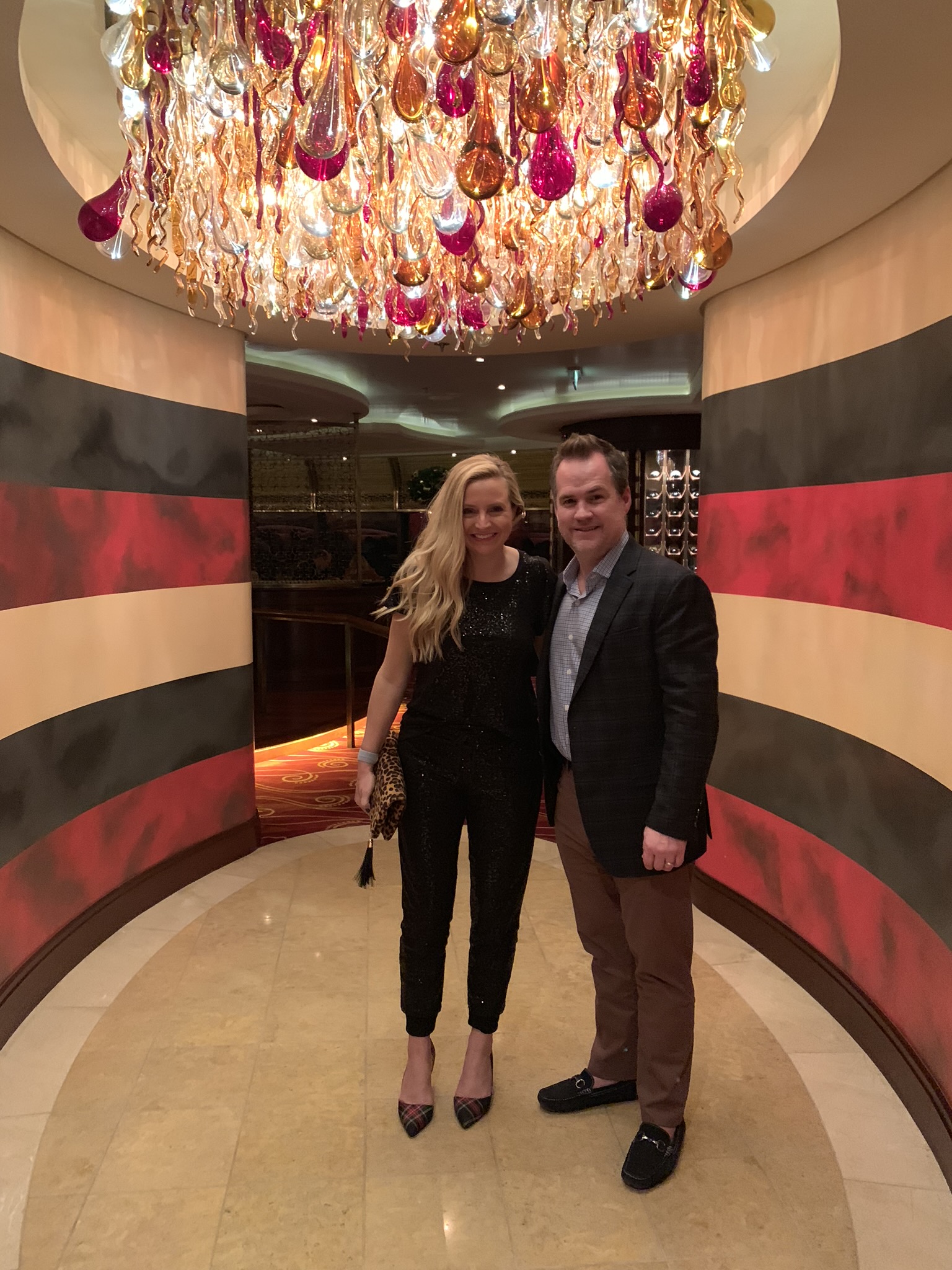 Our little pirates after we picked them up from the kids club. Teddy could've stayed there all day and night. He loved it!! But, we had a pirate show to see!!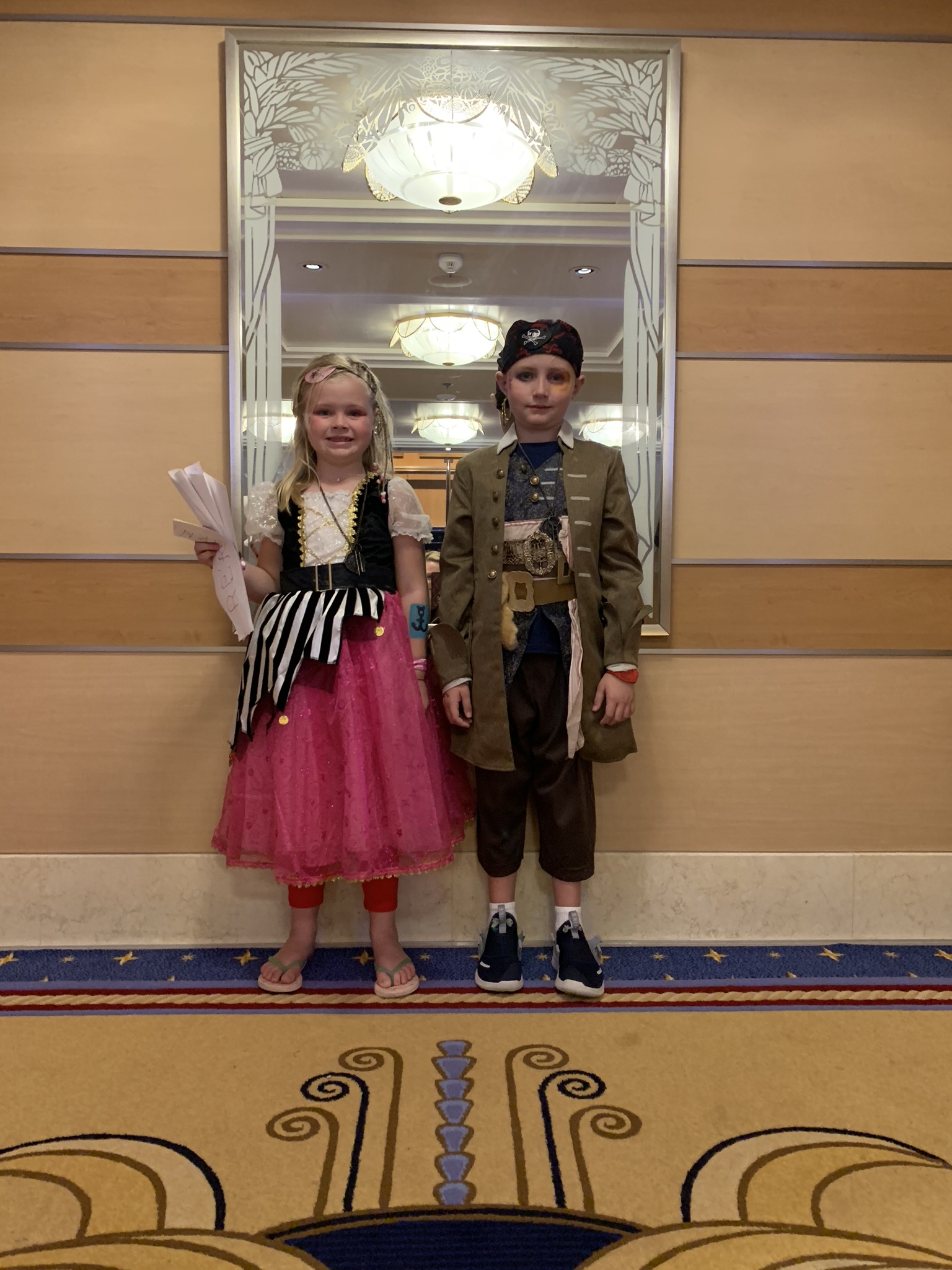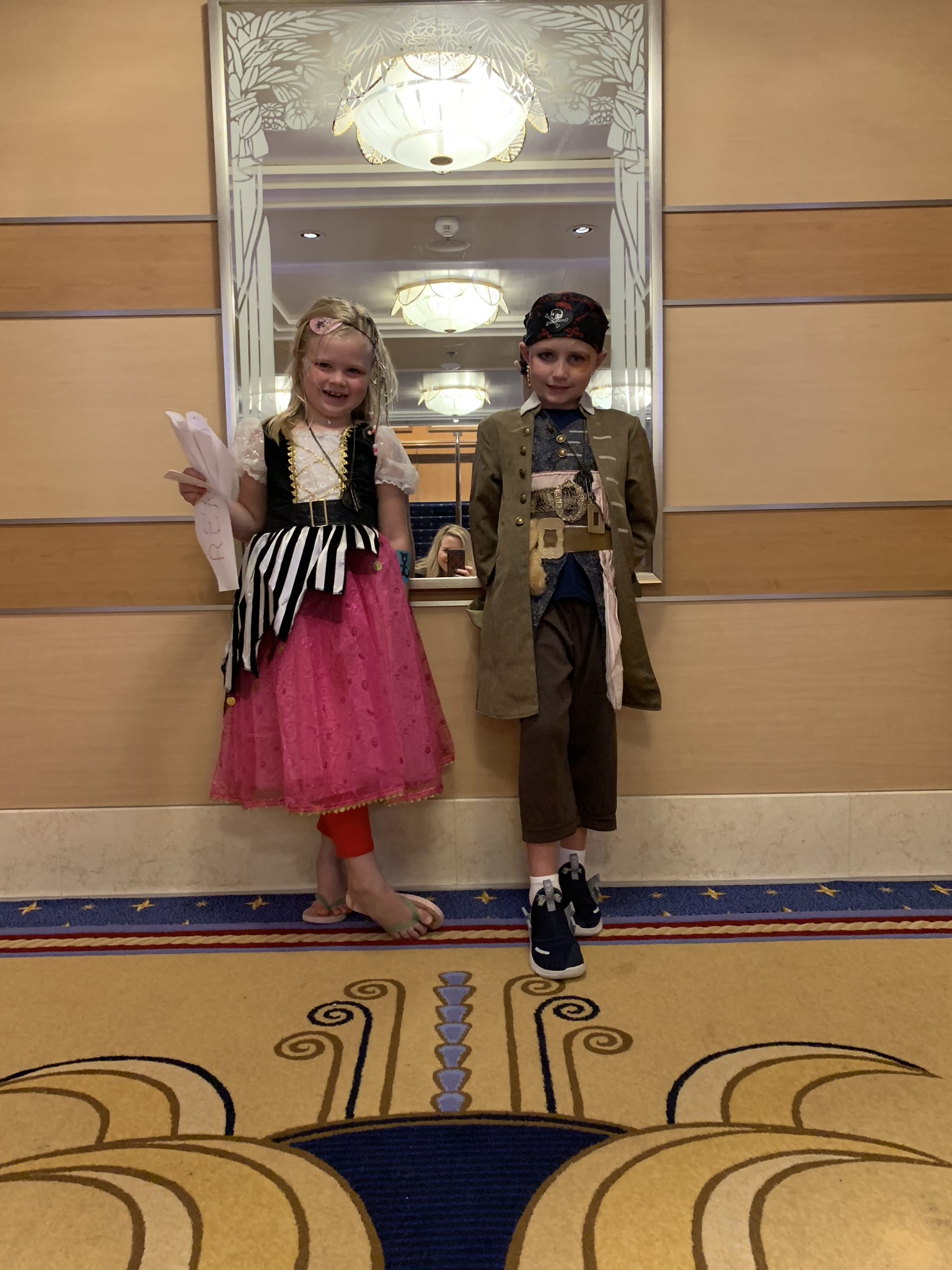 After dinner, we headed to see the pirate show and fireworks!! It was so awesome and definitely one of my favorite moments of the trip! They do a whole show and then set off fireworks! It is really incredible!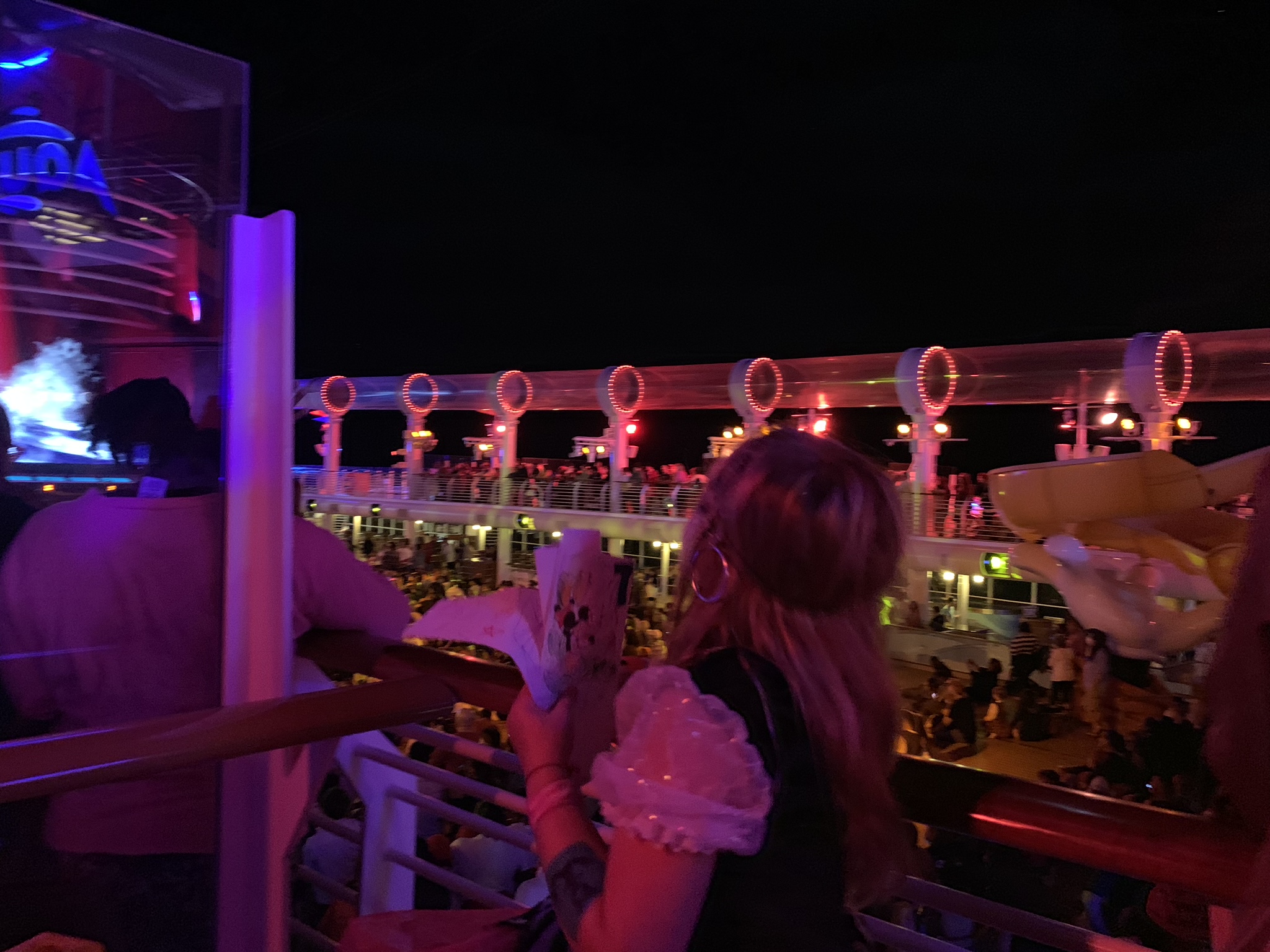 Our last day, we woke up at Disney's private Island, Castaway Cay!! It was BEAUTIFUL!!!! And we couldn't wait to get off the ship and to explore!!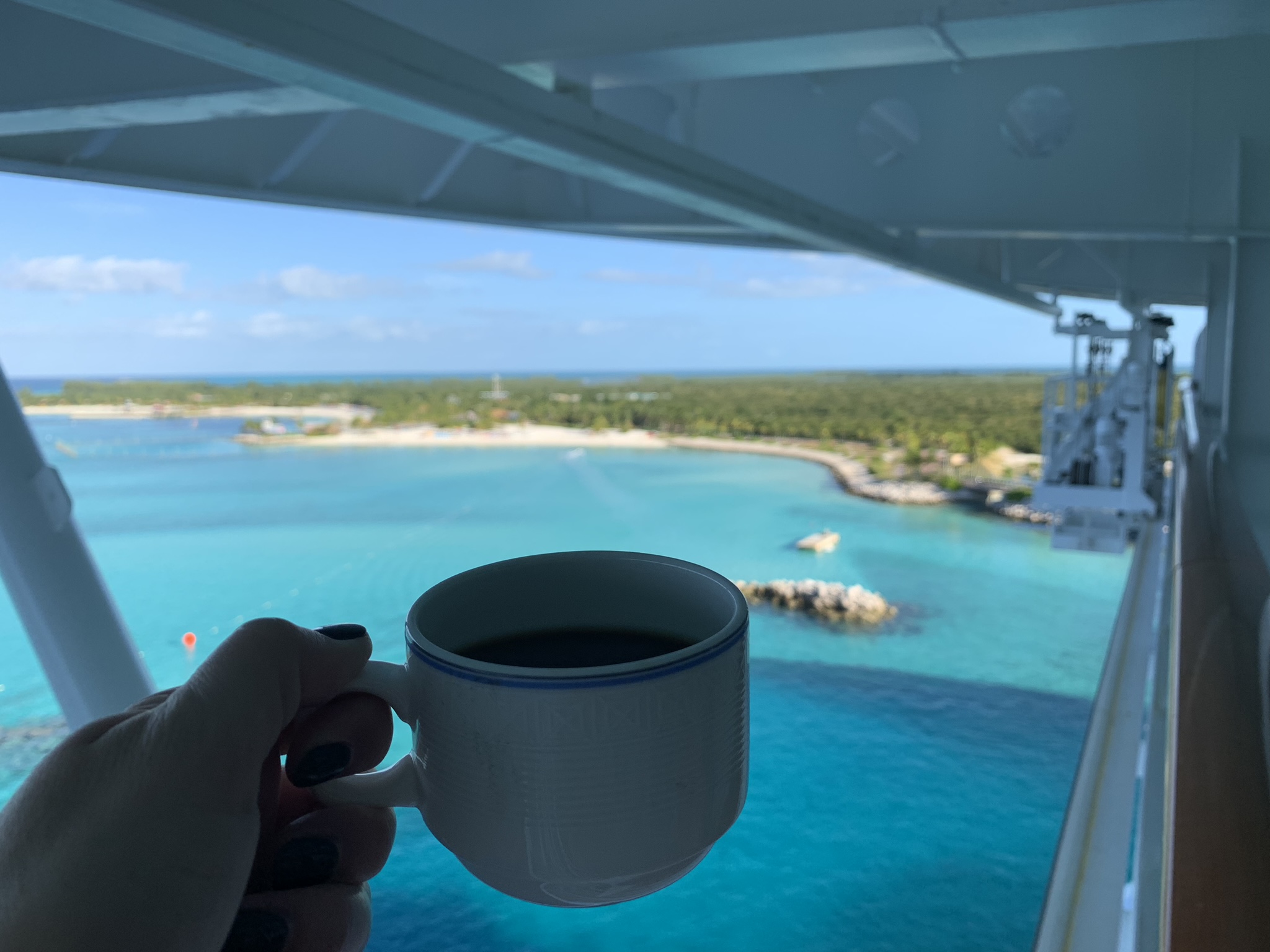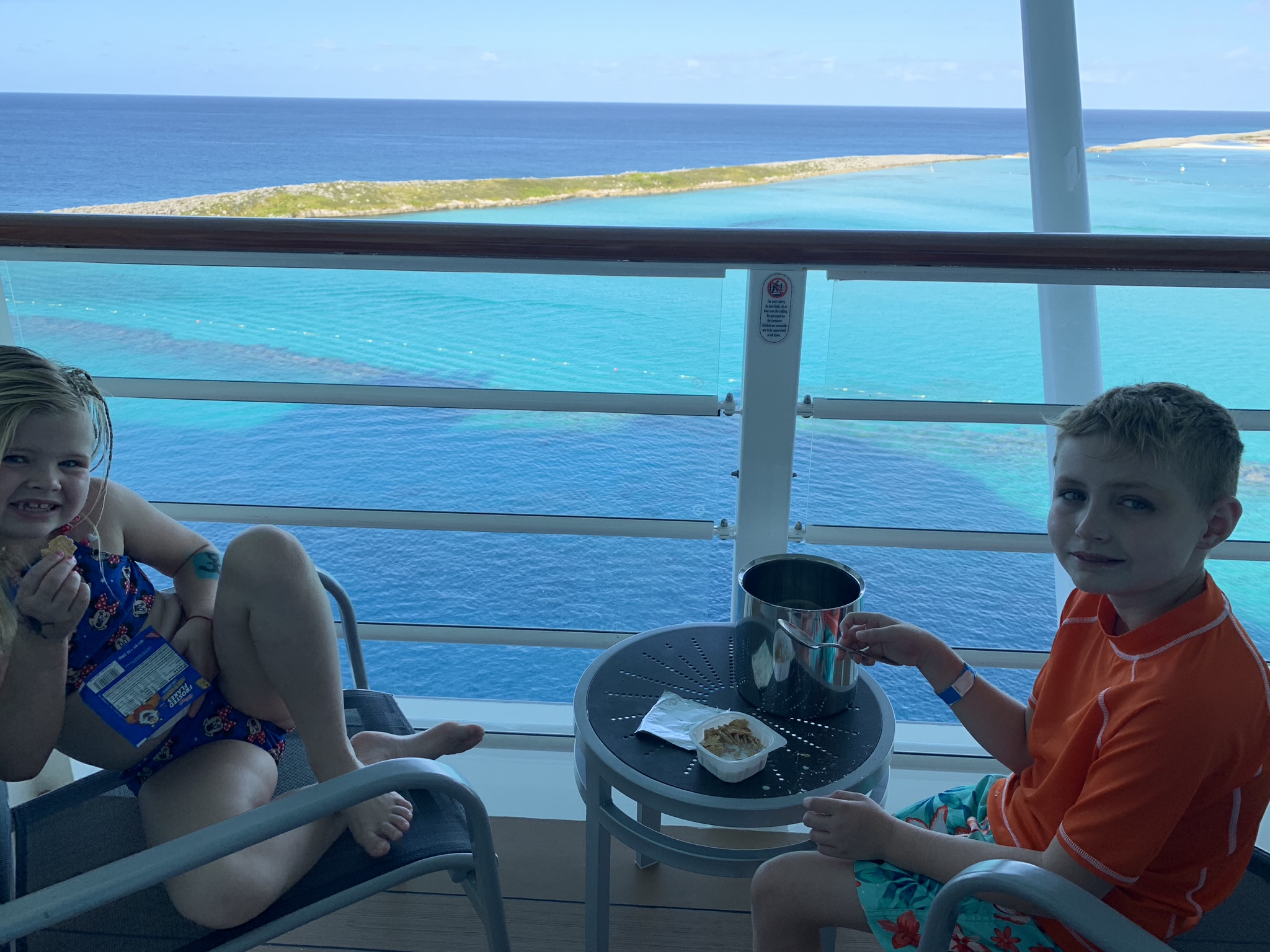 We had the best time on this island! It was such a blast and so gorgeous!!!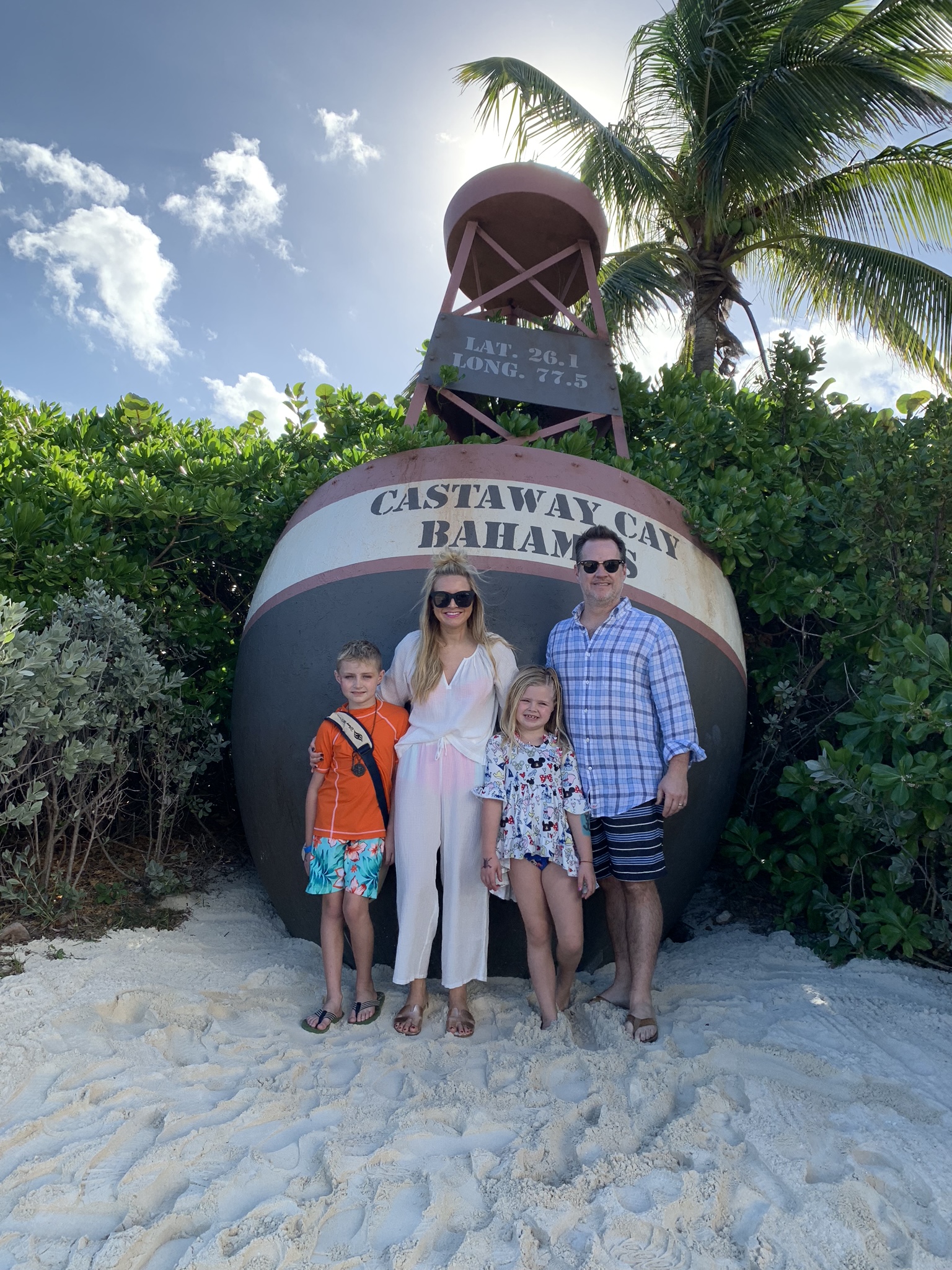 Home away from home!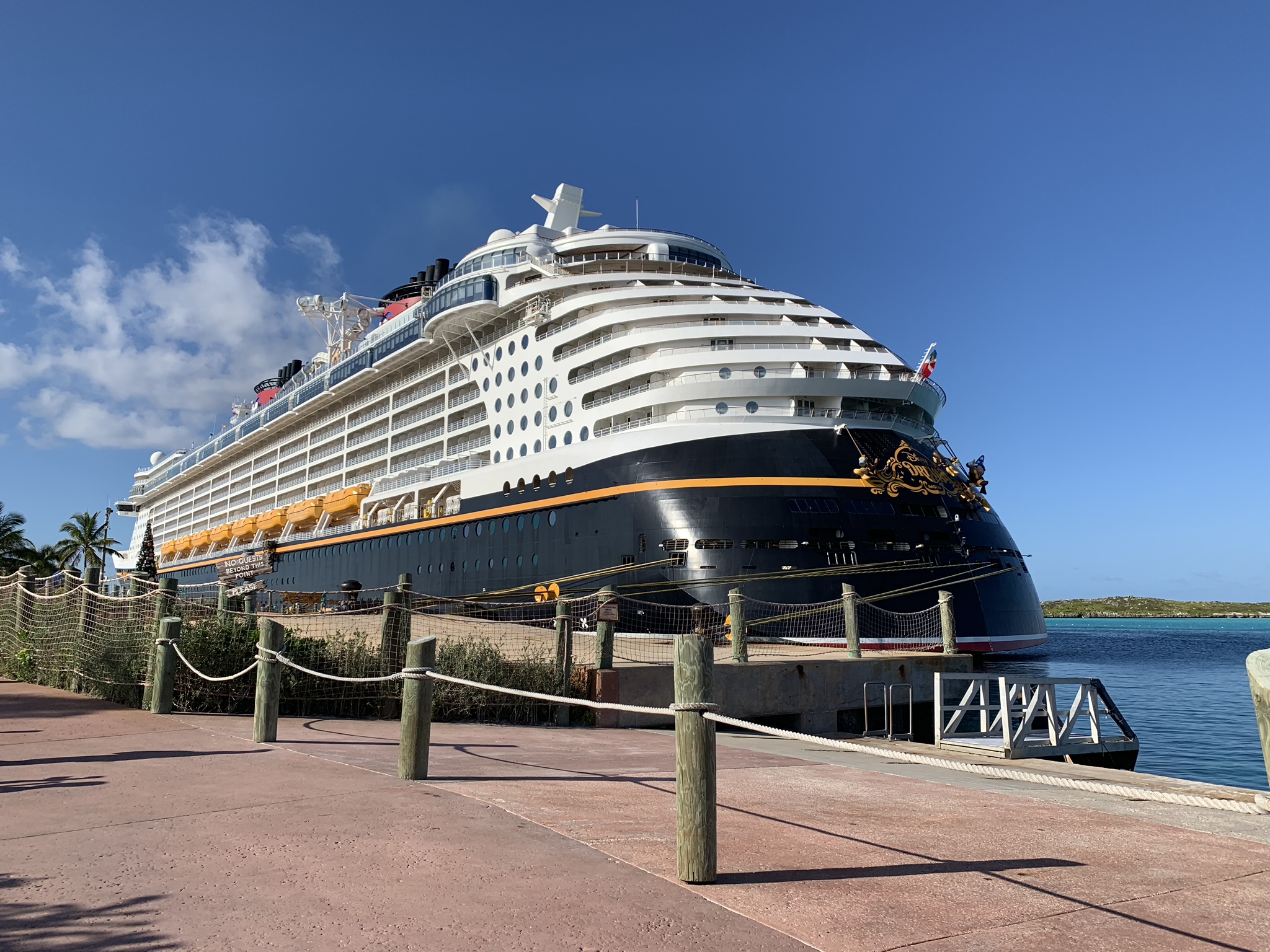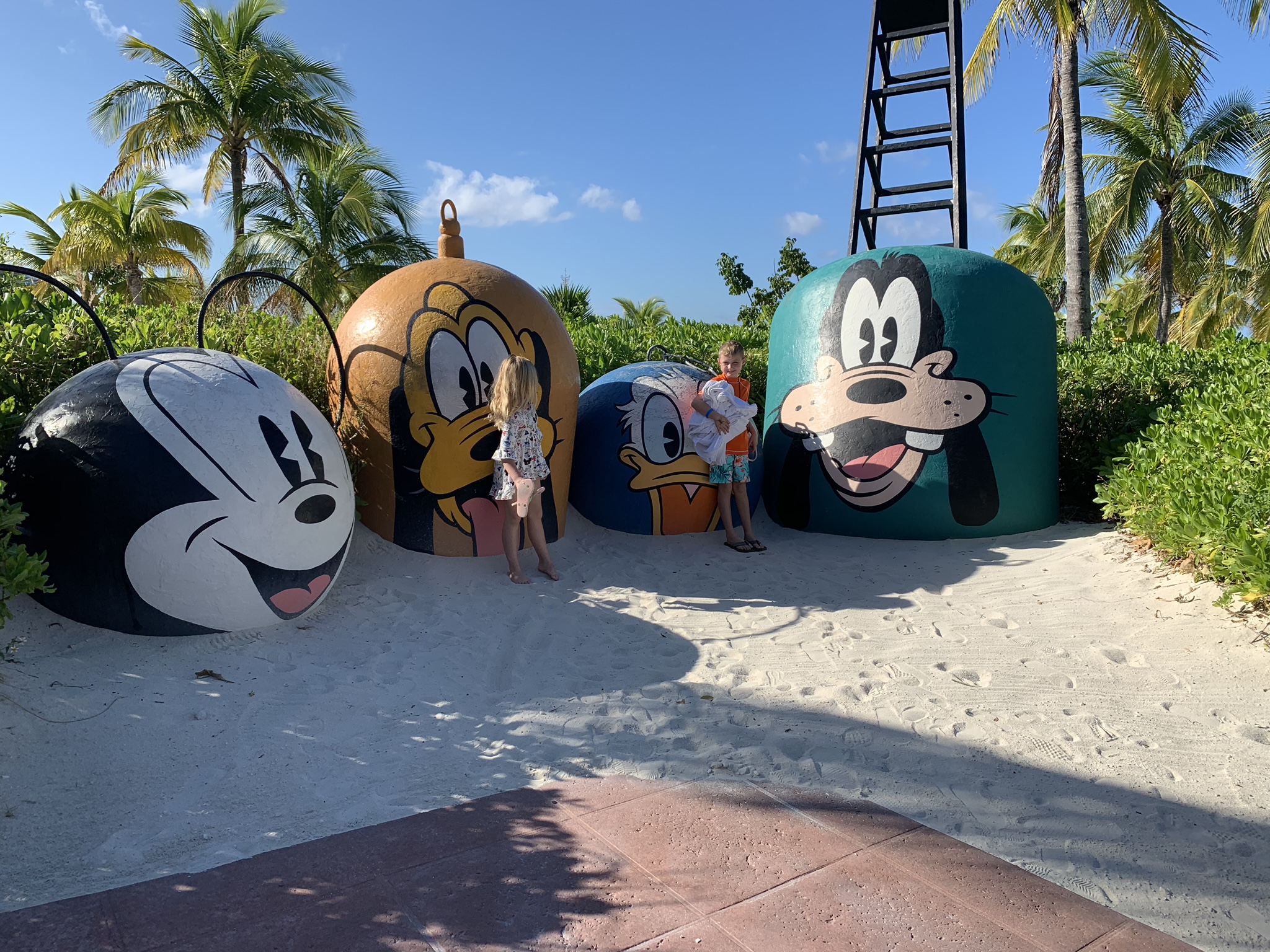 We got off the ship pretty early and the kids immediately had to get into the water! They love the ocean!!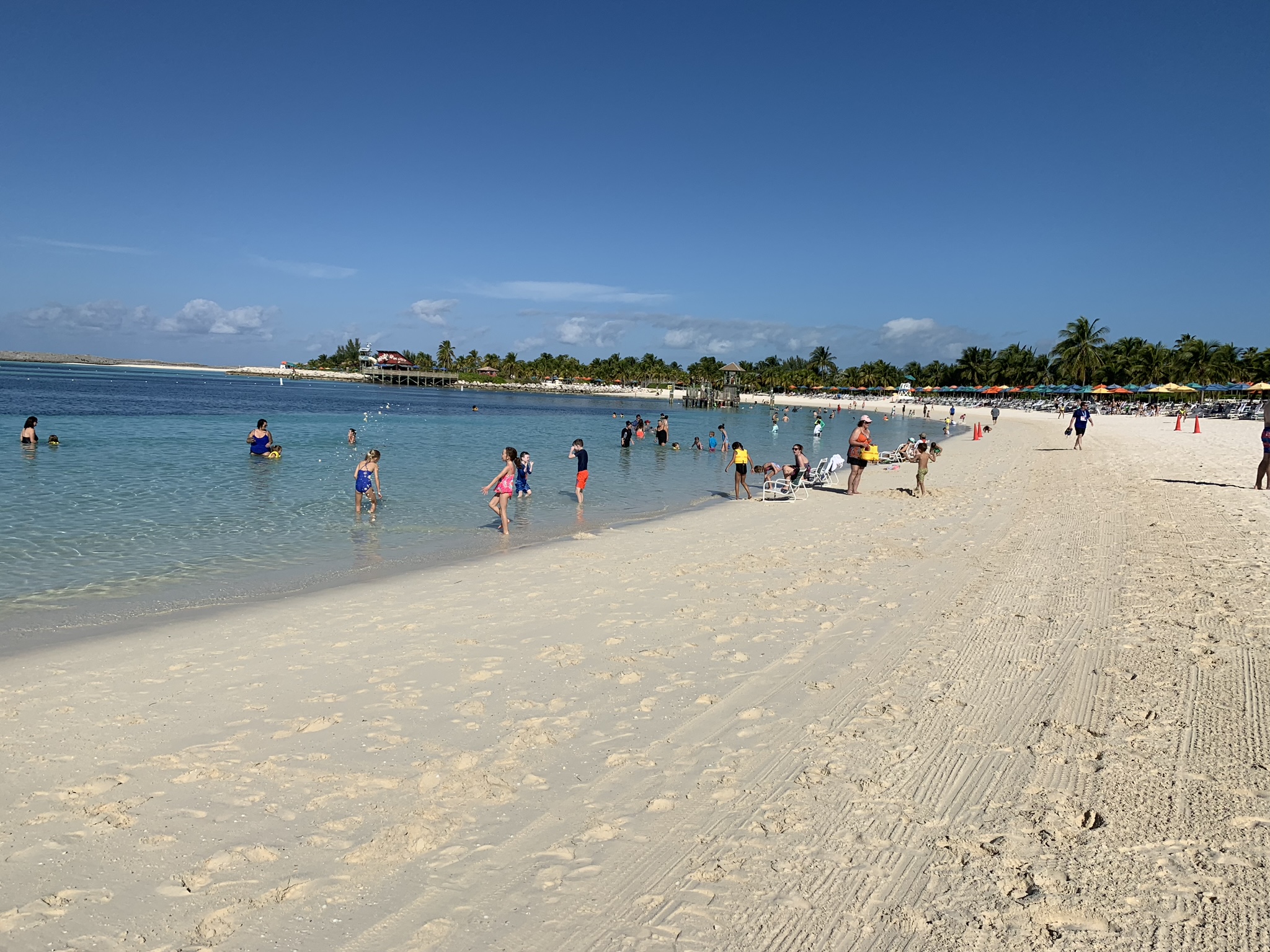 After a relaxing day at Castaway Cay, Reagan had another appointment at the boutique! This time, to get transformed into a princess! I highly recommend making your kiddos at least one appointment at the boutique. It's such a neat experience for them and the way they get into character was even magical for me! I was teary the whole time because it was just such a neat experience for the kids!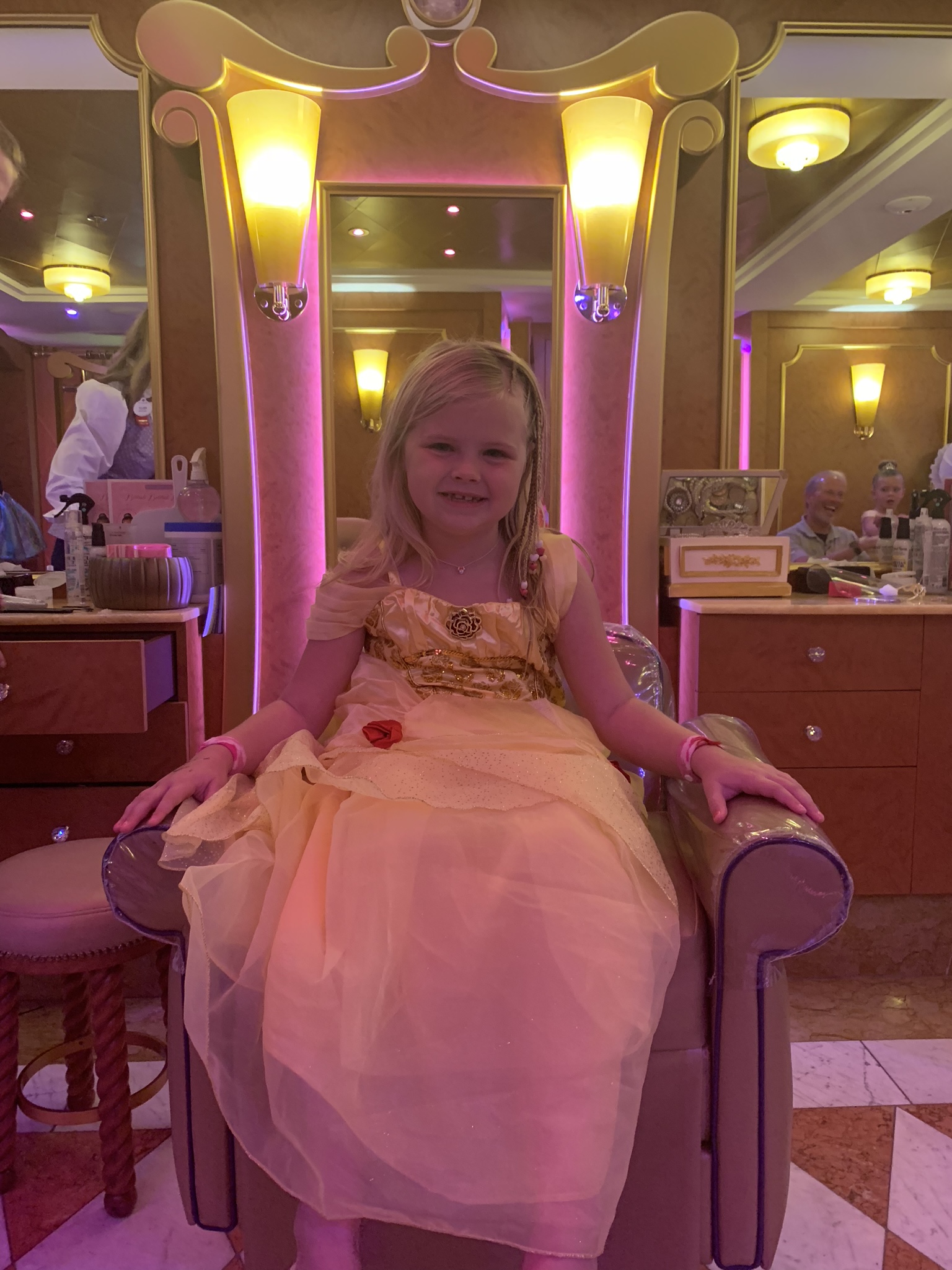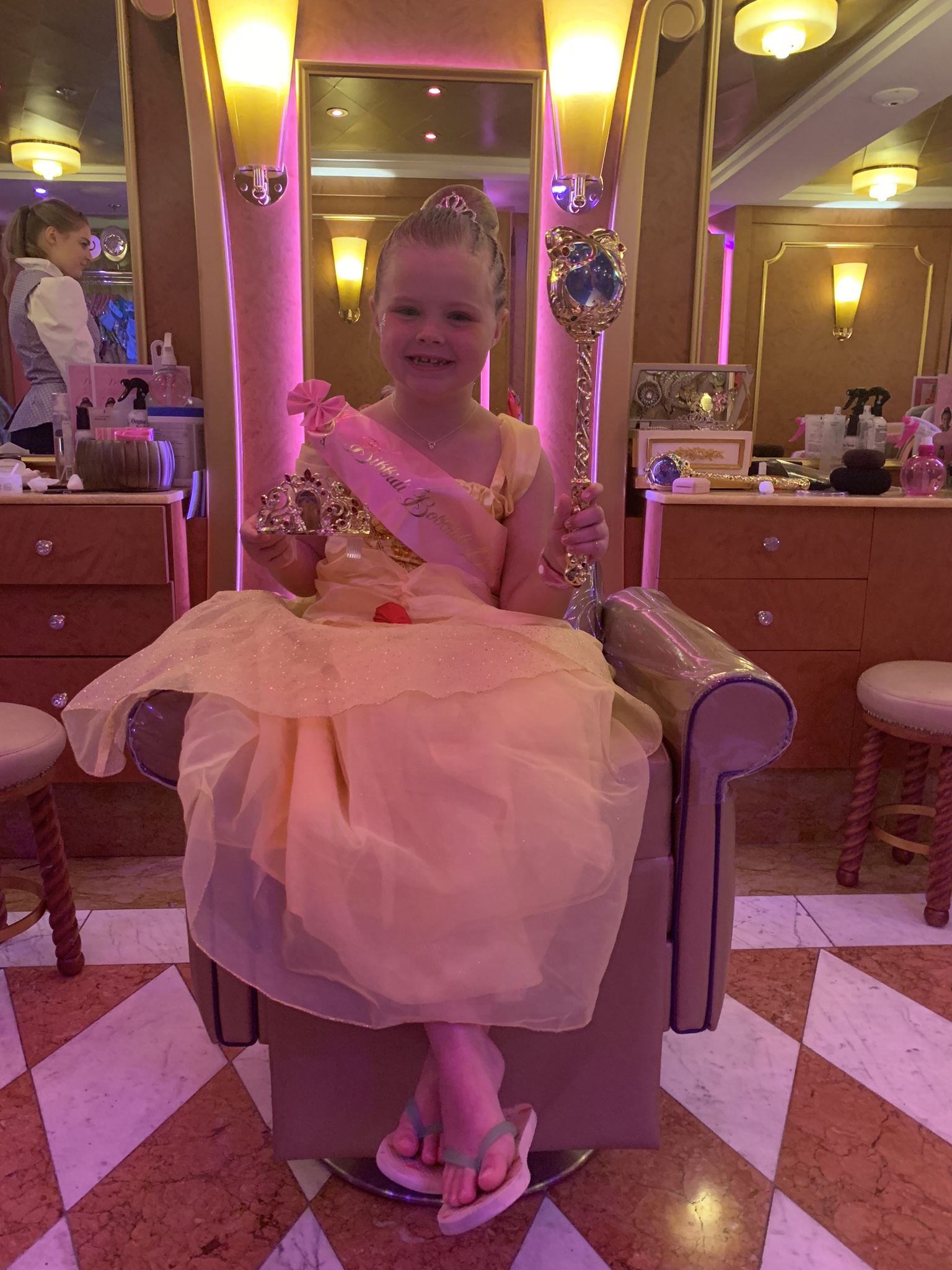 Reagan transformed into Belle!!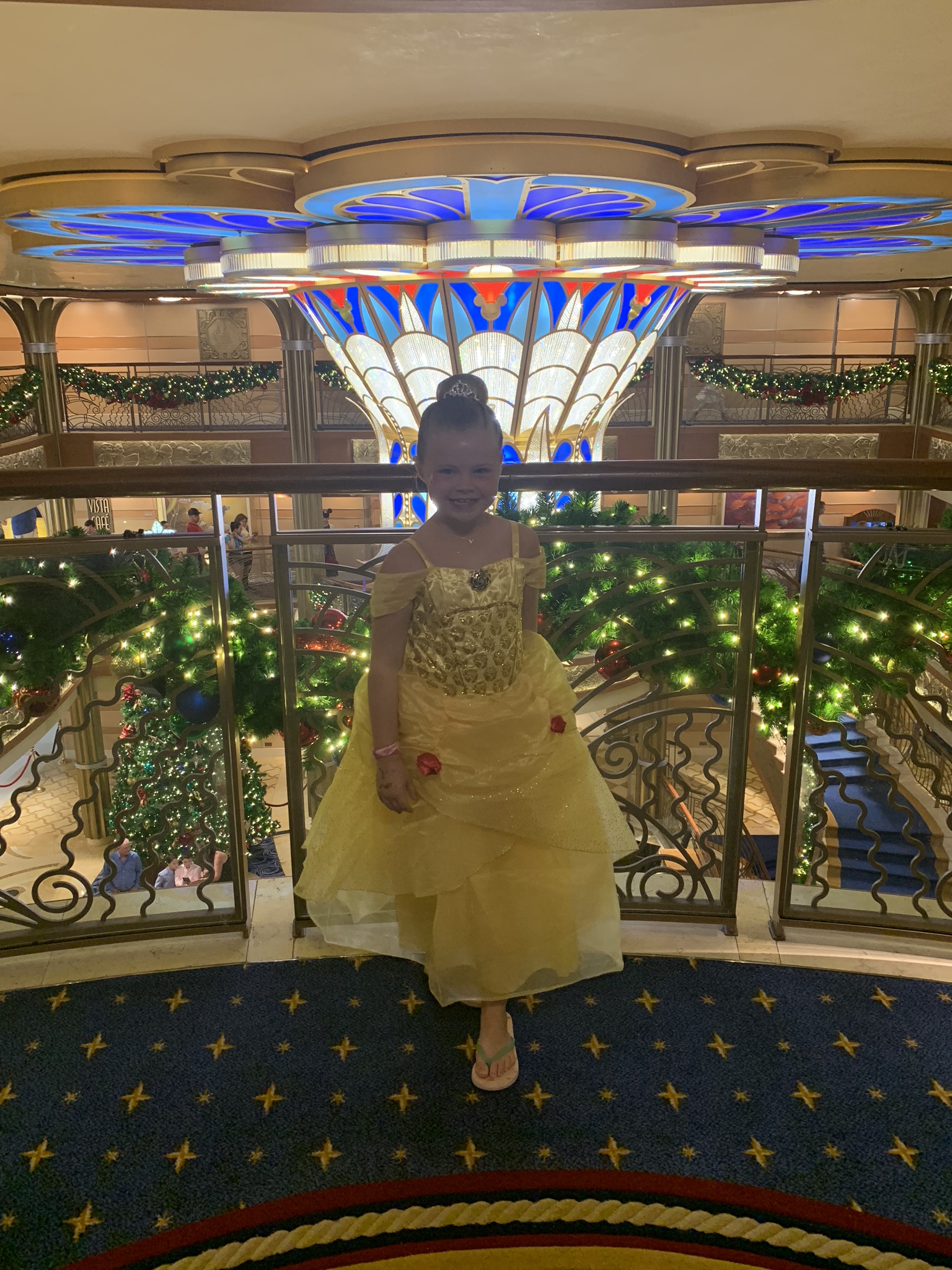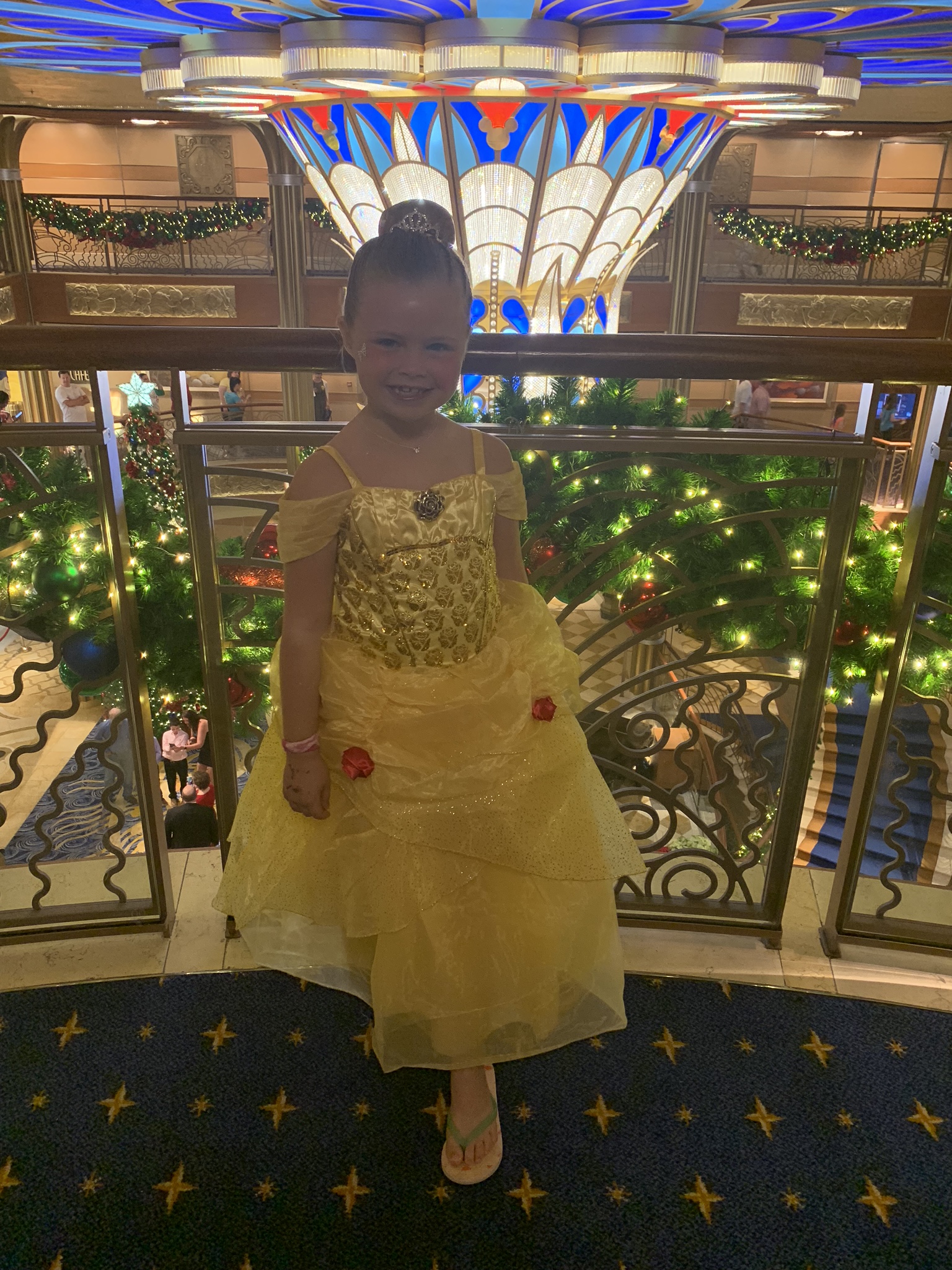 Saying goodbye to Castaway Cay and headed back to Florida!!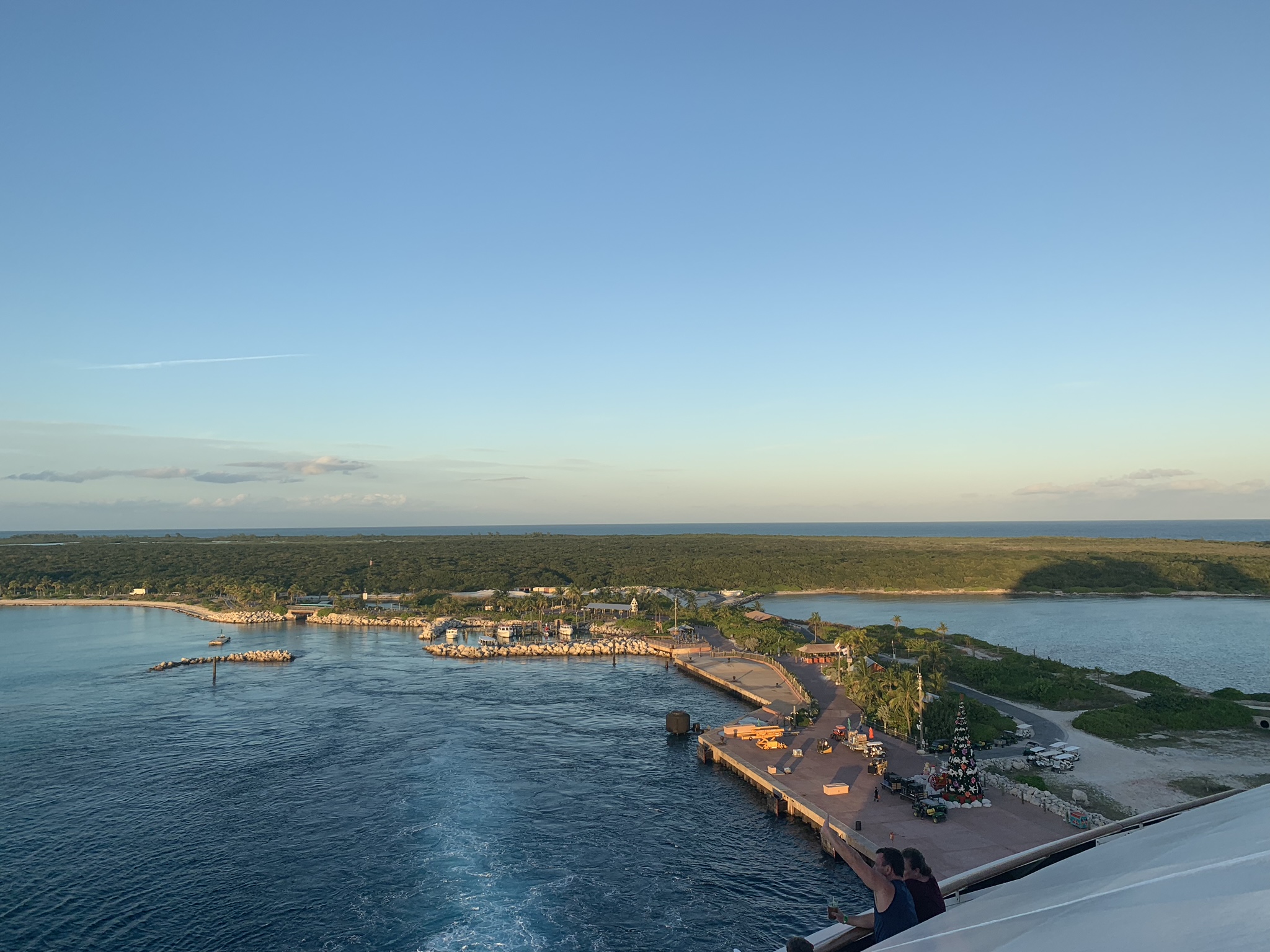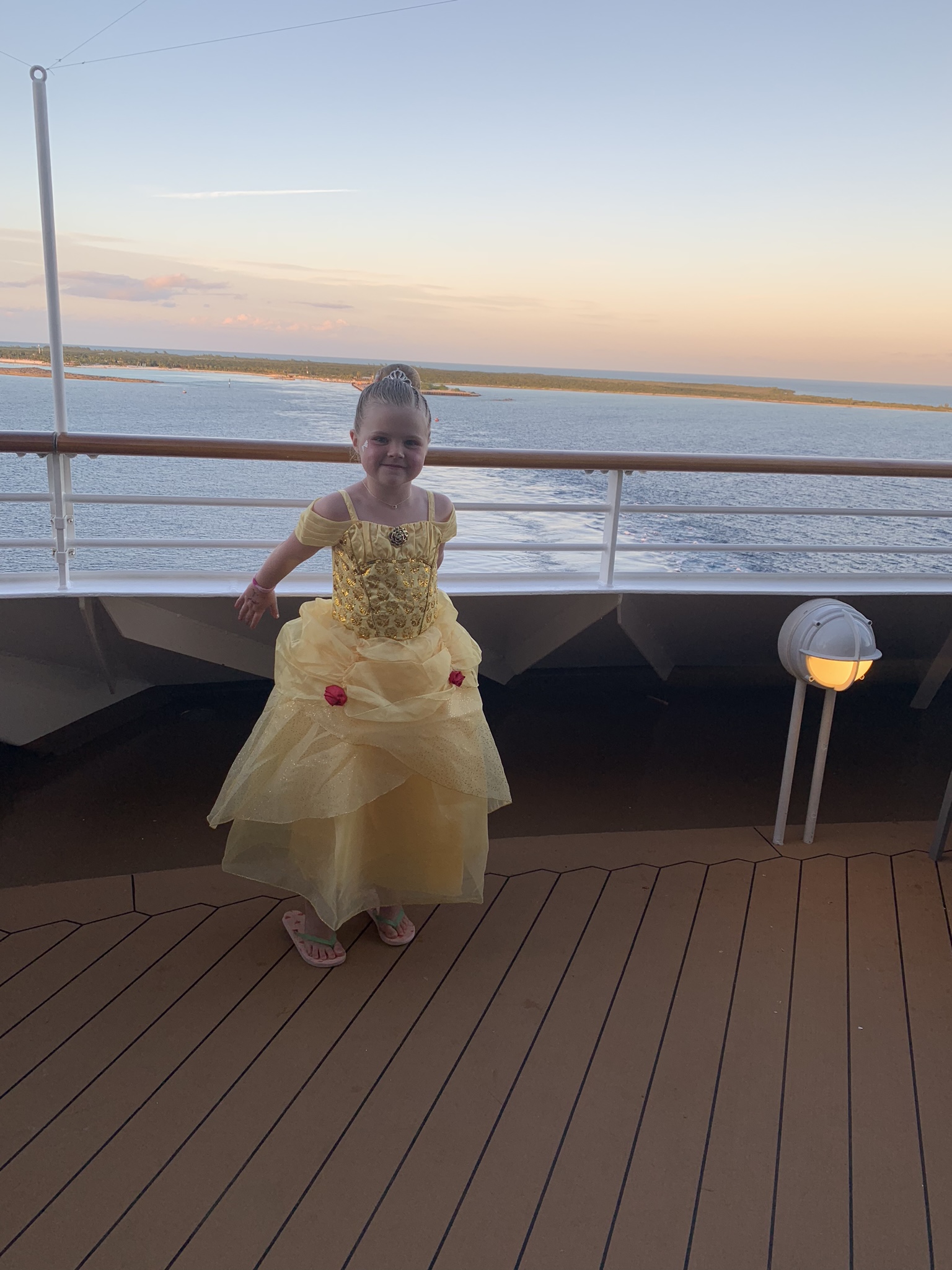 Love this sweet crew of mine! So blessed and grateful to have had this opportunity! It was such a fun experience!!!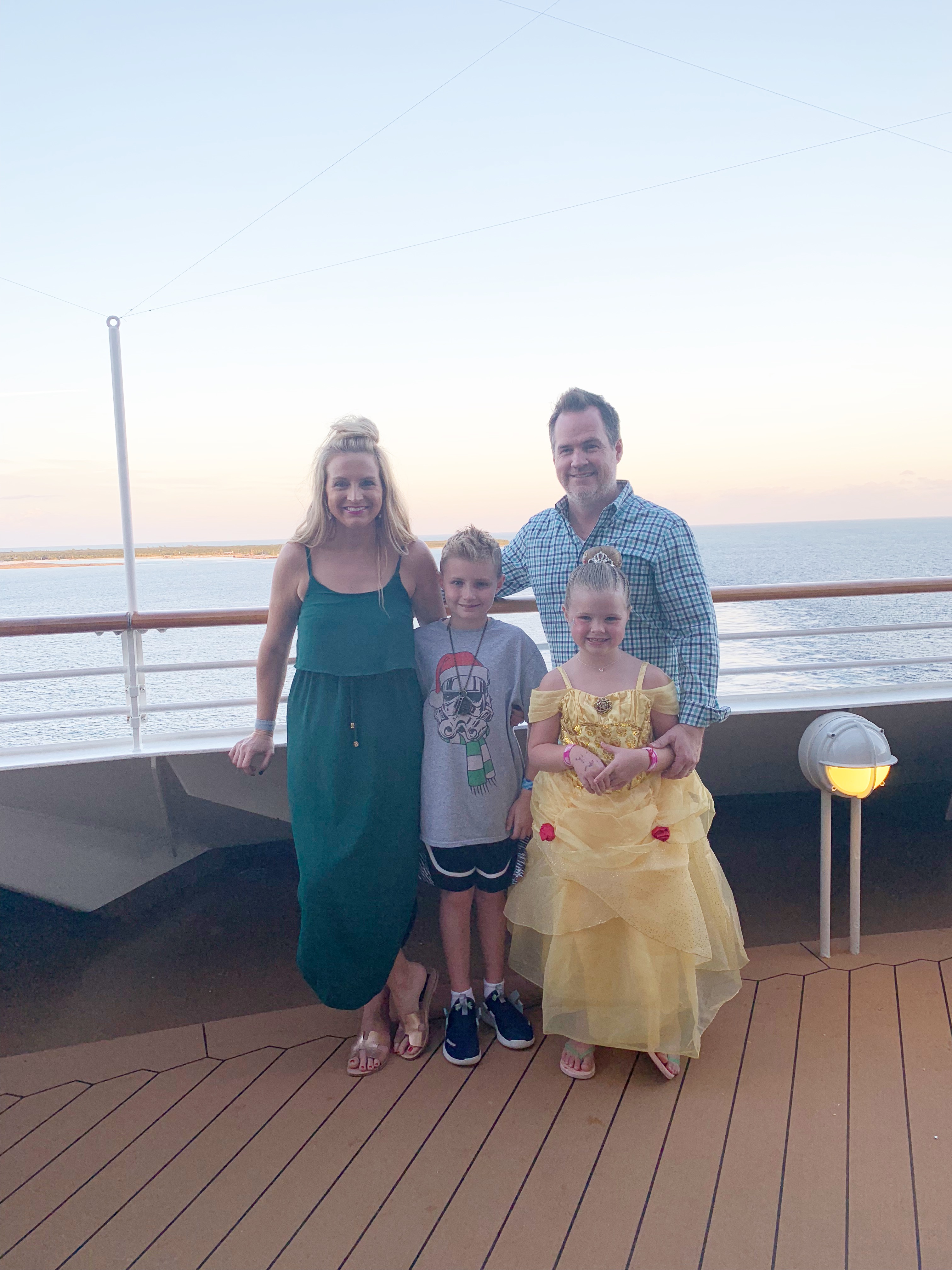 I have to give an extra shoutout to the staff! Tony, our waiter, was incredible. We ate every dinner with him and he truly was the best! He remembered everything from night to night and always had the kids favorites and our favorites, waiting for us!!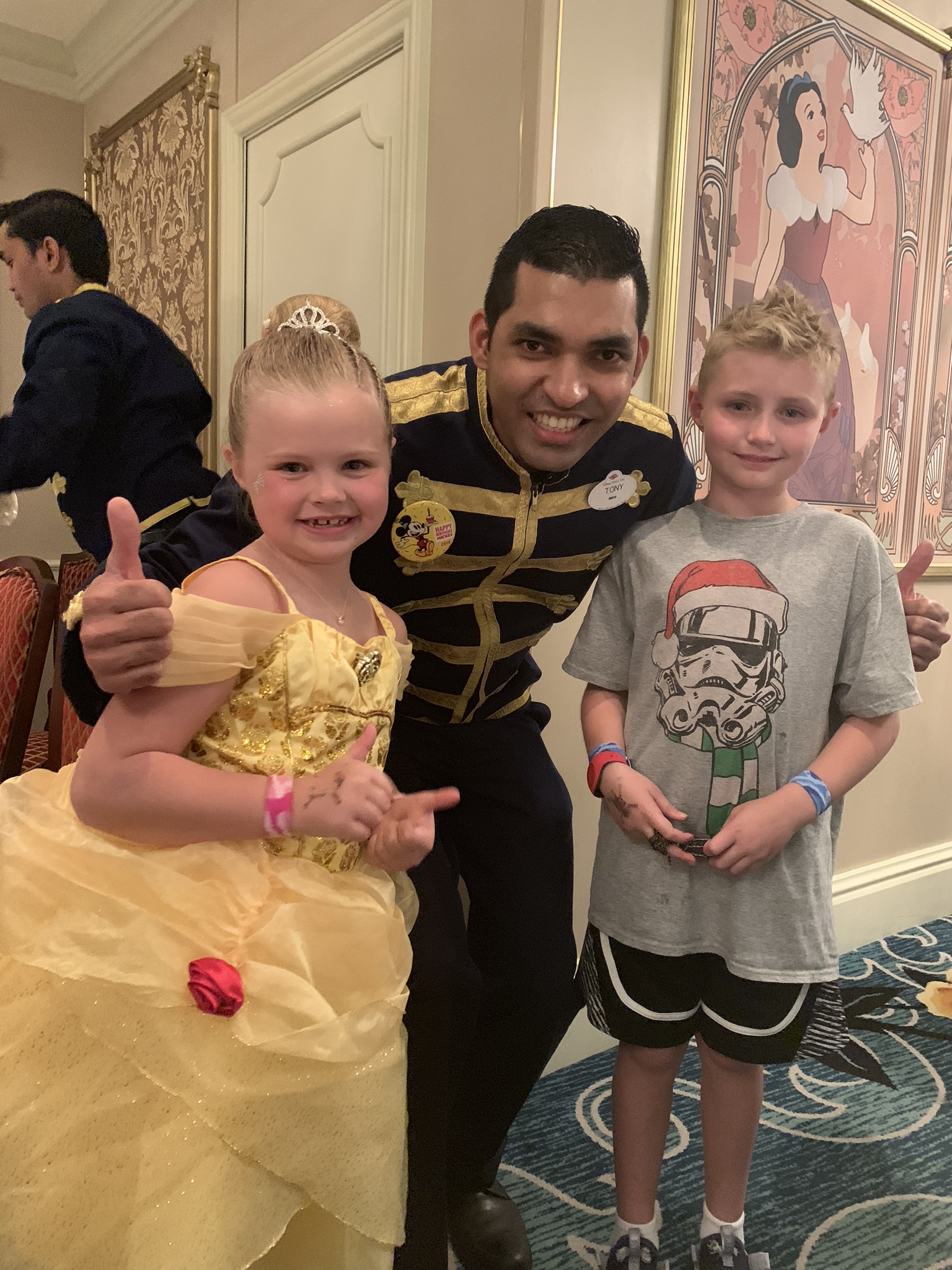 Our room attendant was amazing! No detail was spared. I think that is really one of my favorite things about the Disney Merrytime Cruise- all the amazing details!!!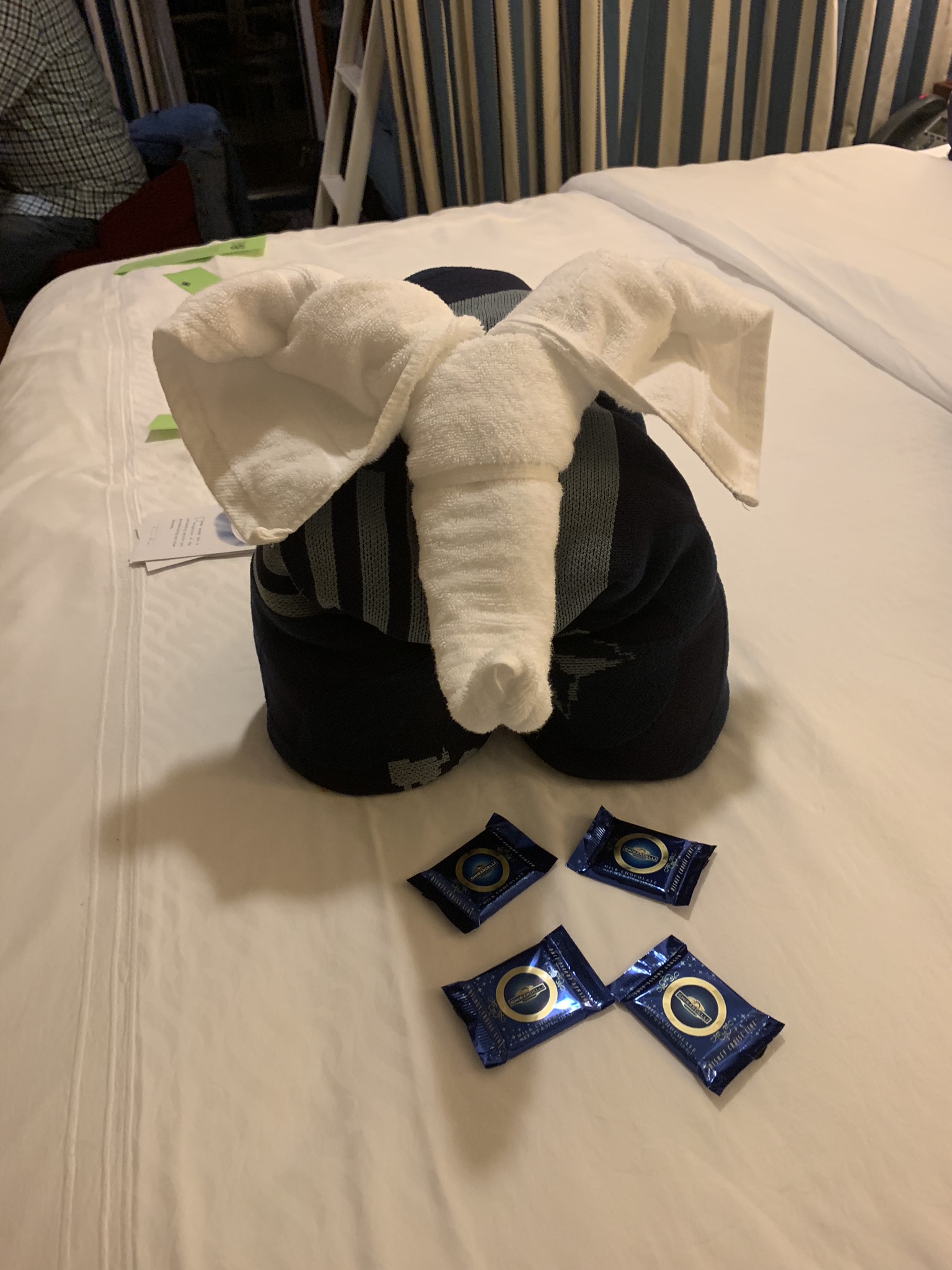 On our way off the ship, we cruised by the lifesize and REAL gingerbread house! You guys! This was incredible! Ive never seen anything like this. Of course, it smelled amazing, too!!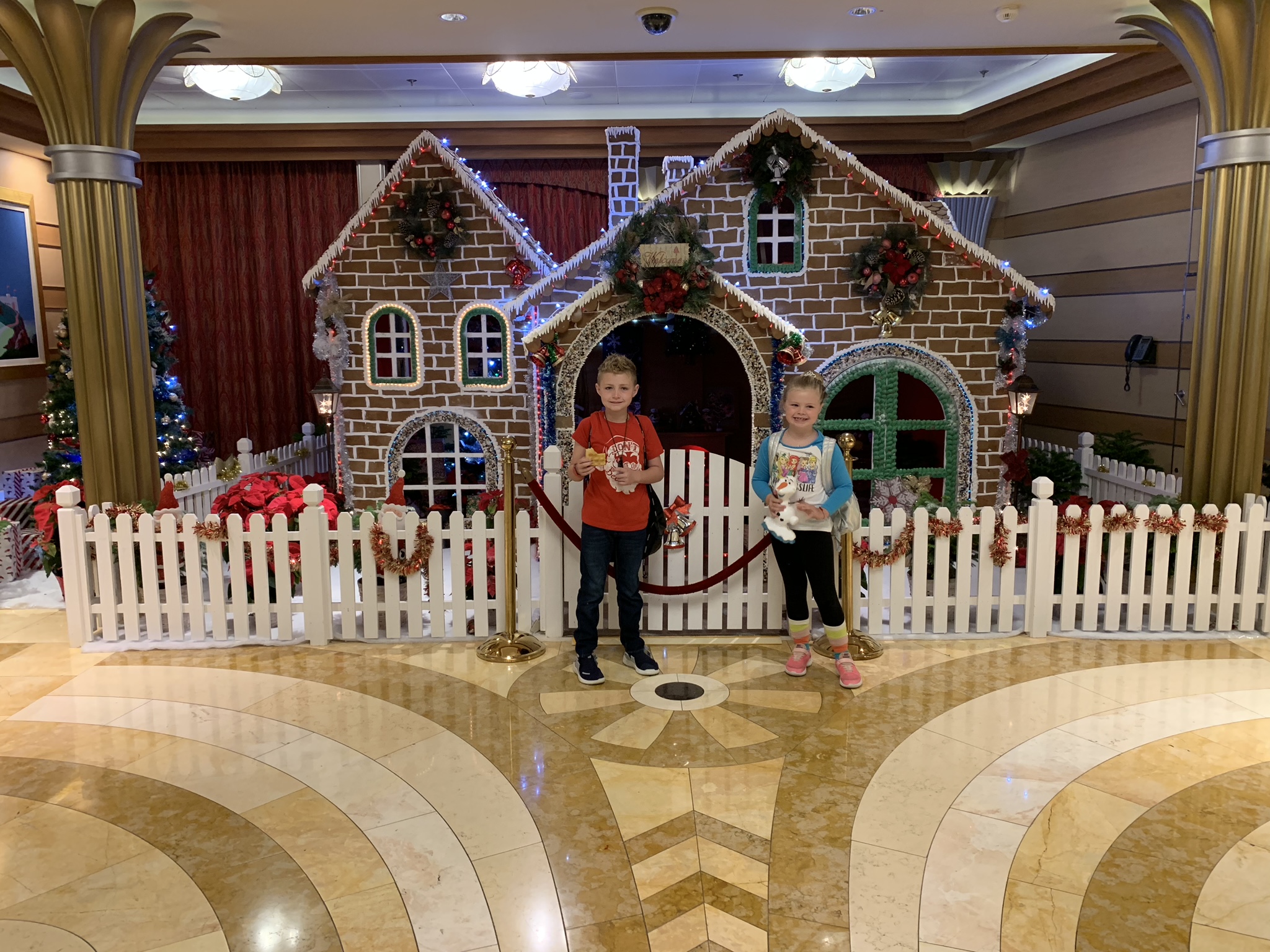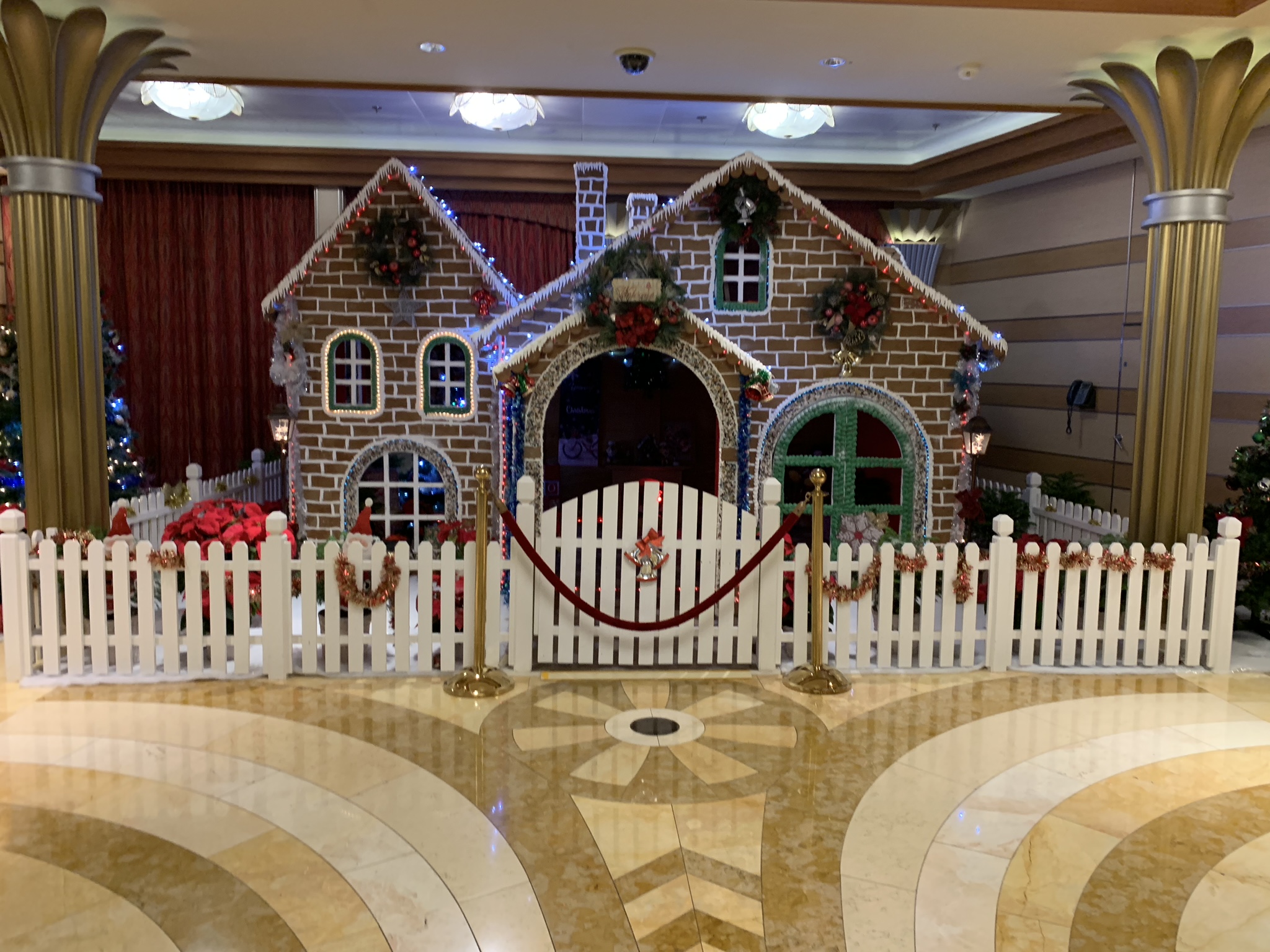 Here are a few more details about what you can expect on a magical Disney Merrytime Cruise
Disney's Very Merrytime Cruise Onboard Festivities
Delight in seasonal magic at sea and discover a jolly fusion of holiday-themed entertainment, activities and décor.

Share in the magic with festive onboard decorations that include a life-sized gingerbread house, a 24-foot Christmas tree, garlands, poinsettias and shimmering lights, and experience numerous merriments sure to warm the hearts of the entire family, including:

Mickey's Tree Lighting Magic Ceremony
Kick off the season during this festive gala where kids can help light the ship's Christmas Tree.
Mickey's Winter Wonderland Ball
Join Santa and Mrs. Claus for a grand celebration in the atrium featuring Broadway-quality entertainment, Disney Characters and classic holiday tunes. Then, experience extra enchantment when a pair of royal sisters stops by and ushers in a flurry of "frozen" fun—plus a magical snowfall.
Deck the Deck Tropical Holiday Party
Candy-cane limbo, dancing and games—share in the yuletide magic of the season during this jovial celebration.
Santa Claus Meet-and-Greet
Share hugs and snap photos with the one-and-only Kris Kringle before he takes to the sky to deliver gifts to the children of the world.
Disney Character Greetings
Meet some beloved Disney Characters in jolly holiday attire and take one-of-a-kind pictures to cherish throughout the year.
Gingerbread House
Made completely from edible ingredients, the ship's gingerbread house is a life-sized treat that you can photograph, but can't eat!
Storytime with Mrs. Claus
Gather the children in the atrium to hear Mrs. Claus read well-known Christmas stories from her rocking chair by the tree.
Themed Activities and Crafts for Kids
Decorate stockings, create festive cards, embark on a holiday scavenger hunt and more—it's Christmas cheer for the young and young-at-heart.
Youth Parties
Teens and tweens can party it up with new friends during music and dance extravaganzas that fill the air with joy.
Holiday Merchandise
'Tis the season to pick up exclusive, holiday-themed Disney Cruise Line gifts for family and friends—and make Christmas wishes come true.
We did our cruise the week before Thanksgiving and it was perfect timing to get us into the holiday spirit! You can book your Disney Merrytime Cruise today!! Head HERE to book now and let me know if you do! I know you and your family will have a magical experience like we did!
Have you ever been on a Disney Cruise before? Which was your favorite part?!
Most of our Disney gear was purchased HERE! Find up to date pieces HERE!
Have a great day!!! XO!
If you like this post, you love Eight is Great and Two Spring Looks