Did you read "Where'd You Go Bernadette!!?"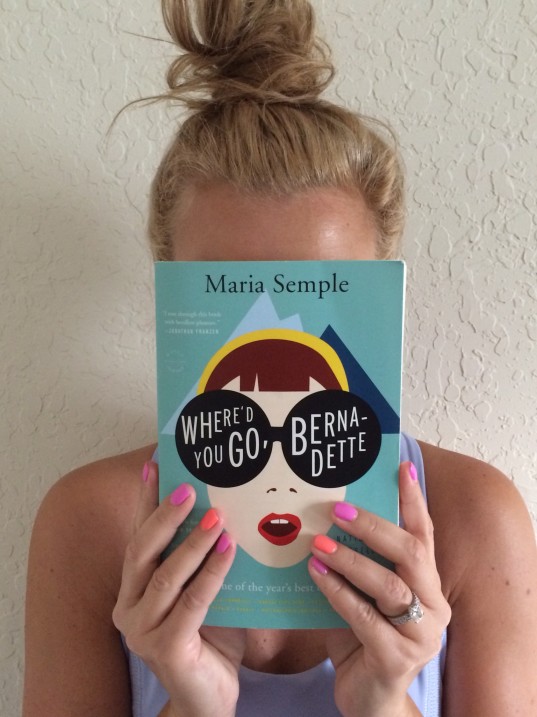 Did you love it?
I did!
Did she find her hilarious?
I did!
I was so sad when the book was over, I wanted more!
There are book club guide questions in the back of the book and I thought it would be fun to have a virtual book club and answer the questions and then you answer the questions and then we can have an open discussion about the book! So fun, right?
Questions and Topics for Discussion:
*My answers are in pink
1. Where'd You Go, Bernadette is told from the point of view of a daughter trying to find her missing mother. Why do you think the author chose to tell the story from Bee's perspective? What light does it shed light on the bond between Bernadette and Bee?
I think the author chose to write it from Bee's point of view to show us the bond between mother and daughter. It was pretty clear almost immediately that Bernadette and Bee were inseparable and not only mother and daughter, but also, best friends. I think understanding this relationship is key.
2. What are your thoughts on Bernadette's character? Has she become unhinged or has she always been a little crazy? What, if anything, do you think sent her over the edge? Have you ever had a moment in your life that utterly changed you, or made you question your own sanity?
I loved her! Her quirkiness was such a welcome quality. I could relate to her in certain ways. I think she's always been a little crazy, so to speak, but really, all the great people are. Normal is not something that anyone should strive to be, in my opinion. Be you, even if that means that you are a nut, just embrace it! I think Elgin trying to commit her to a mental hospital sent her over the edge! That whole intervention was ridiculous. I think anyone would have run away after that! I think we have have all had those experiences or moments that make us question our sanity, right?!
3. When Bernadette relocates from Los Angeles to Seattle, she must cope with being a transplant in a new city. Have you ever moved, or even stayed put but switched jobs, and had to adjust to an entirely different culture? What was it like?
Yes!! I am going through that right now and honestly there are some aspects that are hard to grasp. One of the most baffling things as of late, is that I have realized that most places around here, don't have toilet seat covers. That seems so odd to me. Yet, I have only been to a couple places that actually provide them. To me, it's crazy and actually hilarious that I noticed it. My mom was visiting and said the same thing, so I know it's not just me who misses the toilet seat covers! Ha!
4. The idea of Antarctica becomes too much for an already frazzled Bernadette to bear, but the trip itself, surprisingly, turns out to be exactly what she needs to get back on track. How do other characters in the novel experience their own breakthroughs? Which character is most transformed?
It's hard to say who is the most transformed because a few characters seemed to have breakthroughs, but, I would say Audrey Griffin had the most key and transforming breakthrough. I was glad when she finally got over herself and realized that her so-called "perfect life" was actually flawed. I think it took that occurrence  for her to want to make amends and help Bernadette. Her computer detective work was hilarious and amazing all at the same time. I laughed out loud at that part!
5. How are Audrey Griffin and Bernadette Fox more alike than they realize?
Still contemplating this one…
6. Bernadette often behaves as if she is an outsider. Do you think she is? If so, do you think her feelings of being an outsider are self-imposed, or is she truly different from the other members in her community? Do you ever feel like an outsider?
I feel like Bernadette's feelings are definitely a little self-imposed. However, we have all experienced those clique-type groups, even as grown-ups, so I can completely see where she is coming from. 
7. The book has a very playful structure. Do you think it works? Why do you think the author chose it rather than a more straightforward, traditional structure? Think about other books with unusual structures and how their formats influenced your reading experience.
I actually loved how most of the book was written in letters, emails and from Bee's perspective. I was a tad confused at first and then once I got the hang of it, I loved it. It was a fun and different structure. 
8. What do you think about Bernadette and Elgin's marriage? Is it dysfunctional? Is there real love? How has their marriage changed over time? Think about romantic relationships you've been in that have evolved, positively or negatively and why.
Their marriage seemed a tad dysfunctional to me. I mean, he worked constantly and was rarely home. I think when you spend that much time away from each other, your marriage has to change. It's definitely something you work at. But, honestly, their whole life there seemed a tad nutty. The house they lived in was a mess. Elgin was never home. It seemed to work for them, until it didn't work anymore and when it didn't work anymore, everything turned chaotic. 
9. Where'd you go, Bernadette, at its core, is a story about a woman who disappears, both literally and figuratively. Were you able to relate to the book? How and why? Do you feel Bernadette's disappearance was unique, or do all women, in a sense, disappear into motherhood and marriage?
Yes. I mean we all have times in our lives where the most logical thing to do is throw on dark glasses and have some solo time. Obviously, most of us wouldn't take it to Bernadette's extreme and stay home and hire a personal assistant. I think her experience was unique in a way. I mean, we all evolve as we get married and have kids. I have not met one person in my life, who didn't change some after having a child. But in Bernadette's instance, she seemed to change big time.
10. Did you love the book as much as I did? If not, why?
I loved this book. I couldn't put it down. The one day I had a "book hangover" as my best friend describes it, because I was up until 1 am reading! 
Now it's your turn! I would love to hear your thoughts and answers to these questions!! Just leave a comment and number your answers! I hope you enjoyed it as much as I did!