We are officially one week out from early access to the biggest sale of the year, the Nordstrom Anniversary Sale! I've shopped this sale for years and love it. It's such a great opportunity to pick up fall and winter staple items. There are tons of pieces that I've purchased during the #Nsale that I've used season after season. Last year, Nordstrom started releasing a larger preview lookbook that allows you to view the items before the sale starts and save them to your wishlist. To help you get started, I'm sharing what I have my eye on and a few favorites from each category!
In case you are new to the Nordstrom Anniversary sale or are just looking for a few tips and tricks check out my Ultimate Guide to The Nordstrom Anniversary Sale here!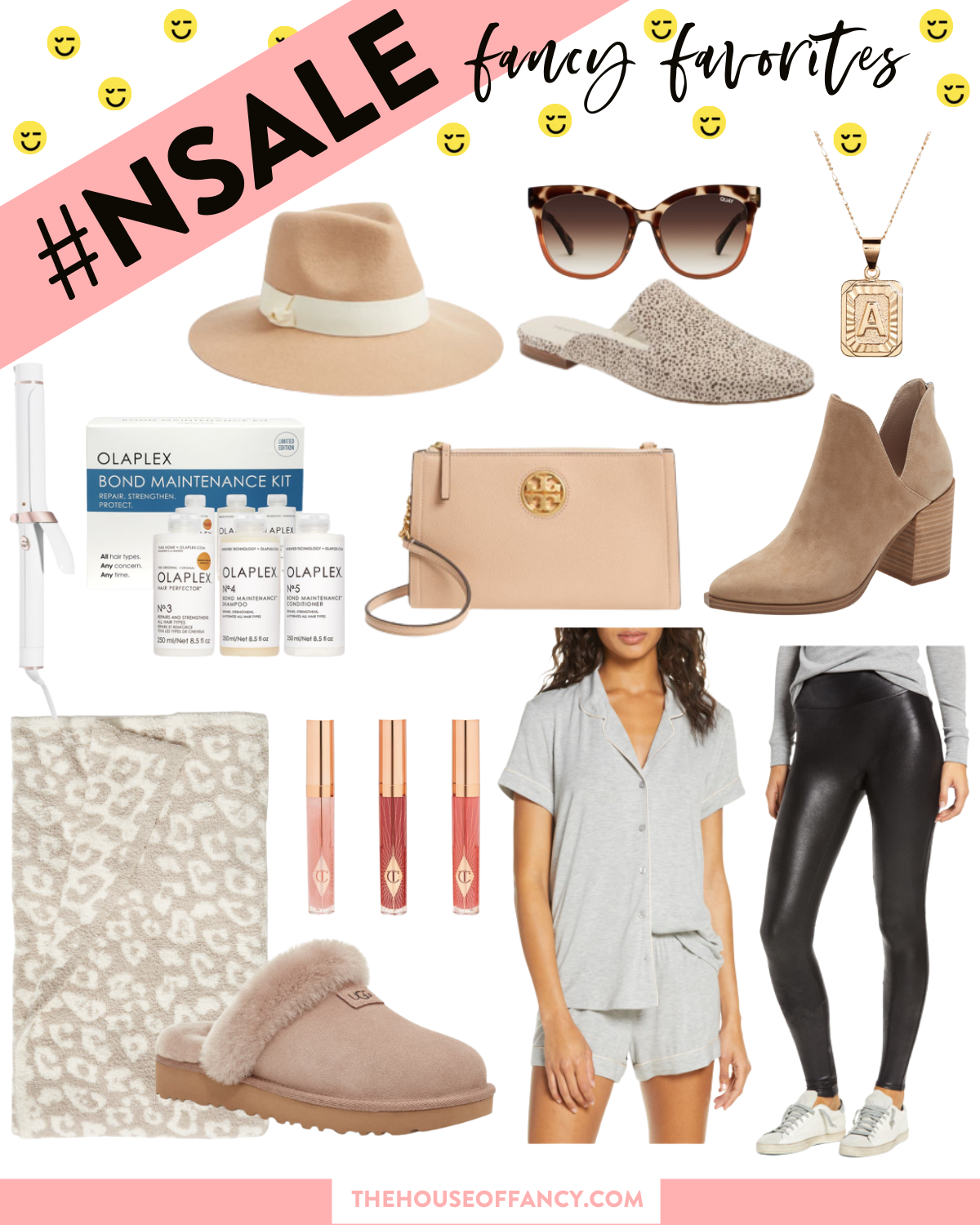 Nordstrom Anniversary Sale Preview Picks
HAT | SUNGLASSES | MULES | NECKLACE | T3 CURLING IRON | OLAPLEX HAIR CARE | TORY BURCH BAG | SUEDE BOOTIES | BAREFOOT DREAMS BLANKET | UGG SLIPPERS | CHARLOTTE TILBURY LIPGLOSS | PAJAMA SET | FAUX LEATHER LEGGINGS

Above are all the items that have been the most popular year after year. I personally have and love so many of these! Form the Spanx faux leather leggings to the Barefoot Dreams blanket, these are some of the sale's most coveted items. I recommend going ahead and creating an account with Nordstrom so that you can start creating your wishlist and saving these items. Feel free to bookmark THIS PAGE on my blog and come back to it throughout the sale! I'll be updating it with what I purchased from the sale, Mr. Fancy's picks, what I'm stocking up on for Christmas and Reagan's favorites as well!
VIEW THE NODRSTROM ANNIVERSARY SALE PREVIEW LOOKBOOK
DATES TO TAKE NOTE OF
July 12: Most Loved Items By Category, Live On The Blog!
July 13: Fancy Ashley Styled Looks, IG Stories + Live On The Blog
July 14: Fancy Ashley Top 10 Must Have Items, Live On The Blog!
July 16: Best Sellers From the Sale, Live On The Blog!
July 28: Looks to Love that are Still Stocked, Live On The Blog!